Alumna Jeneen Frei Njootli Named One of Five Finalists for the 2018 Sobey Art Award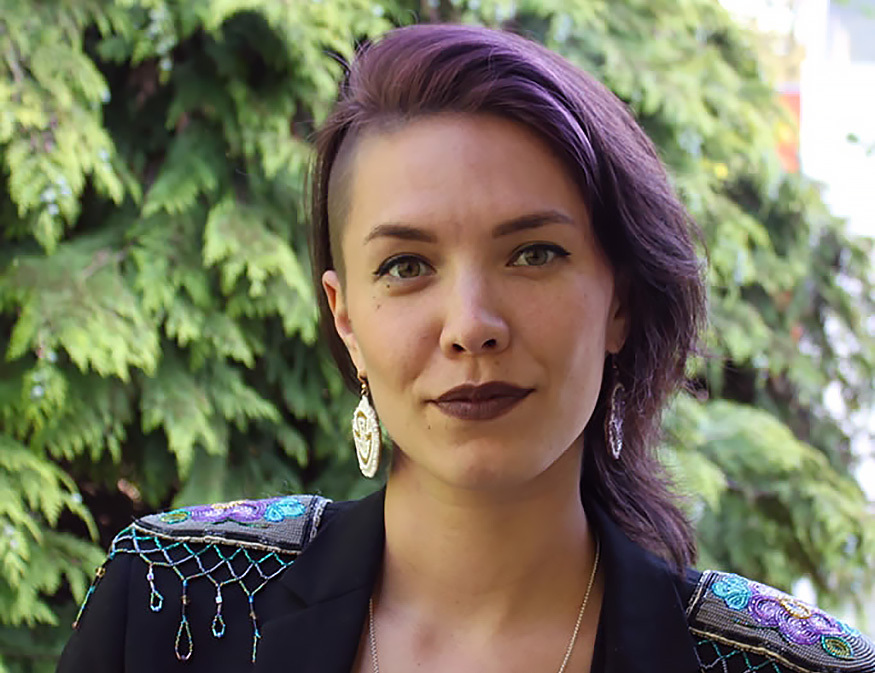 Posted on May 30, 2018 | Updated August 06, 2019, 9:07AM
The Sobey Art Award is the preeminent annual prize for Canadian artists 40 and under, the winner will be announced November 14.
The Sobey Art Foundation and the National Gallery of Canada have announced the five finalists for the 2018 Sobey Art Award, and we're thrilled to share news that alumna Jeneen Frei Njootli ('12) is among them, representing the West Coast and Yukon. The other finalists are Joi T. Arcand, Jordan Bennet, Kapwani Kiwanga and Jon Rafman.

The Sobey Art Award is the preeminent annual prize for Canadian artists 40 and under. The award celebrates some of Canada's most exciting young artists and provides significant financial recognition. This year, a total of $240,000 in prize money will be awarded: $100,000 to the overall winner, $25,000 to each of the four shortlisted artists, and $2,000 to each of the remaining twenty longlisted artists.
Jeneen Frei Njootli is an interdisciplinary artist, co-creator of the ReMatriate Collective and a member of Vuntut Gwitchin First Nation who has been living and working as an uninvited guest on unceded Musqueam, Squamish, Sto:lo and Tsleil­Waututh territories for a decade. She uses mixed media, sound-based performances, textiles and installation work to explore history embedded in cultural materials, geopolitics and the politics of Indigenous art. For her recent Media Arts Residency at the Western Front in Vancouver, she hosted a free workshop on how to create and update Wikipedia pages for Indigenous women artists. The 2017 recipient of the Contemporary Art Society Vancouver Artist Prize, she has exhibited at the Fierman Gallery in New York, the Southern Alberta Art Gallery and the Vancouver Art Gallery among others. After graduating from Emily Carr University of Art + Design in 2012, Frei Njootli completed her MFA at the University of British Columbia in 2017.
Juror's Statement
Melanie O'Brian on Jeneen Frei Njootli
Jeneen Frei Njootli's interdisciplinary practice engages her cultural history and personal experience through performance, sound and installation. Her Gwich'in territory (Old Crow, Yukon) and culture are taken up in her approach to land and social networks, and her work interrogates the histories of her materials, their relationship to trade, ceremony, politics and the body, particularly her own. For example, she has made instruments using caribou bone and antler – animals key to Gwich'in culture and survival – sonifying the materials in performance with contact microphones, which are then played through effects and loop pedals to bring them to life as language. Njootli has written: "As Indigenous peoples, we are tied up in the spectacle of history, not only the Americas, but globally." Her evolving, self-reflexive artistic methodologies critically expand a cultural understanding of this country, and how this spectacle, along with other histories, marks and shapes bodies and traditions.
Established in 2002, the Sobey Art Award aims to promote new developments in contemporary Canadian art and provide opportunities for artists, bringing them national and international attention. By choosing one nominee from each of the five regions of Canada, the Sobey Art Award provides visibility and financial support to young Canadian contemporary artists, while also offering an opportunity to exchange ideas and to learn about different artistic and curatorial practices from across the country. The work of all five finalists will be featured in a group exhibition at the National Gallery of Canada October 3, 2018 - February 10, 2019.
The 2018 Sobey Art Award Gala takes place November 14 at the National Gallery of Canada. On this special evening, artists, curators, donors and other members of the Canadian art world gather to celebrate the shortlisted artists and announce this year's winner of the Sobey Art Award.

Previous Emily Carr alumni recipients include Jeremy Shaw, Brian Jungen, and Nadia Myre.

Our congratulations to all!