Alum Profile | Dana Ramler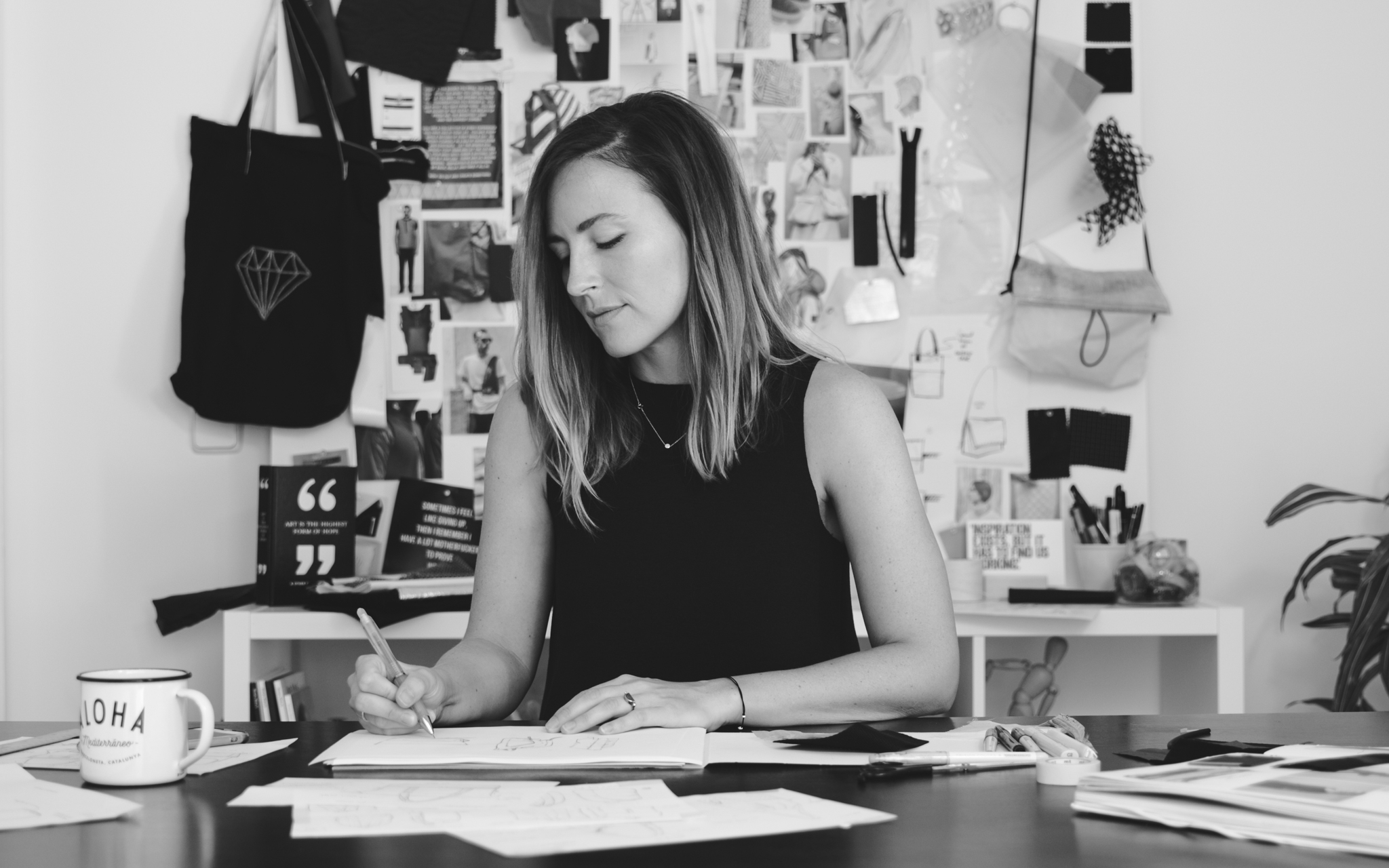 Posted on August 27, 2018 | Updated August 06, 2019, 9:07AM
The industrial designer (BDes 2010) shares her career journey + advice for new graduates.
Dana Ramler graduated in 2010 from ECU's Industrial Design program, and since then she's had an impressive career: she was hired by Lululemon upon graduation, worked for Reebok in Barcelona, and recently returned to her hometown of Nanaimo to launch her own design consultancy, Pedestrian Studio with fellow ECU graduate Jared Rhind.

What brought you to Emily Carr as a student?
I came to Emily Carr for two main reasons: one, I really wanted to study industrial design, and two, I wanted to stay on the west coast.
I was also really drawn to Emily Carr's philosophical approach to design. I didn't just want to focus on rendering and sketching skills that many programs seemed to be offering; I wanted the theory and ideology of design to be a strong part of my skillset.
What led you to your career in fashion?
At Emily Carr, I really benefited from the openness of each project, in terms of what materials we could use and the freedom we had to determine the final outcome of our projects. That really contributed to where I've ended up today. I was always drawn to soft goods and fashion, so any chance I had to make a project out of fabric, I took it. In hindsight, another reason I ended up in soft goods was that the woodshop at ECU was always so busy. I didn't have any machinery or tools at home, but I did have a sewing machine. By executing projects in fabric or soft materials, I was able to work at my own pace for as long as I liked from the comfort of home.
Dawn Whitworth [the former manager of research and industry at ECU] played a huge part in my career path. During my fourth year, she encouraged me to apply for a product development co-op role at Lululemon, which led to being hired by them when I graduated.
At the time, the Lululemon accessories team was only two people, and I was supporting the product developer. I did things like approve trims and fabrics, manage our samples, communicate our comments with factories… I probably learned more about management and development than I did about design, but I was excited to learn more about the other facets of the business.
The internship finished in May, and then I got a job as a Design Assistant on the accessories team. I supported a variety of projects, everything from bags to water bottles to yoga props. I also worked on "cut and sew" goods like scarves, gloves and caps, along with socks and various other soft goods.
How did you make the move from Lululemon to working in Barcelona for Reebok?
One of my colleagues at Lululemon knew that I had a goal to someday live and work in Europe. I had dreamed about some of the boutique design studios most industrial designers dream of. But she pointed out that with the recession, no small firms would be able to sponsor a Canadian to come over to Europe. She said advised me to stay within the sportswear industry, where the recession was having less of an impact, and larger companies like Nike, Adidas or Puma would have more resources to bring someone over to their European offices.
After being in school for most of my life, after two and a half years at Lululemon, I was ready for an adventure. I took a year to travel, work on my portfolio, and freelance remotely, spending extensive time in Costa Rica, Mexico and Hawaii. Leaving a full-time gig with regular pay was scary, but the freedom I felt and the inspiration I acquired was more than worth it. Never losing sight of my goal, I kept my eyes on various job boards the entire time, and finally found a position in Europe with Reebok.
How does your training as an industrial designer set you apart in fashion?
Starting out in school, I didn't know that the world of sportswear was somewhere that industrial design could take me. But the three-dimensional thinking and user-centered design research skills the ID program provided allowed for a completely different point of view than that of my colleagues who had studied fashion design.
One thing I'm especially grateful for about my education is that we were always pushed to provide rational beyond just the aesthetic choices we made in our designs. Appearance is of course part of any product, but our professors challenged us to bring research-authenticated insights to the table. We had to provide reasoning beyond simply what worked according to "trend." I have seen now that not all designers are trained in this way. I think the fact that we were so rooted in function helped to set me apart, especially in the world of sportswear, which I've found to be the perfect hybrid of technical function and beauty.
I also think that 3D sketching and model-making skills are a huge advantage. Sketching an idea is one thing, but being able to build it and test it quickly is a whole other thing. It adds so many advantages to the product creation process that—from what I've seen—isn't commonplace in the world of accessories. Thanks to a really supportive Design Director and Manager, I was given the opportunity to showcase my "maker" skills while at Reebok, which ultimately helped to transform our way of working. Since I could not only draw but also sew and make the bags I was designing, we were able to shorten our production timeline significantly. Normally, we had to wait weeks or months for the factories to send us prototypes, but now we had our own. We could then use the prototypes in key meetings whereas in the past, important decisions were being made off of two dimensional drawings.
We tested the bags ourselves, and also sent them out to users for feedback. This allowed us to have strong, vetted concepts and products at the beginning of the season, as opposed to discovering issues too late in the process (which was happening before).
Even though that process was fundamental during my time at ECU, my experience out in the real world had revealed to me that in a lot of companies, that way of working was missing. I was thrilled to be a part of bringing the creative process I knew and loved to our team at Reebok.
What brought you back to Nanaimo?
After four years of living in the heart of a busy European city, my husband and I were ready for a new adventure. We were also feeling the pull of living in nature again, closer to family in Canada. I was drawn back to my home of Vancouver Island, not only for the beauty but also the affordability. Fellow ECU student and friend Jared Rhind was already living in Nanaimo with his family, so if we moved home, our dreams of working together and starting our own thing could finally become a reality. We made the leap and decided to start our own design consultancy.
We are called Pedestrian Studio, and we build brands and products for bodies in motion. Jared's wife Melody is also a partner, and between the three of us, we offer an extensive menu of design and creative skills that range from branding + strategy to product creation to art direction and styling. Our diverse backgrounds and skills are probably what attract such diverse clients. From established, global companies to smaller-scale entrepreneurial pursuits, we have the skills to execute their vision and answer their needs. Thanks to technology, we aren't limited to the confines of Vancouver Island; skype, facetime and various other tools allow us to work with people all over the world.
The advantage to being island-based is that locally, the market is much less saturated than in other major cities like Vancouver. Between that and the lower cost of living, we see more and more young and like-minded people moving to the island. It might sound far-fetched, but we see the island as becoming the creative extension of Vancouver, kind of like the Brooklyn of BC. And we intend to be part of that shift.
What's it like working for yourself, versus working for a company?
There are pros and cons to being in-house at a company and being an independent designer. In a big company, there's often a lot more money and resources available to you. Your paycheck is more regular and reliable. There's less risk. There is also access to a larger pool of contacts and people to learn from, whereas working on your own means you're by yourself a lot.
But larger companies often have deeply-rooted cultures, processes and hierarchies. It can be hard to try something new when you have to convince a whole committee of people, and power of influence might be limited. I'm at a point where I'm ready to be in the driver's seat.
What advice do you have for new graduates?
My advice would be to always have a "yes" attitude and stay humble. A lot of us, when we graduate, want to believe that we're hired for our ideas. It's funny to me now, but the day I left school I assumed I would walk into a job and be able to start designing on day one, even though there was so much I didn't know. In my experience, there's a window of time where you have to prove yourself, and during that period, your attitude will make a huge difference and open so many doors. A proactive attitude, even if it's related to tasks outside your realm of expertise, is much more valuable than your sketching skills when you're just starting out. Patience is key; you need to wait for your opportunity to show what you know.
Also, if there's an opportunity to learn something—anything educational—just take it! Especially if it's free. I committed myself to that when I worked at lululemon and learned so many things outside of the realm of design, like how to deliver amazing presentations, facilitate meetings, and how to convey and market my ideas. Those learning experiences were invaluable and shaped me into the entrepreneurial colleague that I am.
The last thing is that it's important to find a way to make yourself a lynchpin. Find a way to be irreplaceable by bringing a combination of skills and insights that no one else has. Being able to articulate your ideas, translating research into captivating visual presentations, presenting them to stakeholders from ALL areas of the business—those are really important skills, just as important as the hard skills of design like sketching and model-making. Soft skills like negotiating and influencing have served me so much more than my actual design skills when it comes to my career. I had to have patience and acquire them over years.
Get in contact with people who do what you want to do, and find out what how they got there. Then remember that the way they got there is not the only way! I always craved having a mentor in the industry, and if I can offer that to other ECU students, I'm happy to do that.
Find what you love and pursue it, because there's so much room and opportunity for industrial designers in other fields.