Alum Profile | Katherine Soucie
Posted on October 08, 2018 | Updated August 06, 2019, 9:07AM
Zero waste designer Katherine Soucie shares her experiences working with hosiery and representing Canada at London Fashion Week.

Katherine Soucie's design company, Sans Soucie Textile + Design, recently represented Canada at London Fashion Week with her new collection HERstory. A 2009 alumna of the fine arts program and a former member of the Emily Carr University Alumni Association, Soucie works with hosiery byproduct to create sustainable heirloom pieces. Her use of traditional artisanal textile and garment techniques is often deconstructed and (re)imagined through the use of obsolescent textile technology and industrial sewing machinery.
We recently spoke to Soucie about her creative journey and her experiences at London Fashion Week.
Who are you and what do you do?

I'm a Vancouver-based artist and designer who specializes in zero waste art and design practices.

What does zero waste mean to you?

Zero waste design is the elimination of waste in every step of the process from conceptual development to implementation and use. Everything is used and reused. Whether I'm working on an exhibition or a collection, everything is used in the process. It's challenging, but it's good. I have clients who wear my clothing come back to me ten years later to redesign that piece into something new. The exhibition work I produce builds over time. I did an exhibition that initially had 150 pounds of waste product. It's grown into 300 pounds. To me, it's about continuing telling the story of those items.

Describe your practice in three words.

Mindfulness, creativity, resources.

What was the most exciting thing about taking part in London Fashion Week?

Getting to represent Canada. I was the only West Coast person there, and one of only two examples of sustainable fashion and textile practices. My work is a hybrid of hands on creation and mass manufacturing, I transform that mass-manufactured byproduct into meaningful heirloom pieces. London Fashion Week was a true balance between keeping it local and taking it international.
I work with a byproduct that's genuinely Canadian, working with hosiery mills in Montreal. I started working with this material 15 years ago and I'm still going. I would never have imagined that. I had a lot of meaningful conversations about what we do here on the West Coast, and what we contribute to the fashion industry now and in the future. Being a part of London Fashion Week prompted questions of what it means to be producing for our culture, how we use our resources. This isn't just relevant for what I do, but for so many industries. Craft allows us self-reflection as individual creatives and as a society.
London Fashion Week was a bit overwhelming, but it was such a huge honour. I loved being able to represent Canada and the work I do.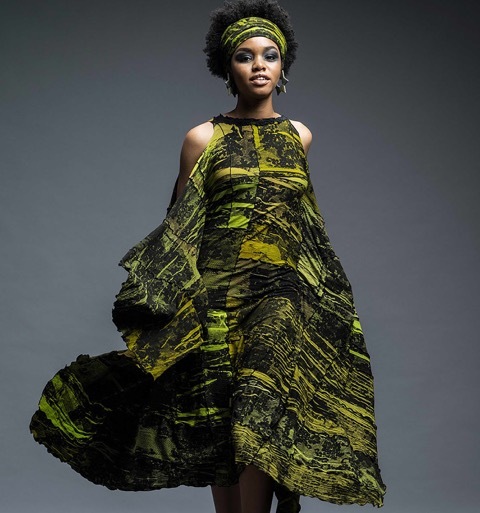 What project that you've worked on has changed your perspective or practice?
What was really resonant for me was a 2016 residency in Durham North Carolina through the Centre for Creative Use and Reuse that focused on the history of hosiery manufacturing. It was two weeks of site specific exhibition. The residency connected me with the mill where I gathered waste for the exhibition, and I dyed the fabric right on site.
The factory was situated at the edge of the projects, and people and kids walking by me dyeing the fabric would stop and talk to me. Everyone told me a story about their relationship with this mill, how it affected them culturally or economically. Everyone had some connection to it, and these connections really made everything come alive, the mill's link to the community really offered me perspective. During the exhibition, people would come in, and they would be crying because of their connection to the mill and the materials.
Toward the end of the exhibition, I ran a workshop with kids where I gave them access to some of the material I had dyed, and I asked them some challenging questions. Before I left, the kids showed me what they were doing with the material. Their imaginations were amazing. They really transformed my ideas surrounding how material can be applied, and they made me realize that my education practices really benefit children above others. I had this one nine-year-old kid, and she called herself an amateur artist and asked for my advice. It was so special. When I was that age, I would never have identified myself as an artist. The children's confidence and lack of reservations came through in the outputs they created with the material. It was very powerful.

If you weren't doing what you are doing now, what would you be doing?
I always knew I'd be doing something creative. If I had to pick something else, I'd be an archaeologist. I'm kind of a fashion archaeologist anyway: I look at old forms of making to tell stories.
Who or what inspires you?

What inspires me: travel and music are main sources of inspiration. Architecture, the structure of buildings and their relationship to the body. History, especially the history of art and the history of technology, looking at the ways we have existed. But above all, my muse is the material, 100%. It continually seduces me.
What's the most useful piece of career advice you've received as a practicing artist/designer?

"You're not done yet." I struggled with being known as just "the material artist," and I ran into my old mentor, and she really kept me on my path.

Name one thing in your practice that you can't do without.

The materials! I can work with a variety of materials, but I couldn't be telling the stories I want to tell without this material resource.

How did your time at Emily Carr shape your relationship with your practice?

Emily Carr completely blew me apart as an artist. I came to Emily Carr because I had an inquisitive nature around printing practices. All of the critical theory courses I took taught me how to be self-reflexive and opened me up to understand who I was as an artist and to establish a creative identity. Professors pushed me to dig deep for what drives why I'm doing what I'm doing, the social, cultural, and political reasons. I developed my practice here in Vancouver. I didn't experience this kind of growth at any other institutions. Emily Carr really connected things for me. My time there taught me critical thinking and allowed me to be who I am today. While I was studying, even while it was hard, I'm very thankful, because I knew something was happening that would take me to the next place.
What's coming up next for you?
My work will be appearing in a new book set to coming out with Bloomsbury called Sustainability and Social Change in Fashion. I'm threaded throughout the book and heavily featured in chapter 4, and that is slated to come out in January.