Building Community on the New Campus Through Food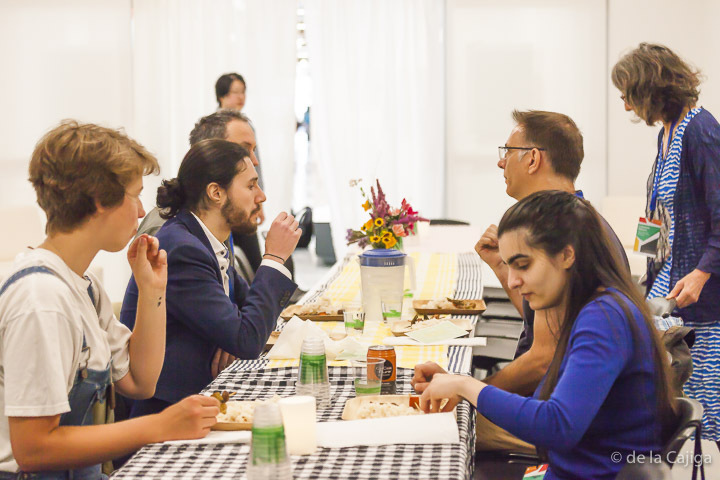 Posted on August 07, 2018 | Updated August 06, 2019, 9:07am
The interdisciplinary Social Practice Kitchen was created out of necessity and creativity.
Last September, three different ECU students began thinking of solutions to the same problem: a newly-opened campus that was missing a sense of community, with a lack of low-cost dining options. Their response to these two interconnected issues was the creation of the Social Practice Kitchen (SPK), serving weekly vegan meals to any member of the ECU community.
The Social Practice Kitchen was such an immediate success, both in concept and execution, that it's surprising to learn its three creators hadn't even met before they began working on it. But each of them approached the issue from a different angle, and the resulting SPK is an interdisciplinary effort that bridges programs and faculties through shared food.
Jourdan Tymkow, a Critical and Cultural Practice student, felt that the newly opened Great Northern Way campus was missing affordable, accessible food options for students. "I wasn't even interested in cooking before this," she says, "But I thought, somebody has to solve this problem." Jourdan applied for a Culture + Community Micro-Grant to address this gap. Her application was successful, and she posted on Facebook that she was looking for collaborators.
Simultaneously, Industrial Design student Joey Cheung had decided to focus her grad project on building a mobile kitchen. "In our program, we need to choose a problem space to address," Joey explains, "So I decided to address the issue on campus of a lack of food options." She wanted to create a platform for cultivating a community food culture through collaborative cooking and shared eating, and built a mobile kitchen called MO-KI.
Caroline Lee, a Film student, had previously studied at the University of Toronto, where they had a vegan lunch series called Hot Yam. She thought something similar would work well at ECU, and decided to pitch the project as part of her Experimental Practices course, a class that invites students to experiment with different media and disciplines beyond film.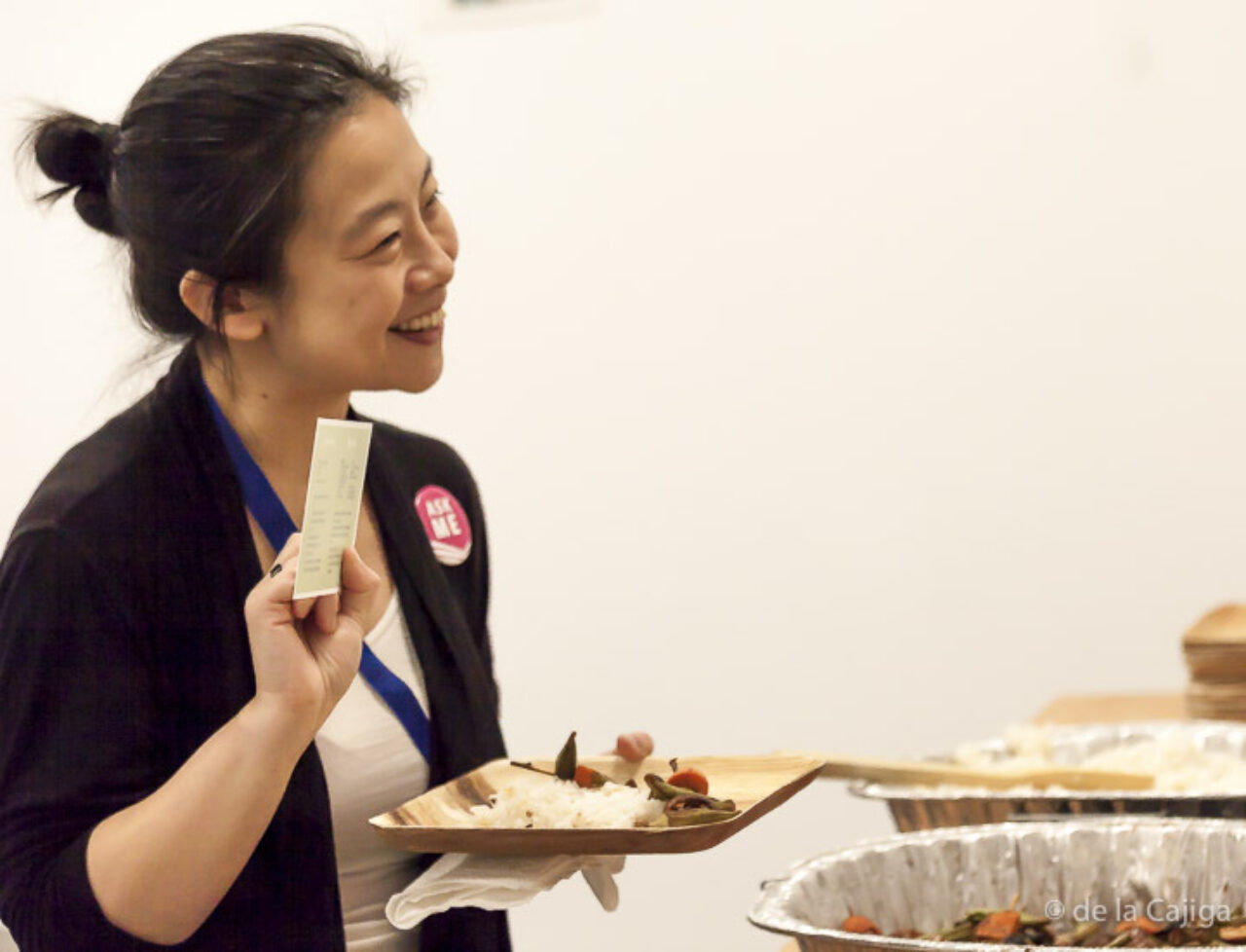 The three students were connected through Jourdan's Facebook post, and quickly began collaborating on what would become the Social Practice Kitchen. They launched it with an inaugural meal in November 2017, just three weeks after Jourdan received the microgrant.
The SPK lunch service was initially located in the CRCP Exhibition Hall, which meant some weeks lunch was served in the midst of an exhibition; other weeks, the SPK crew would arrange chairs or couches. It was a new configuration every time. The heart of the lunch service was Joey's mobile kitchen, MO-KI. All meals were by donation, and BYOC (bring your own containers and cutlery). Students could also donate their time by helping with cooking or clean up.
Joey, Jourdan and Caroline invited students to share recipes and collaborate on cooking, with the purpose of sharing recipes with personal or cultural significance, adding a meaningful dimension to the shared meal beyond the food itself. The first SPK lunch was maghmour, a Lebanese eggplant stew, cooked by visual arts student Dana Qaddah, which served about 50 members of the student community.
Between 20 and 60 students participated in each meal. One highlight was a lunch that included tofu pudding made by fourth year ceramics student Emily Choi, whose graduate project explored the material connection between her personal life and art practice through gypsum, a mineral found in both plaster and tofu pudding. Emily was unable to serve her pudding at The SHOW, so the SPK provided an alternative space to share her work with the ECU community.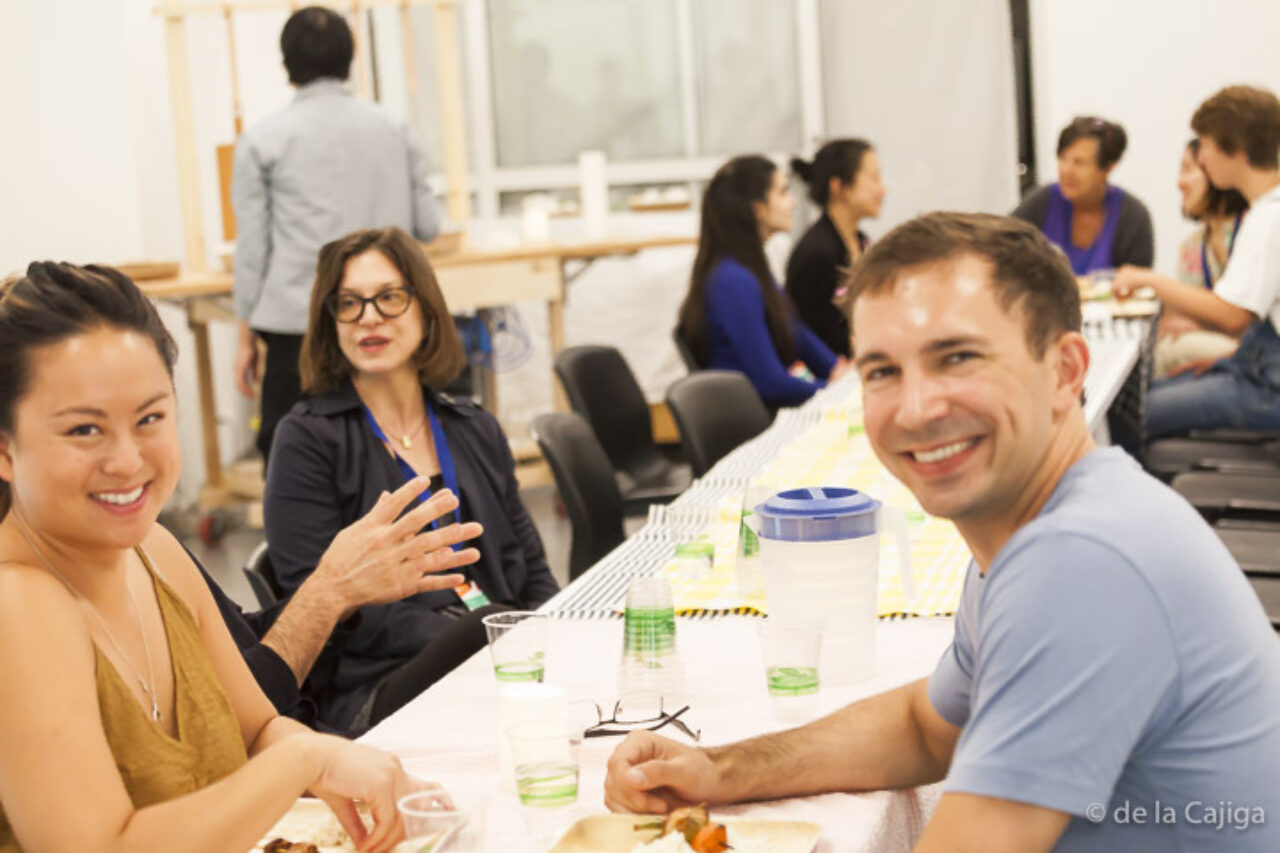 The lunches provided opportunities for connection and sharing among the ECU community. One week, lunch was provided by an ECU staff member who wanted to remain anonymous; he surprised the SPK crew with curries, naan, and rice pudding. One intention of the SPK was to break down barriers between students in different departments, as well as between students, faculty and staff. Meals are an opportunity for individuals who may not cross paths in their studies and classes to connect over shared food, learning about new recipes and cultures. Within a few weeks of its launch, donations from participating members of the ECU community meant the project was self-sustaining.
The SPK team also benefitted from the community they had created. One week, Caroline prepared a Korean meal featuring dukbokki (spicy rice cakes) pajeon (green onion pancakes) and sikhye (sweet rice drink). "Nothing really turned out like I expected, but it didn't really matter," she says, "because people were just happy for the opportunity to connect with each other, and everyone was so supportive."

After three days of lunch service for attendees of the International Conference for the Arts in Society, held on campus at the end of June, SPK is on hiatus for the summer. Caroline is looking for new partners in the fall, as Joey has graduated and Jourdan will be travelling. Students who would like to join the SPK in September can reach out to Caroline by email.
Learn more about the Social Practice and Community Engagement (SPACE) Minor and follow the Social Practice Kitchen on Instagram.