How Do We Design Resilient Cities?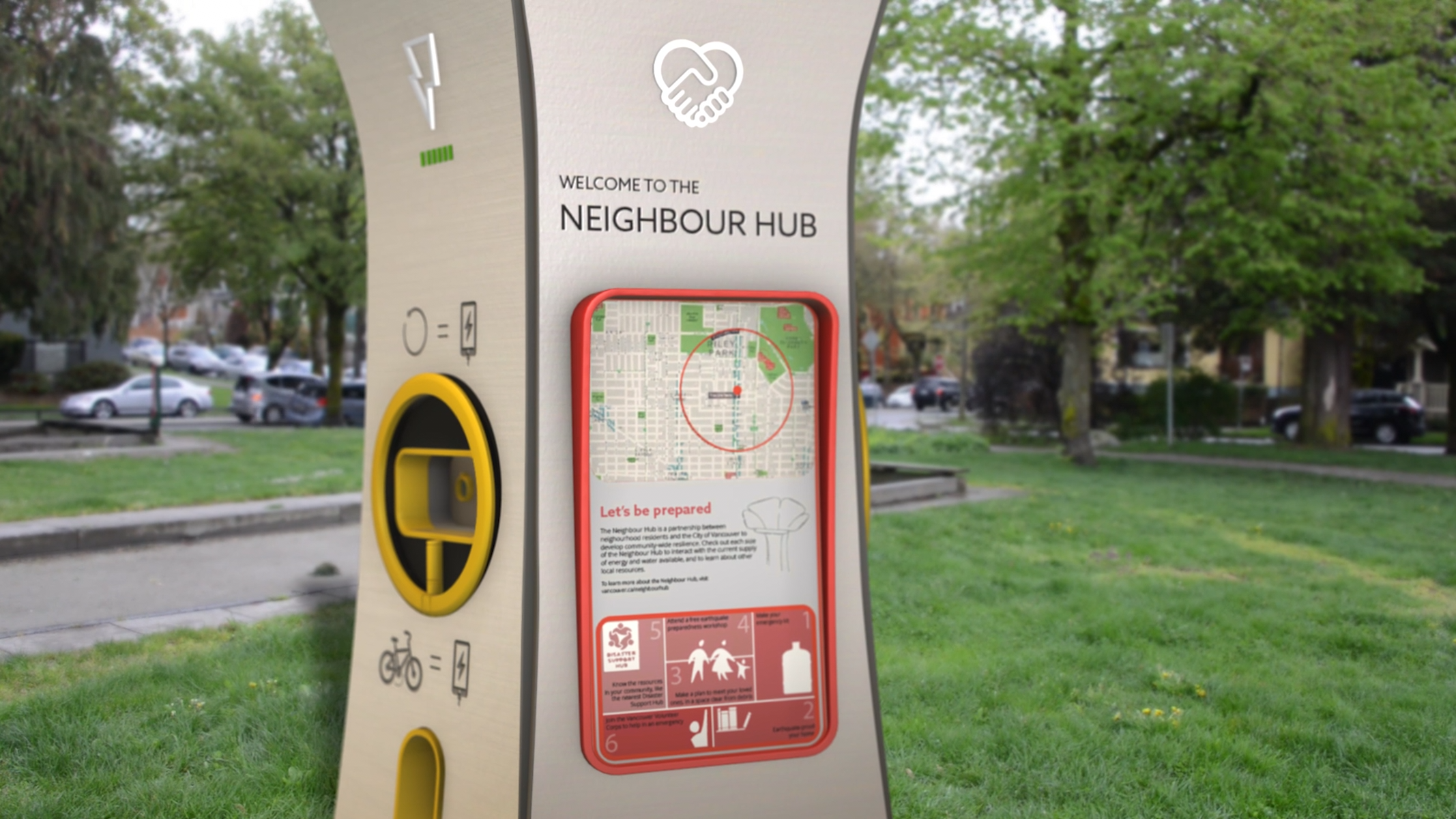 Posted on October 25, 2018 | Updated August 06, 2019, 9:07am
ECU alumnae to share their disaster preparedness project at the Global Grad Show in Dubai.
Two recent Emily Carr graduates were selected to present their Grad Show project, Neighbour Hub, at the Global Grad Show in Dubai. The event, taking place November 13-17, is an annual expo of innovative projects from design and technology schools around the world. Emi Webb (BDes 2018) and Stephanie Koenig (BDes 2018), the creators of Neighbour Hub, were the only applicants chosen from all of Canada.
Neighbour Hub is a functional public art piece that provides clean water, electricity and communications in the event of a crisis or disaster. It is designed to be placed in neighbourhoods and act as a gathering place and resource during emergencies, as well as engage communities in conversations about disaster preparedness.
The project was sparked by Stephanie's interest in renewable energy and Emi's in accessible water and water filtration. They decided to collaborate on a Grad Show project, but weren't immediately sure what shape it would take. Early in the process, they attended an energy summit at UBC where they met Adele Therias, a geography student with a focus on sustainability. Later they connected to Leah Karlberg, a UBC human geography student, and Halina Rachelson, a graduate student in the UBC SCARP program. They combined their interests and worked together on the project that would ultimately become Neighbour Hub.
In the process of designing Neighbour Hub, Emi and Steph spent a lot of time gathering stories from people who had experienced major earthquakes. They listened to the Fault Lines podcast and considered all the important details that people and cities overlook when considering disaster preparedness. They also connected with the City of Vancouver's Resilience Team. Katie McPherson, the City's Chief Resilience Officer, was incredibly supportive of their idea and signed on as a collaborator for the project.
"Conversations with the City were helpful, and pivotal in the design," says Emi. "They pointed out that a lot of residents want more public art, and asked if we could incorporate that. So we decided to make it both a public art piece and a community resource."
"They also said, 'Look, people don't want to talk about earthquakes," adds Steph. "That was a really important consideration in this project: how do we get people engaged with earthquake preparedness and resilience in their own neighbourhoods? How can we approach that topic in a playful, engaging way that's not scary?"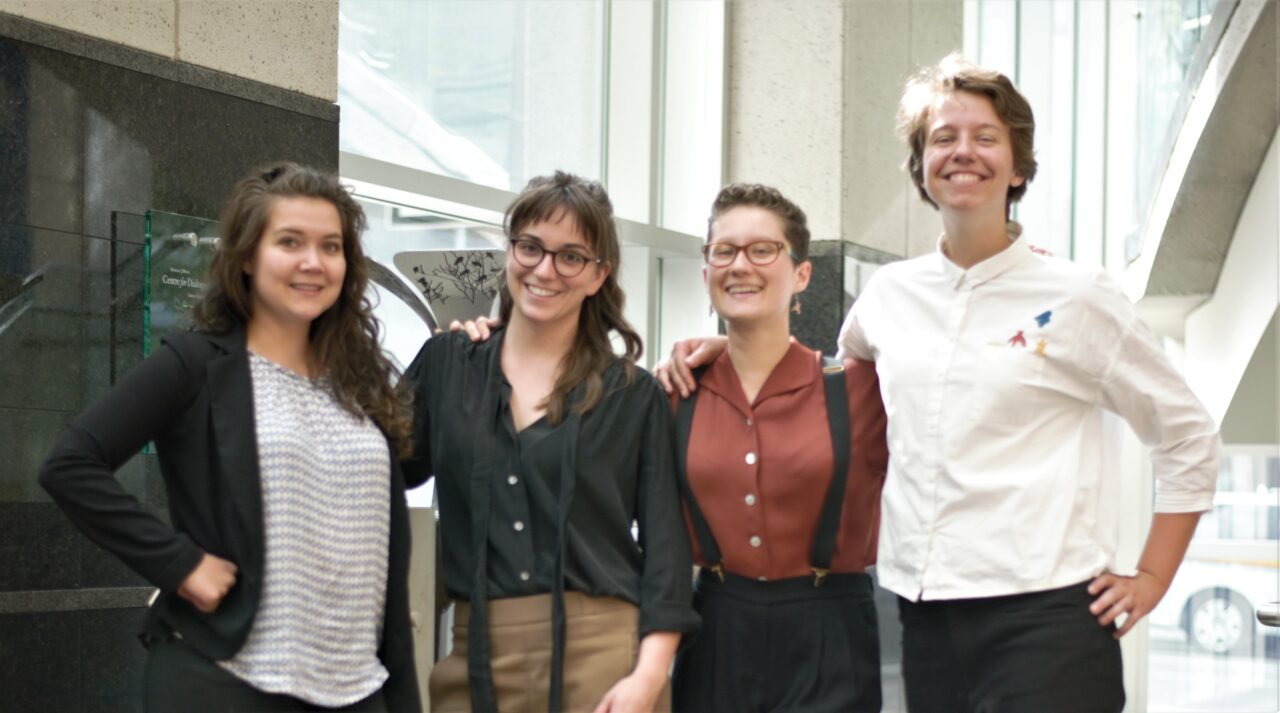 Growing up in Victoria, Emi was very aware of the possibility of a major earthquake happening at any time. In February 2001, she hid under her desk along with the rest of her class after a 6.8 magnitude earthquake occurred in the Puget Sound. Stephanie, who grew up in Calgary, first encountered a disaster response during the 2013 floods. "My high school graduation ceremony had about a 20% turnout," she said, "Because roads were still closed, no one could get anywhere."

In the fall of 2017, Emi and Steph, along with Leah and Adele, decided to enter a competition hosted by Engineers for a Sustainable World, an international non-profit network. Over the next six months, the team designed Neighbour Hub, which was selected a finalist in the competition. The team flew to Atlanta, Georgia in April 2018 to present their project at the Engineers for a Sustainable World Conference, where they were chosen as the winner.
Just a few weeks later, Emi and Steph presented Neighbour Hub at The Show alongside work from the other 2018 graduates of Emily Carr. Along with Adele and Leah, they've created Neighbour Lab, a design and urban planning studio focused on urban resilience. In June, they were asked by the City of Vancouver to present on behalf of the Resilience Team at the first-ever Healthy City Summit.
Since graduating, Stephanie has been hired as the local City Lead for Future City Builders, a national program creating urban innovation labs in Vancouver, Calgary, Toronto, Hamilton and Halifax. Each lab will focus on a different issue, and Stephanie's role as City Lead will be facilitating workshops for resilience infrastructure and programming in collaboration with 30 youth (ages 25 and under).
Emi has relocated back to her hometown of Victoria, where she is leading Neighbour Lab's second project: the Emergency Supply Bench. In partnership with Shift Collaborative, Neighbour Lab will lead the design and development of a bench and accompanying gathering space for the Fairfield neighbourhood in the event of a disaster. Emi is excited to work on the first physical product of Neighbour Lab to be implemented in the real world.
Because of Steph's role with Future City Builders, Emi will be representing the team at the Global Grad Show. But they're looking forward to future Neighbour Lab projects to promote resilience and disaster preparedness through human-centred design.