From Photography Student to Tech Accessibility Pioneer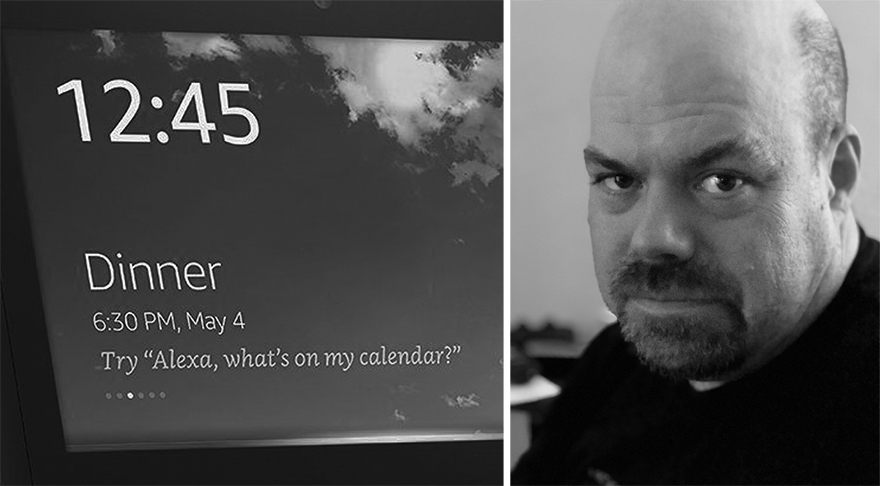 Posted on November 29, 2018 | Updated March 30, 2023, 11:34am
Alum John Nelson on his unconventional career path.
John Nelson (1997) leads a team of engineers at Amazon. A software development manager focused on accessibility, Nelson and his team have been working on a remarkable project to improve Amazon's Alexa.

Alexa is a voice-activated personal assistant first released in 2014. But with its focus on voice activation and audio technology, Alexa has been inaccessible to many members of the deaf/hearing impaired community, nonverbal individuals, and people with speech difficulties.
That's why John and his team have created Tap to Alexa: an accessibility feature that allows users to program their own customized tactile patterns for Alexa commands.

We spoke with John about the Tap to Alexa project, and life after Emily Carr.

Tell us a bit about your journey.

I graduated Emily Carr's photography program in 1997. I'd always been interested in computers and digital art, and my grad project at Emily Carr were digital images printed with historic processes.

After I graduated, I started working at a local company, Cymbolic Sciences International, now a division of Oce/Canon, makers of the Lightjet brand of photo printers. I was transferred to a Bellingham office, and then moved down to Silicon Valley for the first Dot-Com rush in '99. I was nervous about building a life in Silicon Valley, but a friend of mine there encouraged me to just try to get a job in tech. I thought, "No way, I don't have a computer sciences degree," but I thought I'd try, and I had a job in like four hours.

One of the interesting things about Silicon Valley is that companies take a lot of pride in finding people who you wouldn't expect to be computer science workers. There are a lot of people who want to give you chances. When I heard about the opportunity at Amazon, I thought I'd be a small cog in a big wheel, but it was a really caring atmosphere.
For the last year I have been a software development manager working on a team within Alexa called "Alexa for Everyone." Our charter is to help Alexa work better for people with disabilities. Our first project was "Alexa Captions" which allows users who can't or have trouble hearing understand what Alexa is saying. The idea for Tap to Alexa started within our team.

Alexa is meant to be a personal assistant, and we didn't realize initially how helpful it could be, to, say, the blind community. There wasn't a lot of software that was audio only and existing accessibility initiatives were auxiliary. So we set to work creating intentional accessibility programs. I'd run into a woman I used to play hockey with whohas ALS. She bought an Alexa device because she knows her voice won't always be strong enough.

Just helping one person is great feedback. I love creating something that really helps people.

Describe your practice in 3 words.

Organize, create, help.

What are you most excited about regarding Tap to Alexa?
I'm excited to continue working on Tap to Alexa and Captions, two things that help communities who aren't often considered.
If you weren't doing what you're doing now, what would you be doing?

If I couldn't do this, I'd still want to be using technology to help people. I like the creative process when there's a technical side to it. If that wasn't my career, I'd still be doing it in artistic practice to communicate the difficulties culture as with technology.

What do you think the role of creatives should be in society?
I'm really trying to push the envelope and think about things we're not doing as a society. I think we should be pushing boundaries, exploring the edges within our artistic practices. We should bring our vision to environments where that may be lacking.

What's the best career advice you've ever gotten?
Your value is in the output of new ideas. Don't get stuck on just good one idea. Fear of putting your ideas out there in case someone steals them becomes irrelevant, because your mission is to create lots of new ideas.

What led you to study at Emily Carr?

Growing up, I was always into computers and photography, I'd be on old computers hacking away, or borrowing my father's camera, I'd be taking pictures even if there was no film in it.

I had a great photography teacher in high school. I did a year at Kwantlen, but I found I really wanted to do photography. And we were at the start of digital photography which was a synthesis of my two interests. Emily Carr was the place where you could be creative with that.

How did your time at Emily Carr shape your relationship with your practice?
Emily Carr gave me the ability to explore, to try different mediums. I used as much as I could of the school, I did metalwork, printmaking, photography… it allowed me to open up as a person, and to use that open mind daily.

Emily Carr also taught me time management around ambitious ideas and that was really valuable.
Is there anything else you'd like to impart upon new graduates?

Constantly push yourself, get your ideas out there, and keep trying new things. Looking at my classmates, a lot of them are still doing photography, but so many of them are doing things they never expected. Find a way to create and keep working on it.