Trash Talk: Sustainability on Campus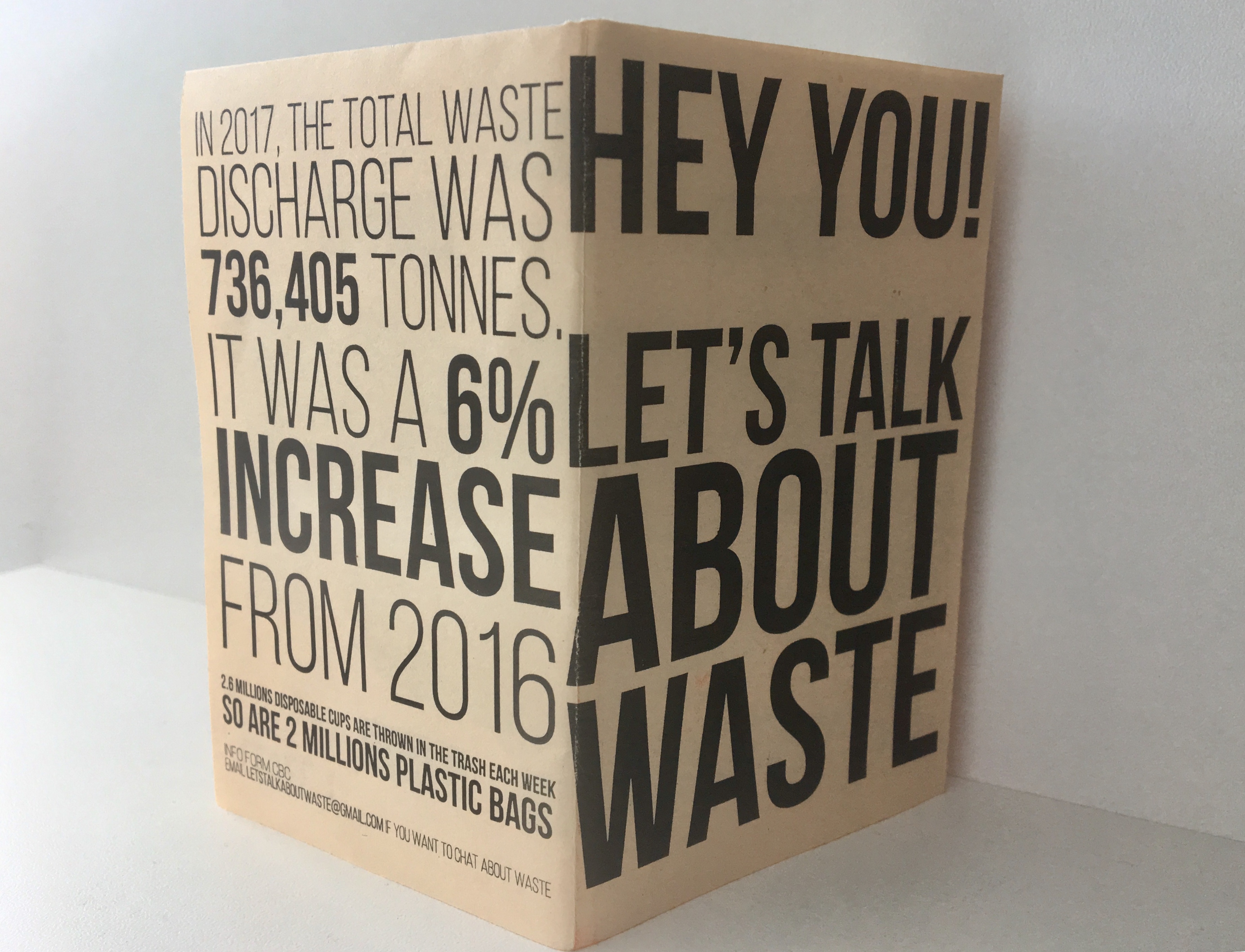 Posted on August 15, 2018 | Updated August 06, 2019, 9:07am
A group of ECU students are using zines to start conversations about waste on campus.
If you've tossed a coffee cup or thrown away a gum wrapper on campus recently, you might have noticed small paper zines near the waste bins: HEY YOU, LET'S TALK ABOUT WASTE.
The zines are a project of a small group of environmentally conscious students who want to improve sustainability on campus by making people think about how their habits affect our environment, on campus and beyond.
---
Q: Where did the idea for the zine come from?

A: This zine was a product of Amanda Huynh's HUMN 305/306 class in Summer Term 1. We wanted to create an Act of Care that represented something we were all passionate about and something that would make people stop even if just for a moment to think about their relationship with waste and the land ECU resides on.
Q: Have you gotten any feedback about it?
A: A few faculty members have reached out to us, as well as the people at Loafe! So far this zine was the start of bigger conversations, it brought forward a few people who have this idea on their minds already. It's wonderful to see there's a lot of us who feel the same way and want to continue talking and doing things about it.
Q: Why were you interested in addressing waste on campus?
A: The entire team felt very passionate about this topic because the waste disposal units around campus are infuriating. The garbage bins are larger than the recycling and there are almost no organics bins. Some floors don't even have organic bins!
We also found that a lot of people get take away containers for lunch and sit in the cafeteria to eat it. It's enough of a challenge to tackle this issue in your own home, let alone an entire institution. We felt the creation of these zines was a low-impact place to start.
Q: Did anything you learned while making the zine surprise you?
A: Throughout our research, a few of the statistics we came across were pretty shocking. In 2017, the total waste discharge was 736,405 tonnes. It was a 6% increase from 2016. Vancouver isn't as green of a city as we think.
Q: What are some steps that folks at ECU can take to reduce waste?
A: First, educate yourself on the single use items you are consuming. Notice where the most of your waste comes from and tackle one item at a time. Don't try to go low-impact all at once; you will fail.
Second, know which items belong in which disposal units. A lot of the time, the single use items we consume are recyclable or compostable, but end up in the garbage. Bring your own mug, cutlery, dishes. If that's not possible, order your food "for here" at Loafe, and bring your plates back ASAP for them to wash.
Q: What changes would you like to see on campus to improve sustainability?
A: Take away the big black garbage bins for one. Focus on getting food to stay in instead of take out. More signage and information from the systemic level.
Eventually having a recycling centre for all types of waste would be ideal (something similar to London Drugs units). Or a repurposing centre, where students and faculty can place unwanted items for others to take/use for free. Those would be good places to start.
For more information about the waste zines, email letstalkaboutwaste@gmail.com!
---
If you've noticed a cool project on campus, share it with us (and the ECU community!) by emailing communications@ecuad.ca.