Talking About Diversity + Gender in the Animation Industry
Posted on September 20, 2018 | Updated August 06, 2019, 9:07AM
Alum Desirae Witte shares her experience from the first-ever Women in Animation Vancouver Summit, which was hosted by ECU in August.
Desirae Witte (BMA 2015) attended the first-ever Women in Animation Vancouver Summit on August 11. In this post, she shares her experience and takeaways from the event.
Upon graduating from Emily Carr's Animation program in 2015, I decided to postpone the job hunt in lieu of teaching English in Japan for two years. After spending a lot of time eating sushi with my host mom and singing karaoke, I returned to Vancouver to seek a job in the animation industry. After about nine months in working as a production assistant, I landed my current role (and first artist position) as a storyboard revisionist, doing what I'd always hoped: drawing all day.
But since the start of my journey, I've heard many stories and read a lot of disappointing news about the industry at large, as well as about people I'd idolized in the past. It was particularly painful reading the stories about Pixar and John Lasseter, as my image of "the dream animation job" was woefully shattered. In the wake of these troubling stories, I've been thinking more about my role as a "woman in animation," so when I heard about the Women in Animation Summit taking place at Emily Carr, I was keen to see what it was all about.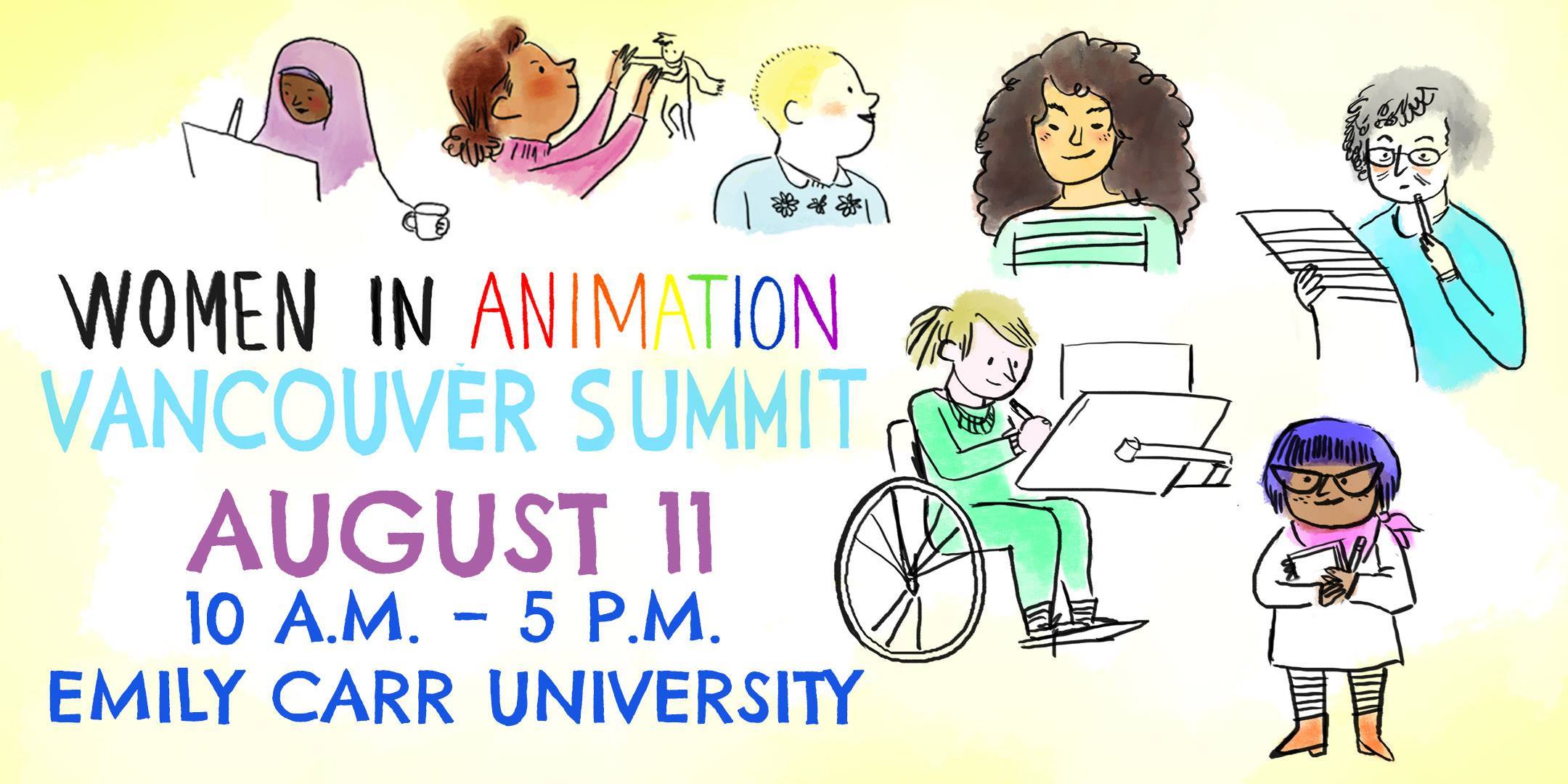 I had three immediate takeaways from the summit, a day which consisted of talks and presentations from various speakers: Firstly, it was very inspiring to see badass boss ladies taking on the industry and getting to hear about their journeys. We hear so many horror stories about rampant sexism within the industry, and of women not being able to advance despite their skill. While it is hugely important to share the truth about these injustices, it can feel discouraging. For me, it bred some fear that didn't exist before. My own experience as a woman within the industry has been overwhelmingly positive so far, but I find myself wondering, "When is this stuff going to happen to me?" By balancing tough discussions with success stories, the Women in Animation Summit left me feeling hopeful! So thank you to those women for lending their strength to everyone in the room.
Second, I was confronted by my own unconscious bias that day. Despite feeling incredibly inspired by some of the female presenters, I caught myself thinking things like; "Wow, she's doing that job?" and "Isn't she way too young to have that position?" I was saddened by my own reaction. Somehow, even as a woman who believes that women are capable of achieving anything, maybe an unconscious part of me doubts that. It's a scary thought: If we don't even fully believe in ourselves, how will we convince others to believe in us? But sometimes, all it takes is a bit of a wake-up call to readjust and get back on track, and for me, those women and their stories did just that.

My final takeaway was that the issues surrounding this movement are very hard to understand and untangle on one's own, but events like this can really help to begin to make sense of it all. I don't know exactly what I expected out of the day; I did not leave the summit with all of the answers. In fact, I probably left with more questions. Sexual harassment, prejudice, equal rights and opportunities are complicated issues that are commonly intertwined, and that can be very confusing. A lot of us, women and men, are wondering what it all means for us. How should we behave? What should we be wary of? How can we help things get better? But events like this start that conversation. They spark more questions, which ultimately lead to clearer answers.
Part of the summit featured an all-men's panel, and to see a group of guys engaged and participating added to the feeling that someone has my back. It reminded me of the incredible male friends I have in this industry, who are allies in every sense of the word, and who have gone out of their way to help me advance in my career. Men should be a part of this conversation; it's not an easy one to have, and sometimes people say the wrong things. But I think we all need to make an effort to be compassionate, and acknowledge that nobody is perfect, and nobody has all the answers. Let's talk about this together.
It was truly a treat to hear from such an incredible and diverse group of human beings, and I'd like to encourage anyone who is curious to come out and participate at the next event from WIA Vancouver- I'm looking forward to seeing you there!
Desirae Witte is a 2015 graduate of Emily Carr University. Find her work on Instagram @desonpaper.