2019 Provincial Sexual Assault Prevention Campaign Launched at Emily Carr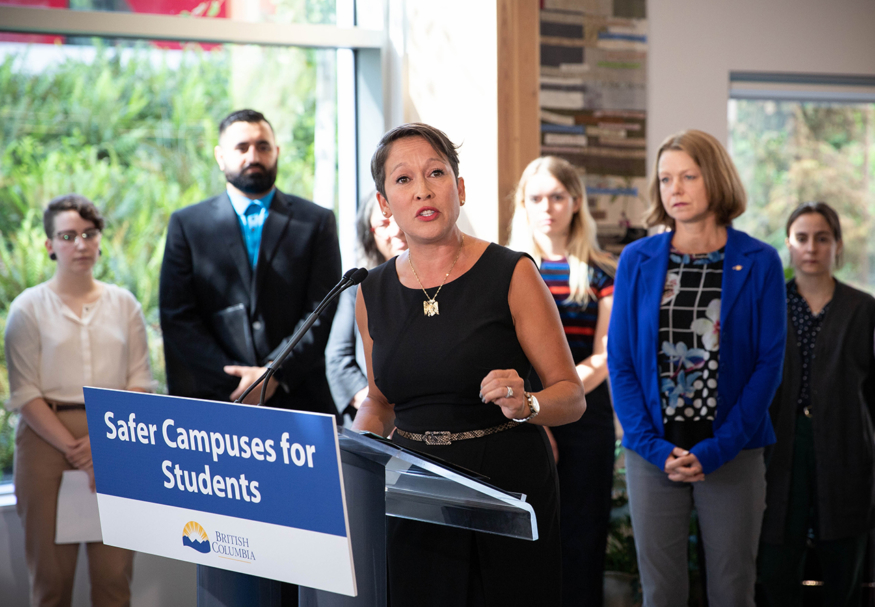 Posted on August 29, 2019 | Updated August 30, 2019, 1:26PM
Lawmakers, university leaders + student and community representatives gather to raise awareness of sexual violence on post-secondary campuses.
On Thursday, Melanie Mark, BC Minister of Advanced Education, Skills and Training launched her ministry's latest initiative in its ongoing campaign to prevent sexual violence on campus, and raise awareness of sexual assault and misconduct in post-secondary environments.
Flanked by ECU President + Vice-Chancellor Gillian Siddall and Parliamentary Secretary for Gender Equity Mitzi Dean as well as student and community representatives and allies, the Minister drove home the importance of "leaning in" to difficult conversations around developing better and more accessible protocols for the prevention of sexual violence, and for the preservation of students' right to safety.
"Sexual violence and misconduct is a serious issue," Minister Mark told the crowd.

"I've spent most of my youth and adult years advocating for the protection of young people; I believe that young people have a right to safety. I believe you should live a life without being a victim of violence. I believe you have a right to be free of violence or rape."

Minister Mark then unveiled the images which accompany the province's 2019-20 Sexual Violence Prevention campaign -- part of an investment of more than $750,000 to respond to sexual violence on campuses in BC.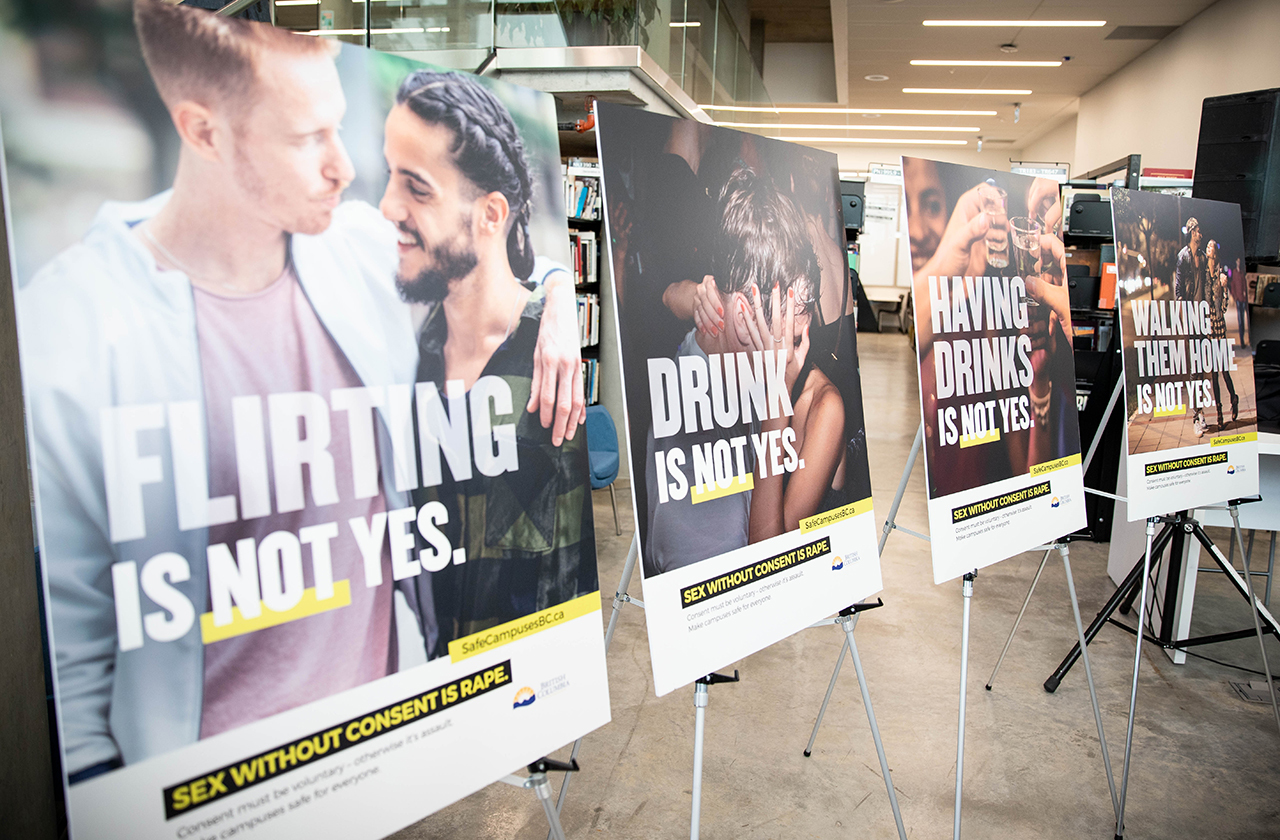 One in five women will experience sexualized violence while studying at a post-secondary institution, according to the province, while roughly two-thirds of sexual assaults on campuses occur within the first eight weeks of the new school semester.

Speaking after Minster Mark, Gillian likewise took an unequivocal stand on the responsibility of post-secondary institutions to take concrete measures to defend the safety of their students, staff and faculty.

"It is incredibly important that students feel safe on campus. Our students have a right to study in an inclusive learning environment that is free from inappropriate sexual conduct," she said.

"From our perspective, it is important for us as an institution to protect our community of faculty, staff and students, as well as to defend that basic human right [which is] is fundamental to creating an environment where equity, social justice and student agency can flourish."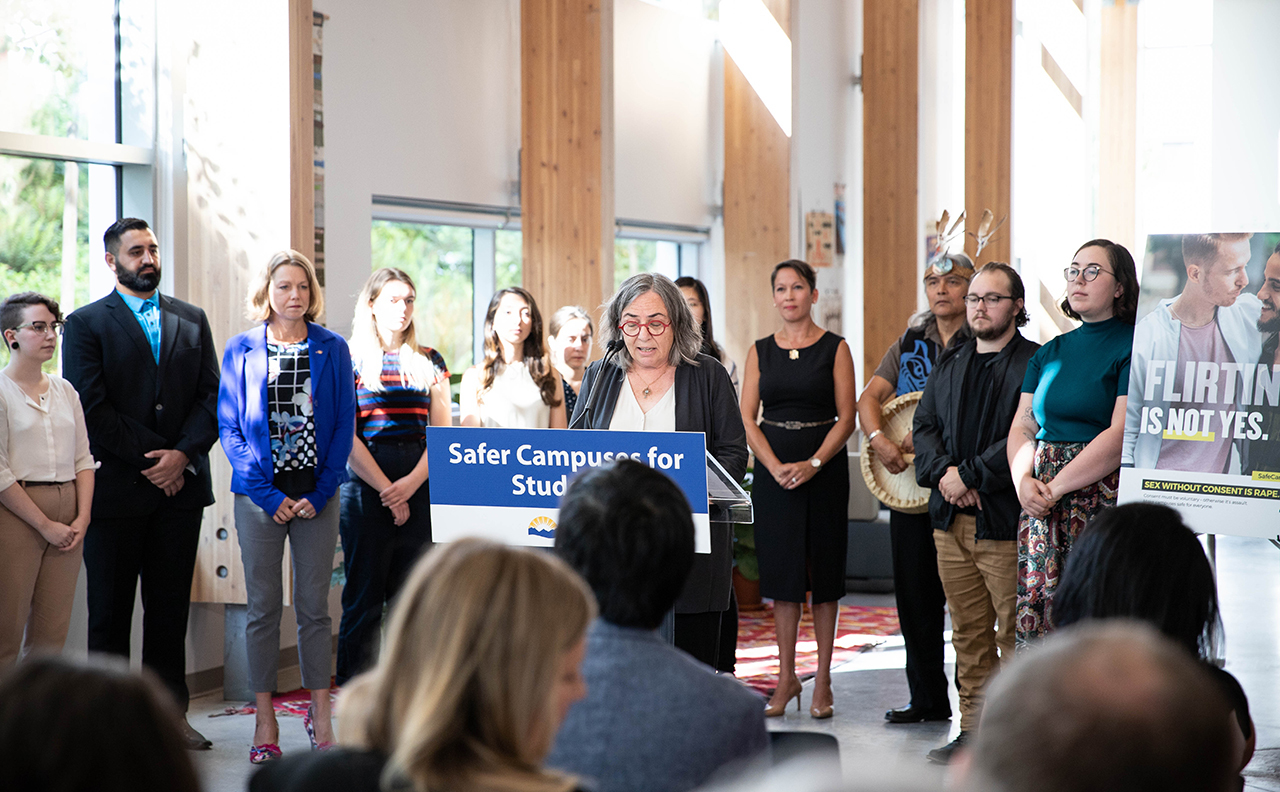 Tracy Porteous, Executive Director of Ending Violence Association of BC, addressed attendees next, followed by Tanysha Klassen, Chair of the BC Federation of Students, and Gurvir Gill, Chair of the Alliance of BC Students.
In June 2019, the Province announced $760,000 to support plain-language policies and processes regarding sexual violence and misconduct to ensure they are clear and easy to understand. The funding is also being used to co-ordinate resources so post-secondary institutions can learn from each other, share best practices and access training resources.
Since May 2017, all of B.C.'s 25 public post-secondary institutions have been required to have sexual violence and misconduct policies. The Sexual Violence and Misconduct Policy Act also requires institutions to make their policies publicly available.