360 Riot Walk Aims to Reveal Dark Legacy in Downtown Vancouver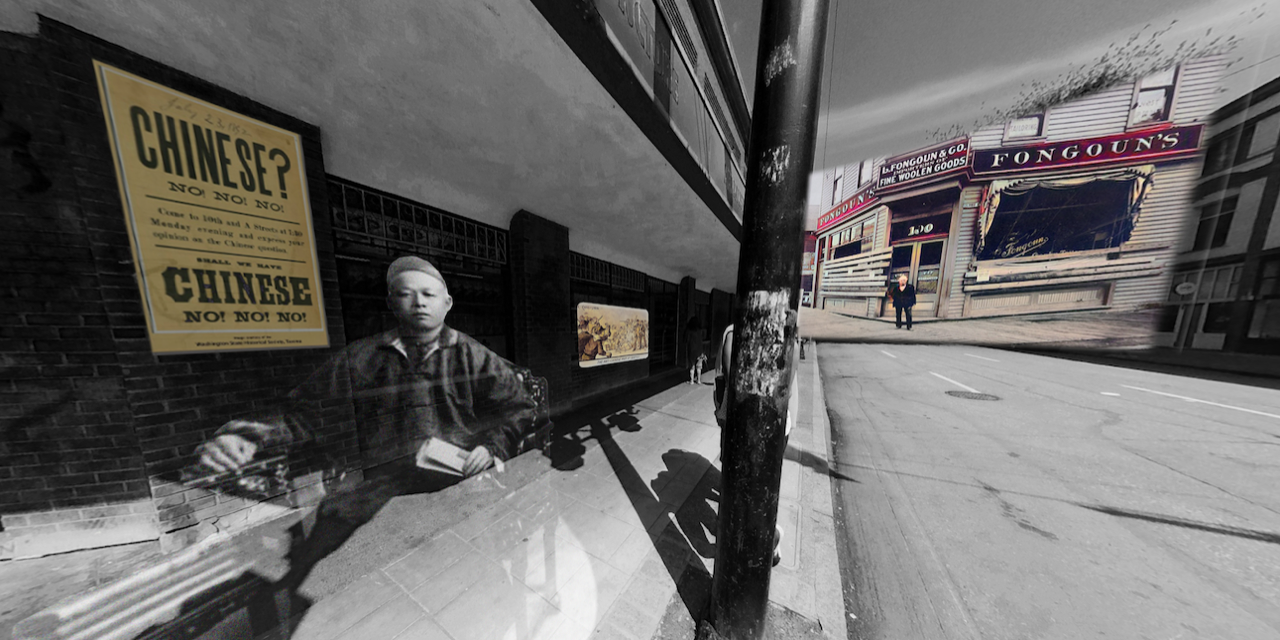 Posted on July 26, 2019 | Updated August 06, 2019, 9:07am
Enhanced-reality is the latest tool in artist Henry Tsang's ongoing engagement with local history.
Henry Tsang doesn't expect his 360 Riot Walk enhanced-reality walking tour of Vancouver to be a comfortable experience. But the Associate Professor in Emily Carr University of Art + Design's Faculty of Community + Culture says the questions that arise from his latest work are ones Vancouverites need to be asking themselves.
"It starts off by the Gassy Jack statue as a way to establish where Vancouver first began: as a settlement for non-native folks to exploit the resources of this area," Henry says of the tour.
There, at the foot of the statue commemorating the man who — the story goes — was one of the first white settlers to come to the area which would become Vancouver, participants will be able to use their mobile devices to view the statue, buildings and streets through the filter of an audio-video reality created by Henry and his team.
Many Vancouverites are unfamiliar with the 1907 riots, but Henry aims to change that — and in doing so, alert participants to the stories their built environment can tell them.
Breaking through the contemporary street scene are colourized archival images from more than a century ago, depicting life in the city around the time of the notorious 1907 anti-Asian riots. Looking through a phone or tablet, tour participants will see posters bearing racist — and sometimes violent — imagery and text emerge from the faces of the buildings throughout the historic Gastown square. These posters and notices, Henry says, are drawn from Canadian and American archives, and are contemporaneous to the 1907 riots.
An audio track guides viewers through this environment, explaining the history of the riot that would make headlines as far afield as London and New York. A dozen more stops throughout Vancouver's Downtown Eastside — including Chinatown, Gastown and the Powell Street area — repeat the equation, drawing viewers deeper into the ways the modern city embodies (or has erased) this dark chapter in its history.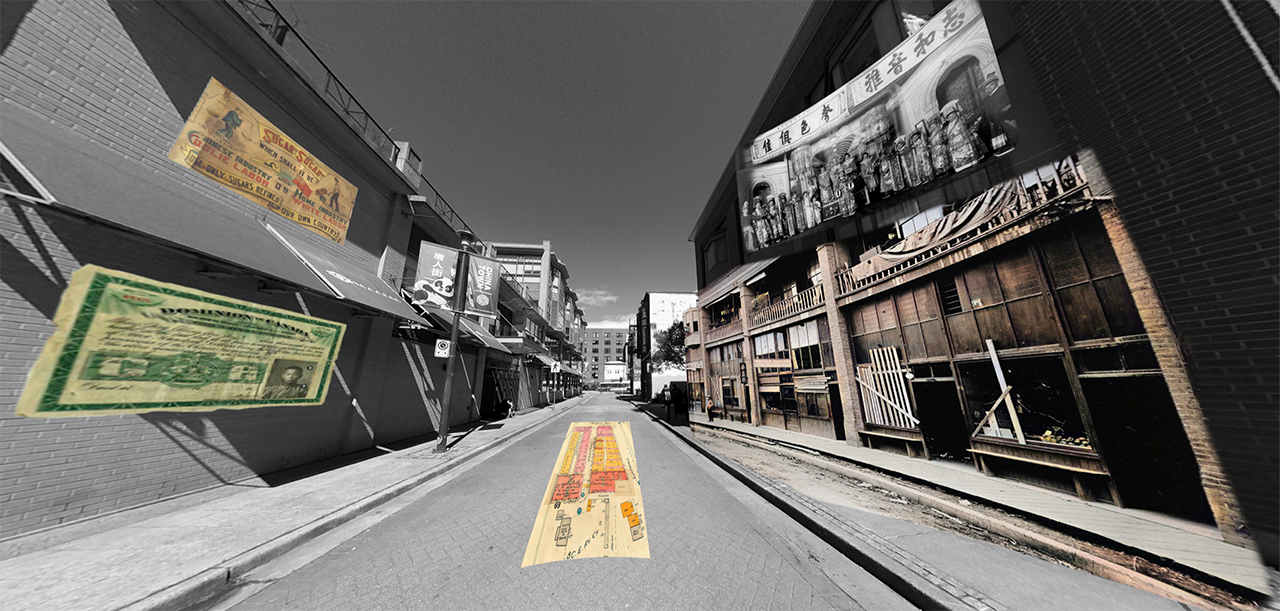 A century ago, many Chinese families and individuals had settled in Vancouver following the completion of the Canadian Pacific Railway. Vancouver was also home to a vibrant Japanese community. But anti-Asian sentiment was accepted as a matter of course at this time, and was espoused by many prominent thinkers and academics, who believed white European racial superiority to be self-evident.

The Vancouver chapter of the Asiatic Exclusion League (AEL) was only one of many which existed in communities up and down the West Coast of Canada and the United States. It was founded barely a month ahead of the 1907 riot, and some of its founding members included acting city councillors and Alexander Bethune, Mayor of the City of Vancouver at the time. The League agitated for an end to Asian immigration, pointing to the jobs immigrants were accused of having stolen from white Canadians.
This entrenched hostility reached a boiling point on September 7, 1907, when the Vancouver chapter of the AEL staged its inaugural march, heading to City Hall (at the time in the Old Market Hall next to the Carnegie Centre) in a demonstration whose participants numbered in the thousands, according to historical estimates.
Speakers advocated not only for an end to Asian immigration, but for the wholesale expulsion of people of Asian descent. A mob broke out, and descended upon Chinatown, smashing every window and wrecking every object within reach. Chinese residents and shop-owners were taken by surprise, taking refuge and barricading their doors.
The next day, the rioters continued on to Nihonmachi where the Japanese community lived around Powell Street near Oppenheimer Park. There, the mob met resistance because the Japanese had a full day to prepare. There, they were showered with bricks and bottles thrown from rooftops and were confronted by a cohort of furious Japanese residents, armed with knives and other weapons.
The riots lasted for two days, ending with an arson attempt on the Japanese Language School on Alexander Street.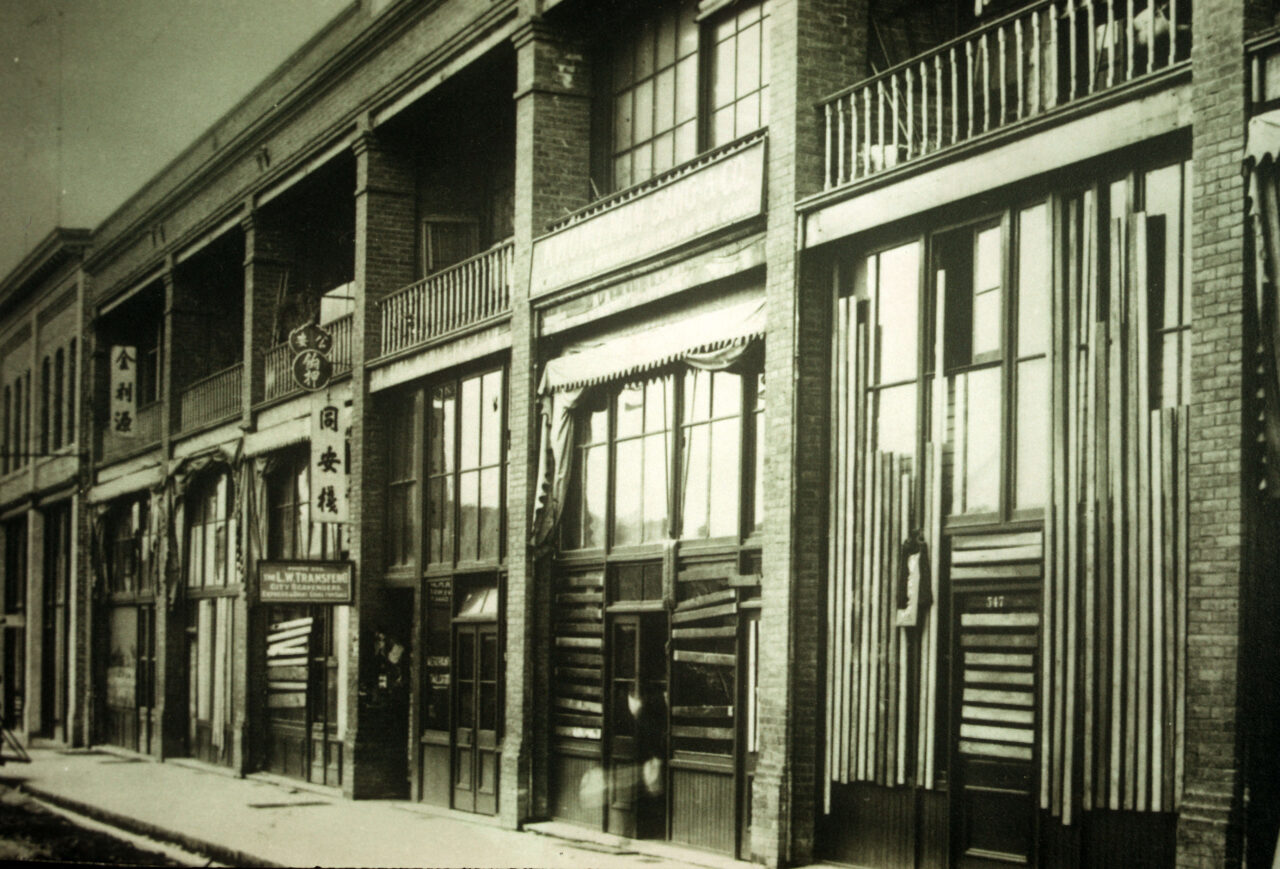 But the legacy of that event is still alive today, says Henry. And having participated in walking tours of Vancouver produced by artist, author and riot historian Michael Barnholden, Henry decided to develop what became the 360 Riot Walk in order to spotlight that legacy.
Michael and Henry had previously worked together on a walking tour for Henry's contribution to the Ten Different Things project, curated last year by the Living Labs' Kate Armstrong.
That work, entitled RIOT FOOD HERE, was also about the 1907 riots. It asked the question, "What would you be eating just before you go out as an angry white man to attack an Asian? What would you be eating just before you get attacked by the angry white men in Chinatown or Powell Street, or if you were watching white men attack Asian people on your land?" Henry says.
Henry recalls that during the walking-tour portion of RIOT FOOD HERE, he thought, "What if this was a self-guided tour and it was a 360? And you were able to compare what we have now — our urban landscape — with what's happened in the past, which has shaped our current landscape, especially given the devastation of the neighbourhood after the Japanese were forcibly removed to internment camps?
"Because since then — and even before then — the city had passed a lot of bylaws to restrict, control and make it as difficult as possible for (non-white communities) to prosper and survive."

Henry says he's had half-an-eye on VR and 360º video technologies since the '80s, although this project represents his first foray into their use.
360 Riot Walk is in many ways an extension of the conversation developed with RIOT FOOD HERE, Henry says. Using enhanced-reality technology as an artistic medium, as with using food, represents a refiguring of the tools one can use to think about and understand history, he notes. Meanwhile, enhanced reality provides a fresh window onto how civic policy not only shapes landscapes and cityscapes, but how the built environment — and the places present or absent therein — reveal a city's past (and, in this case, the efforts of lawmakers to control and marginalize communities).
Together, Michael and Henry wrote the script, while Sean Arden, Digital Studios Technician with Emily Carr University, brought his expertise to bear on the tech side of the project. MFA graduate, Adiba Muzaffar, as well as undergrads Arian Jacobs and Evan Craig also worked on the project.

Launched in partnership with the Dr. Sun Yat-Sen Classical Chinese Garden, Henry says the project also involved collaboration with a number of individuals and community groups "who have deep history and knowledge of Chinese-Canadian and Japanese-Canadian issues."
But aside from bringing participants into contact with Vancouver's history, Henry says the tour will also bring them into contact with its present.
"They're going to encounter the Downtown Eastside," he says, noting Canada's first drug prohibition was passed in the wake of a post-riot visit to Vancouver by Deputy Minister of Labour William Lyon Mackenzie King to make reparations to damaged businesses.
King's contact with the Chinese business community included purveyors of opium, and King's subsequent report to Parliament argues for a ban on non-medicinal opium use. In 1908, Canada's first drug prohibition — the Opium Act, a bill submitted by King's boss Rodolphe Lemieux — sailed through the House and Senate. This legislative event arguably folded years of puritanical anti-substance rhetoric into a bill which would do double-duty as an economic sanction against the majority-Chinese opium producers.
The bill also inaugurated the modern era of prohibitionist policy which has figured so largely in driving the contaminated drug supply currently decimating Canadian communities, none more so than the one now living in the City of Vancouver's former centre.
Henry says he's keenly aware of what this particular dynamic might mean for his project.
"There's going to be potential challenges that I'm concerned about, because some folks who are locals (in the Downtown Eastside), they don't like seeing tourists going through their space," adding so-called "poverty tourism" has become a problem in many places across the globe, and marginalized communities could be excused for looking askance at a group of people walking their streets with mobile devices.
That said, Henry says he believes learning how the past and present connect is important. And in a sense, he adds, there is a kind of mirroring between the challenges faced by Vancouver's Asian communities a century ago and residents of the Downtown Eastside today: both face social policies which, willfully or otherwise, serve to further disadvantage already-marginalized communities.
"(The Downtown Eastside) is part of Vancouver, and I think that more people who are not familiar with that area should be. Especially given that that area is where Vancouver started. And to see where it is now, it should raise a lot of questions that need to be addressed."
Once the project goes live, anyone with data and a device will be able to take their own self-guided tour via online streaming, Henry says. The audio will be accessible in English, Cantonese, Japanese, and Punjabi. The launch for the project will take place Saturday, July 27 at 2pm at the Dr. Sun Yat-Sen Classical Chinese Garden, while guided tours will take place Aug. 3 & 4, and Sept. 7 & 8.