Building Empathy for Old Growth
Posted on November 18, 2019 | Updated November 18, 2019, 11:59am
ECU faculty harness the power of immersive art to bring BC's embattled old-growth forests into the heart of the city.
Imagine entering an ancient hollow cedar in a dense, old-growth forest. Bugs, birds and squirrels— all residents of the forest around you — whirr and chirp, punctuating the quietly persistent hush of wind rustling through the forest canopy. Peering upward, you watch mossy branches bounce and wave against a pale sapphire sky — an image transmitted down to you through the top of the hollow trunk as if through the porthole of some strange ship.
If you've ever spent time in the wild areas around British Columbia, you may have a pretty clear picture by now. If you haven't, then take a moment to step into they speak in whispers, an immersive mixed media art work currently on exhibition at Science World in Vancouver.
They speak in whispers is one of a series of works that will be coming to the Science World's Search Gallery through May, 2020, as part of the Wild Empathy project, led by ECU Associate Professor and researcher Julie Andreyev and Maria Lantin, Director of the Basically Good Media Lab.
Participants enter the hollow trunk of a 300-year-old cedar in Science World's Search Gallery, and are treated to a soundscape made from recordings of an old-growth forest near Antler Lake on Vancouver Island. 'Bass shaker' speakers project low frequency soundwaves — created from recordings of the movement of trees — into the tree body, adding subtle vibrations to the liveliness of the sonic experience. Looking up, they see the forest canopy stirring high above them. The whole experience — tactile, auditory and visual — draws participants into intimate contact with the vital role such trees play in the living ecosystems of the Pacific Northwest.
On nearby cedar logs, visitors can sit and put on a virtual reality (VR) headset to experience Tree Earth Sky, an immersive depiction of wild soils and a forest grove. They hear the rustling of tree roots, and see the carbon and water cycle of the mycorrhiza network where plants and fungi cooperate in this community. Above ground, they see a mother tree — an ancient Douglas fir — with the surrounding plant communities, and hear the calls of loons who inhabit the lake nearby.
There's also a "tree cookie" work made from a cross-section remnant of an old-growth tree uprooted from Stanley Park during the 'blow down' over a decade ago. Viewers can see and touch its tree rings, and hear a soundscape generated by data from the rings, created by composer Simon Overstall. Surrounding the space are cardboard cutouts reminiscent of cedar branches creating a dappled light effect like in a forest; and a video backdrop showing the majestic scale of a pair of living old-growth trees.
In its earliest stages of development, Wild Empathy drew inspiration from research by Stanford University's Virtual Human Interaction Lab, which found that people can develop empathy for plant and animal species by interacting with them in immersive media. Indeed, the Wild Empathy project was begun with the intention to draw urban viewers into intimate, virtual contact with old-growth trees and forests.
The need for an increased intimacy between city-dwellers and the wild spaces in their backyards has taken on renewed urgency in light of the current climate crisis, says Julie. Human-produced climate change, development, and resource extraction have dramatically affected the forests in BC, specifically old-growth forests. Indigenous old growth species are suffering population reduction in northwestern Canada because of the drier, hotter summers. Over the last decade, because of deforestation from industry and development, the province's forests no longer function as carbon sinks — they are now carbon sources.

The harvesting and death of these large trees affects not only climate, but biodiversity and ecological health more broadly. Old trees provide rich sites for plant and animal life unlike newer trees and younger forests; they function as crucial hubs of networked communication and nutrient-sharing activity within the forest; and forests on the coasts help bring precipitation to interior parts of the province.

Yet despite these clear benefits, old trees are being cut down at an alarming rate, Julie says. Vancouver Island, for instance, had 2.6 million hectares of old-growth rainforest prior to the start of colonial logging practices. By 1990, half of that amount remained. And between 1990 and 2015, an additional 30 per cent has been harvested. Meanwhile, the average amount of old-growth harvesting has been increasing by 12 percent annually. Despite only 10 per cent of old-growth remaining, such forests continue to be logged at a rate of 34 soccer fields per day.

With such dire statistics in mind, Julie and her team have not shied away from embracing the use of a number of different approaches to achieve their goal of empathy-building.
"The Wild Empathy project is geared toward raising awareness," Julie said, adding that coming into contact with difference — whether it be different beings or different environments — is a first step toward deeper understanding, and eventually, compassion and empathy.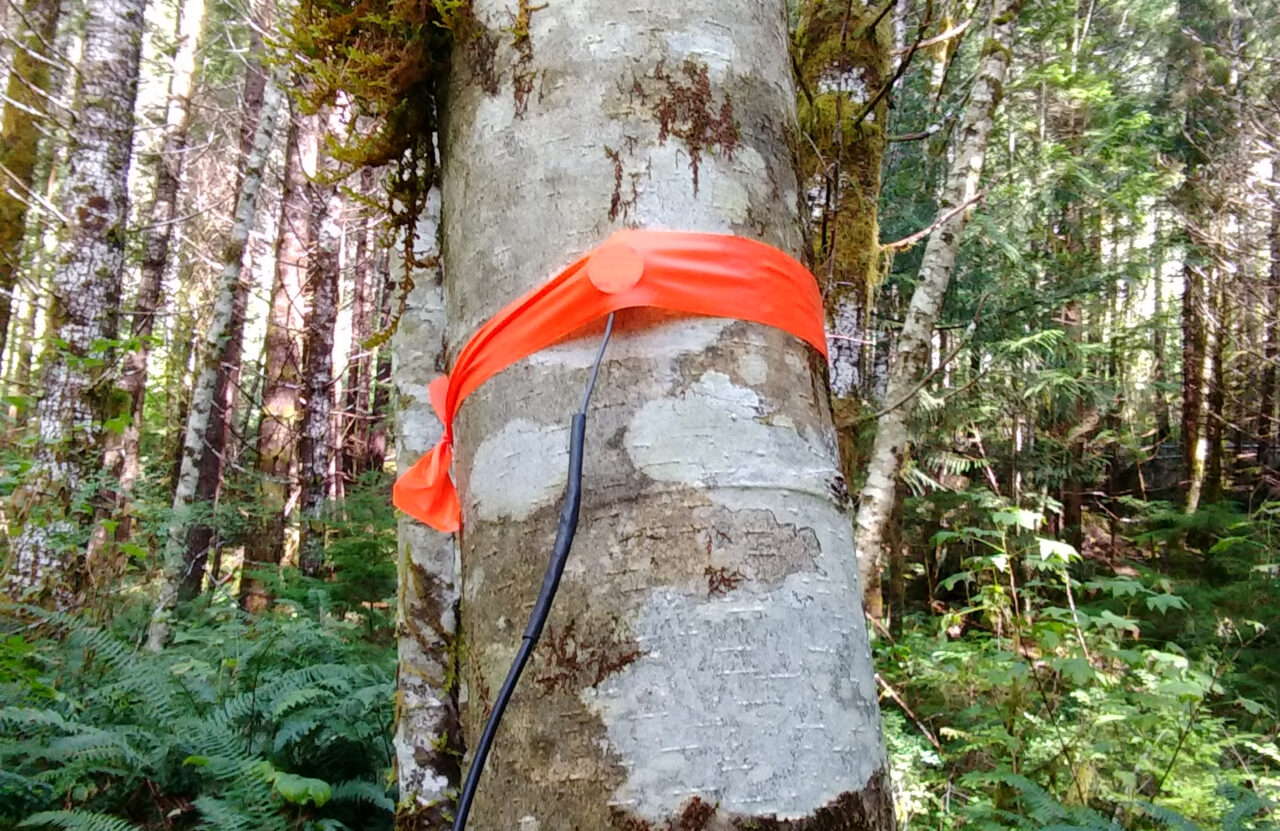 Maria says this is especially important for city-dwellers, for whom the forest may feel more like an inanimate resource than a critical instance of living infrastructure.
"Many people view forests like any other garden to be harvested," she noted. "People who live in cities have that mindset, because it appears as though everything we need is contained in the city. So, the experience of being in this exhibition gives you a fraction of what it feels like to be a part of a forest ecosystem."
Since its inception, Wild Empathy has received media coverage and a Social Sciences and Humanities Research Council of Canada Grant — both encouraging signs that the project has resonance in the broader community.
The inclusion of Wild Empathy in an urban learning space such as Science World is also an enormous step toward the project finding audiences outside the worlds of conservation, arts or tech, says Julie. Although in her opinion, there is an inherent human appetite for connecting with the wildlands outside urban centres.
"A love of nature is in people already; they just have to be given permission to acknowledge it," she says, noting there appears to be a great deal of social conditioning which encourages young people to shift focus away from valuing a connection with nature.
"The past generations of kids were brought up to value achievement, and not necessarily to value empathy and caring for their fellow kin, including non-human people," she says. "That empathy has been taught out of them. As kids, we're naturally drawn to being in nature and we want that connection with other animals and plants, but then somehow society diffuses that, or takes it out of us."
That said, Julie also notices a growing awareness among young people of the importance of reconnecting with wild spaces. She says Wild Empathy will hopefully be a part of making that awareness a permanent feature of the next generation's ecological perspective.
"The students I see now are way more informed — just in the past five years or so — about the ecological challenges from human anthropogenic forces, and they want to reconnect with nature," she says. "So, I feel hopeful there's a change coming."
The Wild Empathy team involves eight undergraduate research assistants including Mana Hairichian Saei in the New Media + Sound Arts program and Animation student Edward Madojemu; two graduate students, including Emma Baldwin; and Sean Arden, research technician in the Mixed Reality Lab. External partners include UBC researcher Dierdre Brink, documentary filmmaker Damien Gillis, composer Simon Overstall, computer scientist David Baar, artist and designer Alex Hass, photographer Lorenz Jimenez, and Tom Cummins, Director of Exhibits at Science World.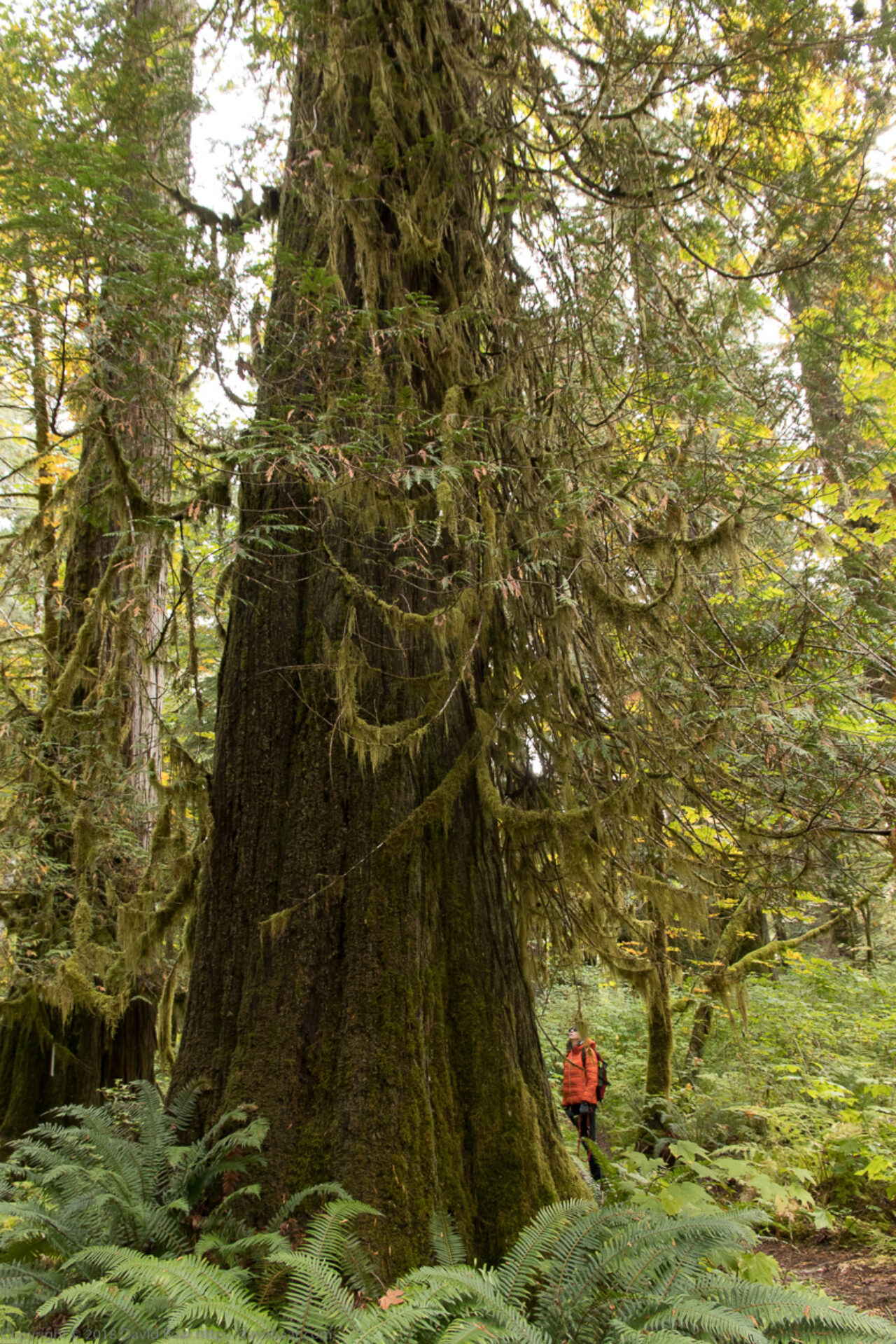 If you want to experience they speak in whispers, head to Science World during their open hours; the VR experience Tree Earth Sky is available during these dates and times:

Wednesday, Nov 20, 11am-1pm
Friday, Nov 22, 11am-1pm
Wednesday, Nov 27, 1pm-3pm
Friday, Nov 29, 11am-1pm
Wednesday, Dec 4, 11am-1pm
Friday, Dec 6, 1pm-3pm
Wednesday, Dec 11, 11am-1pm
Friday, Dec 13, 1pm-3pm
~ further dates TBA