Claudia Adiwijaya Selected for Antenna Foundation showcase
Posted on September 26, 2019 | Updated September 26, 2019, 9:20AM
The recent grad is headed to the Netherlands in October to present her thesis project to an audience of renowned innovators, designers, peers, and design students.
Claudia Adiwijaya (BDes, 2019) believes a path to human well-being may be to follow one's nose. And if the international recognition she's receiving for her fourth-year ECU industrial design studio thesis project, Essentia, is any indication, she's on to something.
Essentia is aimed at harnessing the significance and importance of the human sense of smell — which Claudia refers to as the "mute sense" — to actively cultivate wellness.
Earlier this month, Claudia was informed she had been selected as one of the Antenna Foundation's top 15 best young designers from around the world — a plaudit that will see her headed to Eindhoven in the Netherlands to speak during Dutch Design Week.
The Antenna Foundation conference, initiated by Design Indaba and Dutch Design Week, is a preeminent, international platform for showcasing cutting-edge design and connecting emerging creators with the global design industry. It also represents an exceptional chance for recent graduates to gain exposure, according to Claudia's studio thesis project supervisor Maxe Fisher.

Claudia says she is thrilled at the opportunity to learn about design through the eyes of a global community.
"I have so much to learn from other young designers around the world, and from seeing what design means for creators in Europe, North America, Asia … The more I'm exposed to design from around the world, the more I realize there are so many things yet to be explored and learned."

Essentia is wearable jewelry created using 3D-printing. The jewelry measures its wearer's pulse-response biometric, issuing releases of individually selected aromas in response to instances of physiological, situational stress or exertion.
The seamless pendant conceals a scent reservoir, a small lithium battery, a circuit board and motor. When sensors in the necklace band detect a wearer's heart rate rising above 110 bpm, the chosen scent is atomized through "air gaps" in the jewelry.
The aromas were extensively researched, tested and developed by Claudia into a "scent library" encompassing a remarkable spectrum of source materials, from the fairly commonplace — such as orange peel — to the unexpected, such as egg shells, metal powders and leaves.
Claudia says Essentia aims to uncover how human emotion, memory and physiology are linked to the sense of smell — a sense which, Claudia notes in her project brief, sends unfiltered sensory data to our brains every time we breathe.
"Smell is largely considered insignificant in our world today," she writes. "Yet, we forget that our olfactory sense has been helping us to mate, eat and survive [since] prehistoric times."
Modern technology's unrelenting emphasis on the visual and auditory has led to a devaluing of smell as an influence, and a "numbing" of the olfactory sense, Claudia suggests.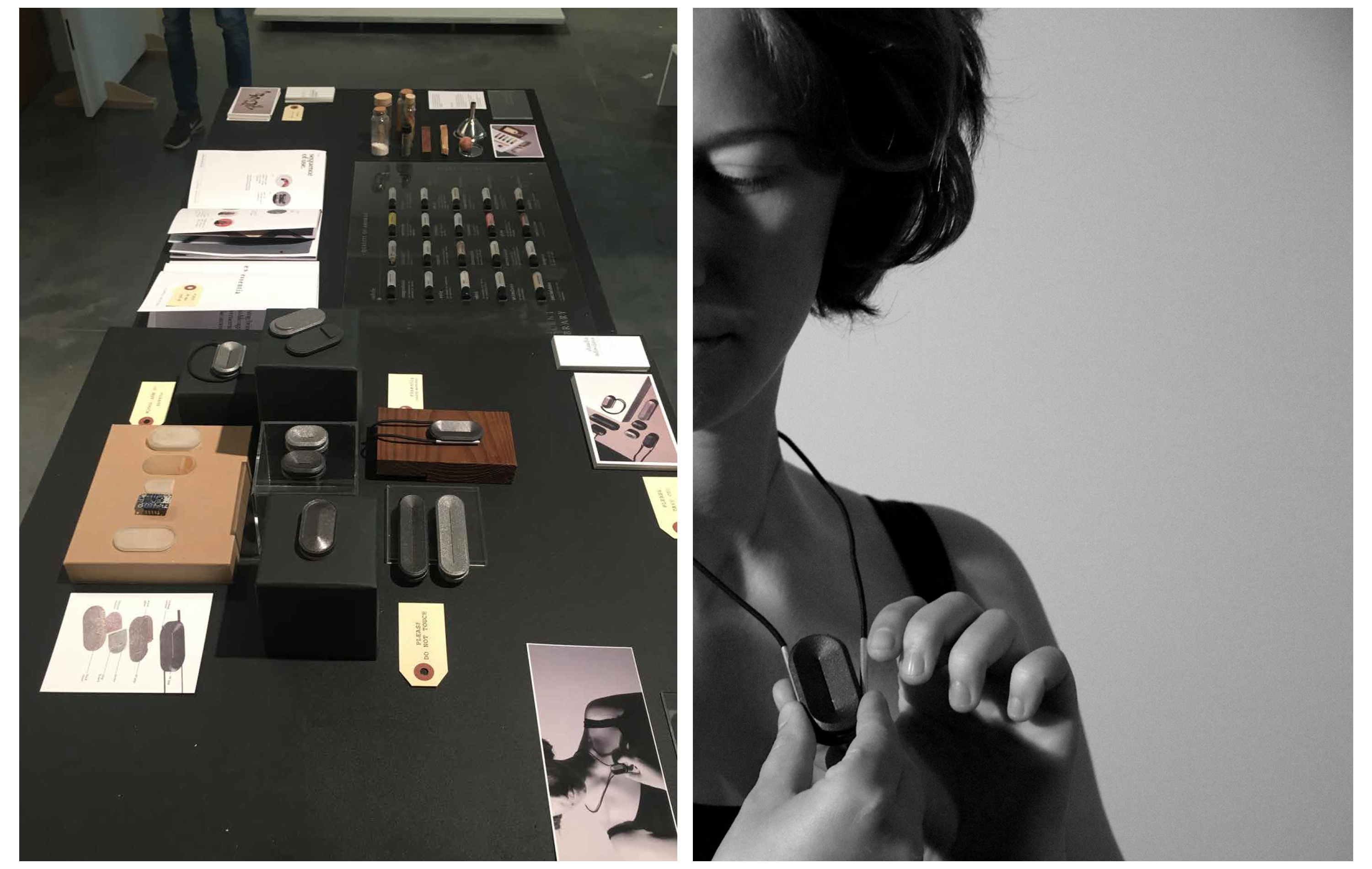 A video portrait Claudia produced as part of her Antenna Foundation application sensitively expresses the meaning and sociocultural contribution of the project for the Jakarta-born, Vancouver-based designer.
Once she returns from Dutch Design Week, Claudia — who is currently working as a Junior Environmental Designer at Entro — says she is looking forward to embarking on further explorations and collaborations around "materiality and the concept of time" in her off-work hours.
It has taken courage to maintain discrete professional and personal design practices since graduating, Claudia says, adding her commitment to both, is unwavering, and is a necessary and critical part of her design vision.
"It has been such a rough transition to do both at the same time," she says, "but I believe that it is possible if I truly want it."