Edward Madojemu is Breaking New Ground in VR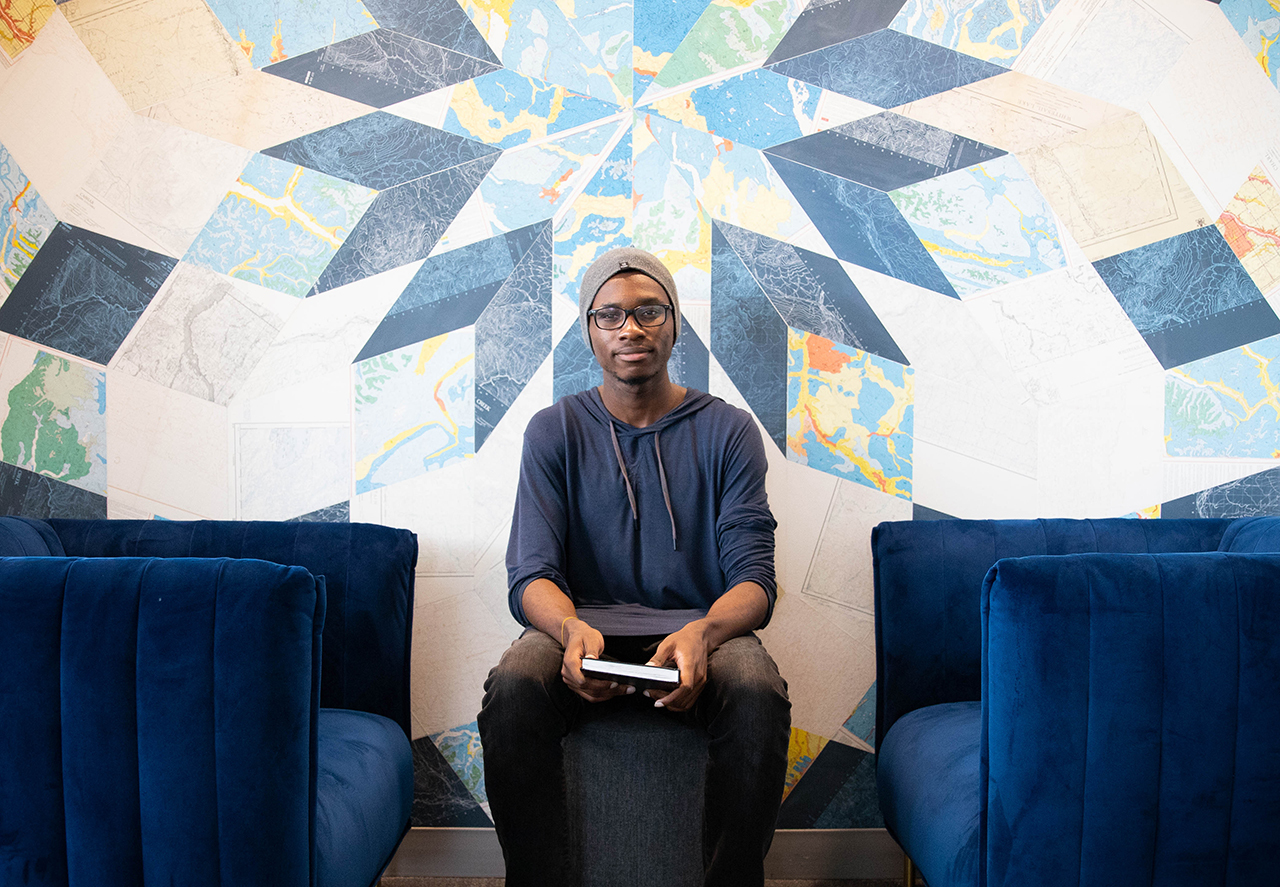 Posted on September 12, 2019 | Updated September 13, 2019, 9:21am
The third-year ECU animation student is working in ways his mentors and peers had never seen previously.
Edward Madojemu is a rising star.
The third-year Emily Carr animation student is currently receiving advance praise for his Dami and Falian virtual reality (VR) graphic novel, which will be featured in several iterations at the upcoming Vancouver International Film Festival alongside the works of accomplished, professional animators, filmmakers, and other veteran creators.
One portion of Dami and Falian — which in its entirety marks a radical break with the traditional forms of graphic novels by using 360º hand-drawn environments to transport the viewer into the story — will be on view on VR headsets at the VIFF Immersed exhibition, giving viewers a chance to step into Edward's built worlds.
The graphic novel portion of the project will also be available for viewing on tablet devices, for viewers who are curious to see the story play out on a traditional, 2D screen. And the Dami and Falian short film — a bite-sized portion of the larger story, subtitled How Was Your Day?, which takes viewers on a 360º video romp through a lushly-rendered alien jungle alongside the project's eponymous heroes — is being shown as a standalone project.

And both How Was Your Day? and the broader Dami and Falian project are finalists in the VIFF Immersed Exhibition — in the "Animation" and "BC Showcase" categories, respectively.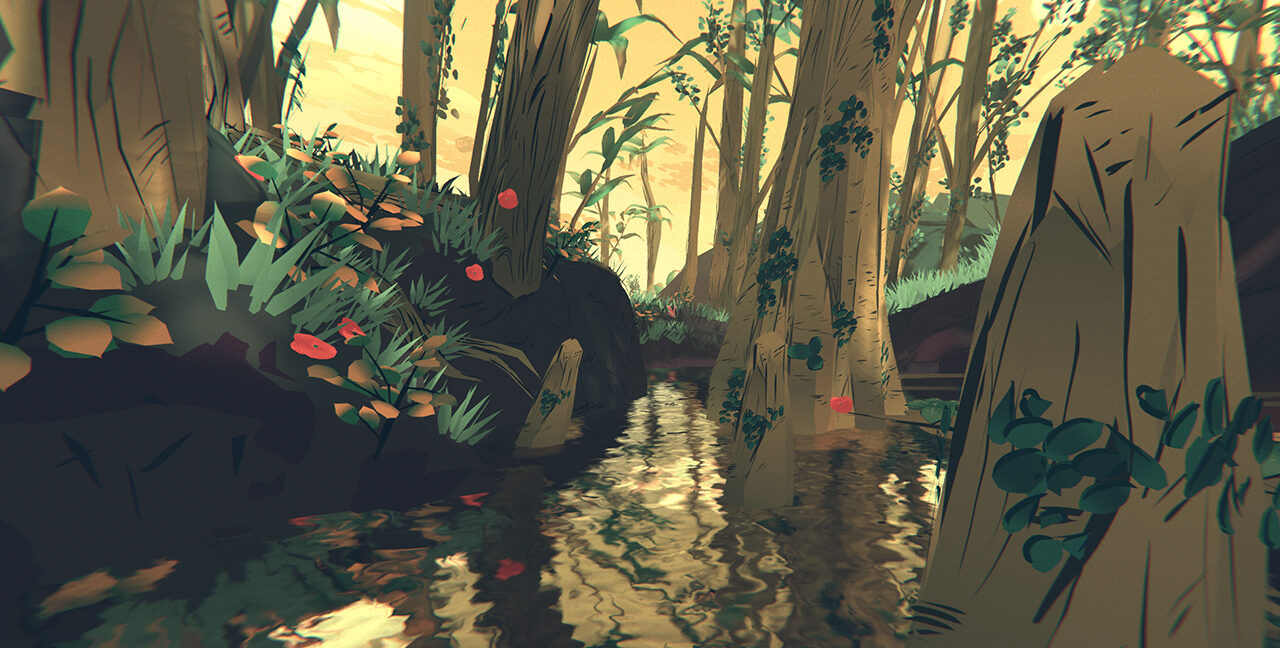 But according to his mentors at ECU's Basically Good Media Lab (BGML), Edward's skyward trajectory isn't simply the result of his eye for stunning visuals, or his ability to craft a compelling storyline.
Edward, say those instructors, is pushing at the very limits of the technologies he's using to create his 360º immersive environments. In fact, they say, he's pushed so far out ahead of the evolution of the craft itself that he often finds himself peering over the edge of what is currently supported by standard 360/VR tools.
In other words, the 19-year-old animation student is currently charting unknown territory in the world of immersive storytelling.

Edward first appeared on the doorstep of the Basically Good Media Lab in January, 2018, alongside ECU Associate Professor of Animation Martin Rose, who'd seen Edward's talent and understood he would flourish in the BGML environment.
Faculty at the lab — BGML Director Maria Lantin; Alan Goldman, Industry Liaison at the lab, and Research Technician Sean Arden — quickly realized Edward didn't just have good ideas, but had instinctively begun creating a new method for constructing VR/360 video.
"The technique with which Edward is working is right on the bleeding edge of what's happening in this medium," Alan says.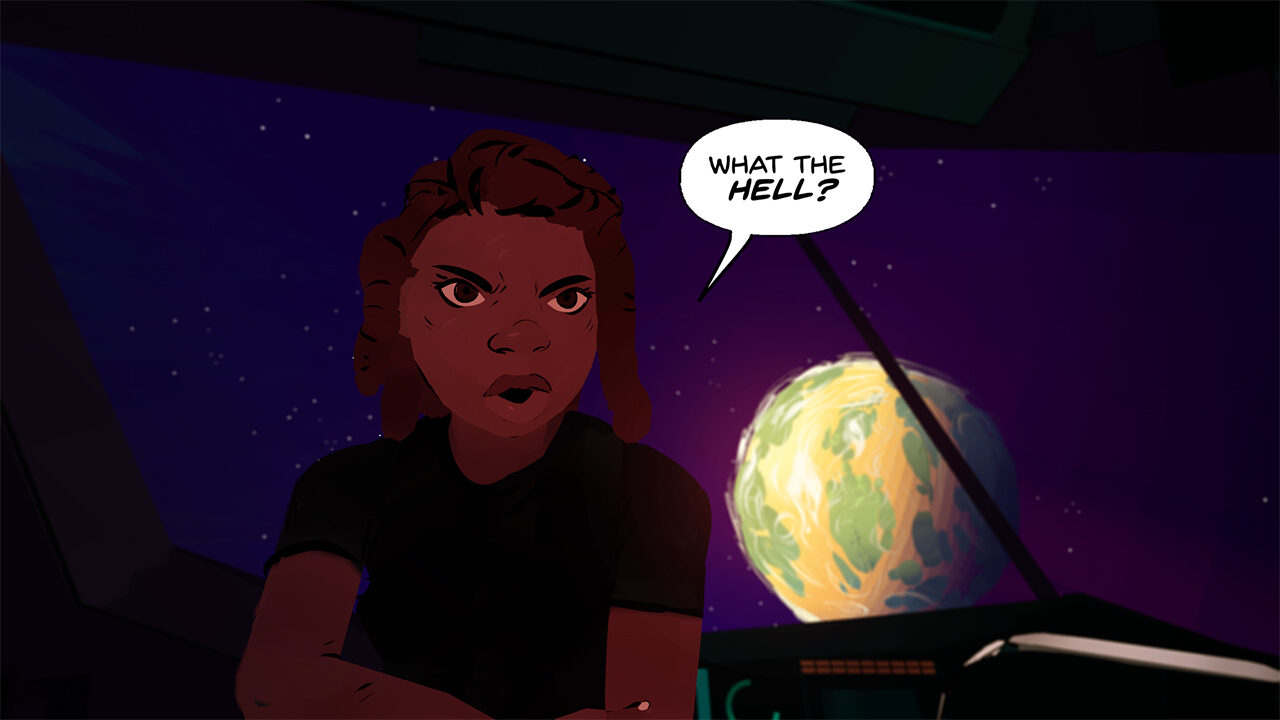 Most animators typically construct characters and environments using a 2D device, such as a laptop, desktop or tablet, Alan explains. Those spaces or characters are then translated into the 360 experience.
But from the very beginning of his projects, Edward puts on a VR headset and begins "painting" his characters and sets inside 3D space.
"There may be others who are doing this but he's very much pioneering a technique."

Maria, BGML's director, says she believes an even more profound innovation — one related to the hand-drawn quality of Edward's work — is his solution for how to navigate a graphic novel in VR.
The VR medium, she notes, has "mostly been about game-like interaction and action-oriented storytelling." VR also grants viewers an expectation of agency over their experience of a story, she says. So finding ways to ensure a viewer interacts with Edward's 360º graphic novel in a way that continues to drive the narrative forward — from "panel-to-panel," so to speak — presented an enormous challenge.

"It's not at all obvious how you move a story forward when the environments are mostly static," she says.

"One of the many subtle ways in which he has approached this is by injecting little animated vignettes within the environments — things that prompt exploration but do not distract from the main point of the VR 'panel.'"

Edward's problem-solving has been so revolutionary, she adds, that the BGML team will be writing a research paper on it in the coming months.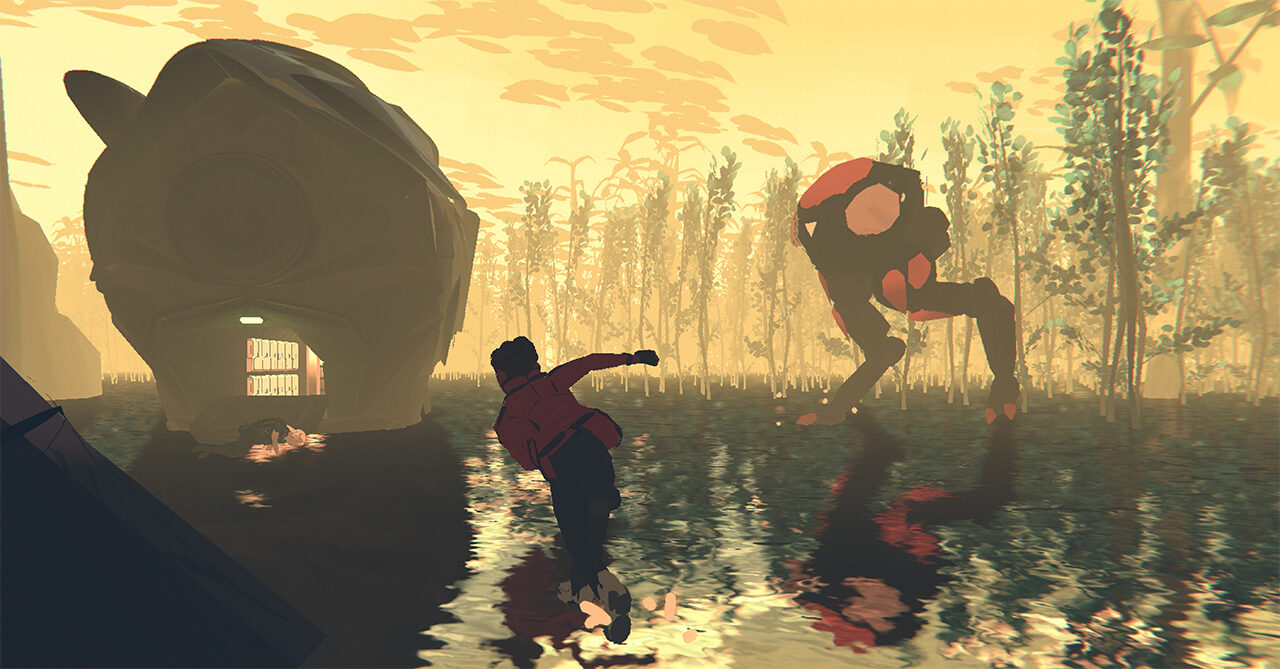 Edward himself, in speaking about his process, suggests his unique way of working is an extension of his commitment to detail and fullness in the stories he creates.
"I've learned that, in VR, a lot of what we're doing is building worlds. You have to make sure people can truly believe they're in a place. I've seen a lot of 360 and VR content that only focuses on what's in front of you, everything else is less detailed," he says, suggesting that visually, this eyes-front focus may be a consequence of translating 2D concept work into 360 environments.
"So I try to figure out what the world is, its histories, all those details. Everything inside the spaceship you see, everything in the world, we thought about what each and every object does. We've tried to make sure that, if you have a question, all you need to do is look around and you have your answer."

Using VR headsets and a pair of controllers, Edward "enters" virtual space and builds the models (such as the characters and moving objects), as well as the the sets they move through, and does all the line art.
His core team, including Jesse and Mamie Shi, Vivian Chan, Chelsea Castro, W Chung, Itamar Sitbon, Graham Connell and Mana Saei create the rest of the models based on Edward's vision — posing them, frame by frame — and animates them.
"It's a really interesting way to work because it still has that sense of craft to it. There's not a single object in there someone didn't hand-make and check from every angle. And then we put it in the world and add functionality," Edward says, adding the shine has yet to dim on the opportunity to work with the BGML on his project."
"I'm really lucky. I get to literally paint these worlds to life."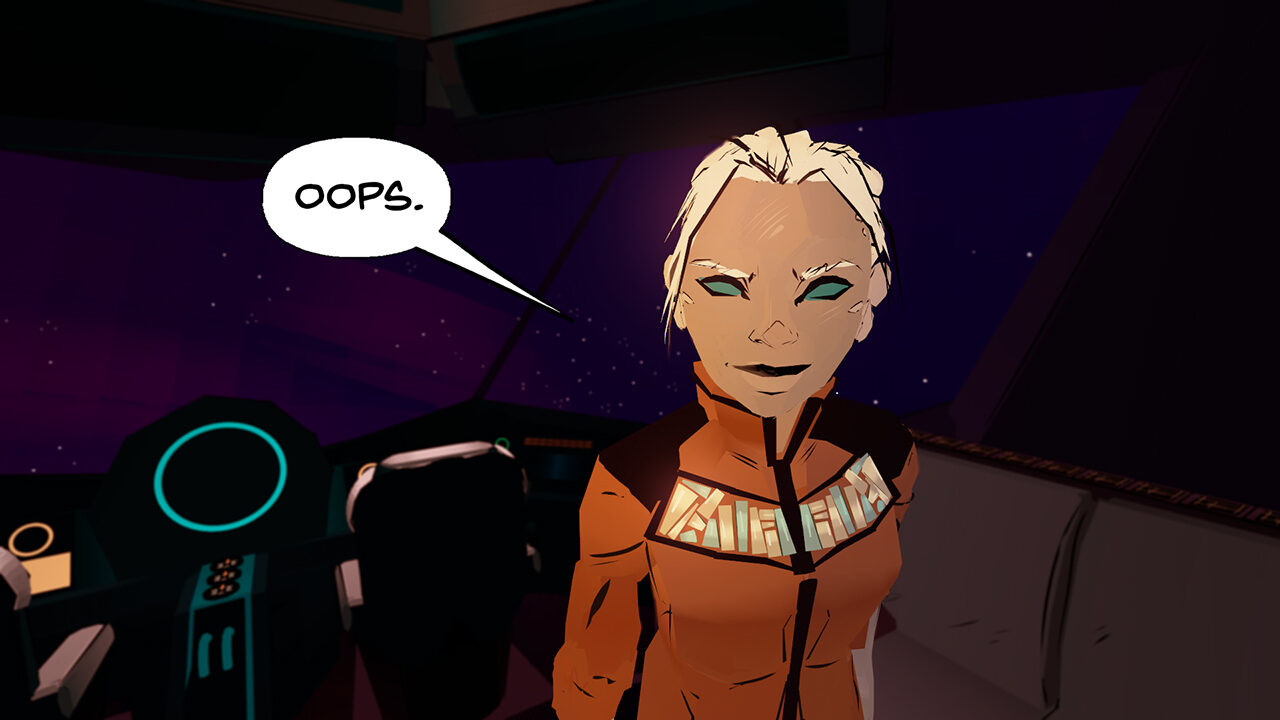 But don't let the wizardry of Edward's technique fool you. His storytelling method — which includes 360 video, interactivity and graphic novel-style panels into which the viewer can actually step — is also a vehicle for a deeply felt and tenderly-considered narrative drawn from his own experience.

Dami and Falian is a sci-fi space exploration tale, which follows its namesakes — a Nigerian exchange student (Dami) and an alien criminal (Falian) — as they travel from world to world taking dangerous odd jobs.
"But it's actually a personal story," Edward says.
"I moved here in August, 2017, from Nigeria, where I lived my entire life. So it's kind of a way for me to channel that."
Arriving in Vancouver, he says, "felt like arriving on an alien planet."
"At the point in time you're seeing the characters, Dami has been away from home about the same amount of time I've been in Vancouver."
For Edward, telling stories that explore concepts such as displacement, dislocation and the process of finding a new home is one of VR's most potent promises.
"The idea is to talk about the real world, but to create a slightly different lens to view it through. The shell is very flashy, the core is very real," he says.
"I didn't want to just make some fun entertainment piece. The way I feel about VR is we shouldn't use it necessarily to escape. We should use it to talk about the world we already have, and maybe even make it better."