Industrial Design Students Improve Comfort in Cancer Care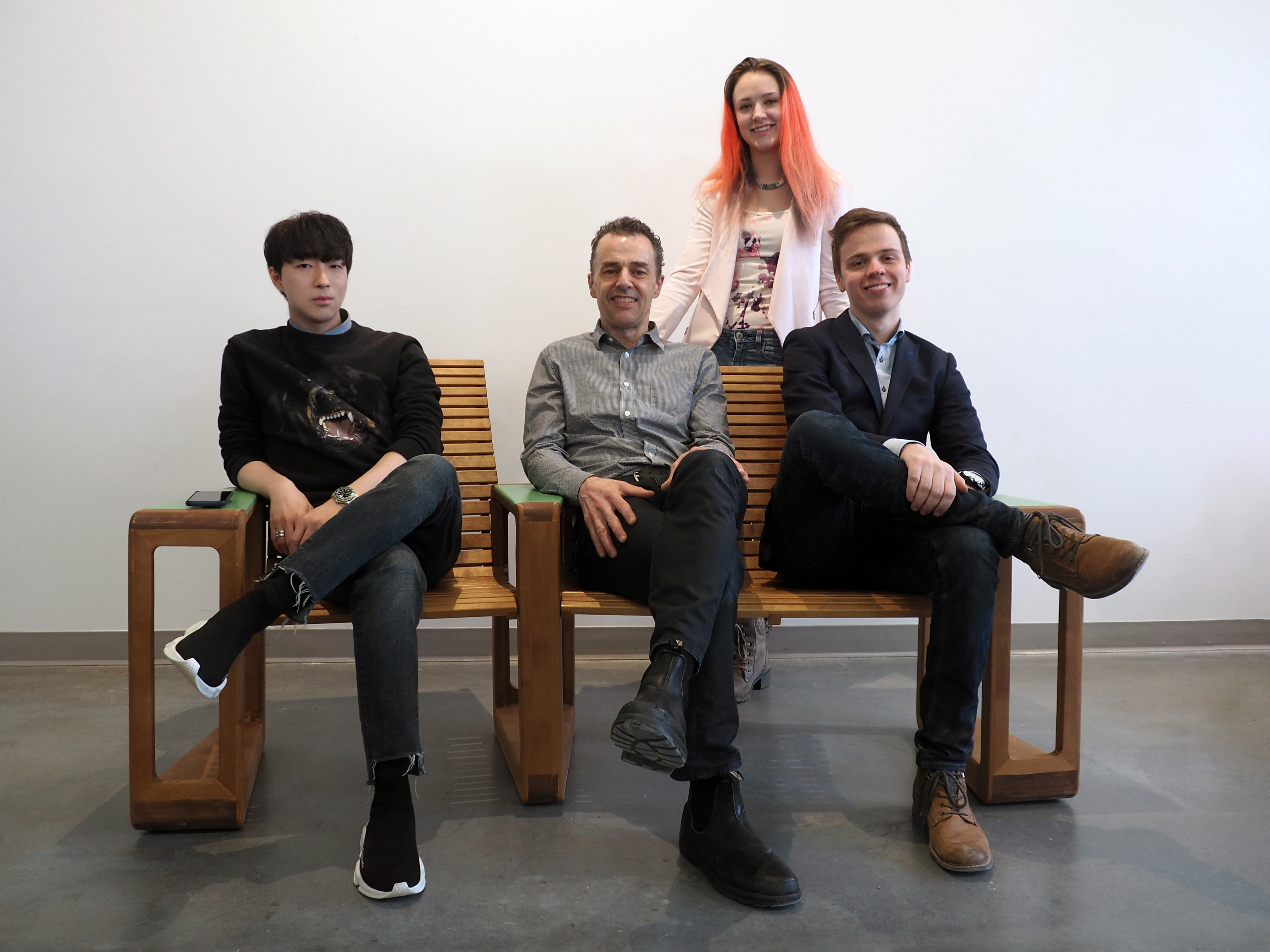 Posted on January 28, 2019 | Updated August 06, 2019, 9:07am
In partnership with BC Cancer, 18 students designed welcoming, supportive seating for cancer patients and families.
Hospital waiting rooms are uncomfortable places for most, but they don't have to be that way. Recognizing that the immediate environment has profound effects on patients and their families, BC Cancer is working to improve their facilities by redesigning their waiting rooms. They're creating seating that evokes warmth, provides ergonomic support, upholds hygienic standards, and allows patients and their loved ones to sit close together. The goal of the project is to create a system of that supports patients and staff both physically and emotionally.
To realize the aims of this project, they partnered with an Emily Carr class of Industrial Design students, under the guidance of associate professor Christian Blyt. The 18 students in INDD 310 (Wood Product Development) were tasked with designing comfortable, modular seating that met the health and safety requirements for furniture in medical settings (and complying with an 80-page infection control manual) while also achieving their design goals.
The idea was sparked by David Youngson, a cancer survivor and patient advocate. David was diagnosed with throat cancer in 2015, at the age of 61. After his treatment was successful, David became a volunteer with BC Cancer and approached them with his idea for installing more comfortable seating.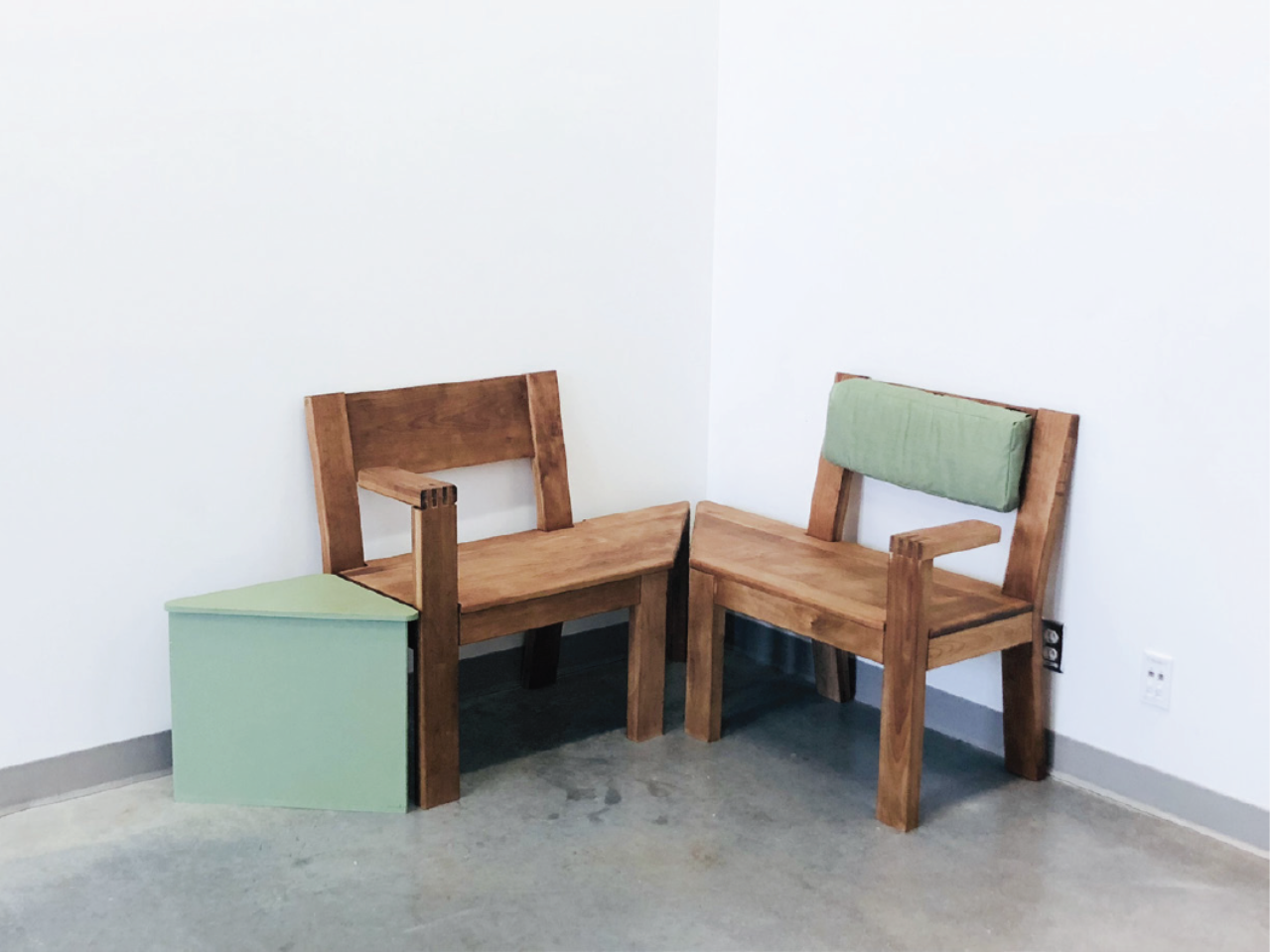 Students were divided into six groups of three, and each developed a different design. All groups used an antiseptic, heat-treated local birch as the base material. The birch, which has had all the sugars burned out of it, inhibits the growth of bacteria. Students also had to use hospital-grade fabric for the upholstery, to ensure it could be disinfected between patients.
Some of the designs include features that allow for a variety of arrangements. The seating can be rearranged depending on the space available or the needs of the patients.
"Sometimes you want to be alone, sometimes you want to be very close to somebody," Christian says. "We tried to also think of those different types of proximity, how much distance between people. We're creating a situation where we're supporting the patients both physically, like elevating them off the ground, and also mentally and psychologically."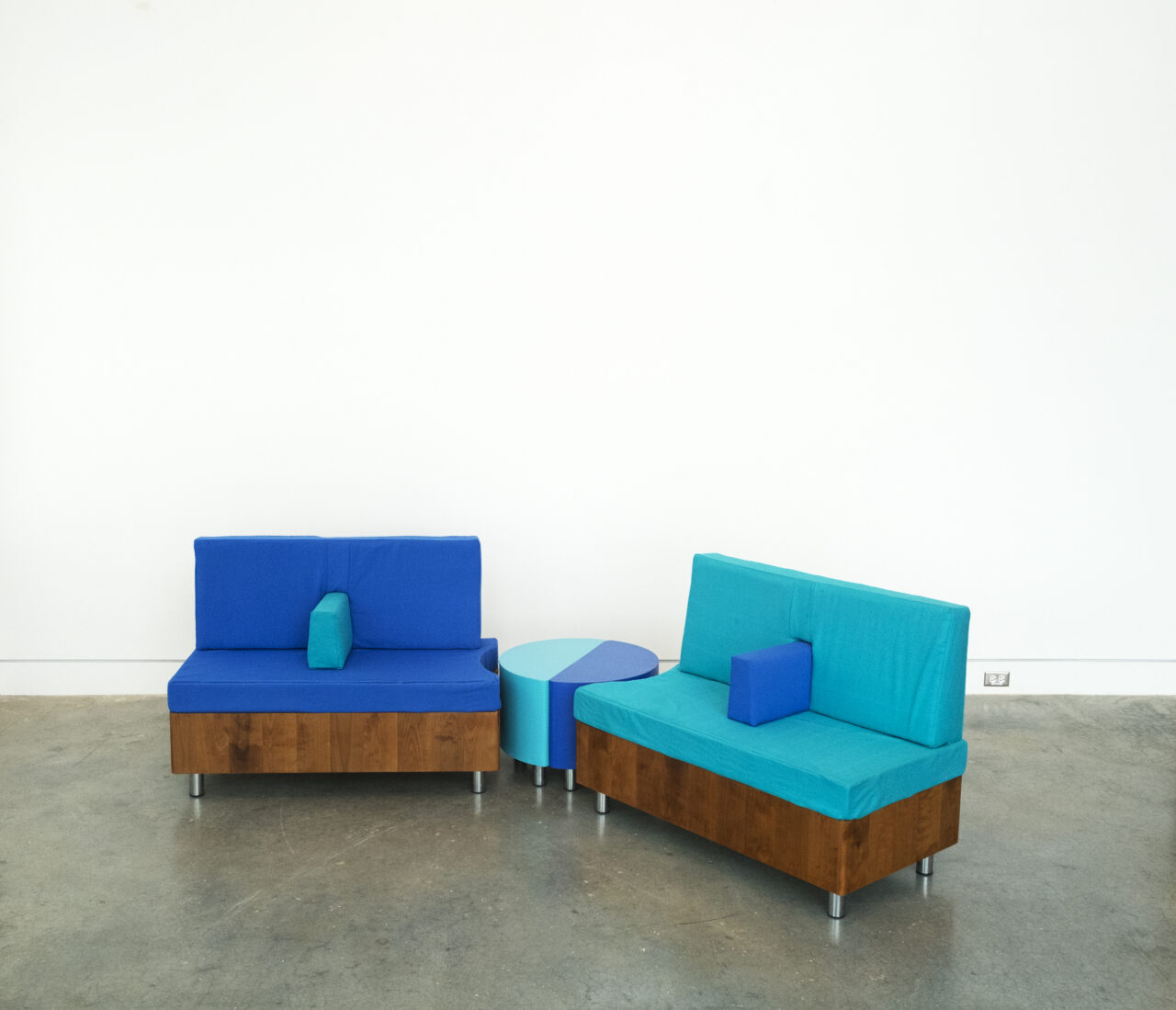 Taste of Life, a luxury lifestyle publication, contributed $50,000 to the design project. In addition, they covered costs for a booth exhibiting the three selected prototypes at their 2018 Luxury Home + Design Show from June 21-24, 2018. Students not only had the opportunity to present their work at the Design Show, but also tackled building the exhibition booth in the six weeks prior to the show.
The student team — Asa Xiao, Jenny Liu, Yujie Tang, Marie Behague, and Evelyn Li, with help from Nicolas Cunningham and Andrew Robinson — designed and built the booth from scratch, even creating a full-size model in the Industrial Design studio to hone their concept. The team represented all three of Emily Carr's design disciplines, giving them the diverse skills needed to execute such a big project on a tight timeline.
"Our booth's logo was inspired by the number eight," explained Jenny, who did the branding and logos for the booth. "There were originally eight projects, and eight minutes is how long a radiation treatment typically lasts for cancer patients." The project was titled Orbit, to reflect the ideas of journeys and time's passage.
Student Nova Weipart created a video for Orbit, and captured the process of designing and producing the chairs and benches.
Because the Luxury Home + Design Show was happening in BC Place stadium, the team decided to build a roof over their booth to create a warm, enclosed space with a homey feel. They started by building a full-scale prototype in the Industrial Design shop, then considered lighting, paint and visual details like posters and displays.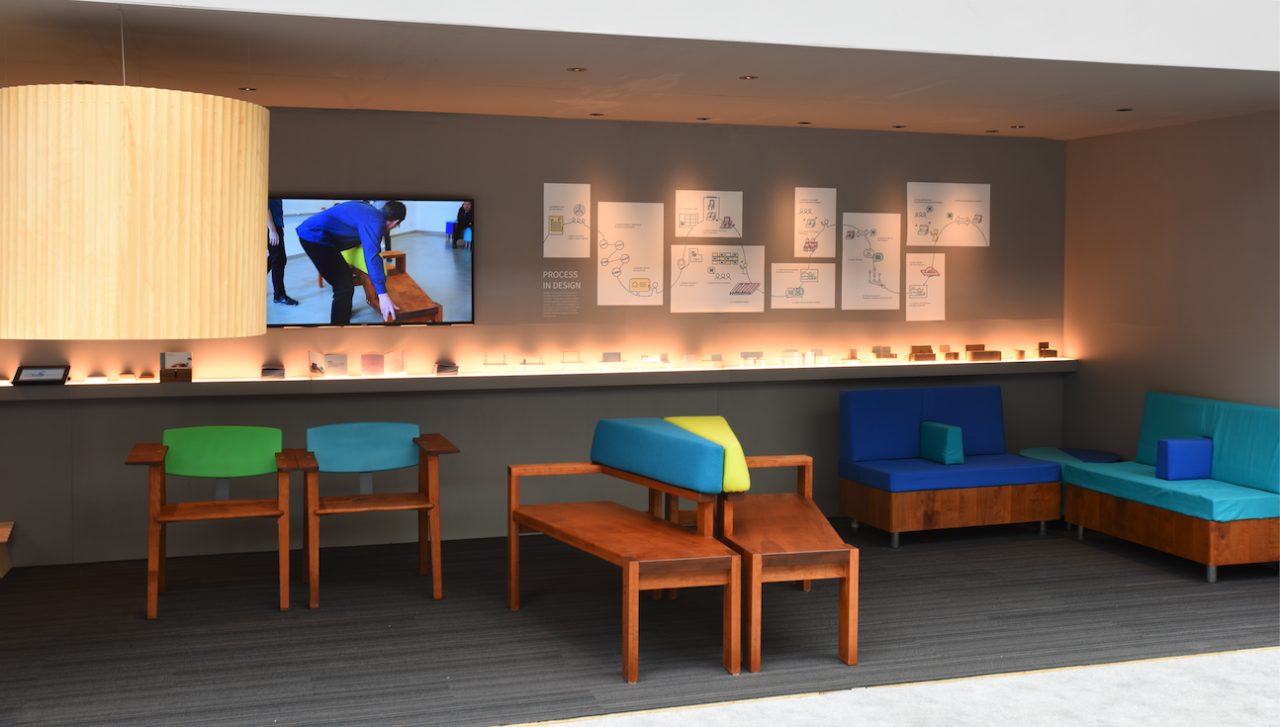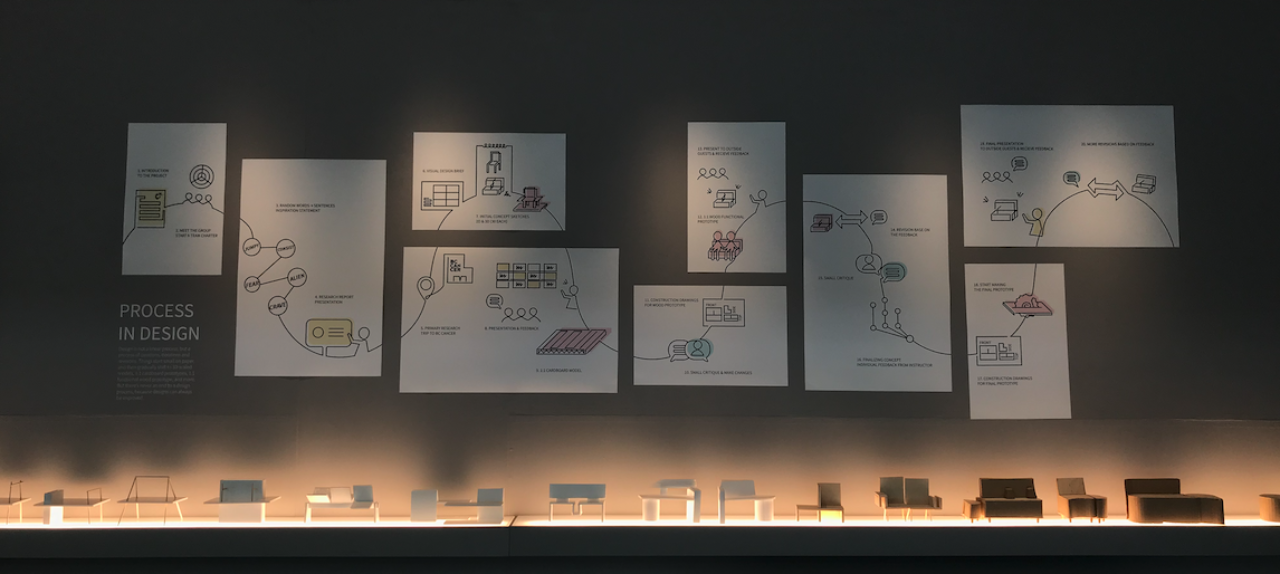 Exhibiting at the Luxury Home & Design Show gave students a chance to get visitor feedback on their concepts and prototypes, to further refine their designs for BC Cancer. The next step is to produce multiple units of each design, for installation in the Vancouver treatment centre. Chairs and benches will be installed outside the elevators, in the chemotherapy waiting area, and in the radiation therapy waiting area.
BC Cancer's CEO, Sarah Roth, says this project can have a great effect even beyond improved patient experience. "It's not only for the patients and their families, it's also for the staff," she says. "There are people who come in every day to work… [and] it's very intense clinical care to deliver."
Sarah hopes the seating project will be just the first of more design projects at BC Cancer, and that these ideas can spread to all kinds of health facilities to improve the patient experience. "This is really a pioneering project," she says.
The chairs will be installed later in 2019. After that, patients and their families will be grateful to find that—thanks to David Youngson, the INDD 310 students, and the team at BC Cancer—their treatment journey is a little more comfortable and supportive than ever before.