Alum Profile | Kelly Small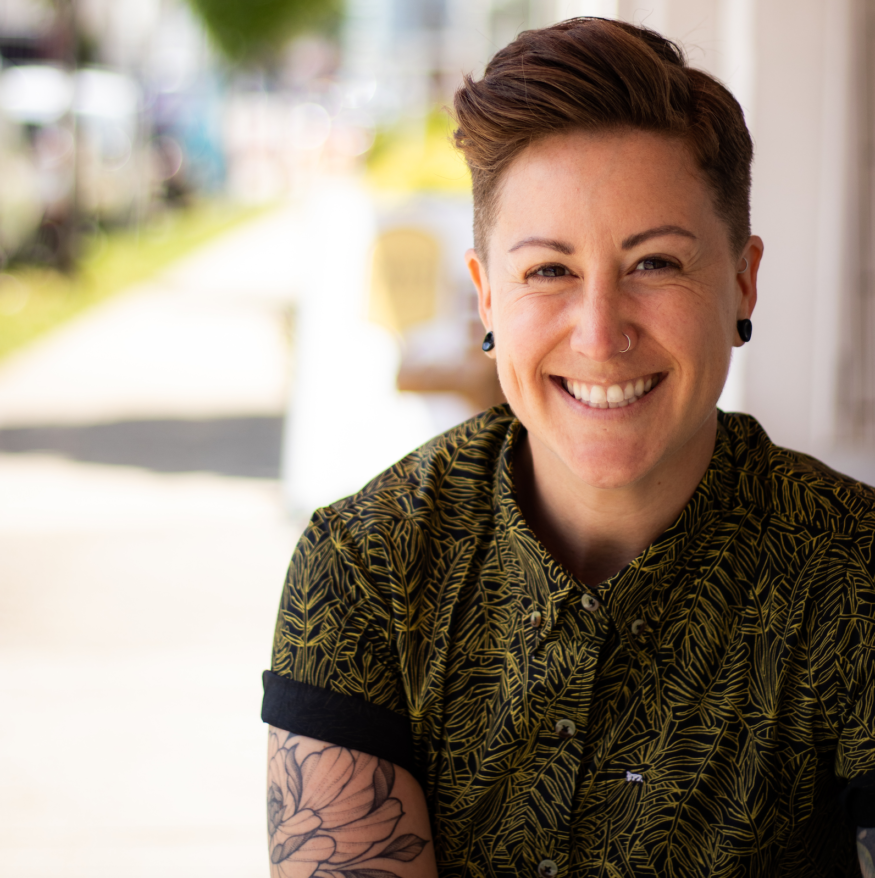 Posted on May 23, 2019 | Updated August 06, 2019, 9:07AM
The Master of Design graduate received the Governor General's Gold Medal at Convocation on May 4.
Kelly Small (MDes 2019) received the 2019 Governor General Gold Medal, awarded at Convocation to one exceptional graduate student.
After completing her undergraduate degree at OCAD, Kelly spent more than a decade as a creative director and designer in marketing and advertising in Toronto. Despite her career success, she found herself increasingly conflicted about the ethics of her industry.
"I struggled with the lack of representation and inclusivity, a lack of balance, and working with questionable clients to sell products that I would never use myself or recommend to my family," said Kelly. "I was having an existential crisis."
She decided to take a break from the industry and go to graduate school. "I applied to a lot of master's programs but I chose Emily Carr because of its commitment to sustainability, social impact, inclusivity, and decoloniality . And as a queer designer and artist, it's a really safe queer space."
Kelly embarked on her graduate program with a clear question in mind: "Is it possible to work ethically within the design and advertising industry?" At the outset of her program, she was expecting the answer to be no, and was prepared to leave that sector of the industry altogether.
She explored that question through the research that informed her thesis, which took the shape of a book called Ethical Sellout. In creating it, she surveyed industry professionals, conducted face-to-face interviews with creative practitioners, did a comprehensive media scan, and analyzed publications on design ethics. "I reviewed 12 of the most popular books in the area of design ethics from 1971 to 2018, and organized the data into a massive matrix," said Kelly. "From there, I created data visualizations which helped me synthesize the information and glean deeper insights. This design research resulted in the discovery of ten ethical design archetypes and over 130 actions that practitioners can take to realize an ethical practice. Ethical Sellout is a compendium of these findings."
Ultimately, Kelly decided that working within the system—or subverting from within— to effect change incrementally was a deeply valuable approach. "My thesis was about the actions that a practitioner can take to practice more ethically within a problematic system, like advertising. It refrains from absolutism and doesn't ask creatives to be perfect; it simply asks them to seek out the small, sometimes-hidden, everyday opportunities where positive change can be made within their existing work-lives"
Kelly is grateful for the support and guidance she received from faculty, particularly her supervisor Katherine Gillieson, as well as Craig Badke and Garnet Hertz. Her hope is to explore whether she can combine her experiences in the business world and academia to carve out a unique niche, and adapt her book for other audiences in the private sector who could use it to improve their practices.
Her advice to prospective Master of Design students is to consider working first before going to graduate school. "Go into the industry, explore its nuances, , find out where change is needed, and then apply once you have that understanding," she said. For Kelly, the MDes program was an opportunity to renew her creative confidence after a long stint in the working world. "I was feeling burnt out, and I decided to take a break [from my career] to explore myself creatively, and it was literally the best thing I've ever done."
Her advice to students: "Take the space and time to invest in your mental health, well-being and creativity. All of those things came to me from this graduate school experience—and as a bonus, you get a Master's out of it."