Malina Sintnicolaas Takes Home Audain Travel Award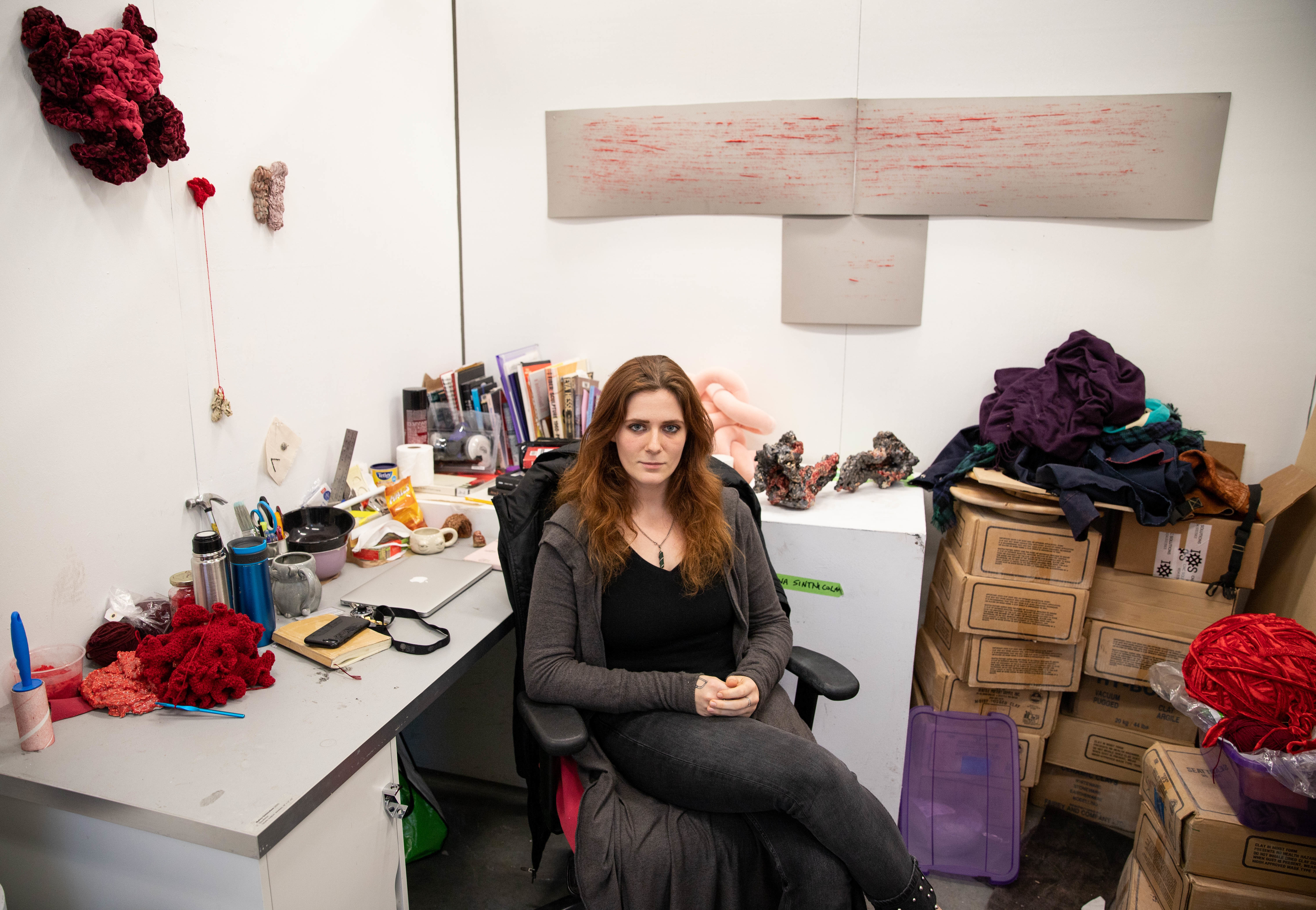 Posted on November 25, 2019 | Updated November 25, 2019, 10:34am
The Ontario-born sculptor reflects on her exceptional practice and her 'unexpected' win
Artist and Emily Carr University Master of Fine Arts student Malina Sintnicolaas was caught by surprise this fall when she took home the prestigious Audain Travel Award for her work as an emerging sculptor.
Malina, whose contribution to September's MFA Full-Residency program's interim exhibition — a pair of stunning ceramic forms that exude a churning, weighty quietude, deftly spanning the divide between fragility and gravitas — helped land her the Audain accolade, says she hadn't seen the recognition coming.
"I did not anticipate getting the award at all. I still can't believe it, to be honest with you," she says, sitting in her ECU studio, where tools, materials and a small library rubbed elbows with artworks in various stages of completion.
The win for the Ontario-born sculptor was announced in late September, at the same ceremony where Stan Douglas, legendary interdisciplinary artist and ECU alum, was awarded the Audain Award for Visual Arts — one of the richest arts prizes in Canada. Prior to her enrolment at ECU, Malina earned a bachelor's degree in visual arts and English literature from York University. In addition to her MFA studies, Malina teaches at ECU — having completed a Teaching Fellowship for a Flexible Materials sculpture course, she now works as a Teaching Assistant for ceramic sculpture.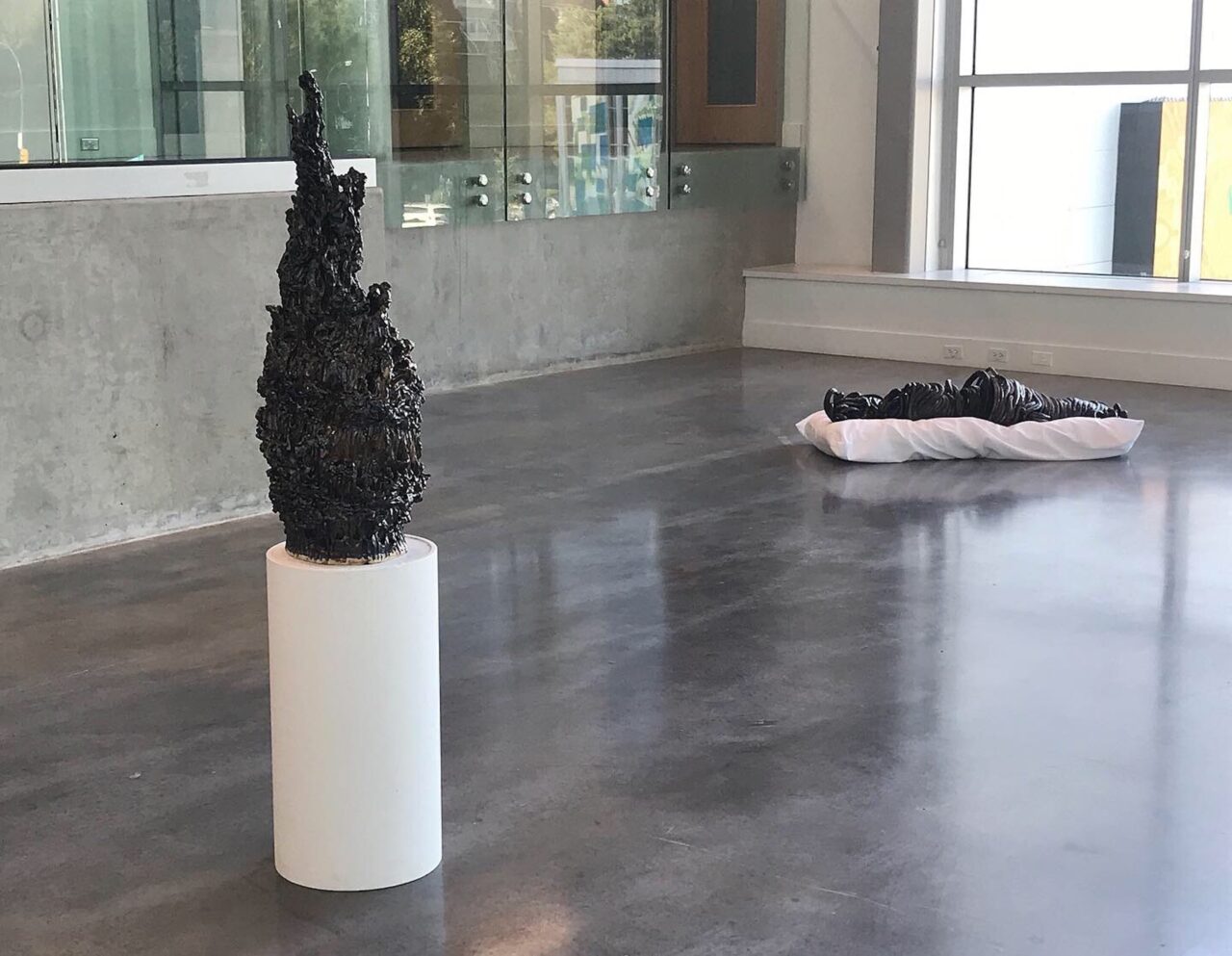 Malina says her work approaches the depiction of misinterpreted or stigmatized emotions and mental health experiences, such as trauma, anxiety and depression.
"Being somebody who's experienced these before, I think it's very important to talk about these experiences. I think they're still very abstract and misunderstood," she says.
"I've been questioning with my work how to represent that and depict that in visual form, so that while the viewer may not have experienced these emotions first-hand, they can at least come to an understanding of them and their existence."
Malina's work expresses these complex experiences via materiality — the material qualities of the mediums employed to make a work — and process — the way in which her work is made and the evidence of that process visible in the finished objects.
"I work with a lot of repetitious techniques," she says. "For instance, I do a lot of crochet, embroidery — things that you do over and over again in order to produce a work. And then I also work in ceramics, predominantly, just because of the unpredictability of the material. It's a very emotive material. It cracks. It explodes for reasons that are easy to explain, and then for no reason at all sometimes."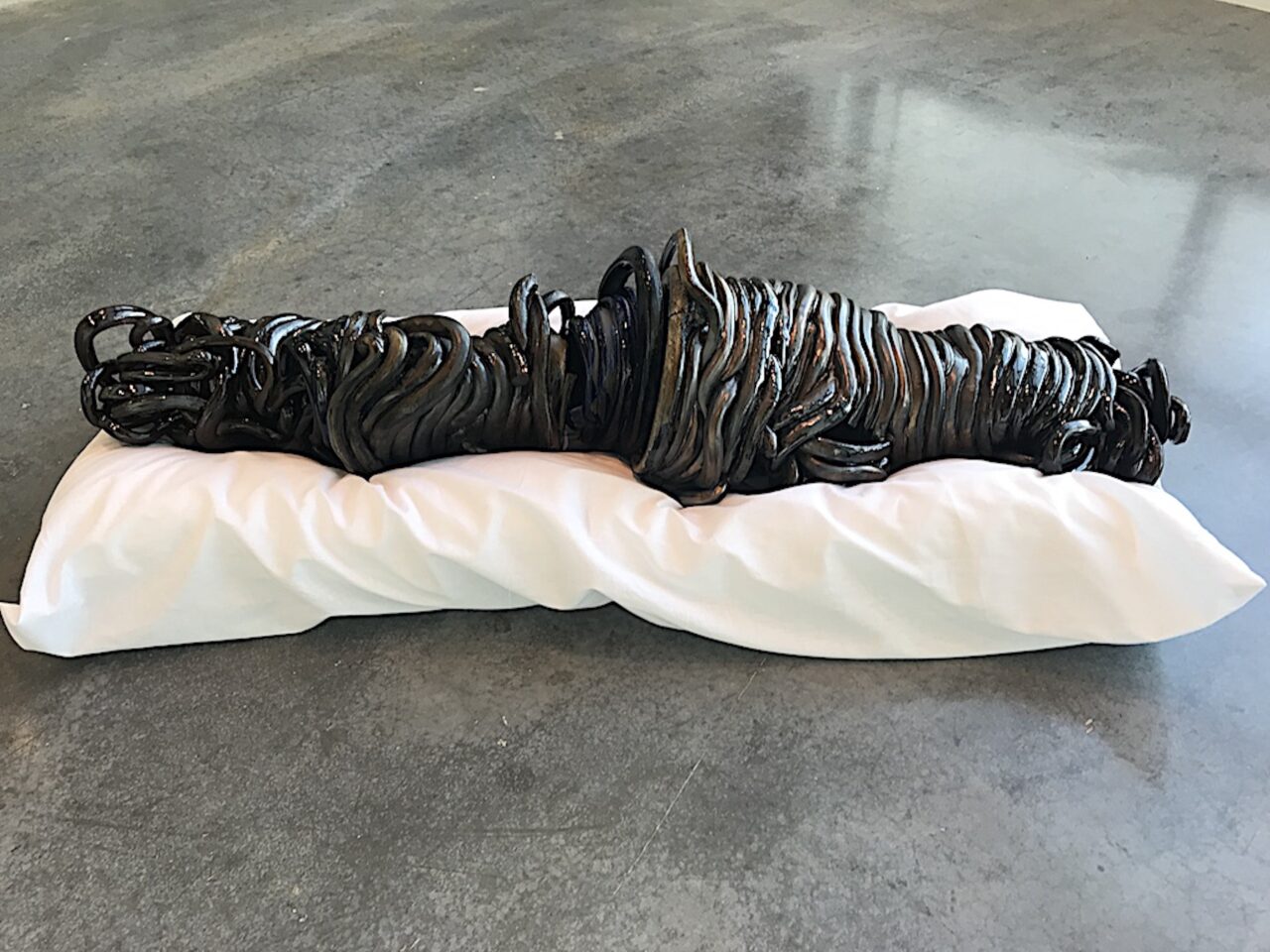 Malina defines this workflow as "process-based," adding she rarely works from a maquette, or with a particular finished form in mind. Rather, she tries to "either represent or transmute energy or emotions in order to put them in a physical space."
She says this method of working has allowed her to carry conversations from one work through to another. For instance, while making When She Thought There Was a Moment of Hope, which she'd initially imagined would be stood vertically, she says it became clear the work would make more sense laid on its side, on a pillow on the ground. But she had also discovered that there would be something powerful about a piece made from the same ceramic material that stood straight upward, and that such a skyward-oriented form might take on greater significance when juxtaposed against a work laid nearby, on the ground. This led to the creation of Just an Itch.
"And then the notion of using the body pillow, especially in juxtaposition to the ceramics, led to the realization that I was interested in using a soft material with a hard material," she says, adding that realization led to Always Growing but Never Healing, which combines a twisting, brain-like effusion of double-stitched red wool with a number of cradled, partly hidden ceramic forms.
"While both these materials (wool and ceramics) are associated with domesticity, one is very fragile, cold, and unpredictable to work with, while the other is warm and associated with comfort and protection. To combine them brings an interesting balance to the materials and pushes the work in a compelling direction I'd like to explore further."
Malina says she is still ironing out details regarding where she'll take her travel award, noting Berlin is currently emanating a "gravitational pull." The city, she says, is full of world-class arts residencies, galleries and museums.