Participedia Nominated for a 2019 IxDA Interaction Award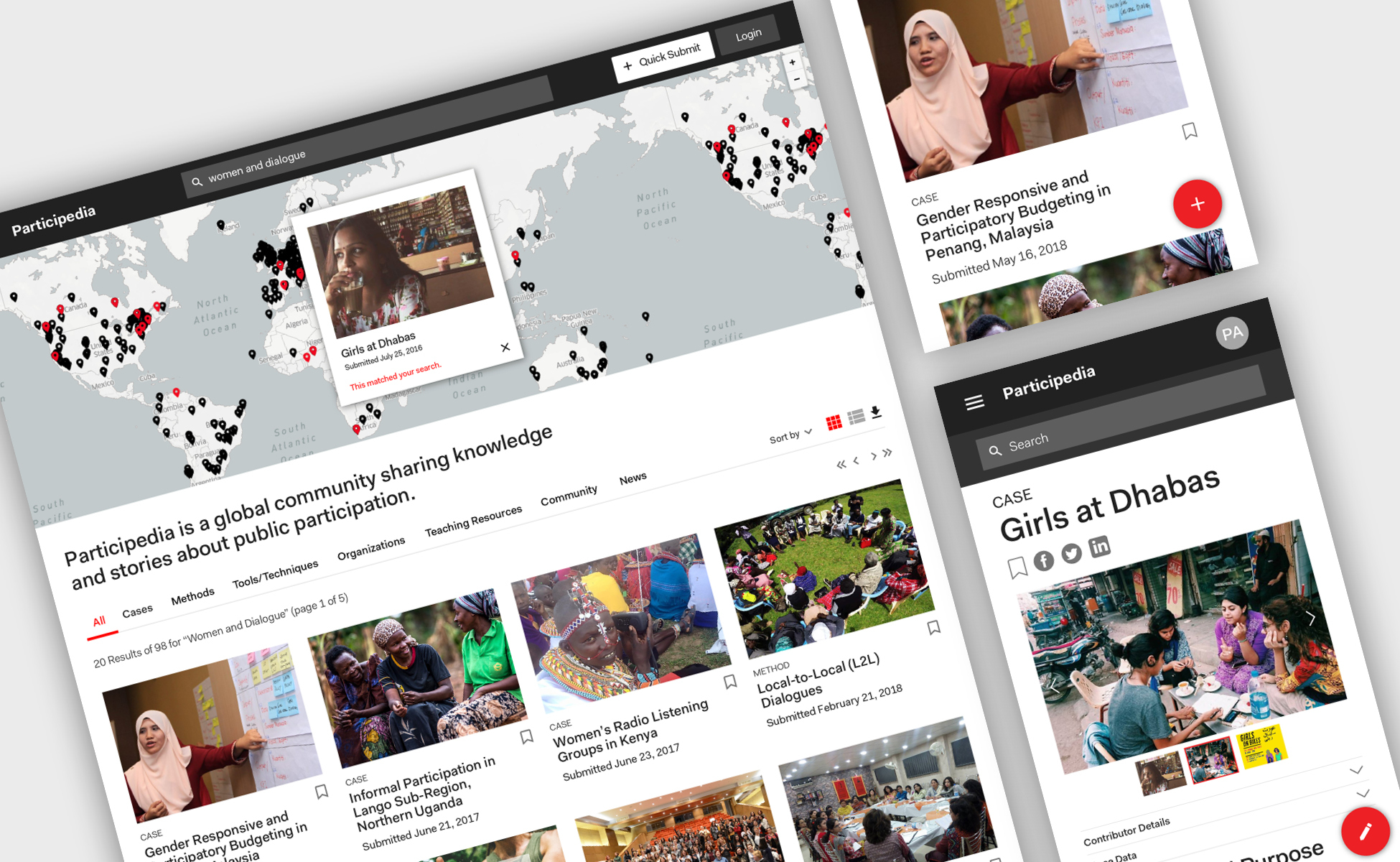 Posted on January 29, 2019 | Updated August 06, 2019, 9:07AM
This open-source platform is co-led by an Emily Carr design and technology team, based in the Studio for Extensive Aesthetics.
Participedia, an international open-source platform for crowdsourcing and sharing knowledge about participatory democratic processes, has been nominated for the People's Choice Award in the 2019 IxDA Interaction Awards. Participedia was founded by Dr Mark Warren of UBC and Dr Archon Fung of Harvard University, and is supported by a dedicated design and technology team based at Emily Carr. More than two dozen institutions across the world are also contributing partners to Participedia.
The design + technology team is comprised of Emily Carr undergraduate and graduate students, who operate out of the Studio for Extensive Aesthetics (SEA). Their team works alongside an interdisciplinary group of professional developers to engage directly with Participedia's network of academics and practitioners in the political and social sciences.
Participedia seeks to foster community among activists, practitioners and scholars around the world as they explore the meanings of new kinds of public participation and their transformative effects on contemporary governance. It was shortlisted for an IxDA 2019 Interaction Awards in the "connecting" category, highlighting its unique approach to sharing collaboratively generated knowledge and stories across geographic boundaries, languages, and political regions.
"From its use as a teaching resource to its ability to quickly mobilize knowledge about emergent participatory initiatives in real time, Participedia has the potential to engage a wider public and to change the way we practice and learn about participatory democracy," said Amber.
This is the first nomination for Participedia in the IxDA Interaction Awards. The People's Choice Award is determined through a popular vote, which can be cast at the link below.
Jesi Carson (MDes 2018) worked with Participedia as a student and is now the team's lead designer & communities coordinator. Of her long involvement in the project, Jesi said, "Participedia has empowered me to advance my design practice, collaborate with an incredible community of professionals and students, and push the boundaries of my own education in the spirit of grassroots participation and art and design activism."
Other Emily Carr student and alumni contributors include Adam Cristobal (MDes 2014), Stephan Garneau (BDes 2015), Kushal Goenka (BDes 2017) and Sam Jiang (BDes 2013). Andrea Del Rio (Centre for Digital Media) and Lydia Prince (Alberta College of Art + Design) also served as to research assistants with the design and technology team, and professional developer Alanna Scott (BDes 2009) recently joined the team as well.
Students contribute to the design and development of Participedia under the leadership of faculty member Amber Frid-Jimenez, Canada Research Chair and Director of the SEA, and lead developer Dethe Elza. Informed by research, iterative testing and feedback, the design team built Participedia using an open-source development strategy. Participedia was awarded a $2.5 million dollar SSHRC Partnership Grant in 2015, and Emily Carr received a significant portion of the grant funds to lead design-informed research.
Vote for Participedia to win the IxDA People's Choice Award today!