Sweet Nostalgia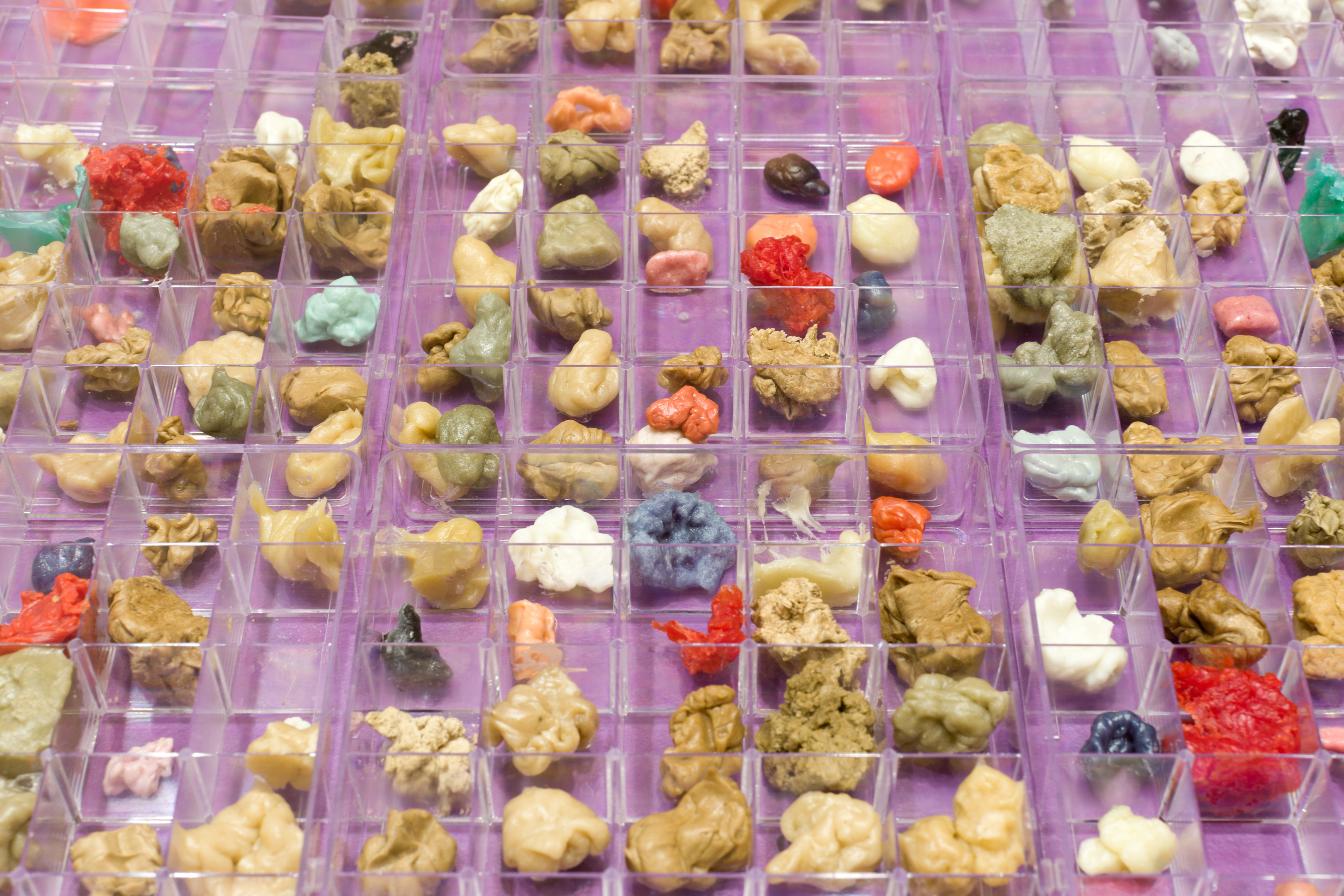 Posted on January 09, 2019 | Updated August 06, 2019, 9:07AM
"Big Rock Candy Mountain," a project from sessional faculty members Hannah Jickling and Helen Reed.
Gum samples sourced from all over the world have hidden the table in Helen Reed (BFA '06) and Hannah Jickling's East Vancouver studio. Colourful packaging, contemporary flavours, and nostalgic favourites from the past several decades are scattered across the surface. "We did a lot of testing," explains Hannah. "There are many types of gum bases, the ones we ended-up working with were both natural and synthetic."
A key component of Hannah and Helen's research project, Big Rock Candy Mountain, is that it takes place in the "candy factory" of Queen Alexandra Elementary School alongside students. "The phrase 'candy factory' allows someone to conjure up a myth or fantasy about what this factory," laughs Hannah. "It's an art classroom." It is hard not to imagine a playful and enormous candy factory sticky with childhood nostalgia. "It's an interesting thing when it comes to nostalgia because it's also where adults, kids, power, and economics intersect," said Hannah.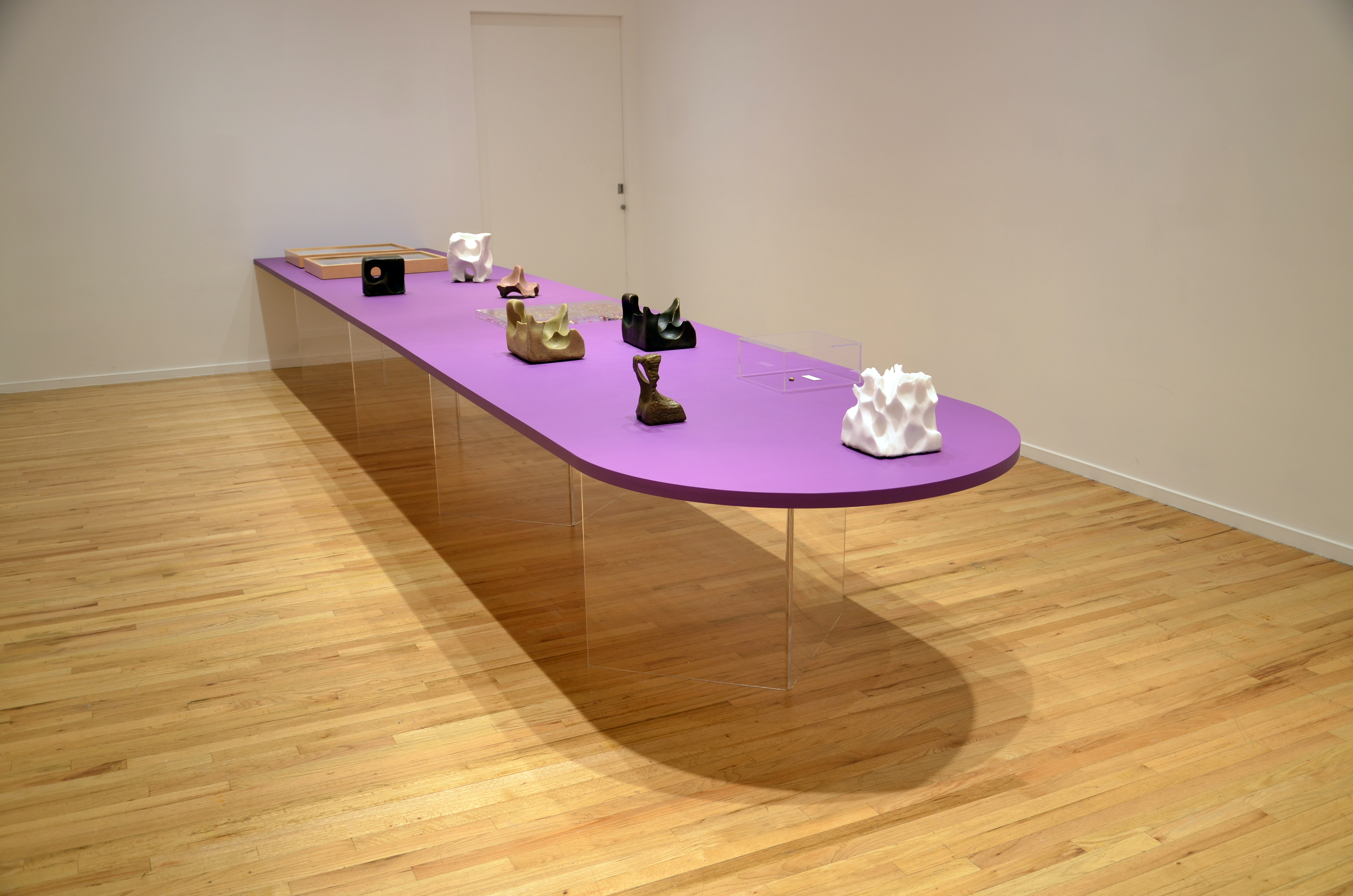 Big Rock Candy Mountain is an ongoing research and production platform that began in 2015. It is a multi-phased project, flavour incubator and taste-making think tank produced by Other Sights for Artists' Projects as well as through the support of the British Columbia Arts Council and the Canada Council for the Arts. QA CHEW'S BUBBLE TROUBLE, the latest project, came to be through a commission of the City of Vancouver Public Art Program.

"Queen Alexandra is one of the East Vancouver schools that have opened their doors to artists so they can engage with students through workshops," said Hannah. "We work with kids because of the creative energy. We realized we were addicted to the feeling of hysteria, where you are really whipped up and excited about a project from working with a group of kids. Their ideas are conceptual and abstract. They aren't bound by rules."
Hannah and Helen have created two large-scale edible projects so far with Big Rock Candy Mountain at Queen Alexandra. The first was SOUR VS SOUR, a chocolate bar combining flavours aimed at both adults and children. One-half of the bar was an artisanal take on sour with candied lemon zest and dried sour cherries while the other half was reminiscent of 90s candy glory, combining sour cherry lemonade Nerds with chocolate. SOUR VS SOUR was researched and created with a Grade 3/4 class over the course of three months. "We taste-tested a range of flavours and developed a miscellaneous vocabulary to describe them: sounds, shapes, words, elaborate fonts, synesthetic line drawings and emojis," Hannah and Helen wrote on their website. QA CHEW'S BUBBLE TROUBLE followed, developed over the course of a year with a Grade 6/7 class.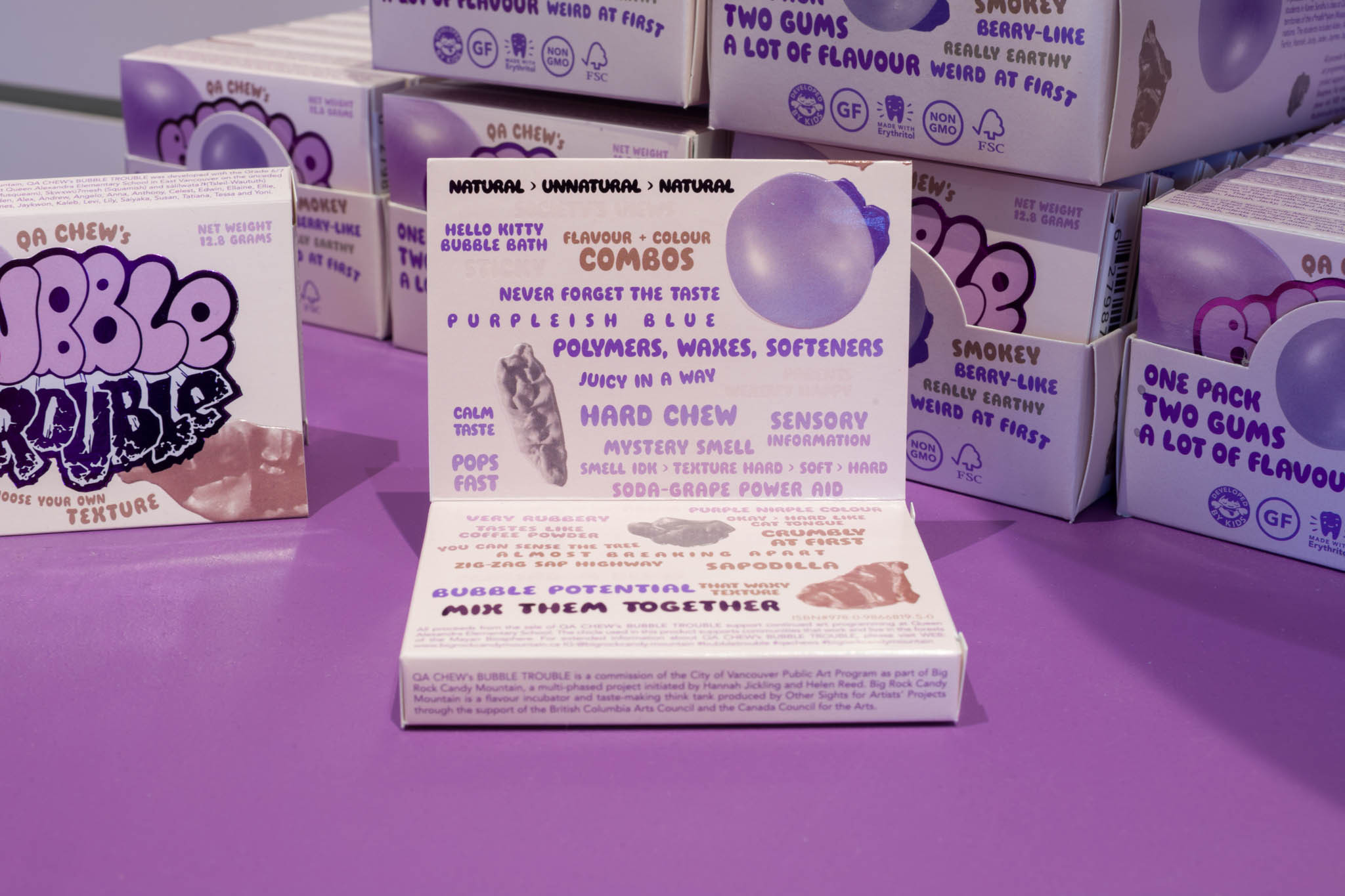 The year-long project encompassed flavour testing, research on packaging, and thoughtful explorations of mouthfeel, combined with ongoing feedback from the students. "They are really in tune when it comes to visual language," said Hannah. "They understood marketing, especially marketing targeted at children when it comes to candy." As evident in the packaging of both QA CHEW'S BUBBLE TROUBLE and SOUR VS SOUR, not a lot has changed when it comes to the loud, playful and colourful packaging of candy aimed at children. This gives Big Rock Candy Mountain products both a contemporary look as well as the lingering feel of nostalgia. That feeling of nostalgia is stronger with the gum, given its ability to bring other candy giants to mind such as Wonka, Double Bubble and Pez with the use of QA Chew on the label.
The kids had a hand in all aspects of the project, from preliminary package design to understanding gum base and flavour science by simply chewing gum. "The cool thing about having them chew gum is that everyone was able to participate on an equal playing field," shared Hannah. "Every kid has different things going on in their lives, and varying capacities to focus, but that was a moment of unison. It's why we ultimately went with the concept of mouthfeel for the exhibit at Western Front."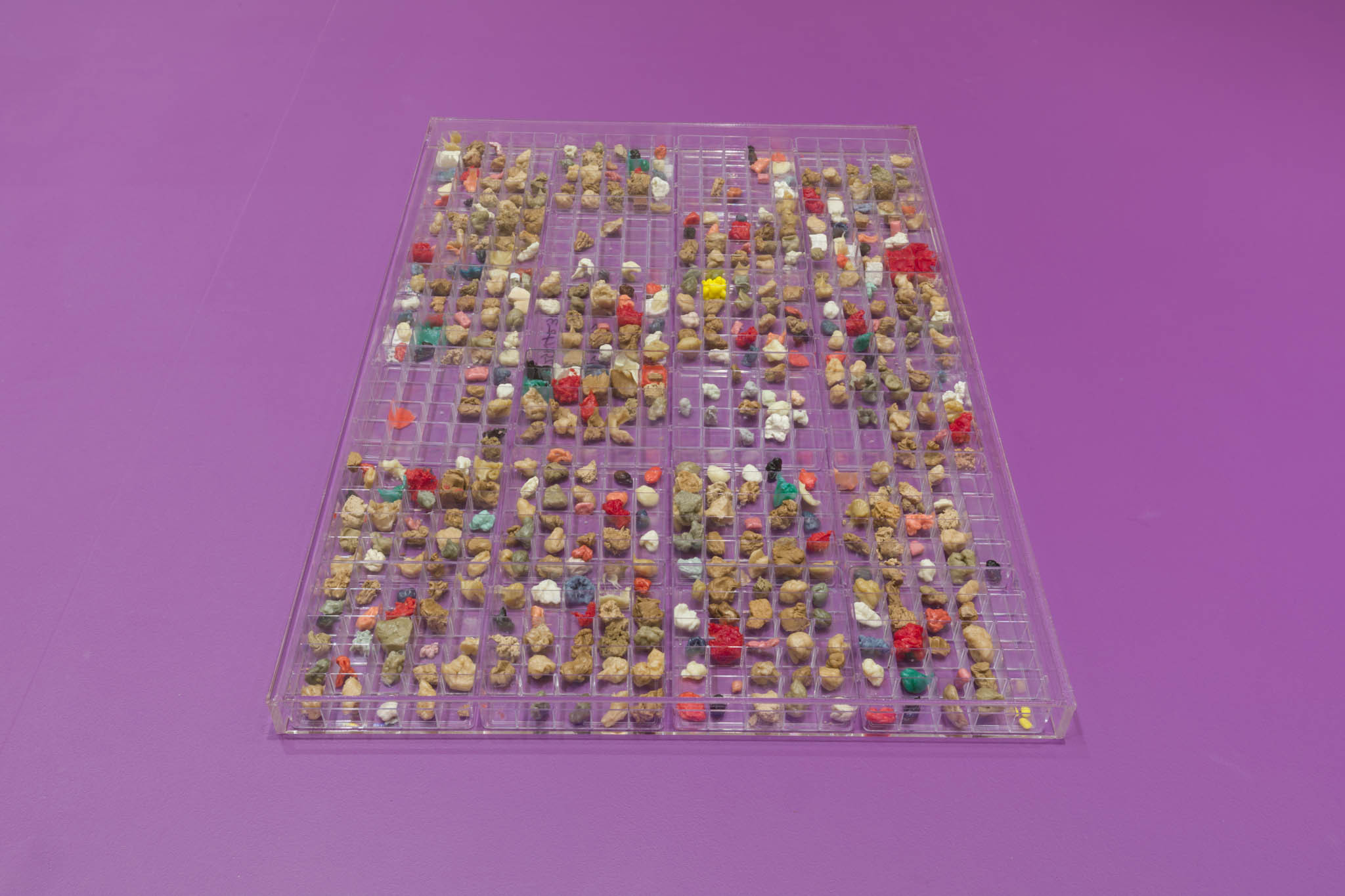 Of the same name, Mouthfeel was an exhibition of research around the project combining oversized salt licks, a prehistoric chewing gum cast, and a collection of chewed gum – all displayed on an elongated purple table reminiscent of a giant tongue. After the completion of the project and launch of Bubble Trouble, Hannah and Helen took the kids to see Mouthfeel. "When the kids came to the gallery, they all remembered what pieces of gum they chewed," said Hannah. "They were so proud of their research."

With this hefty project wrapping up, it has given Hannah and Helen some time to reflect on the structure and length. "I think three months is the sweet spot for a project," shared Helen. "You don't lose momentum but you have enough time to accomplish something."
As for what's next on the conveyor belt for Big Rock Candy Mountain, Hannah and Helen are talking about exploring either gummies or soda pop. "When you're working with flavour, there are infinite possibilities," said Hannah. "We could be working with flavour projects for years."
We can't wait to see what comes out of this "candy factory" next! You can find SOUR VS SOUR at READ Books and QA CHEW'S BUBBLE TROUBLE at Western Front. Hannah and Helen will bring Bubble Trouble to READ Books soon with more retail locations to be announced in the Spring of 2019.
---
QA CHEW'S BUBBLE TROUBLE research provided by the Grade 6/7 students of Queen Alexandra Elementary: Aiden, Alex, Andrew, Angelo, Anna, Anthony, Celest, Edwin, Ellaine, Ellie, Farhin, Hannah, Jackie, Jayden, Jaymes, Jaykwon, Kaleb, Levi, Lily, Saiyaka, Susan, Tatiana, Tessa and Yoni.
About Hannah Jickling and Helen Reed
About Other Sights for Artists' Projects