TEDxEmilyCarrU spotlighted at TEDSummit 2019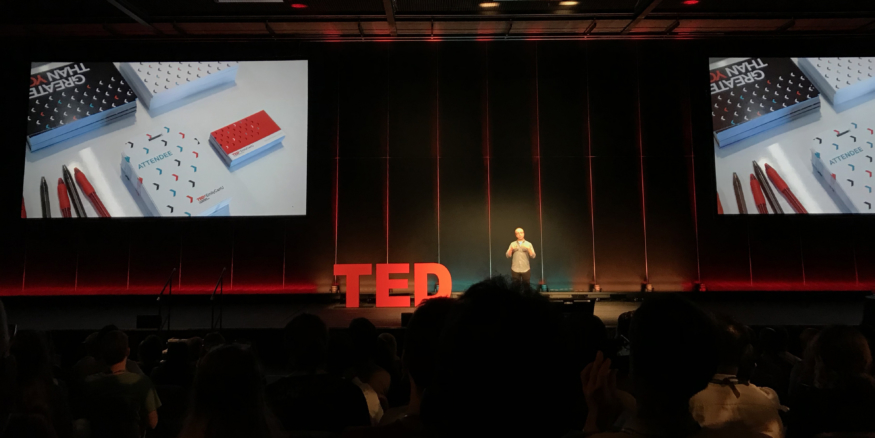 Posted on July 24, 2019 | Updated August 06, 2019, 9:07AM
TEDxEmilyCarrU's design and events work lauded by TEDx community leaders in Edinburgh.
TEDxEmilyCarrU was among those recognized by presenters for its excellence during TEDSummit 2019 in Edinburgh, Scotland, at a workshop for over 300 organizers from 211 cities in 53 countries.

TEDxEmilyCarrU's continued achievements were highlighted on several fronts: the team's design work and event-activity curation were featured in a presentation — given by the head of TEDx platform development — about how to "level up" an event; some of TEDxEmilyCarrU's team-building approach was featured in a presentation by the Community + Learning Manager on "sharing your wisdom;" and workshop breakout sessions led by TED featured the Emily Carr team's work on the power of sourcing innovation from within your community to feed back to your audience. (TheTEDxEmilyCarrU event is fully produced and designed by ECU students and alumni).
TEDSummit in Edinburgh, Scotland, is considered to be the "pinnacle of TED conferences," says Scott Mallory, Emily Carr alumnus (2017) and founder + licensee of TEDxEmilyCarrU. The conference is held among members of the internal TED community, including TED Fellows, TEDx, TED-Ed, TED Translators, TED staff, past TED speakers and past attendees of similar events.
Chris Anderson, Head of TED, was himself at the TEDx workshop where he spoke in an interview about TEDx's impact around the world, Scott notes.
"It's very exciting that beyond our local impact, we can continue to be one of the mainstays in how TEDx organizations get inspired, learn, and progress around the world," Scott wrote from Edinburgh.
Since becoming an integral part of the TED program — TEDx now accounts for a third of the series' total reach — all TEDx talks now appear on TED's main site. Talks by the TEDxEmilyCarrU team have been published here on TED.com.
The team was also featured in a gathering at the flagship TED2019 conference earlier this spring, while Scott was invited to co-host a workshop with TED on organizing fundamentals at TEDWomen 2018, and was included in the new TEDx license pre-application video for prospective organizers.