Virtual Reality Artwork Immerses Participants in Climate Crisis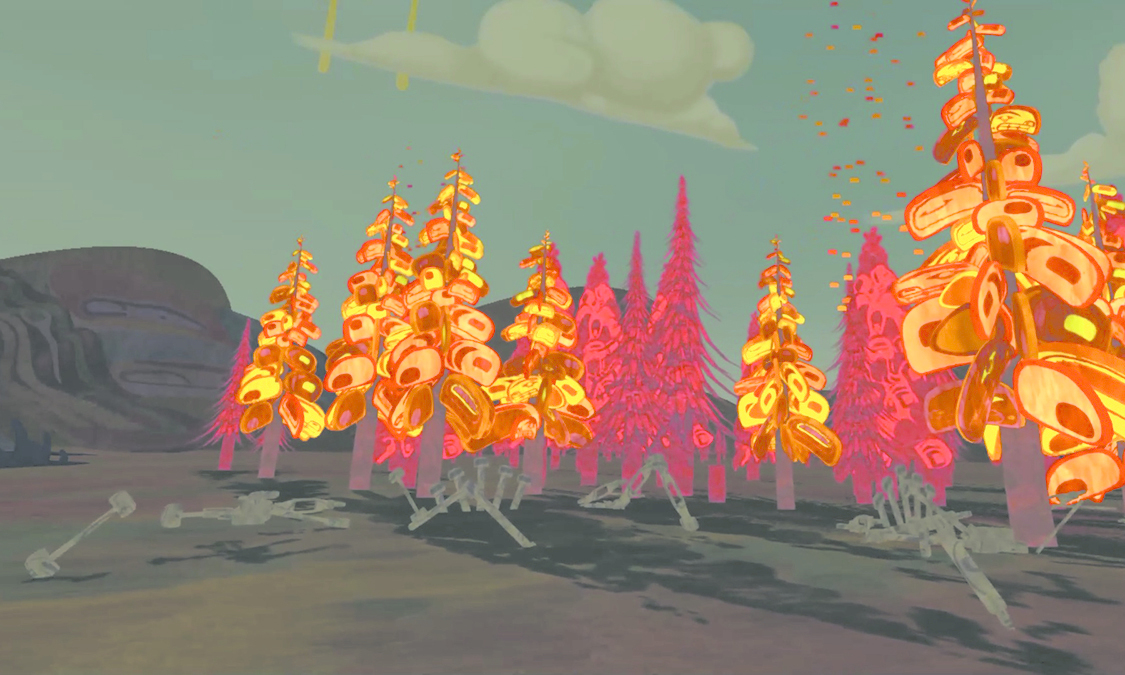 Posted on October 15, 2019 | Updated July 23, 2020, 5:38pm
Upcoming artist talk will take audience members into the process behind Unceded Territories.
At an upcoming evening of reflection and discussion at the Surrey Art Gallery, exhibiting artists Lawrence Paul Yuxweluptun (1983) and Paisley Smith will talk about the creative process behind their collaborative virtual reality (VR) piece Unceded Territories, part of the Gallery's Garden in the Machine exhibition. This free Artists' Talk takes place Wednesday, October 26 from 2:30 to 4 p.m. and is open to everyone.
The Unceded Territories VR video installation uses leading edge technology that immerses viewers in a 360-degree virtual landscape inspired by Yuxweluptun's bold multi-hued paintings. Using two handheld controllers, participants can interact with the environment by contributing to images on the screen. As they move through different scenes, their actions increasingly impact the land around them both in positive and negative ways.
When moving through Unceded Territories participants witness various spirit creatures, including the spirit bear, an embodiment of Yuxweluptun himself.

"Unceded Territories is a work that demands your attention and your full-bodied participation," says Surrey Art Gallery curator Jordan Strom. "It compels the viewer to recognize their role in one of the most urgent issues of our time: the global climate crisis."
Unceded Territories was co-created by Yuxweluptun, a seasoned Cowichan (Hul'q'umi'num Coast Salish) and Okanagan (Syilx) painter based in Vancouver, along with virtual reality artist Paisley Smith, who currently splits her time between Vancouver and Los Angeles.
The project started when Smith reached out to Yuxweluptun after she came across one of his earlier works while studying the history of VR art. He created Inherent Rights / Vision Rights in 1992 at the Banff Centre in Alberta, using a super-computer powerful enough at the time to generate rudimentary VR imagery. The piece was intended to invite audiences into a Pacific Northwest longhouse to witness the spirit world. Unceded Territories is a follow up to this earlier landmark artwork.
In addition to climate change, Unceded Territories addresses greater Indigenous rights to land, resources, and sovereignty—highlighted by music from critically acclaimed musicians A Tribe Called Red.
Republished with permission from the Surrey Art Gallery.