Police Arrest Suspect in Connection with Arson at ECU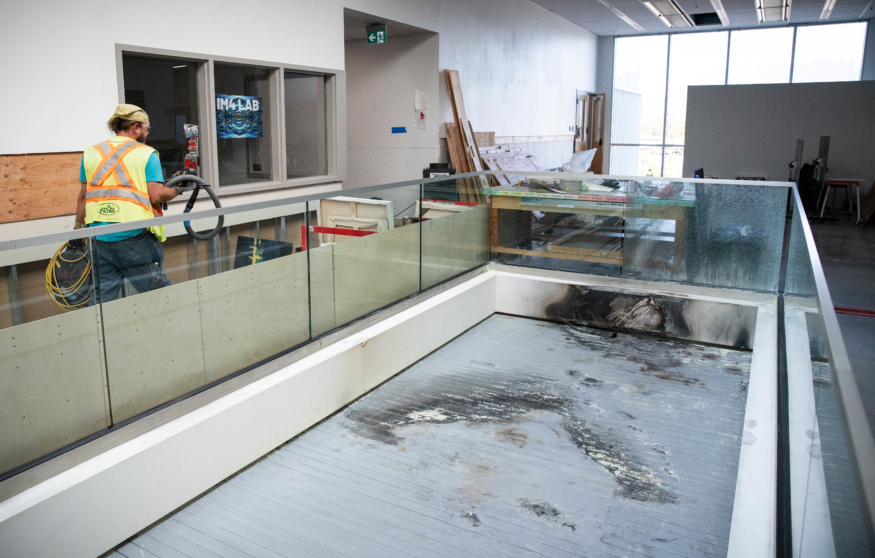 Posted on October 15, 2019 | Updated October 15, 2019, 11:14AM
Vancouver Police announced Tuesday an arrest has been made in connection with a suspected arson which occurred at Emily Carr University of Art + Design in the early hours of Oct. 5.
"A 40-year-old Vancouver man has been charged with two counts of break and enter and one count of arson for a fire that damaged Emily Carr University this month," reads a statement from the Vancouver Police Department.
"Nathan MacLeod was arrested on October 11, and has been remanded into custody. MacLeod will be making an appearance this morning in Vancouver Provincial Court.
"VPD officers were called to Emily Carr University, located at 520 East 1st Avenue, shortly after 8:30 a.m. on October 5, after Vancouver Fire Rescue Services responded to the suspicious fire."

Over the past week, the university was closed to students while restoration efforts began. While fire damage was limited to the Research + Industry Office and nearby hallways, the water used to extinguish the fire caused a significant amount of damage to walls and ceilings.

These materials needed to be dried immediately to prevent the growth of mould, which can cause a variety of health effects.
Staff returned to work on Wednesday, Oct. 9, once administrative and common areas were deemed safe; faculty were invited to return the following day. University staff have been instrumental in preparing for the return of students.

While students returned to class this morning now that most classrooms and studios are safe and open for use, there are still areas that remain closed, while others will be under construction for several weeks. The restoration process may be under way for the rest of the semester.
For a full suite of resources including a list of closures, relocations and a photo gallery of restoration efforts and damaged areas, follow this link.

Anyone with information about this incident is asked to contact the VPD's Major Crime Section at 604-717-2541 or Crime Stoppers at 1-800-222-8477.