Allison Chan Harnesses Heartbeats to Create Art with InterPulse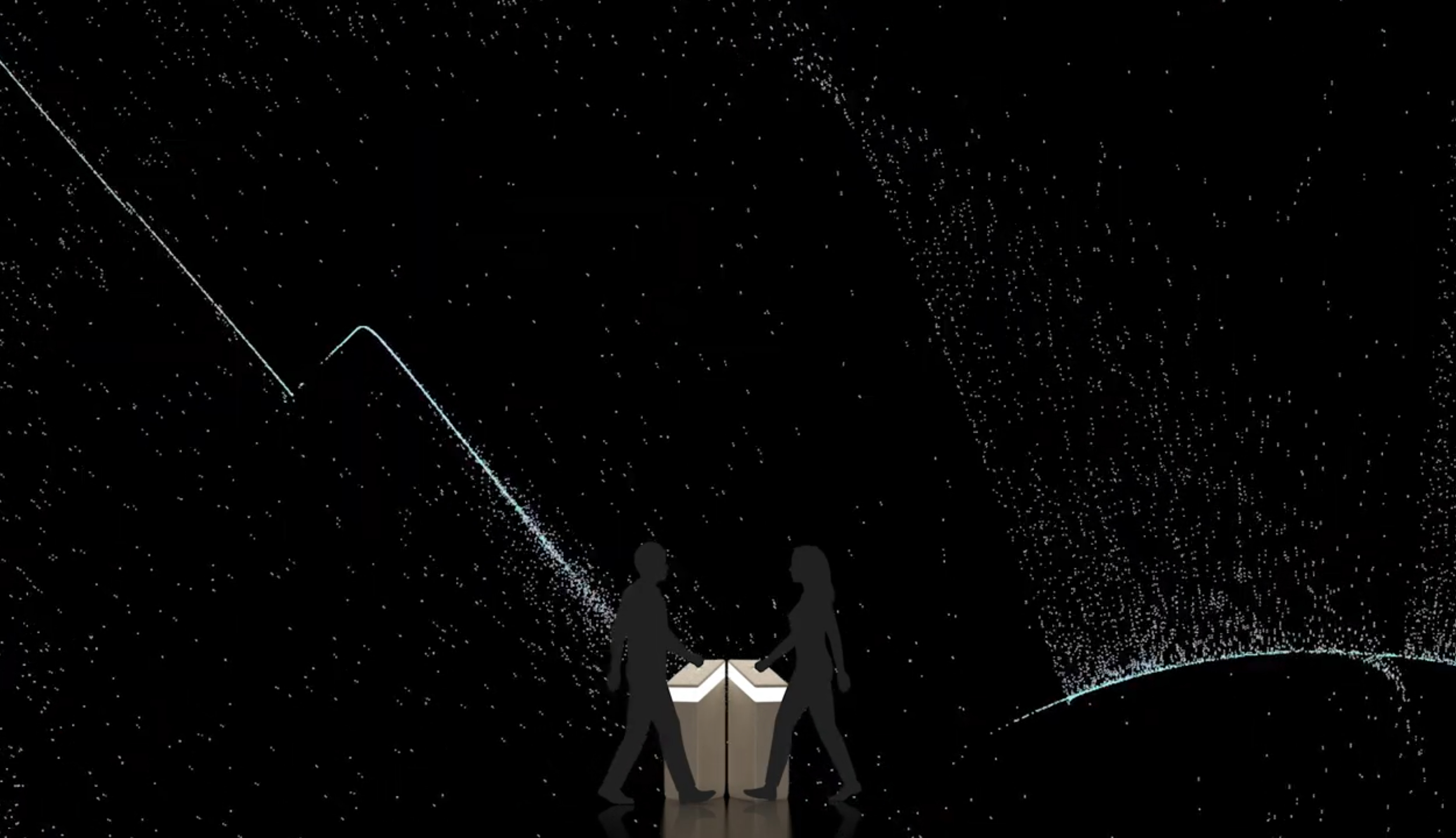 Posted on May 04, 2020 | Updated May 06, 2020, 2:25pm
The recent Interaction Design graduate points to data visualization as a tool to break people out of the "fugue of daily routine."
A final project by graduating student Allison Chan proposes a utopian alternative application for biometric data: demonstrating people's likeness to one another, rather than emphasizing difference.
InterPulse captures heartbeat rhythms from a pair of participants through fingertip sensors, turning that input into cascading webs of light on a graphic interface. Whereas biometric data is often understood as a key component of modern state surveillance efforts, or of tracking a person's unique biological (and even social) behaviours and attributes, InterPulse is activated by a collaborative input to produce something else entirely: a changing, enchanting work of art.
The goal, says Allison, is to lay bare the value of not showing people precisely quantified information about themselves.

"I want my work to give audiences a different perspective, so that they have the autonomy to think about what embodied experience (or more specifically, visualized information) means to them, as a mode of self-reflection," she says. "We can use data visualization and design for people to step out of the fugue of daily routine, and step into a space to practice modes of critical, creative, and spiritual thought."
By proposing this break from "the fugue of daily routine" as a communal phenomenon, InterPulse contends that it's our similarities that make us most fascinating, and that it's through collaboration, rather than through heroic labour in isolation, that we become capable of accomplishing our most remarkable feats.
Allison's earlier interactive work, (E)ntity, likewise proposes an interaction between people as a powerful ideal.
"A common pattern in my projects … involves creating safe spaces for people to express themselves creatively, spiritually, or emotionally, etcetera," she says. "Both (E)ntity and InterPulse avoid telling people who they are, but rather act as agents for them to develop their own conclusions and ideas about their identity and positionality in the world. These works compel audiences to think about the parts of themselves that are invisible, or less obvious on a conscious level — things like their interests, their values and their beliefs."
InterPulse can be viewed online at chanallison.com, as can (E)ntity. It can also be viewed as part of ECU's online Interaction Design graduation project showcase, alongside the work of Allison's graduating classmates.