Anna Luth on Gesture, Performance and Collaboration in Art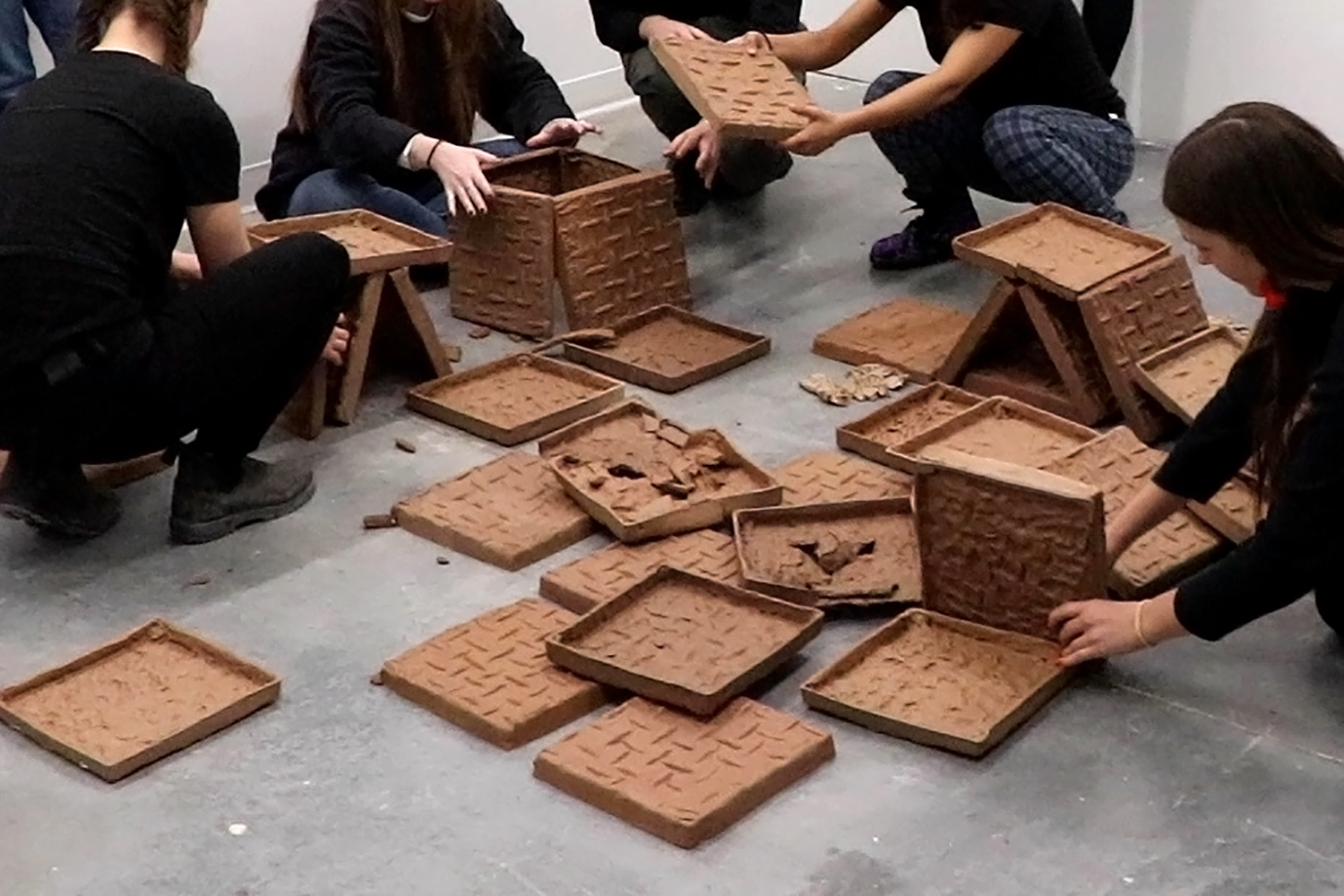 Posted on November 10, 2020
The artist and recent grad puts the final outcomes of her performative works in the hands of the audience.

Anna Luth (BFA 2020) is an interdisciplinary artist who works in expanded ceramics, performance, and installation to explore obstacles and boundaries relating to phenomenological experience. Anna's process of making performative and collaborative work that can be activated is labour-intensive.
"When I make work, I am thinking about ways I can involve people in what I'm doing performatively, so I use gesture and my own physical interaction with the objects as an invitation to participate," said Anna. Having become tired with creating physical work that was purely visual, Anna now looks to incorporate tactile experience in her work.

"My collaborative performances and installations are similar to functional ceramic objects in the way they are activated by physical interactions," she explains.
A great example of this process is her piece Pick Up a Tile (2020), a performative installation that utilizes 49 unfired clay tiles and viewer participation. The tiles themselves are created from discarded clay from the Emily Carr University ceramic studios that has been repurposed and reclaimed. They are arranged in piles, stacks and rows. Anna prompts the audience to participate by both inviting them through a slip of paper as well as initiating the action herself.
"The art becomes less about a presentation of my making, and more about a shared experience."
"When I made the work Pick Up a Tile I gave directions both literally through the tile but more meaningfully through my actions and interactions," Anna said. "I am conscious not to speak while the performance is happening, and try to remain somewhat neutral to limit my influence on the outcome."

The audience builds the final installation through their own participation.

"As the piece is created together, the room is filled with the muffled movement of people, and it's really lovely," Anna said. "I would say my goal for my work is to create a collaborative experience between myself and participants, and to reorganize and restructure labour. The art becomes less about a presentation of my making, and more about a shared experience."
The reclaimed clay adds an additional layer of community to Anna's work from the simple way that it is sourced.

"I love using reclaimed clay because it is this amalgamation of scraps that nearly everyone in the studio contributes to, and it's turned into an amazing material and conceptual resource for my practice," said Anna. "Unfired clay, like my tiles, can continue to be repurposed over and over, and there's something really appealing about that for me because it feels less precious and temporal, yet infinite."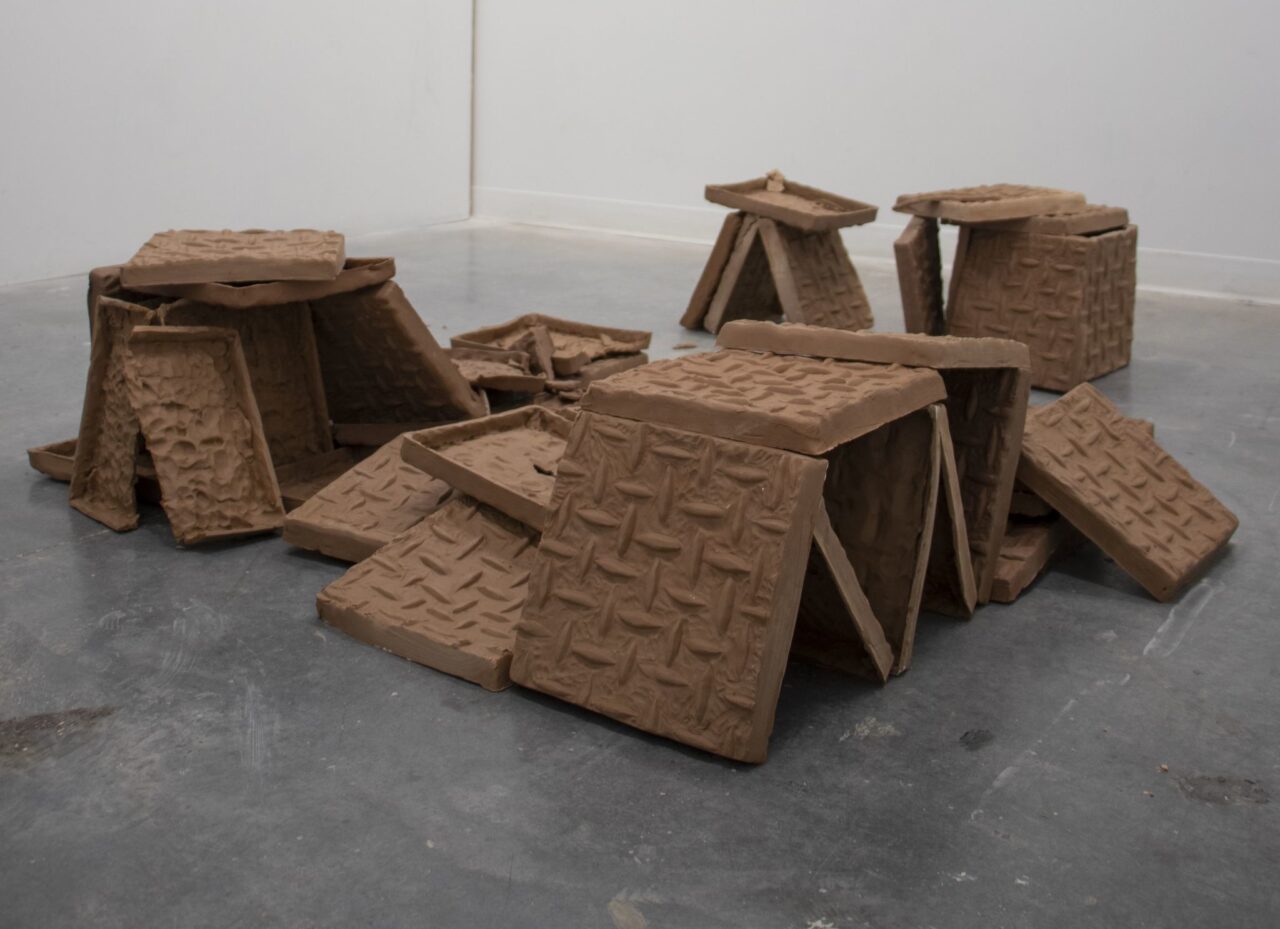 The fragility and handmade quality of the unfired clay tiles adds a variable to the collaborative performances. The tiles are created with a hand-carved mould, the diamond printed shape being reminiscent of construction site or industrial materials typically made of metal.

"For participants who were unfamiliar with clay in this state, I think it was initially surprising to feel the material and notice its' visceral impact on the body," Anna said. "Suddenly you are more aware of every movement, and the pressure placed on the tile."
Anna shares that the surface treatment of the tiles made it clear that time and energy was invested into their creation.

"I think that caused people to be very careful with them at first, and look to my interactions with the pieces to mimic my behavior," said Anna. "Mid-way through the performance, I pressed through the tile with my hand to give participants 'permission' to, if they so choose, destroy the tiles as well."

Spoiler: Anna told us no one actually destroyed the tiles.
To see more of Anna's work, visit her website or follow her on Instagram.
This story originally published on the Emily Carr University Alumni Association's website.