Art Site Probes Alternatives to IRL Cultural Communities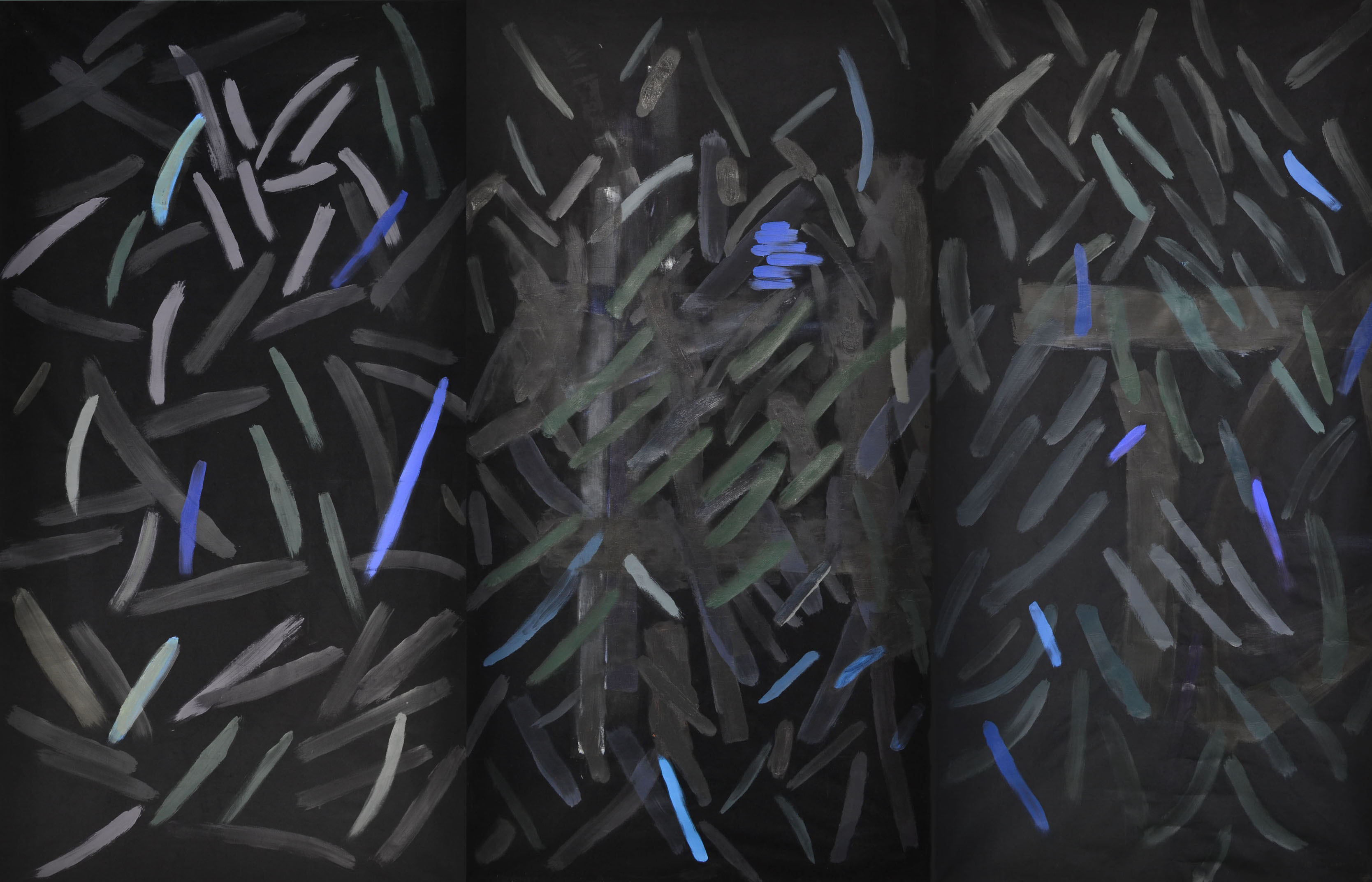 Posted on April 02, 2020 | Updated April 02, 2020, 5:54pm
Amidst an ongoing "collapse" of cultural centres — already in motion before the pandemic — one ECU alum is working to give artists a place to turn to.
An online art site recently created by artist Meghan Jackson (BFA 2018) is taking on renewed relevance as creative practitioners join people nationwide in finding ways to adapt to a new reality of self-isolation and banned gatherings.
Meghan, now a month into her role as Port Coquitlam's Artist-in-Residence, was already working on her aggregator website, artbot.ca, when the impacts of COVID-19 began to hit. (An aggregator is a website or program that searches the web for related items of content and displays them or links to them).
"There's no substitute for IRL experience at a show or opening," she says over the phone from her home in Coquitlam. "But I believe you have to meet people where they're at … So, I think of this site as a point of contact [or] sort of a way to talk to people in my community and ask them questions and bring all that information together in one place."
Based on keywords set by Meghan, artbot.ca collects links from all over the internet into one place where people can then access that information, for free. Because Meghan is regularly tinkering with what the site searches for and how many links it displays, visitors will find the content changing, sometimes from hour-to-hour.
"It's getting harder and harder for the arts community because we don't have a cultural centre to organize around."
For example, a recent scan of the site produced a collection of links including an Artforum article on the role of art in a pandemic; a Jacobin article on how Bill Gates' rhetoric around increased government spending to combat COVID-19 stands opposed to his politics in practice; and a Vancouver Sun story detailing the "anatomy of money laundering in B.C. real estate."
A quick refresh an hour later garnered results including an Artforumarticle on Spanish cultural uncertainty amid the coronavirus pandemic; an ARTnewsstory on an Instagram account pledging to breathe life into student exhibitions cancelled due to COVID-19; and a Baffler bio of early 20th century progressive writer, intellectual and anti-war advocate Randolph Bourne.
"People can regularly check back in, so at least when that cultural centre collapses or we're sequestered to our homes we're not left looking for somewhere to go," Meghan says, noting the site is just one of many ideas for small, alternative spaces she is currently interested in.
"It's meant to be an alternative to social media and platform pressures. People, I think, will engage with it in a different way, rather than just consuming content."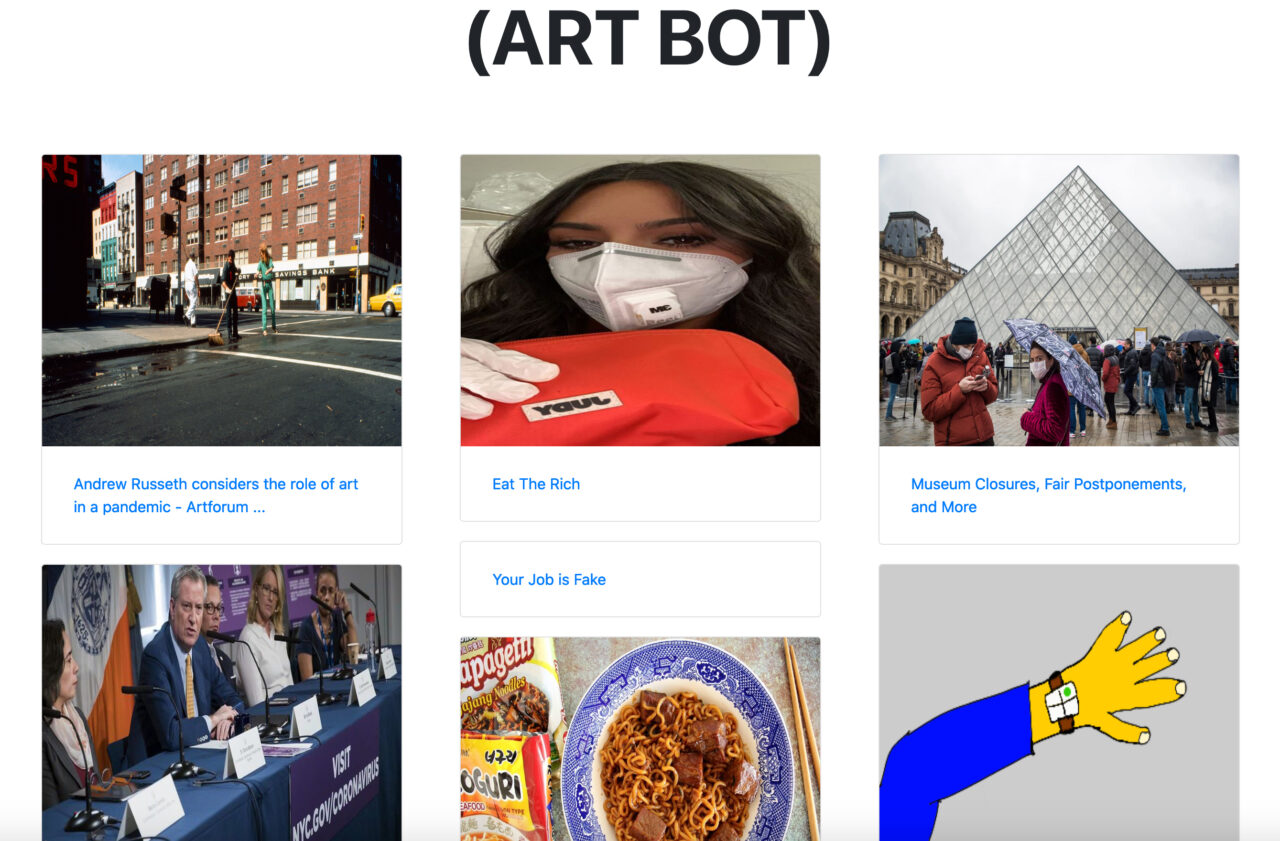 Meghan is quick to point out that a trend of siloed and decentralized arts communities had been shaping Lower Mainland cultural practices for a long time before the pandemic showed up.
"Most of the artists I know don't live in Vancouver anymore, and, because of the cost of living, have moved to more rural situations," she says, adding she herself relocated to Coquitlam following the completion of her degree.
"Space is so expensive. Like, some of my friends started a gallery in Chinatown in an abandoned mall, and they're already having to move. And it's getting harder and harder [for the arts community] because we don't have a cultural centre to organize around."
Meghan says her next phase of research involves looking at how to develop artbot.ca into an image-sharing site, along the lines of Instagram or Artsy. She says she envisions an algorithm that prioritizes posts based on "cultural capital," rather than on social capital (number of "likes") or actual capital (how likely a post is to generate advertising revenue for the site).
"In its final form I'd like to make something that can show you images that are separate from valuations of money or social capital," she says. The question Meghan is working from, she notes, applies not only to algorithms, but to cultural spaces more broadly: "Is there a way you can have curation through cultural capital rather than other kinds of capital?"
We will certainly be keeping an eye on artbot.ca as she works toward an answer.