ECU Student Abi Taylor Brightens Boarded-Up Gastown With COVID-19 Murals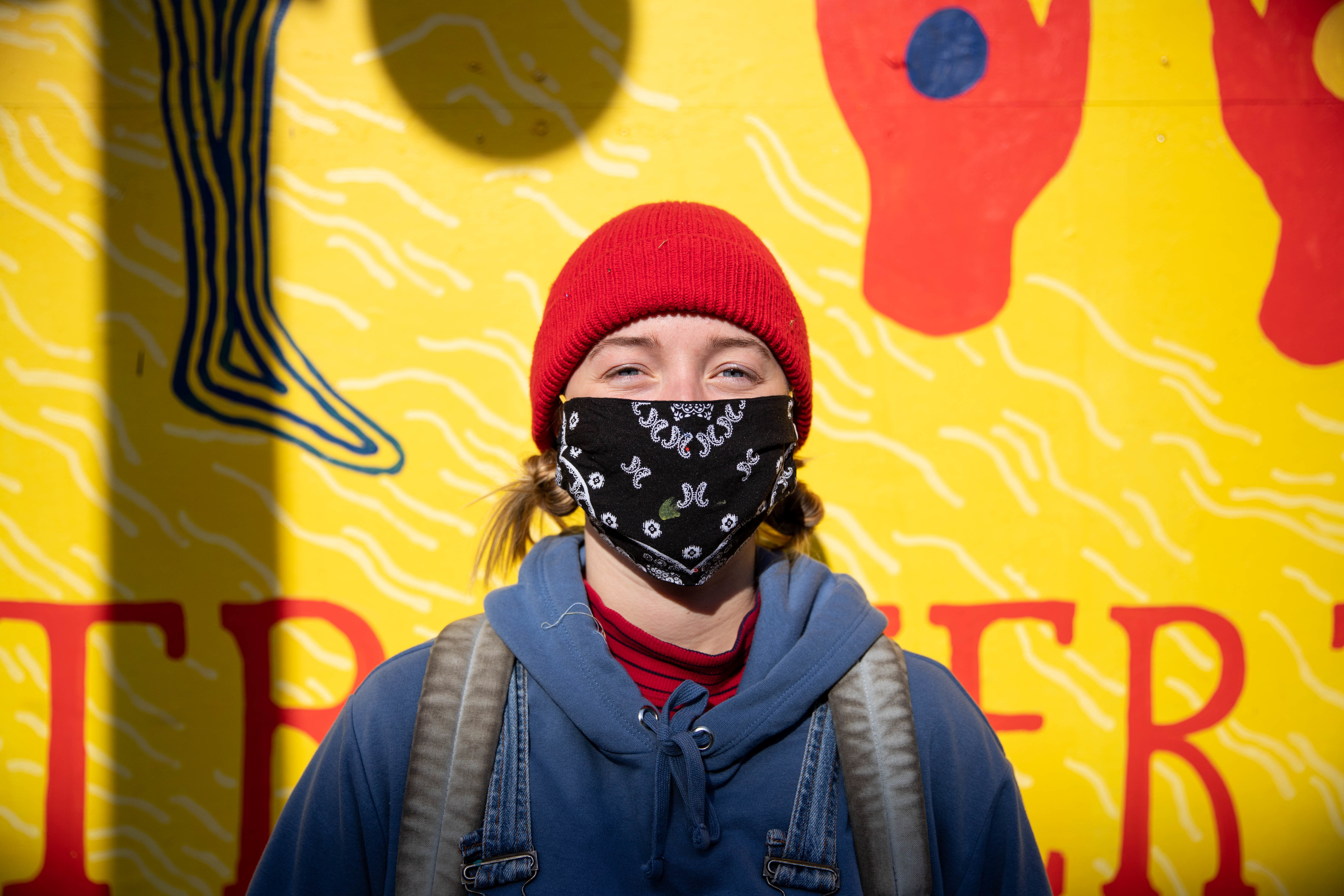 Posted on April 07, 2020 | Updated April 08, 2020, 10:10am
The artist and third-year visual arts student recently grabbed media attention for her public portrait of BC's top doctor, Bonnie Henry.
Third-year ECU Visual Arts student Abi Taylor was putting the finishing touches on her second pandemic-related mural on Tuesday morning, when she took a moment to speak about how she got involved with the project and what it means to her.
Her first mural — a portrait of provincial health officer Bonnie Henry, painted on the boarded-up windows of Kimprints in Vancouver's Gastown neighbourhood — drew media attention for its implicit message of hope and appreciation during the COVID-19 health crisis.
Her second painting reads "Together Let's Stay Apart … Introvert Season," and features stylized images of hands, a human body and a flattening curve, all against a brilliant yellow background.
"I briefly talked to the owner of this store about this mural," Abi says, wearing a mask and gloves on the brick sidewalk of Abbott Street in Gastown. "She seemed really excited. She seemed really happy to brighten up this zone a bit."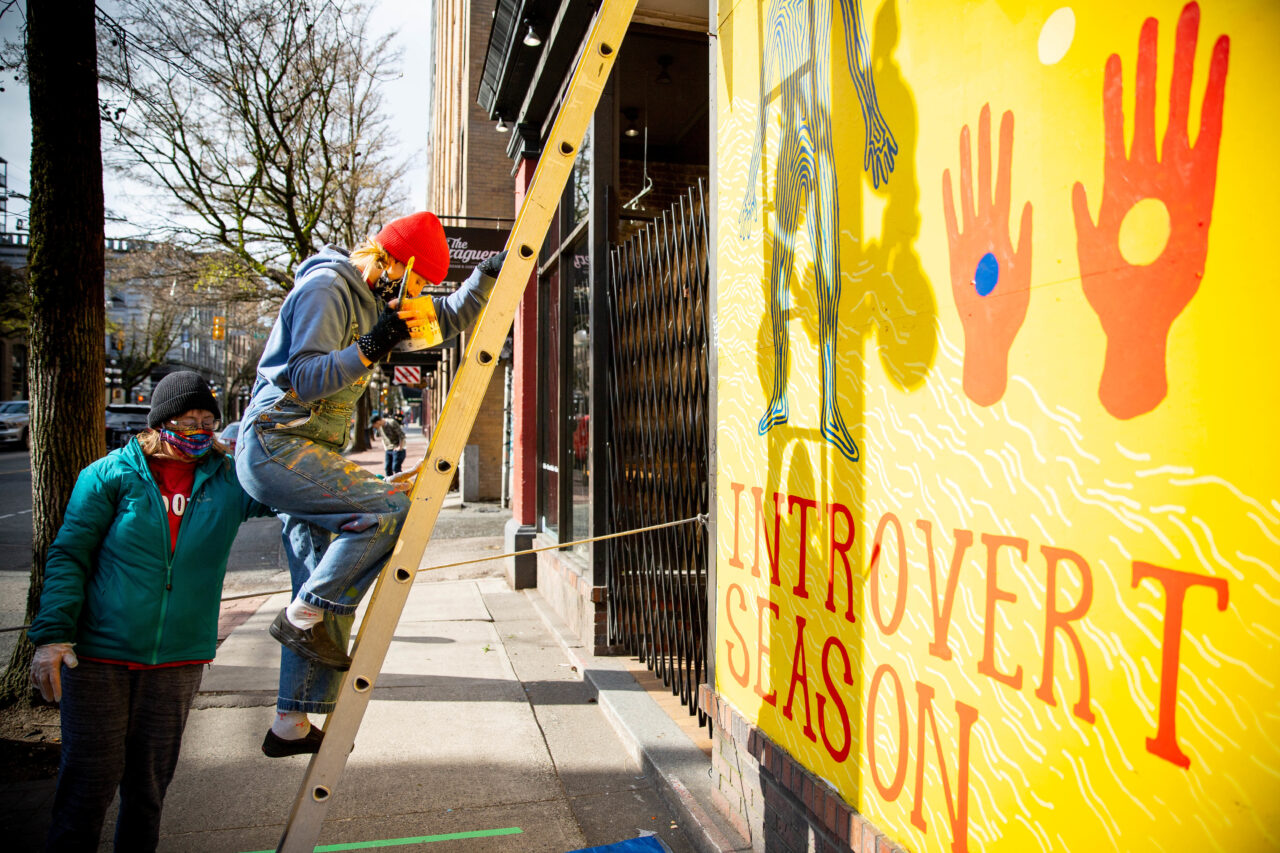 Her mother, Teri, was on hand to act as an assistant, stabilizing the ladder and fielding the questions of curious passersby while Abi stood perched high above the street.
Abi says she was first approached to paint Bonnie Henry by a friend who'd been hired to paint a portrait of Canada's chief public health officer, Theresa Tam. Although Abi typically focuses on drawing and illustration, she says she was excited for the challenge.
The Gastown Business Improvement Society caught wind of the initiative, and asked if Abi would paint another piece on a nearby eyewear store — also boarded up due to the pandemic. This time, she was allowed to paint any subject related to the health crisis, so long as it had a "hopeful message."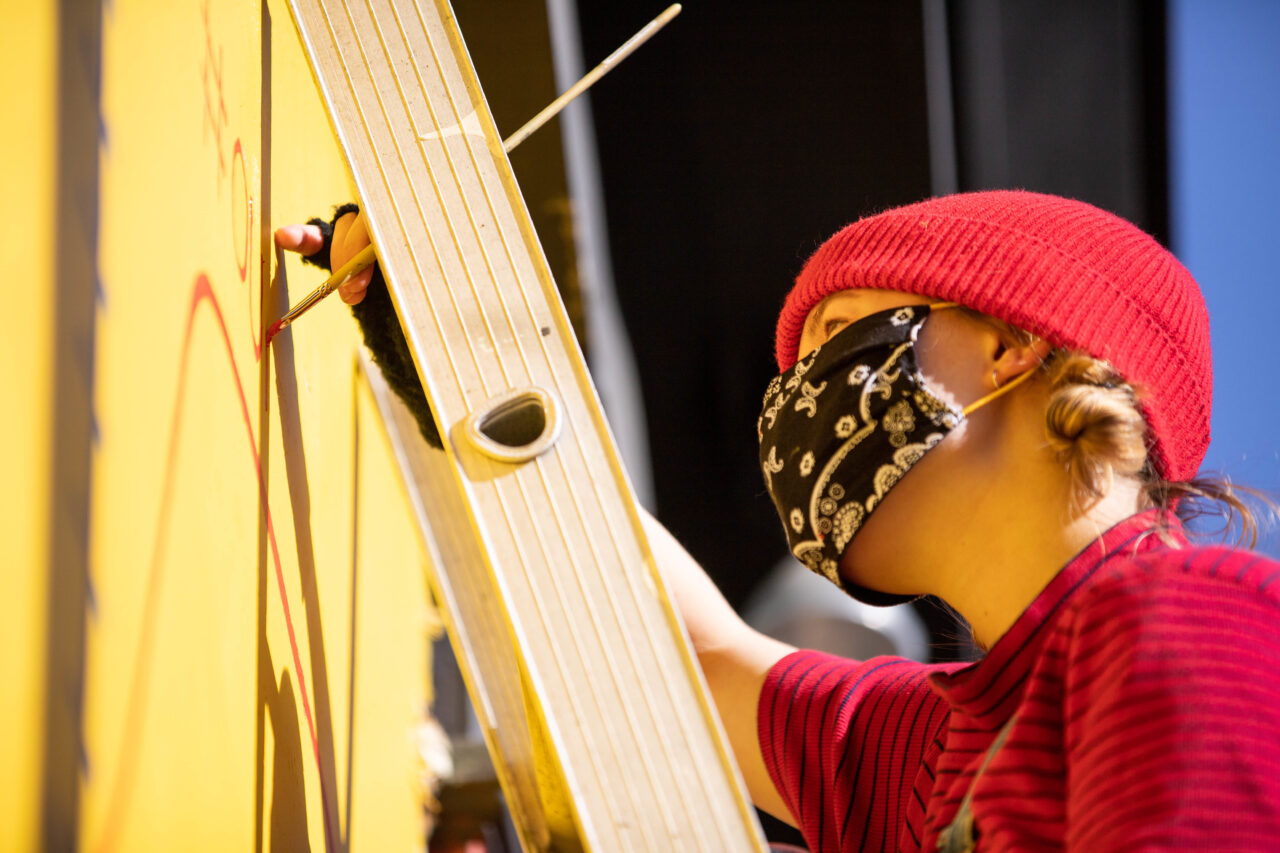 "I'm talking about being an introvert, and how it's kind of a time to stay inside and spend time with yourself and work on your art," she says. "That's what this means to me. Self-care, and then also time to work on intricate projects, reading books, drawing."
She notes that the opportunity to bring art to a streetscape that's been dramatically altered by COVID-19 has been something of a blessing for her practice — despite the anxieties and stress that have been impacting the rest of her and her loved ones' lives.
But she'll likely put a lid on it for a little while after her current work is finished, she adds.
"I think I'm going to take a bit of a break from murals," she says. "Just the exposure downtown, it's a bit hypocritical, painting this message but then going outside. So I think I'm just going to be an introvert for a bit."