Fadwa Bouziane on How Performance Art Helps Rethink Connection at a Time of Crisis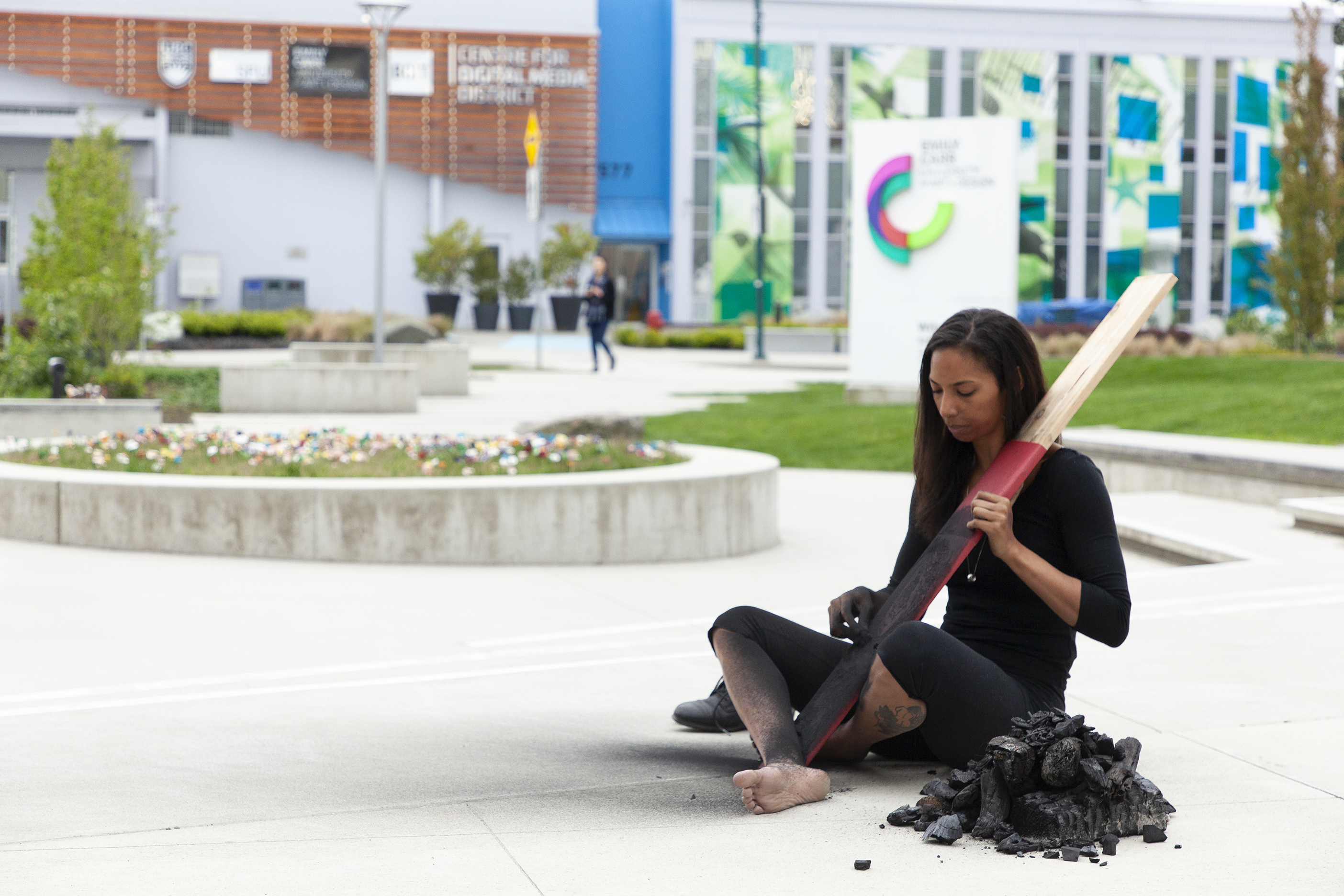 Posted on August 10, 2020 | Updated March 02, 2021, 3:54pm
"We're bodies with stories that need to be told," says the performance artist and ECU faculty member.
Whether 2020's lockdown was a one-time event or a predictor of what's to come, artist and ECU faculty member Fadwa Bouziane (MFA 2019) believes its impacts will be felt for a long time.
The experience of loneliness, the trauma of isolation and the bizarre ordeal of conducting business and social life through a screen, however, are not the outcome of COVID-19; rather, she says, they're thoroughly modern routines which have only become amplified during the pandemic.
"I think we're craving human touch and craving witness and craving being with a group of people all at the same time," she says. "So, how can we talk about our own trauma of being separated, and overcome loneliness — which was already a problem before, but, I think, is just exponential right now?"
For Fadwa, performance art provides a ready answer to that question.
"It's good to engage in performance art at times like these, because it allows us to ask how we can rethink our bodies in connection to others," she says. And while, in many ways, performance art is fundamentally resistant to mediation — including via a digital screen — Fadwa says her course PERF 310 F090: Performance Art: 'If my body could speak …' will be a study in strategies for remotely communicating bodily gesture.

"The gesture is almost like a mechanism or a machine, with emotion and feeling and thinking ... The gesture is your strategy to tell me your story."
She notes the practice of viewing art in traditional exhibition spaces provides a well-established precedent for how to address challenges around connecting at a distance.
"We're not all living in the space the artist lives, which is the same reality as when you go to a museum," she says. In other words, the goal isn't to figure out how to preserve the immediacy of performance for its own sake, but to find ways performance can be employed to drive closer engagement between people, even at a distance. This points inexorably to collaboration and discussion, Fadwa adds, which are two of the primary ways people process experiences as mundane as a tough day at work, and as extraordinary as a pandemic.
"We're just acknowledging the world right now, and all the tensions that this disease has brought up," she says, noting such acknowledgment is made even more challenging by the need to keep apart.
"So, how can we come back in, deal with it? You can use anything to get your point across. Just be playful, and let's talk about it after."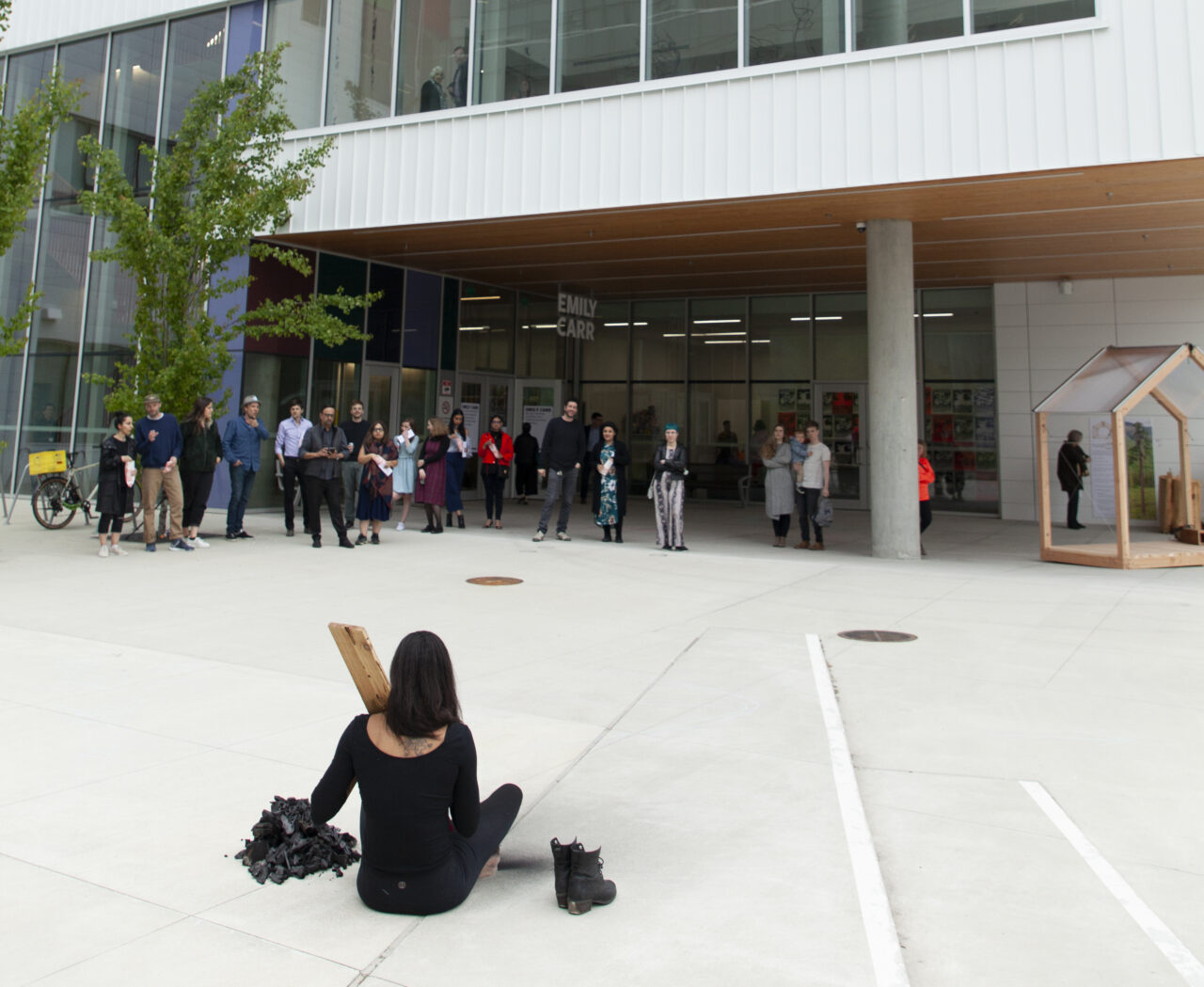 Fadwa's course is just one of the performance-inclusive classes being offered by Emily Carr. Multidisciplinary artist Merritt Johnson's course 'Performing for the Camera' considers the role of digital and online spaces as forums for viewership, participation and performance. With the option of working in a variety of media including performance, photography, video and web-based approaches, Merritt's students will set up online studios to present and view their works.
Artist Lauren Marsden also offers students the chance to examine the relationships between new technologies and performance with her course, 'Performance and Technology.' Lauren's students will investigate themes including how "new technologies shape and shift what it means to perform live"; "how technologies like phones, computers and networks ask us to perform every day"; and "the Internet's potential as a new type of stage with a new mode of liveness."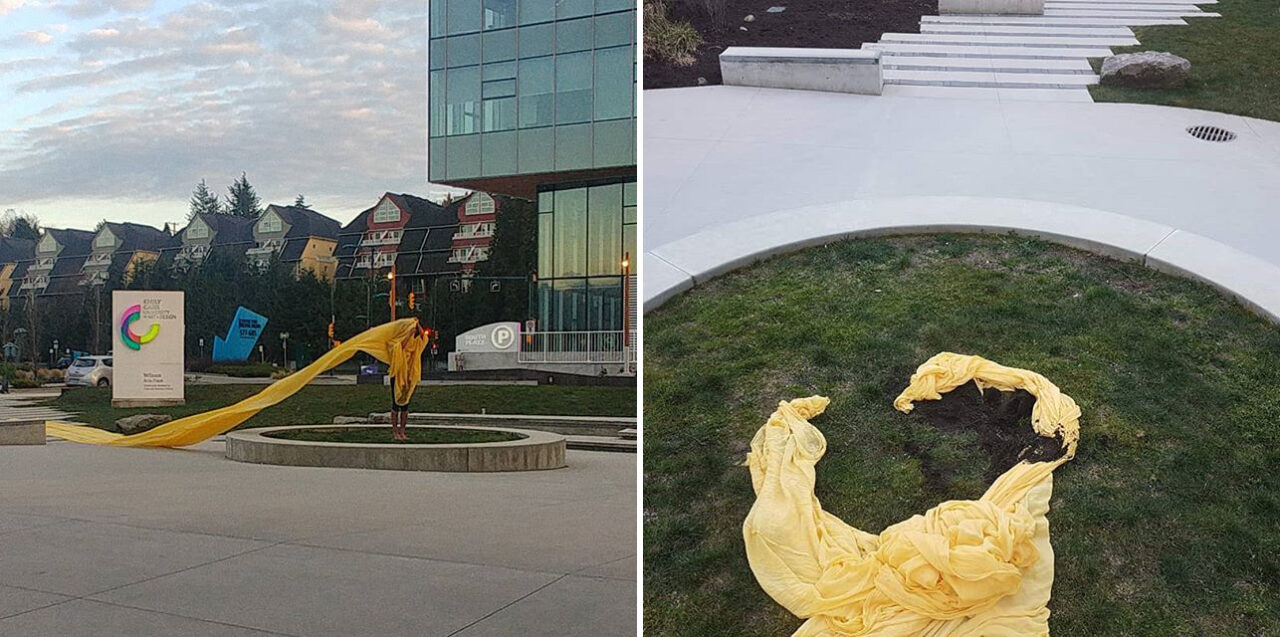 Fadwa notes that undertaking a performance work is no easy task. For artists and students alike, there's often a sense of fear, she says, because the medium is one's own body, and nobody likes to be judged for what they present physically. Critiques can sometimes "hurt a little bit more" for that same reason. But Fadwa emphasizes that it's not the body that's being critiqued; rather, it's the gesture.
"The gesture is almost like a mechanism or a machine, with emotion and feeling and thinking," she says. "It's really bold for me, because whereas in painting, a gesture goes into the painting, in performance, all your action counts even more. You're putting all of your story into it. We're bodies with stories that need to be told. So the gesture is your strategy to tell me your story."
Executing a performance work, she adds, is a feeling like no other — a feeling she wants everyone to share.
"I really, really believe that performance should be mandatory," she says. "I think it helps the mental state of people who receive it, who talk about it, who do it. It's hard, it's funny, it's raw, it's amazing. And in the end, every time I finish a performance, or every time one of my students finish, it just feels so good. Because they've expressed themselves in a way that no other medium can accommodate."