Intersecting Paths | A Conversation with the Curators Behind 'Here'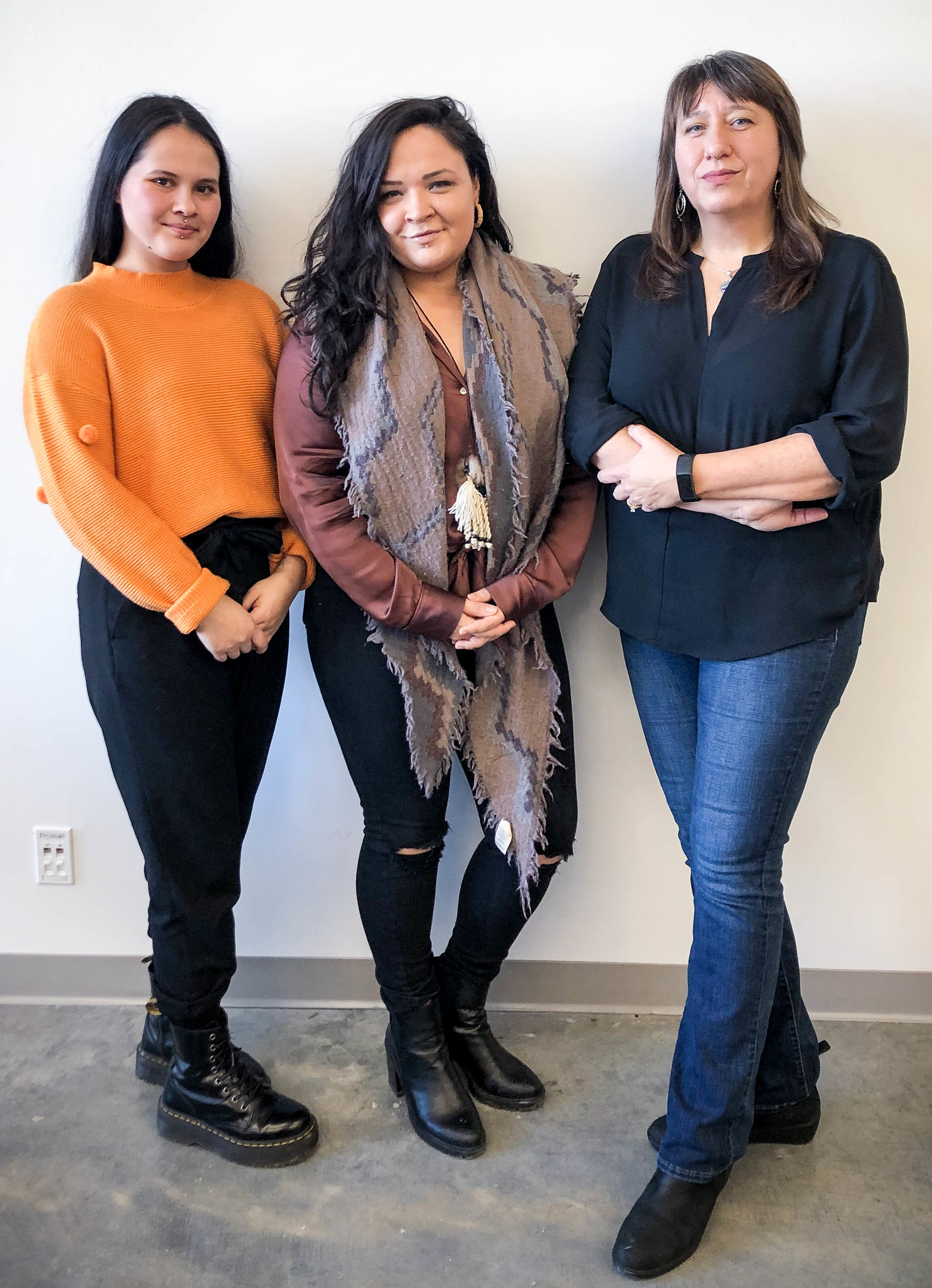 Posted on March 06, 2020 | Updated March 06, 2020, 11:06am
The artists and ECU students behind the recent Aboriginal Students' Exhibition talk politics, inclusivity and the challenges of being Indigenous in a settler institution.
Diane Blunt, Megan Jensen and Sydney Pickering all agree: the name came first.
Here.

Sitting in the Aboriginal Gathering Place, the artists and ECU students (and three of the four curators behind this year's Aboriginal student art show) say that once they'd landed on that title, they knew it was right. (Here's fourth curator, Kelsey Sparrow, was unavailable for interview.)
"The name was born from everything that was going on, everything that's still going on now," says Diane (who is of Ojibway and European ancestry, and a member of the Kawartha Nishnawbe First Nation).

She points to some of the current issues involving Indigenous rights within Canada, including the local, national and international showing of solidarity with members of the Wet'suwet'en nation and other Indigenous peoples who stand in opposition to the "current environmentally invasive and destructive projects" being built on unceded territories; the ongoing tragedy of Missing and Murdered Indigenous Women and Girls; and the broader and arguably failed project of reconciliation in Canada.
"We wanted to be relevant and react to what's happening. It was like, 'We're HERE,'" she exclaims, bringing her open palm down on the table in emphasis.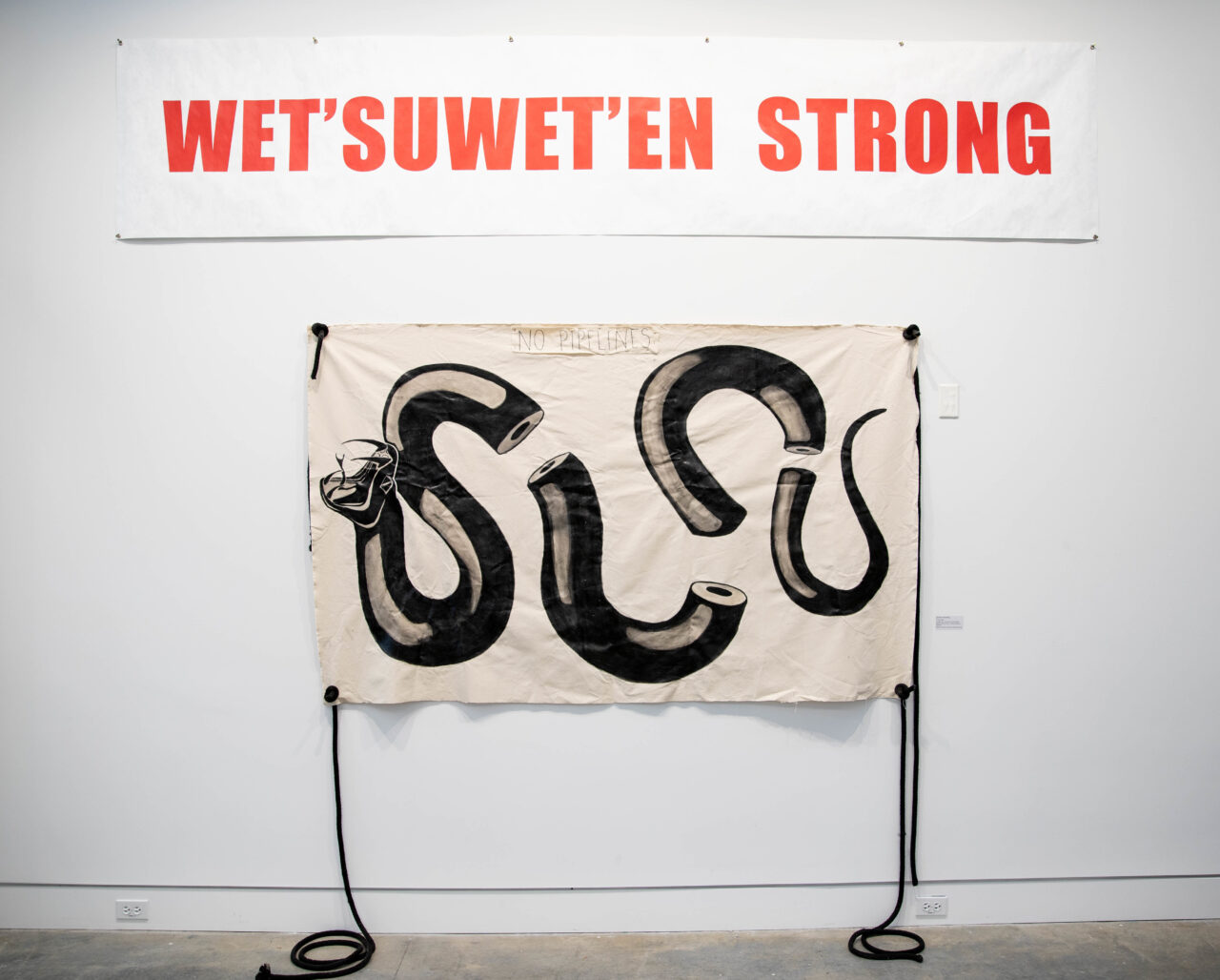 Sydney (who is of Lil'wat and European ancestry and a member of Lil'wat Nation) notes that the decision to refer explicitly to political issues was one they all had to warm up to.
"I remember we wanted to stay away from that, initially," she says. "But in the end you can't ignore these things. At the opening we said, 'We have to bring this up,' and in our remarks we said, 'We stand in solidarity with our Indigenous neighbours.' Our lives are inherently political."
Diane agrees, adding the show "ended up being quite political," even though their curatorial call for submissions had been an open one.
"We didn't call for that kind of work, but that's what came up," she says. "It's on everybody's minds. It's an emotional thing. And it's always an undercurrent of our lives."
Megan (who is of Dakhká Tlingit and Tagish Khwáan ancestry, and a citizen of the Carcross/Tagish First Nation) reflected that, in retrospect, there was probably only a slim chance the show could have turned out any other way — especially with the issue of Wet'suwet'en sovereignty front and centre in communities across the country.
"I think we all felt like we couldn't not do anything. This is something so prevalent in our lives, and we were considering the other artists and the emotional labour they may be undertaking," she says.
"All of our hearts feel heavy being at the protests [in solidarity with Wet'suwet'en hereditary chiefs]. But then we're all emotionally heavy when we're not able to be there. The way I felt was that this show was a way for us to contribute to the cause. This is our way to give more voice to those that are silenced."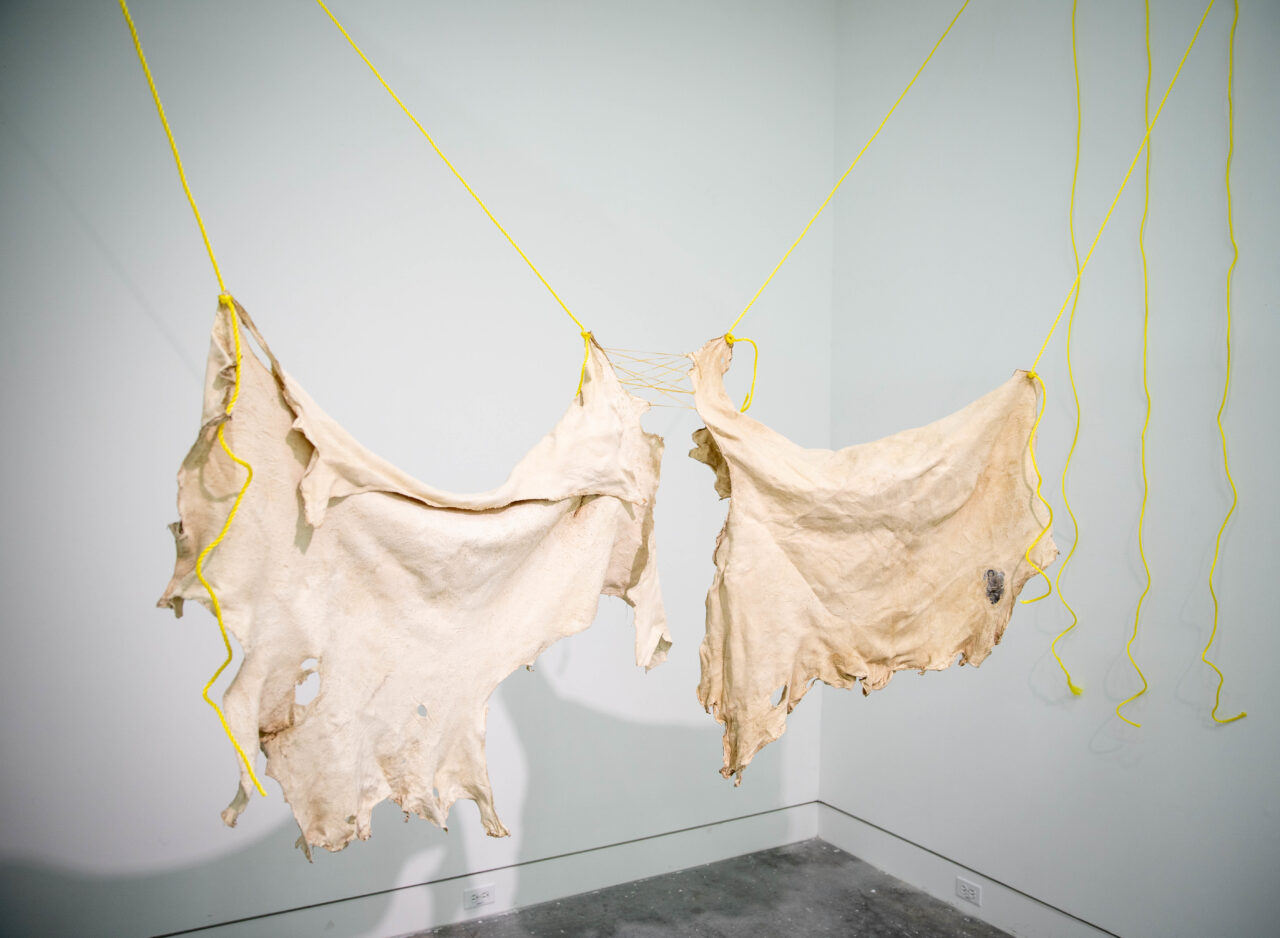 Diane, Megan and Sydney each have work in the show as well. Sydney's work includes an austere anti-pipeline banner that was used during protests in solidarity with the Wet'suwet'en people, and an installation of brain-tanned deer hides she made with her community in Mount Currie as a representation of her reconnecting with her ancestral lands.

Diane's work includes woodland landscape paintings incorporating birch-bark bitings which, she notes, take on political undertones when viewed through the lens of the exhibition's broader context. Megan's work includes the Northwest Coast formline painting at the entrance to the Exhibition Commons, on a wall painted a dark, slate blue that echoes the colours of the painting itself. The figure in Megan's painting appears to struggle within the confines of the canvas, enacting a push-and-pull tension with the edges of the painting itself.

"As Indigenous artists, we all to some degree experience these tensions during our time in university, and that expands beyond these walls as well," Megan says.
Sydney reports having struggled with some fundamental questions in undertaking an exhibition at a time when attending demonstrations and solidarity actions feels like an urgent obligation.
"I feel conflicted, sometimes, taking the time to be in these actions and then coming back here, to the school," Sydney says. "It's such a different environment. It feels like, is visual art going to have an actual impact? Or inform people?"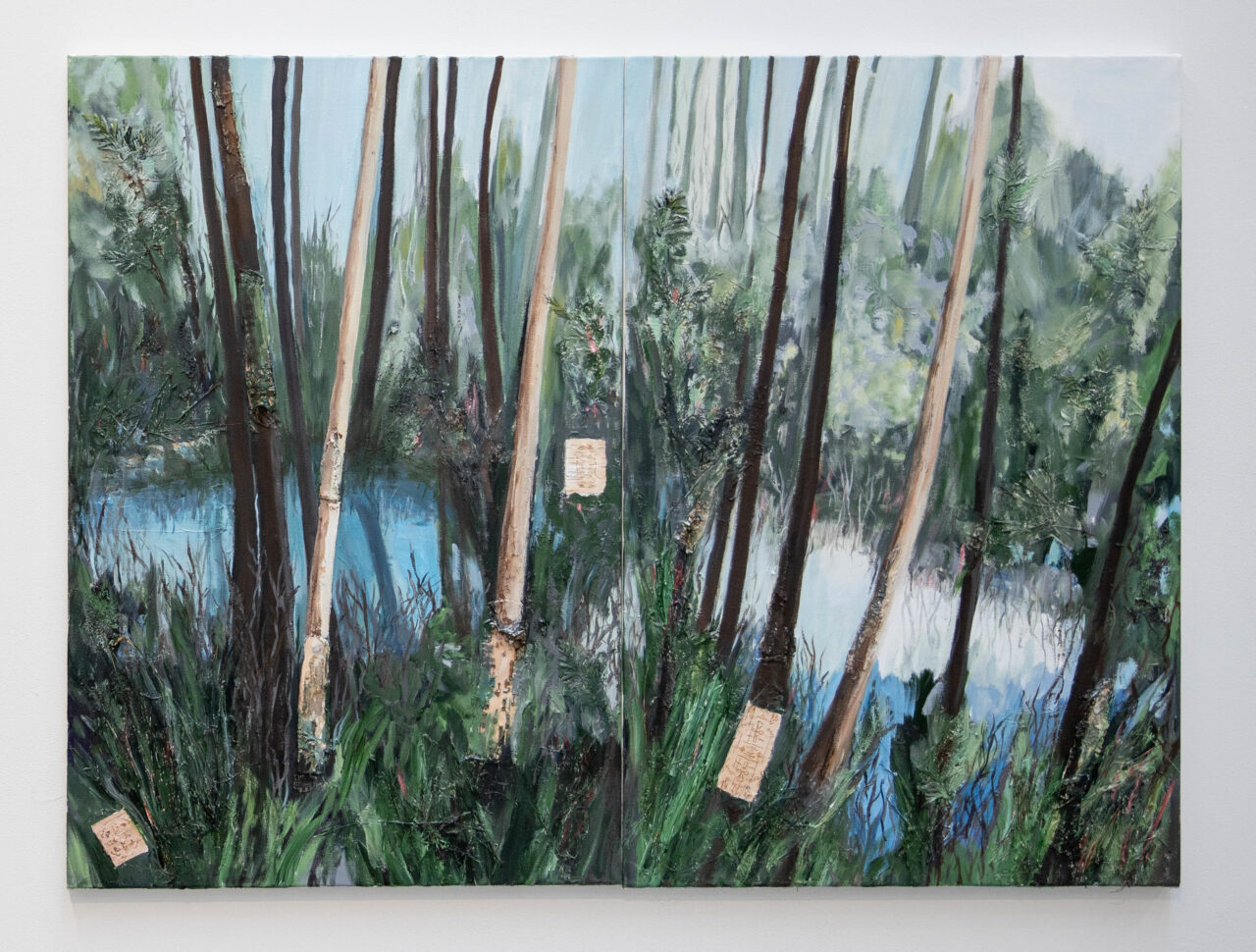 Megan and Diane say Sydney's questions reflect a deeper struggle to square the idea of being an Indigenous artist in a settler institution. This status, they note, can lead to situations where they're asked to do the work of "being Indigenous" — a semi-coercive expectation that the Indigenous person in the room will act as teacher for groups of people who may not understand Indigenous history or contemporary politics. Here, they note, is in many ways a response to some of these challenges.
"For me," Sydney continues, "being an Indigenous artist partly means making that decision about how much information you're going to give, how much you're going to let your audience in, and how much you're going to allow them to put their interpretations on you."
"That's an act of reclamation," Megan adds.
Ultimately, reflecting the diversity of Indigenous experience at ECU was the goal the curators had most hoped to accomplish — and proudly fell they've achieved.
"We're all at different levels all the time," Diane says. "Some of us are really strong politically, some are not. Some are really strong in their culture, some are not. Some are just dipping their toe in, approaching it for the first time. That's what's so great about the Aboriginal Gathering Place: here, they embrace all of us."
"Which all circulates back to Here," Megan adds. "Not all of us are on the same path but we're all here. And all of our paths intersect because we're here. But we're our own distinct people, and we're all individuals. And we wanted to honour that."
More about Sydney Pickering