'POOL' Honours the Personal in the Political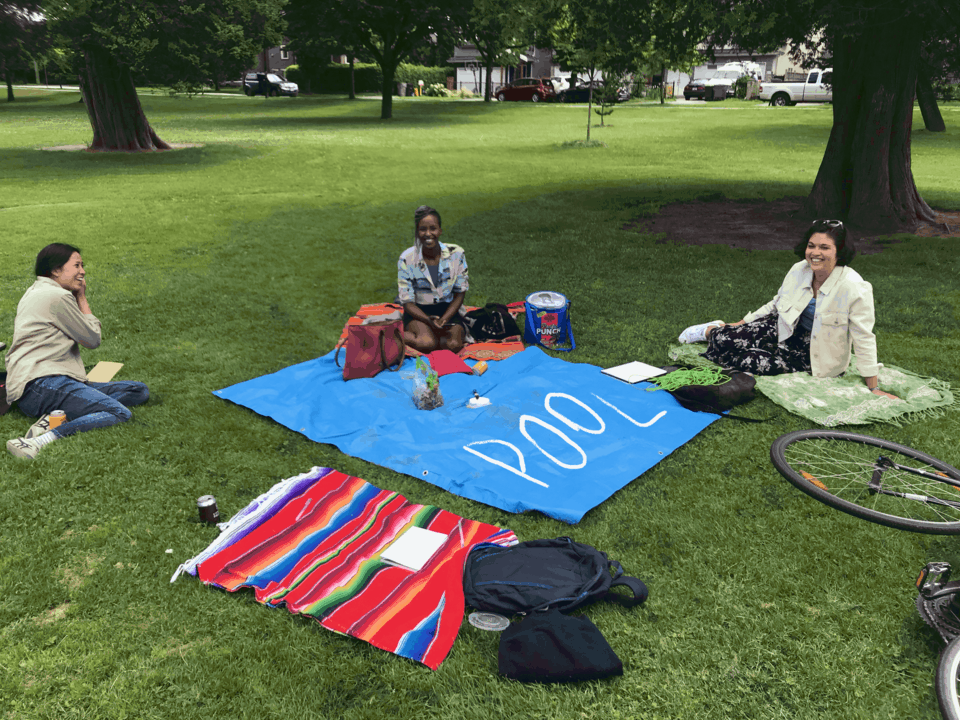 Posted on October 01, 2020
As part of the Shumka Centre's Satellite x DESIS program, the 'POOL' project explores a new model for community building
A new project from a group of recent ECU grads aims to find new ways of approaching the work of community support and activism.
The goal, according to project leads Nura Ali, Annie Canto and Jean Chisholm, is to step back from the structures of institutional progress and professionalism, and provide an alternate model for sustainable community-building and meaningful interpersonal solidarity.
"I think we were used to speaking about work in a certain, really formalized way," Jean, a communication designer, design researcher and educator, says.
"I feel like what's been happening over the summer is a 'casual-ification' of what this work can actually look like, or how we can speak about this work, or how we can invite people in."
Nura, Jean and Annie, working under the project title POOL, place "antiracist pedagogy, decolonial methodology, and peer-to-peer solidarity" at the heart of their work, which involves finding "new ways to gather that embody relational and mutually supportive ways of being, and challenge the hegemonic structures that disconnect us from the communities and ecologies we live within," per their project brief. As part of the Shumka Centre for Creative Entrepreneurship's 2020 Satellite program (Satellite x DESIS), the trio has been working under the mentorship of writer, editor and director/curator of Artspeak, Bopha Chhay.
While the trio had met with many POOL participants previously, they'd often done so in institutional or professional settings, which tend toward hierarchical, formalized exchanges, such as panels, roundtables and artist talks, says Annie, who is an artist and educator.
"The whole time I was very curious and critical about the formalities of meeting people at the pace of a professional, as opposed to meeting people at the pace of a relationship, or friendship," she says.
"This is one of the big things about this project: it's an opportunity for us to explore the different ways that you can build relationships with people in your local network or community."

Jean adds that, in some ways, the project of institutional critique or working toward systemic change felt incompatible with the kinds of connections they were encouraged to pursue upon graduating. She, along with Annie and Nura, wanted to find another way.
"That sense of the hustle of post-grad life, it felt just so antithetical to all the practices that we'd been learning and exploring," she says.
"POOL is partly an attempt to try to step back from that, and ask, 'In what ways can we reach out and form relationships with our communities, and find ways of working with those communities without feeling like what we do is just a part of this big machine that we're being spit out into?'"
"A lot of our emphasis on intuitive relationship-building has to do with the fact that we know how much trust needs to be there in order to do the difficult, necessary work."
Events hosted by POOL over the past several months have been mostly online, and sometimes in an outdoor public space, such as a park, where physical distancing is possible. Jean and Annie describe these events as gatherings with activists and community organizers, where conversations are grounded in subjects such as antiracism and decolonization. But they note they've taken care to foster an environment of generosity, ensuring each participant feels empowered to bring their personal stake to the conversation — an arrangement aimed at steering clear of the taxing workflows associated with community organizing.
"One of the themes of our project came from understanding how extremely exhausting it is to keep being in meetings where you're just connecting with people in your community in order to get something done," Annie says.
"Because of that acknowledgement, a lot of the project, the way that we have gathered so far, has a lot to do with celebration, and celebrating the individuals in the room, and talking about things that somehow refresh instead of drain."
Jean adds that preserving a sense of informality and intimacy has likewise been key to the collaborative relationship between herself, Annie and Nura.
"We're trying to invite casualness into the conversation," she says. "We try to be generous with each other, with our time and energy, and what we can put in and how it fits into our lives. We try to offer a lot of flexibility. If it doesn't feel like it's serving us, then let's check in again, or let's shift or alter or stop. It's about the people that you're working with, rather than an objective."
For Annie, the insistence on placing the personal at the heart of their project comes from a recognition of how much the work of antiracism, decolonialism or community organizing, more broadly, can cost a person.
"It's extremely vulnerable to be active in a group politically, or to try to do something in your community," she says.
"A lot of our emphasis on intuitive relationship-building has to do with the fact that we know how much trust needs to be there in order to do the difficult, necessary work."
POOL currently has two more hosted, online events planned for 2020, though the group says they hope to be able to take what they've learned forward as they continue their work in their communities. Their next gathering, planned for early October, will be themed around practices of hospitality, both giving and receiving, and how the need to be physically distanced have influenced those practices.
The Shumka Centre's Satellite x DESIS Summer Residency Presentations will take place online on Tuesday, Oct. 6. You can find out how to tune in on the Shumka Centre's brand new website!