Rear Window Cinema Screens the 'Shared Trials and Joys of Isolation'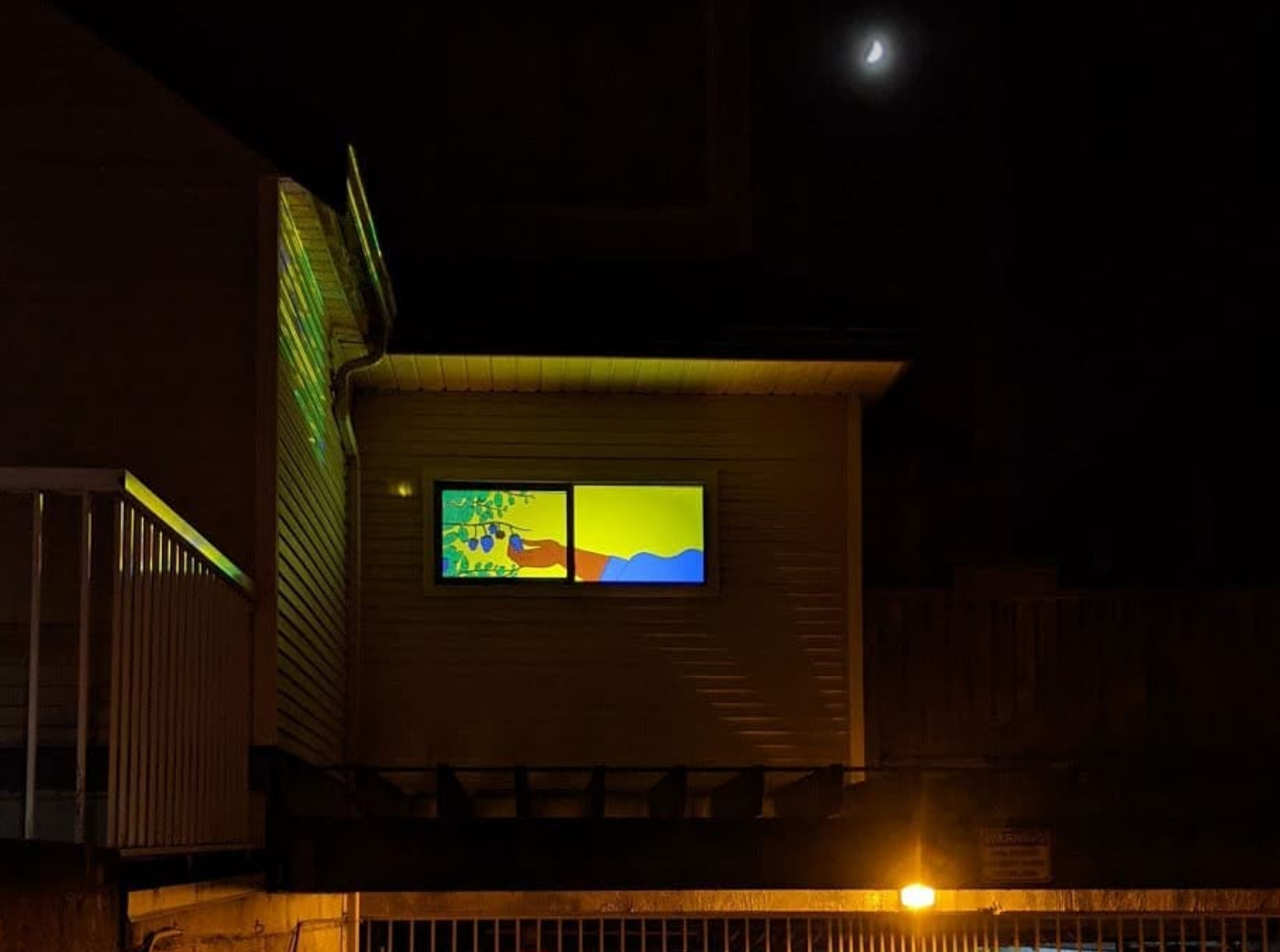 Posted on December 08, 2020
The project, led by scholar and curator Alla Gadassik, connects artists directly to their communities via moving-image exhibitions on public-facing windows.
A new exhibition series led by scholar, curator and ECU faculty member Alla Gadassik brings moving-image arts squarely into the public sphere, by transforming the private windows of artists into screens for public viewing.
Rear Window Cinema, led in partnership with VIVO Media Arts and flavourcel animation collective, and with the support of the Social Sciences and Humanities Research Council, uses rear-projection to display works by animation artists onto their windows. In doing so, RWC trades conventional film spectators and gallery visitors for local residents and passersby.
"The window is a small-scale projection surface that allows people into an artist's creative practice without actually letting them into the home," Alla says. "That's particularly helpful for the majority of independent practicing artists, who don't have the luxury of their own studio outside their private domestic space. I think this can be an exciting model not only for sharing finished media work, but also letting people into works-in-progress and snapshots of the artistic process."
Rear Window Cinema comes at a moment of brutal pressure for artists and arts organizations. Local galleries and venues are navigating closing, reopening and moving online amid evolving pandemic health recommendations. Many artists have seen work dry up, and are struggling to make ends meet. The future of art exhibition is uncertain around the globe, with the United Nations Educational, Scientific and Cultural Organization (UNESCO) recently estimating that one in three museums worldwide will close as a result of COVID-19.
Alla points out that the story of fettered access to arts resources isn't a new one. COVID-19 has merely foregrounded the impacts of long-established institutional barriers. Institutional barriers include practical and economic obstacles such as inaccessible location, high ticket price, restrictive operating hours or exclusive programming values. They can also be cultural barriers, meaning "how people discover those spaces, how they feel in them, and how they make sense of what they find," Alla says. Going online does not actually address these issues, she adds; it exacerbates them.
Barriers preventing diverse forms of art from reaching the public are not new. In absence of support from mainstream institutions, artist-run centres such as VIVO have long been on the frontlines of fostering experimental and underground arts communities.
"But I think the physical shuttering of so many institutions during the pandemic, combined with a growing public awareness of systemic inequalities, forced a reckoning for even more people: Who am I doing this for? How can my work contribute to us getting through today and doing better tomorrow?" Alla says.
Rear Window Cinema steps into this tradition of artist-led struggle to support creative work by centering artists rather than institutions. Aside from modeling an alternative to gallery media exhibition, the project was a way for Alla and VIVO's Lianne Zannier to support promising emerging artists in Vancouver.
The project rolls out in three "waves," with groups of artists exhibiting simultaneously for evening screenings at different sites. The first wave saw works by Kat Morris and Josh Neu popping up in windows in Mt. Pleasant and Downtown Vancouver over Hallowe'en and into the beginning of November. The second wave saw works by Alia Hijaab, Chris Strickler, Chhaya Naran, and Harlo Martens in Riley Park and Grandview-Woodland. The upcoming third wave includes eight artists, and expands with one location in Burnaby and one in Seoul, South Korea.
With each new wave, successive groups learn from the experiences of their predecessors, making for a community-centred model that is broadly accessible, durable and resilient. "If there's a torrential downpour during our planned screenings, and all social gatherings are prohibited, Rear Window Cinema will still endure."
This model of artists directly supporting one another is the founding principle of artist-run centres like VIVO Media Arts. It's also a core value of artist collectives like flavourcel. Alla says that the partnership's "shared commitment to enabling independent artistic work means that all of our insights will be made publicly available to anyone interested in setting up a window cinema project. Their biggest barriers will be finding a room with a window and a projector."
Rear Window Cinema helps remediate the damaging effects of art's historical categorization as a "non-essential" activity— a nearly axiomatic framing that has taken on new meaning in the past nine months. As Alla notes, "artists are all too familiar with being deemed non-essential and spending an enormous amount of their time justifying their value, even in good times. And yet, I think for many people, the pandemic and its isolation also revealed that many activities they might have categorized as 'non-essential' are actually necessary to their emotional and spiritual resilience."
"The pandemic revealed the fatal consequences of neglecting community belonging and eroding individual empathy for other people's experiences," she continues. "In light of this deep reckoning, Vancouver has seen a burst of creativity and engagement with the arts in the most unexpected and moving ways. This is especially true for spontaneous acts of collective creativity in individual neighbourhoods, from painted rock hunts to trick-or-treating chutes. Rear Window Cinema taps into that energy by connecting each artist to their direct community, allowing the artist to display moving-images that speak to shared trials and joys of isolation."
You can find out about Rear Window Cinema's current and upcoming screenings on Instagram, @rear_windowcinema.