Stella Zheng Creates Illustration for Fundraiser in Support of Vancouver's Chinatown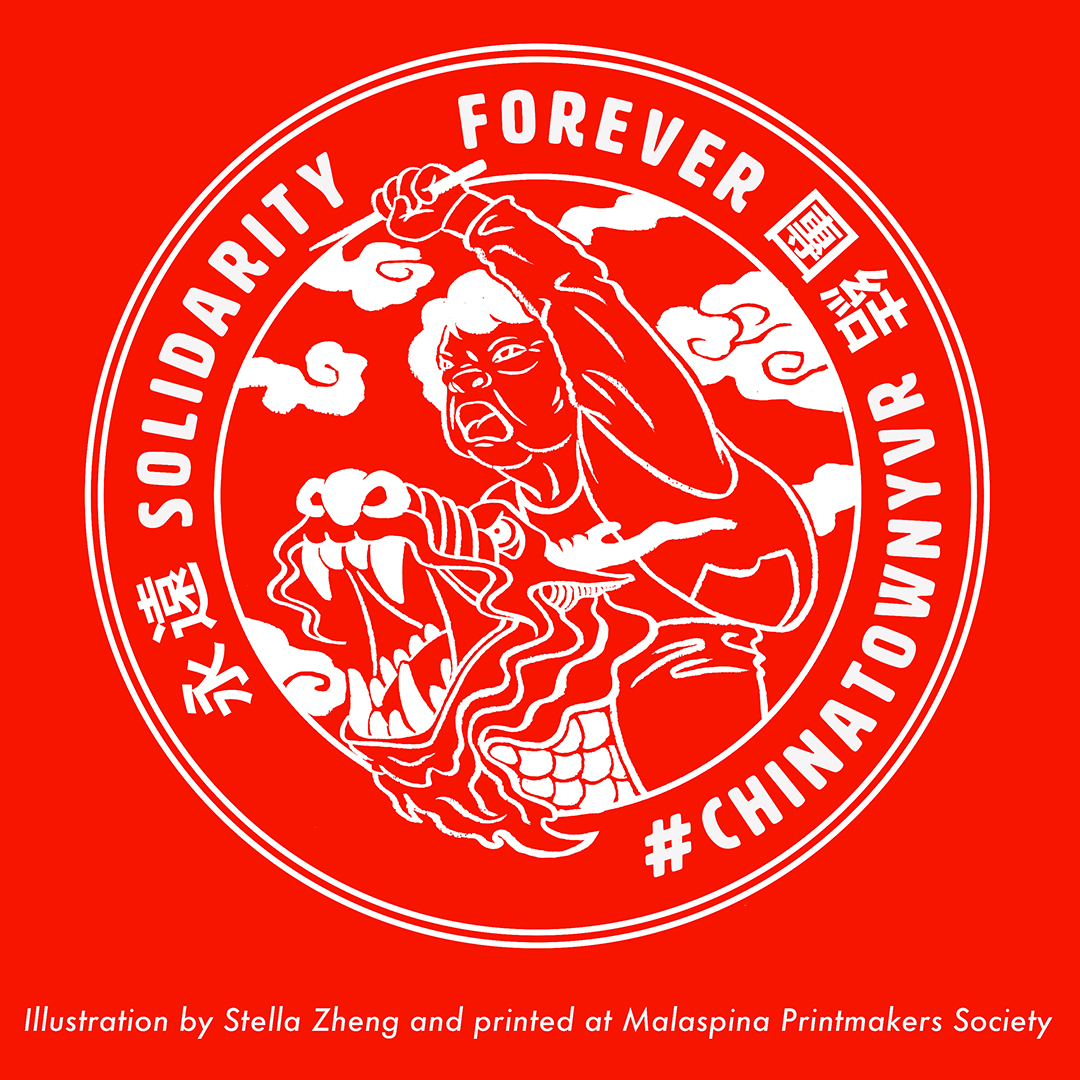 Posted on May 19, 2020 | Updated July 23, 2020, 5:14pm
Stella says her image embodies the "tenacity and willpower" of the Chinatown community during moments of disruption and uncertainty.
Solidarity Forever is a collaborative artist-initiated fundraising project that is part of Makers Artists United (MAU), which was established in 2018 by Elisa Yon. This fundraising project was initiated to support artists, arts and culture organizations, frontline service organizations and businesses in Vancouver's Chinatown. The group hopes to raise $8000 from the printed tote bags, which were screen printed by Ed Juan with support from Malaspina Printmakers.
Stella Zheng (BFA 2020) designed the striking illustration on the red bags. Stella was introduced to Elisa and MAU through friends during her final semester at Emily Carr University. When the pandemic began to set in, Elisa contacted Stella about Solidarity Forever.
"I thought that it was a really cool idea and I was flattered that she chose me to create an illustration for this project," said Stella. "I'm happy with the way that the design turned out and I would be honoured to work with her again."
The illustration portrays a passionate Chinese elder riding atop a dragon – a cherished and traditional symbol of power, strength and good luck. In her call to action, she grasps a sharpened pestle, referencing a traditional Chinese proverb on the importance of perseverance, determination and hard work.
"Our idea behind this illustration was to demonstrate the tenacity and willpower in the community of Chinatown to push through the confusing and tumultuous times we are experiencing currently," said Stella. There has been a global surge in hate crimes against those of Asian descent, especially within a city's Chinatown and Vancouver is no exception
"For example, the attack on Vancouver's Chinese Cultural Center was something that I think impacted a lot of people," shared Stella. "For several years, I attended classes at the Chinese Cultural Centre to learn Mandarin. My younger sister is currently enrolled in those classes. To see the Chinese Cultural Center attacked like that after spending many years of my life there is heartbreaking."
Along with the Chinese Cultural Center, businesses and services located in Chinatown are responsible for keeping Chinese culture alive in Vancouver. "My hope for this project is to not only have an image that represents the tenacity and strength that remains in this community, I also wanted to honour the Chinese elders and ancestors who have established Chinatown as the hub of Chinese culture," said Stella.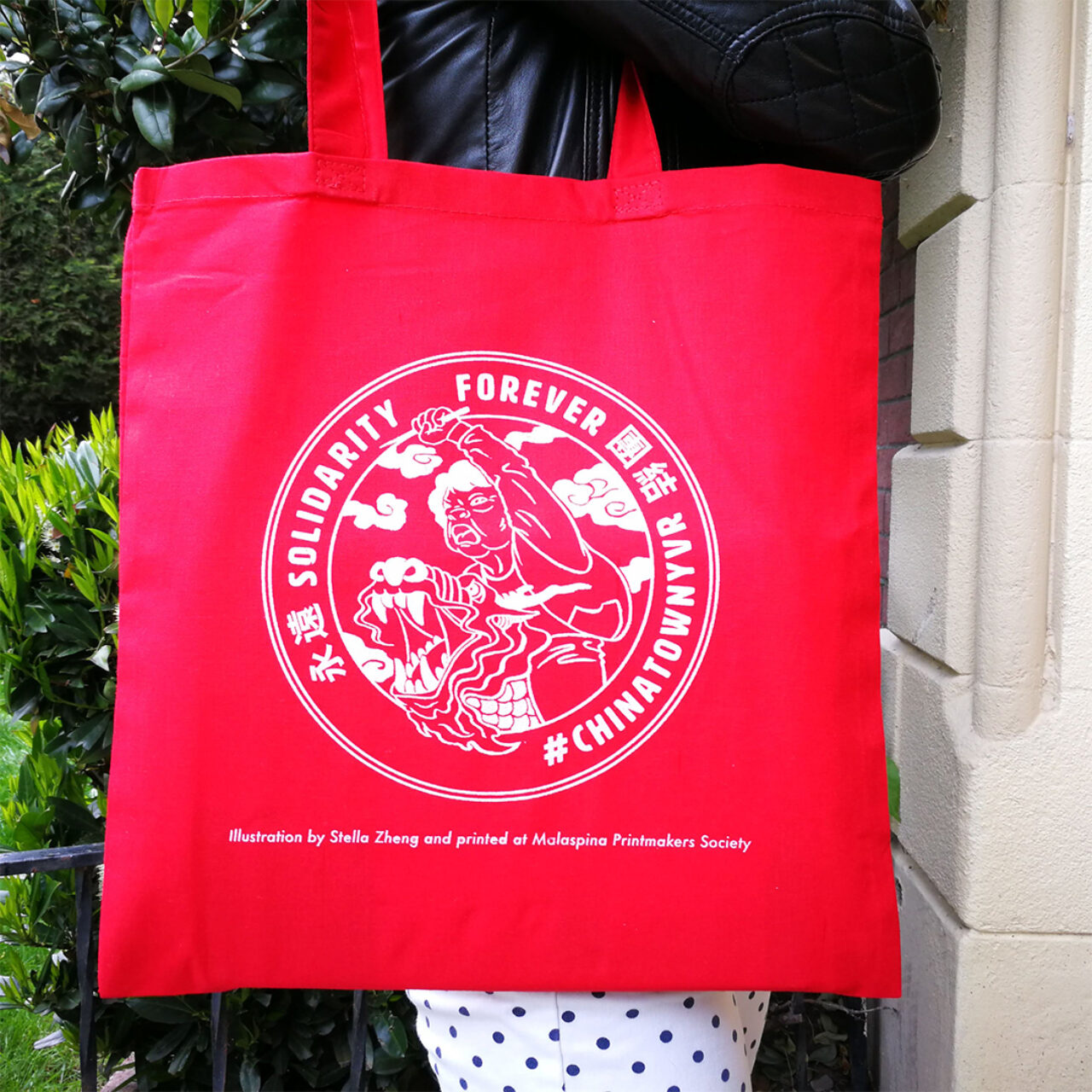 Stella shares that as a first-generation Chinese woman in Vancouver, it's been important for her to understand the historical relationships those of Chinese and Asian descent have in Canada. "I think it's crucial to remember policies and events, such as the Chinese Head Tax and the Vancouver Riots in 1907, to understand where this racism is coming from," continued Stella. "I hope that projects like this will show people that no matter what you throw at us, the Asian community in Vancouver will remain strong. I hope that people know that there are years of history that prove that our will power and ability to continue thriving will persist no matter what."
For those looking for additional ways to support Chinatown at this time, Stella reminds us to shop locally.
"On top of this pandemic, gentrification is continuing to progress in Chinatown. Small mom and pop shops are unable to support themselves and local residences are unable to afford to live in their homes," said Stella. "Chinatown is only able to survive if the people are able to thrive, so shopping locally will provide this community the support it needs."
The tote bag can be purchased for $50 from MAU's online store and donations will also be entered for a chance to win one of forty $50 gift cards from BLIM or Treasure Green Tea Company.
Delivery with Canada Post may experience delays due to safety and physical distancing measures. Curbside pickup on Keefer Street can be arranged by emailing MAU. All net proceeds will be donated to MAU's community partners: BCA Sun Wah Arts & Culture Relief Fund, BLIM, Treasure Green Tea Company and Yarrow Intergenerational Society.
This article originally appeared on the Emily Carr University Alumni Association's website.