Fibreshed Field School Reimagines Sustainability, Starting with the Clothes on Your Back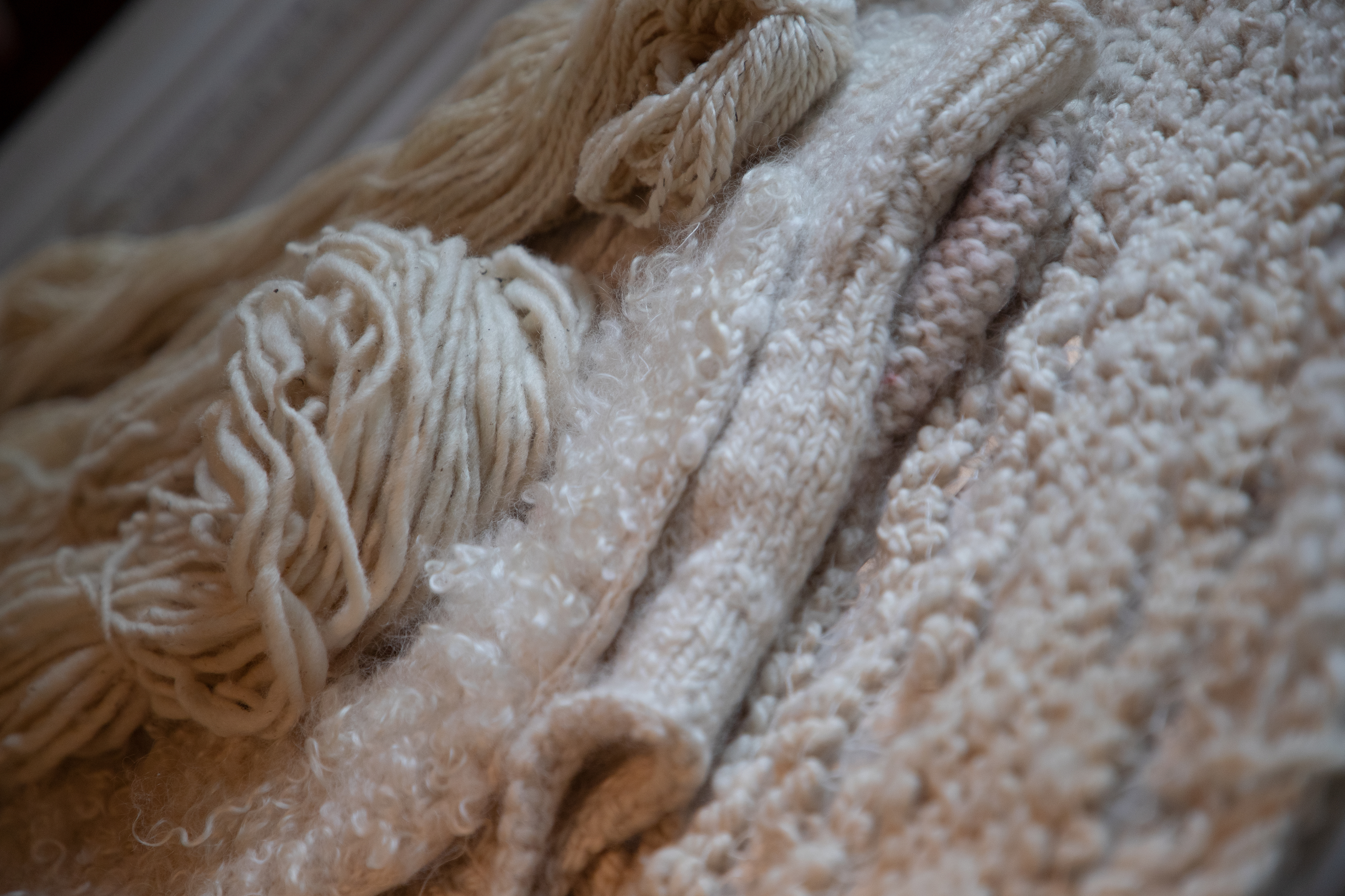 Posted on December 18, 2020 | Updated May 20, 2021, 2:47pm
Exploring the future of local and sustainable fibre systems in BC.
2020 has been a year of rapid change. As the year comes to an end, everything, including Christmas shopping, feels different. The sentiments of "shop local" and "support local" are especially prominent.
Supporting our local community isn't a new idea, but it feels more urgent these days. The longevity and health of our local neighborhoods should matter to all of us, which is why we should all be paying attention to and learning from the Shumka Centre for Creative Entrepreneurship's Fibreshed Field School.
According to ECU Research Faculty Lead Emily Smith, Fibreshed Field School is a community-activated program that connects a wide range of artisans, farmers, and educators with our local fibre systems and supply chains. "Fibreshed Field School is learning about the local land, local materials and to really show people how it could be done and that we could actually make it happen," she explains.
The experimental initiative is wrapping up at Emily Carr, where it explored how to build truly sustainable BC communities that can depend on local textiles to provide clothing for our people.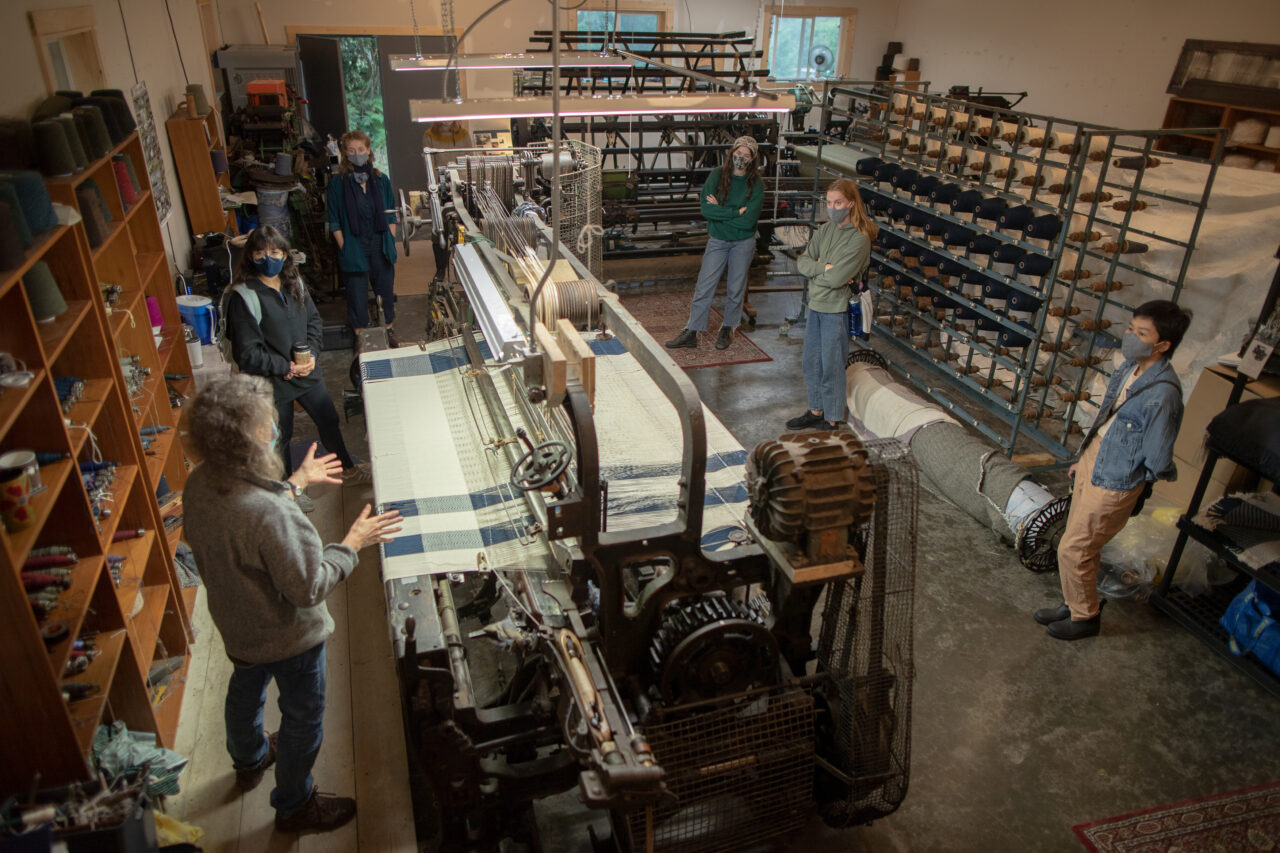 Emily founded the Fibreshed Field School through the Shumka Centre, and has been building connections for the organization since 2012. "I started this network inspired by Rebecca Burgess," she says.
In 2010, Rebecca founded the Fibreshed network of sustainable agriculture, regional textile development and carbon farming in Northern California. She spearheaded an innovative approach to textile manufacturing, and published a book, also called Fibershed, in 2019.
Emily has boldly reimagined BC's textile industry, as Rebecca did California's. Emily says her focus with the field school is to put education at the centre of it all: to look at the cultural side of how we consume our clothes and textiles in order to change the way we, consumers, respond and react to the world around us.
After speaking with students and educators involved in the Field School, it is clear the program represents a new way to connect with and build a more sustainable community beyond the classroom.
Think about the clothing you are wearing, where was it made? Where did you buy it? I confess, Fibreshed has changed the relationship I have with what I wear.
Admittedly, very little of my clothing is purchased with sustainability in mind. I have always assumed that purchasing sustainable fashion and textiles wasn't an option in my community — but I am pleasantly surprised with the options that exist.
I encourage you to dig a little deeper into the local brands and businesses that are trying to build sustainable communities.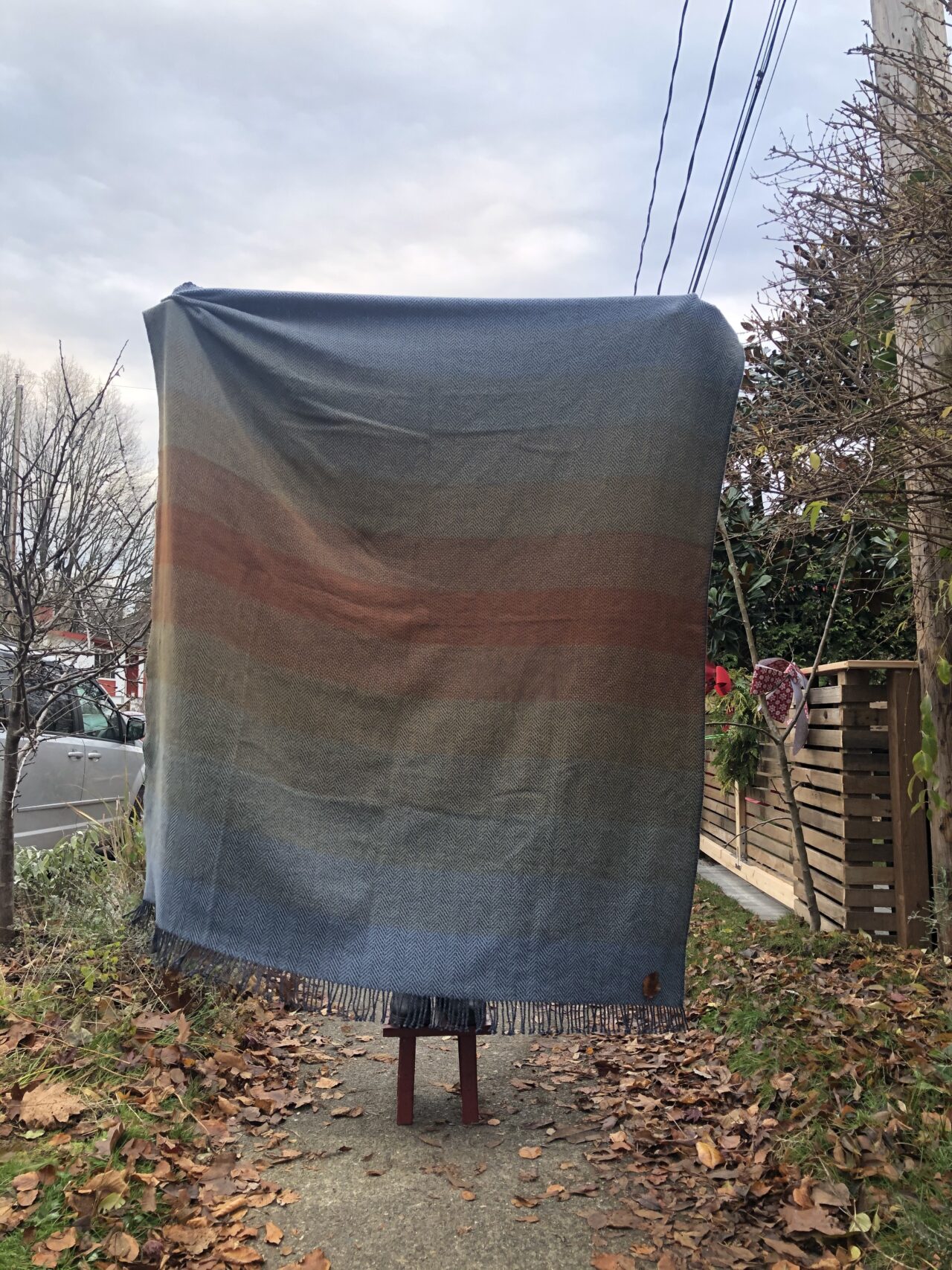 In the Fall 2020 term, 18 students participated in three cohorts to focus on multiple means of textile production. The cohorts were Reciprocity and Stewardship, Warping and Weaving, and Regeneration.
In each cohort, students learned what it means to connect with the communities, ecosystems and knowledge keepers that exist around the Lower Mainland. The program featured local artisans and mills, such as Macgee's Cloth, and knowledgeable facilitators such as Nicola Hodges, Sharon Kallis, and Stephanie Ostler to name a few.
Tess Snaden, a third-year Visual Arts student, chose the Warping and Weaving cohort. She says it felt like the first step to achieving her post-Emily-Carr career. Tess says she values the relationship she has with weaving, and appreciates how the small act of repetition in knitting leads to something larger.
"It is a lot more meaningful to walk around with clothes and know the person and sheep it came from. It is a different relationship," she says.
Tess's cohort of five worked with Fibreshed Field School Facilitator Nicola Hodges to collaborate on a blanket design, which was the practical element of the semester. The group built a pair of blankets together, and decided as a cohort on the warp for 10 more. 'Warp,' along with 'weft,' are the primary elements in weaving. Warp refers to the yarns or other spun fibres that are stretched in place across a loom at the start of the weaving process. The weft (or 'horizontal' yarns) is then interwoven through the warp to create a textile.

Engagement in the arts and meaningful labour has positive reverberations, especially in the lives of people who are marginalized or vulnerable. This program is directly a part of building resilient localized communities.

"I was really blown away when the students came back with their blanket designs," Nicola says. "To have given them the tools they needed and then let them go and figure it out and have them come back with such imaginative ideas within these very small parameters they were given was really rewarding for me."
Connor Budd, an Industrial Design student, participated in the Reciprocity and Stewardship cohort. Connor's group was an experiential and tactile cohort of six students that worked together with local materials, mainly in Trillium Gardens. The cohort worked in partnership with EartHand Gleaners Society and the Aboriginal Gathering Place at Emily Carr.
Connor says joining the group was a natural choice based on his interests and experience, explaining, "I grew up in a rural environment that had a very unique existence of local supply." He was raised on Salt Spring Island, where there are many artisans and craftspeople who use local suppliers and supplies.
His cohort focused on the huge wealth and breadth of natural materials that are endemic to the Lower Mainland. These indigenous materials included fireweed, flax, iris, salmon leather and milkweed.
Connor is currently working on a sandal made from every single material used throughout the semester. He says he used material production methods taught during the semester as well as his previous knowledge.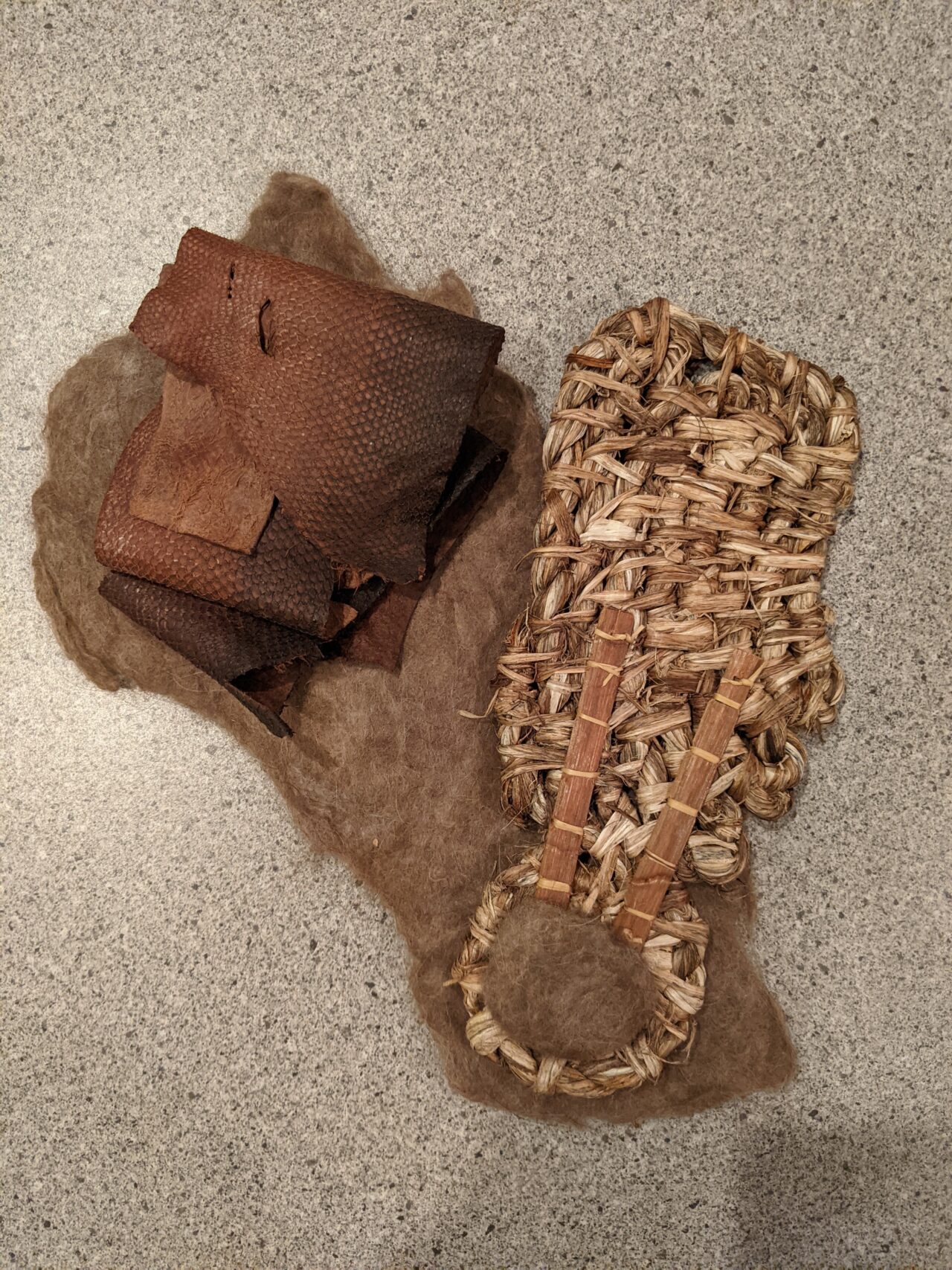 Taja Jinnah, a Visual Arts student from Nexwlélexwm (Bowen Island) took part in the Regeneration cohort.
"It felt like exactly what I needed to be doing," Taja says. "I wanted to learn more about working on a community scale, and to have the opportunity to investigate materiality under the wing of experienced mentors."
Fibreshed Field School has allowed Taja to learn and engage with their own community in a practical way. They say they have been sewing gifts for loved ones out of salmon leather that was produced during the semester. This kind of work is also important, they add, because environmental health is inextricable from community health.

"Engagement in the arts and meaningful labour has positive reverberations, especially in the lives of people who are marginalized or vulnerable," they say. "This program is directly a part of building resilient localized communities."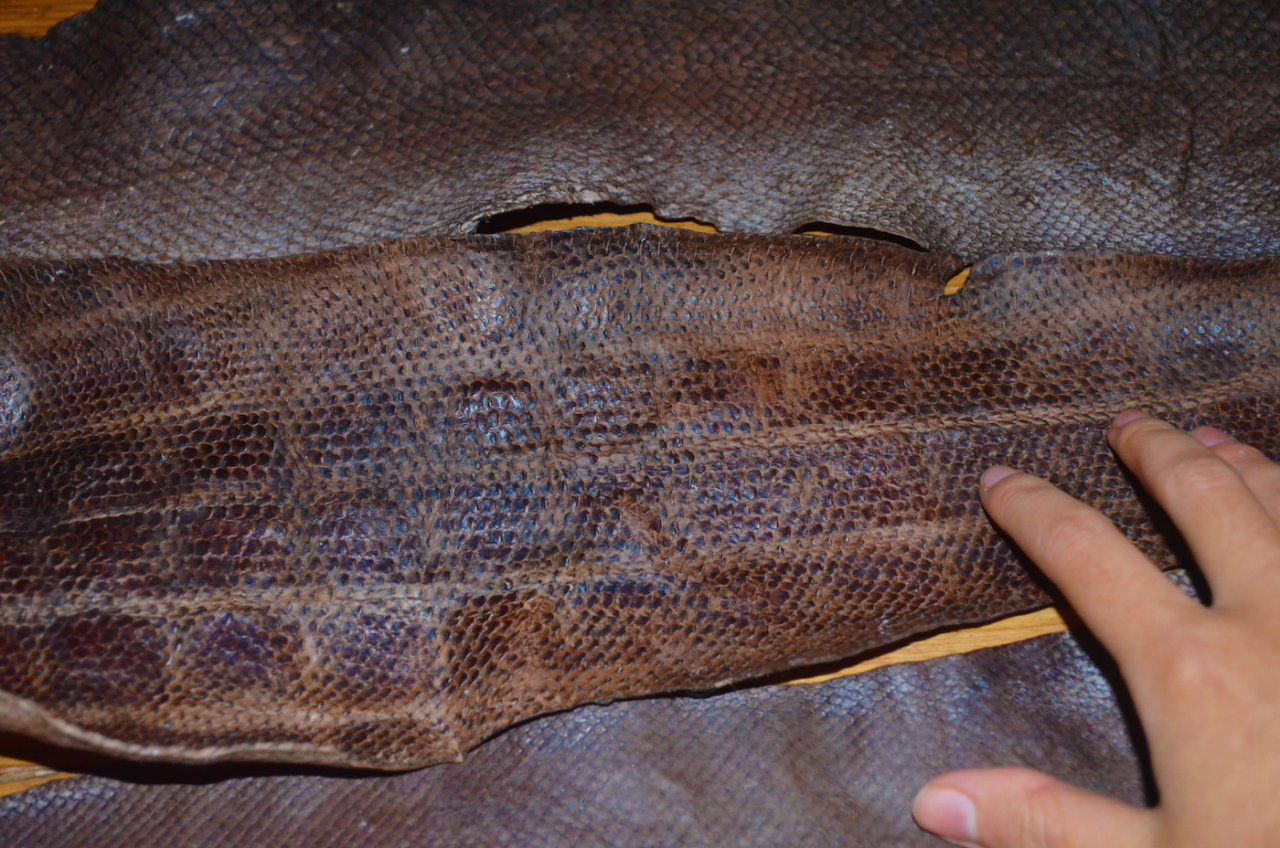 Not only were the students exposed to new methods of material production, but their research and projects will also be published in the summer of 2021. Emily says the Fibreshed network will also continue to grow, and hopefully, be supported by more British Columbians.
"It's really a labour of love," she says. "The more that we can support local industry and radically shift the way that we think about textiles [the more we can] really create a big shift in the world."
Fibreshed Field School is not just a practical program, it is a chance to reimagine where we buy our clothing and the future of fibre production, and to create meaningful work within our community.