5 Stories of Creative Resilience in the ECU Community
Posted on September 10, 2021 | Updated September 14, 2021, 10:11AM
Throughout the pandemic, students and alumni have forged their own creative paths, reminding us that innovation is born during times of crisis.
Nobody could foresee the challenges the past year and a half would bring. While anxiety, isolation and insecurity were hallmarks of the time, this period has also been marked by innovation. Many ECU students and alumni have worked to overcome challenges and limitations, building small businesses, studios and community-driven initiatives.
Below are stories of creative resilience, showcasing the many ways the Emily Carr community continues to demonstrate adaptivity, experimentation and courage. Born during such fraught and difficult times, they represent a radiant light nearing the end of a long, dark tunnel.

These are five stories of pandemic risings: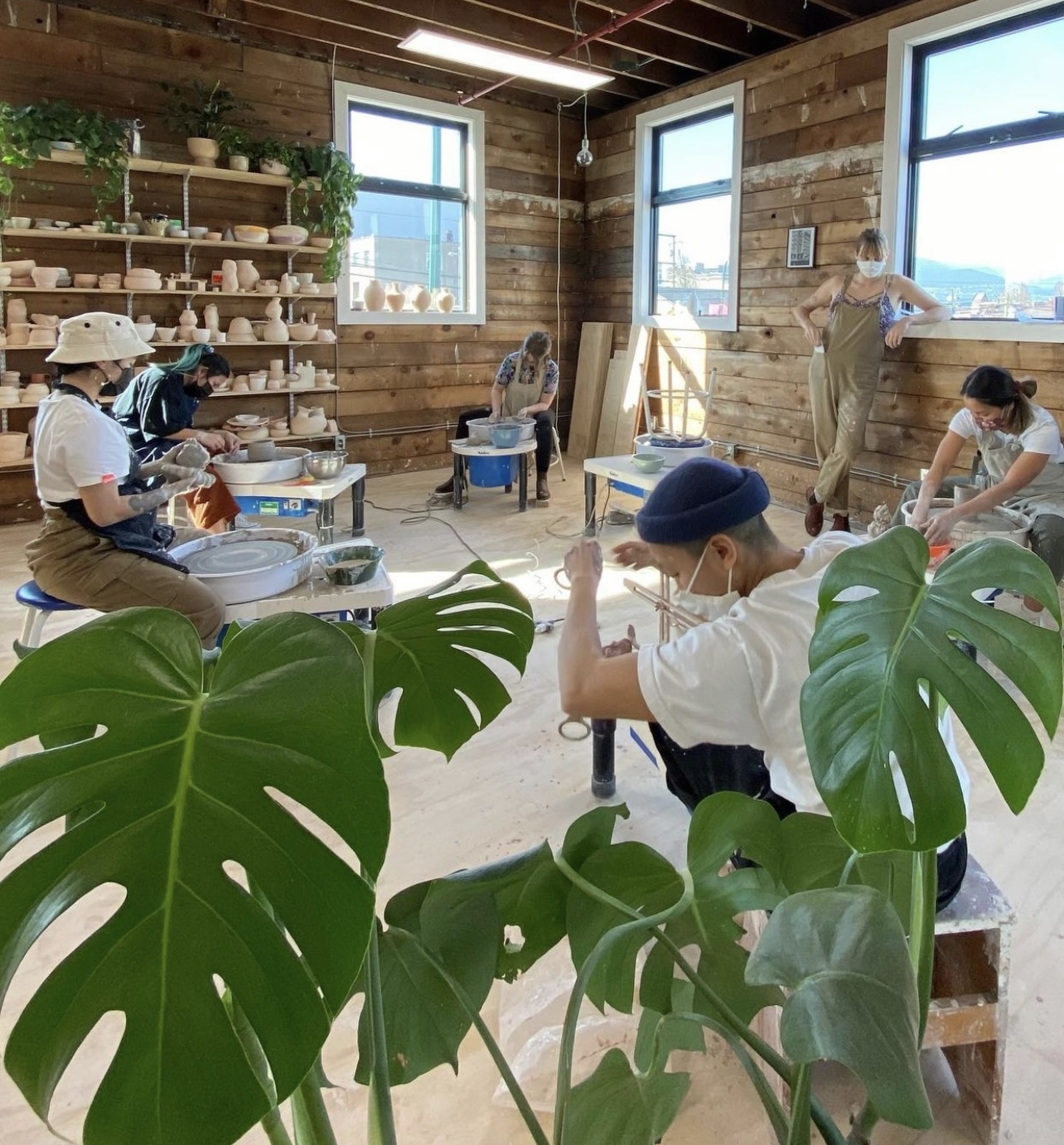 Studio Fundamentals
Studio Fundamentals is a Vancouver-based ceramic studio founded and creative-directed by May Ann Villanueva (BDes in Communication Design 2018).

The name "Fundamentals" comes from May Ann's creative philosophy of learning the basics before experimenting. "Know your rules before breaking them," she notes.

May Ann's journey into ceramics began as a hobby. During her time as a communication design student at ECU, she would create vases to relax away from her computer. Eventually, she forayed into instructing ceramics classes and discovered a natural calling towards teaching.

In 2019, she set her sights on opening her own studio, and did just that. What began as a 600 square-foot room with only one pottery wheel quickly grew throughout the pandemic into a spacious 1200 square-foot studio housing six wheels where she can host fun, intimate group lessons.
When asked what her favourite part is, May Ann says, "It's the students and teaching. It's the bond that I've made with people. I have students who've been with me since day one."

Upon stepping foot into her studio, you'll be greeted by an inviting space filled with lush plants and curated artwork. May Ann applied her studies in systems design to her studio, which functions to create a nurturing environment, fostering community engagement while encouraging play and inspiration.

As a BIPOC business owner, May Ann feels responsible for uplifting her community through art and design. Studio Fundamentals is aspiring to collaborate with the Vancouver School Board to teach ceramics to schools with underfunded arts departments so more youths can have access to an arts education.

May Ann has kept a journal documenting her studio since day one. Amidst her stressful schedule running her studio which sees her teaching classes, firing kilns and doing studio maintenance, she finds a moment of calm to reflect on all her progress.

Support Studio Fundamentals here:
Website studiofundamentals.com
Instagram @studiofundamentals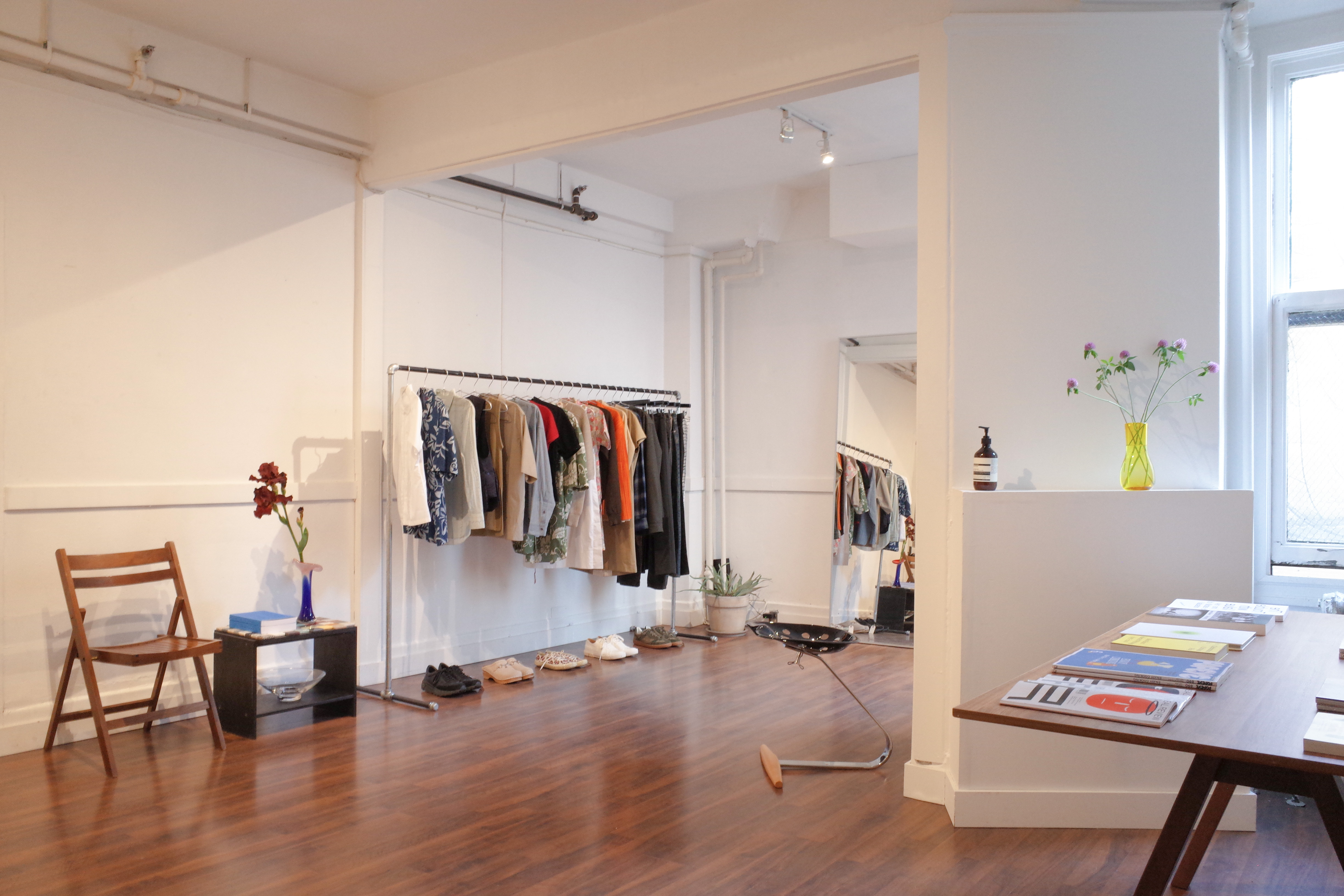 Room 312
Room 312 is a curious and airy space inhabiting a historic building on Granville Street. Owner Alcee Li (BDes in Industrial Design 2018) calls it a "multipurpose showroom for wearing, reading, and using in everyday life." It houses a mixture of her handmade accessories, alongside a careful selection of second-hand designer pieces, homeware, and prints from international publishers.

The idea for Room 312 had always been stirring in Alcee's mind, but it was during lockdown in 2020 that she began to ground her ideas in reality alongside her partner, Jason.

Like most new business owners, starting a business did not come without surprises. When asked what challenges arose, Alcee says it has been difficult balancing the two drives: one led by personal interest and creativity; the other focused on sustaining the business. She finds that these challenges are offset by the best reward: when someone discovers an item in stock they've been longing for all along.

Curating, editing, and showcasing are strong forces within Alcee's creative practice — her studio shape-shifts and never once looks the same. Alcee's background in industrial design helps inform how she displays objects and how they interact with peoples' behaviors and surroundings.
Each of her thoughtfully sourced items carries its own tale, passing from one owner to the next, and from one home to another.

Support Room 312 here:
Website room-312.com
Instagram @r00m312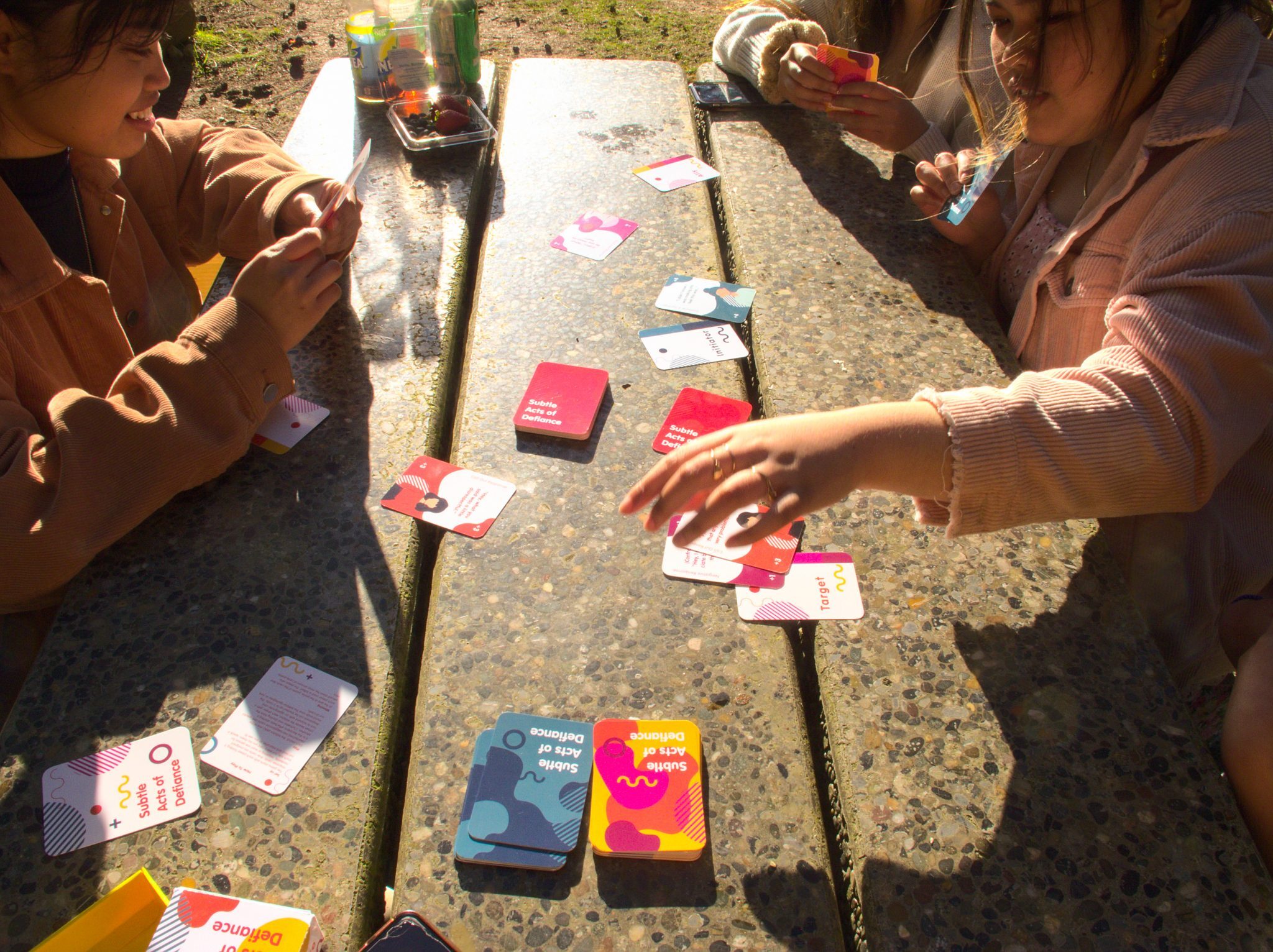 Flourishing Our Youths
As part of the Satellite x Activism 2021 program, Cyville Castro (BDes in Industrial Design 2021) and Funan Fina (BDes in Industrial Design, 4th year) created Flourishing Our Youths, a workshop and toolkit that prompts cultural empowerment and community for immigrant youths facing disconnection and isolation.

Drawing from their own experiences as Filipino and Indonesian immigrants, Cyville and Funan wanted to help youths feel belonging through design. Their toolkit includes a collaborative card game called Face It designed to prompt conversations around micro-aggressions and teach players how to respond in certain scenarios. The game nudges participants to look deeper within themselves, beyond the things society imposes on them, and hopefully learn to reclaim their identity and take pride in their heritage.

During the development of this project, Cyville and Funan became widely aware of the rise of discrimination, hate and xenophobia against Asian Americans and Pacific Islanders. This emphasized the importance of Flourishing Our Youths, and motivated them to continue reaching out to the immigrant community.

Play the Face It card game with a friend here.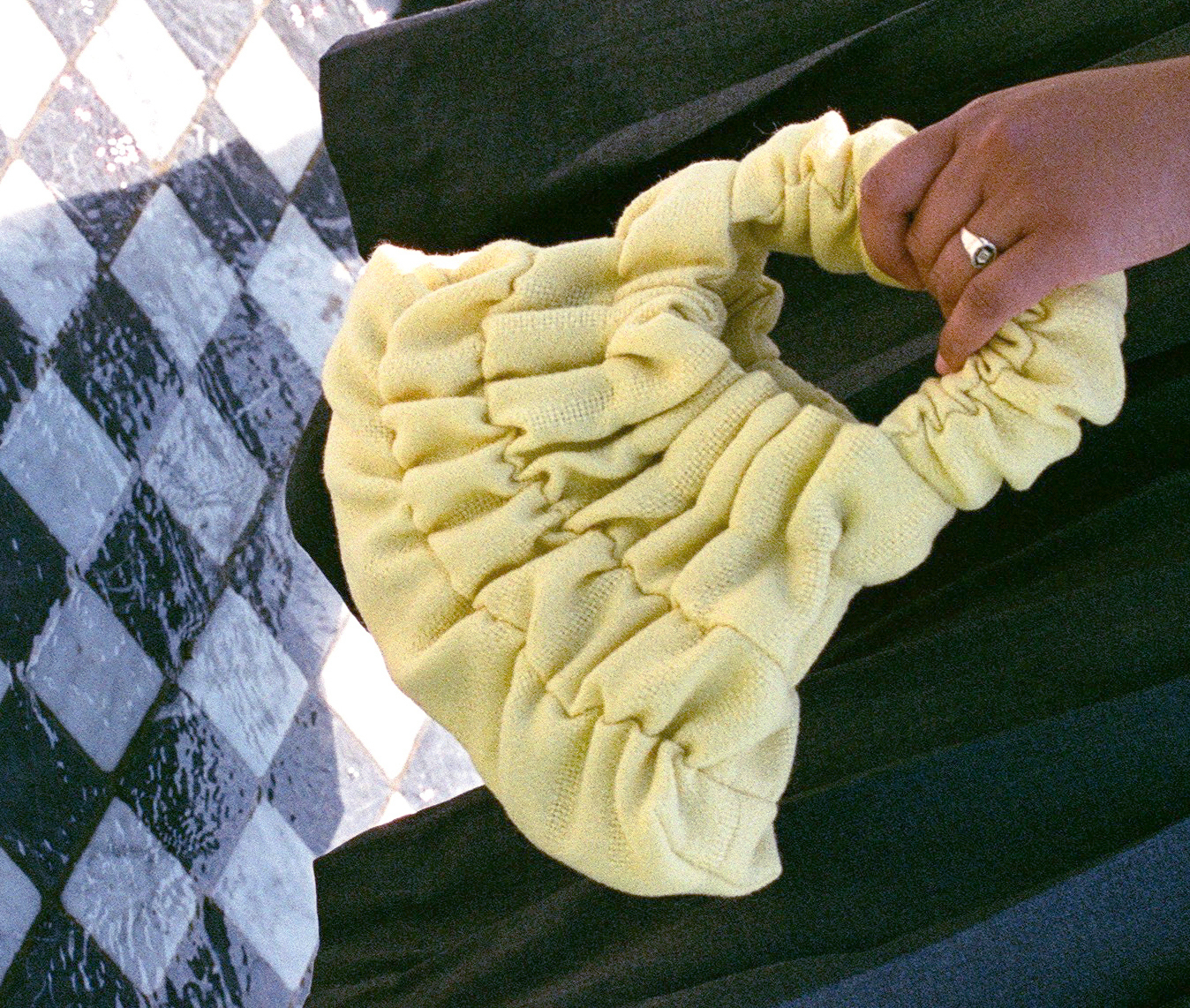 OMW Bags
OMW Bags was founded in 2020 by Olivia Wakeham (BDes in Communication Design 2019). While busy applying for jobs following her graduation the year previous, Olivia found herself learning how to sew. By experimenting, she stumbled upon a playful shape of a bag. Olivia dialed in her newfound craft with the support of her best friend and started pursuing her brand fully without looking back.

Made to be one-of-a-kind, she sources vintage, deadstock or upcycled fabrics and sews them in smaller quantities with care in her studio apartment. In her signature pattern, every bag is stretchy, textured, and unique.

Drawing on her design background, Olivia was able to create her own website, branding and tags that reflect the playful yet simplistic nature of her bags.

When asked about some of the highlights of running OMW Bags, she says, "it's meeting the lovely people who own the stores that I've sold that, and receiving messages from customers on Instagram." What Olivia found most challenging was teaching herself the essentials of running a small business.
Olivia is currently working on new bag shapes to keep things interesting for herself and her customers.

Support OMW Bags here:
Website omwbags.ca
Instagram @omw.bags
Project PaintUp
Created by Sebastien Kaschel (BDes Film + Screen Arts, 3rd year) as part of the Satellite x Activism 2021 program, Project PaintUp is a series of drawing workshops created to inspire youth through the fun and liberation of art-making.
Project PaintUp saw Sebastien returning to his high school, the White Rock Learning Centre, to instruct weekly hour-long classes where students designed hoodies using fabric paints, creating something that became uniquely theirs.
What started as a five-minute instruction on different drawing techniques soon morphed into a more free-flowing session, where instructor and student alike could experiment, collaborate and let loose while mark-making. Driven by the increased need for mental health and youth support, Project PaintUp draws on art therapy to help build connections and help others heal through art.
In the future, Sebastien hopes to continue running this initiative and introduce it to the Downtown Eastside community.

Watch a short documentary on Project PaintUp here.