Collaborative Artwork by James Hart, Xwalacktun, Levi Nelson Unveiled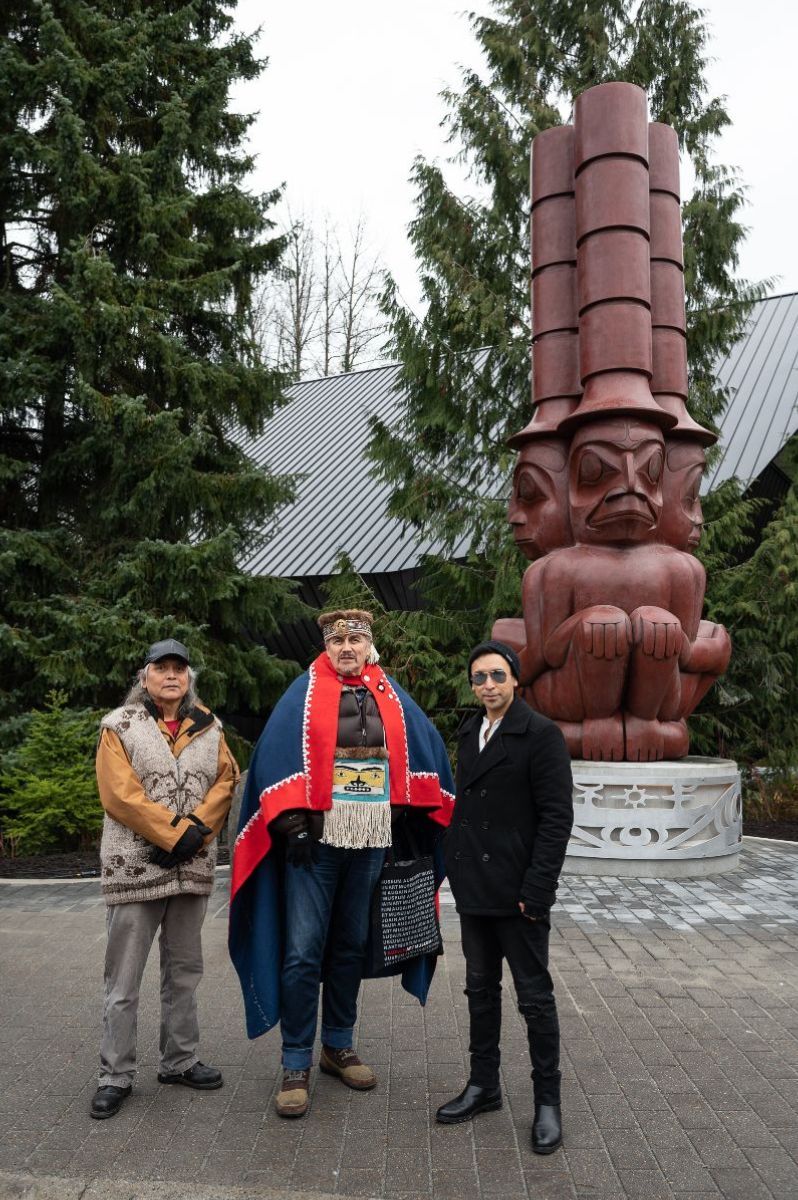 Posted on December 09, 2021 | Updated January 11, 2022, 2:02pm
The monumental two-part work is on permanent display outside the Audain Art Museum in Whistler.
The Audain Art Museum in November unveiled a major new collaborative public artwork for permanent display outside its location in Whistler, BC.
The monumental two-part work consists of the cast-bronze sculpture The Three Watchmen by James Hart (7idansuu) which sits above a carved aluminum band entitled The Great Flood (Ti A7xa7 St'ak'), a collaboration by Xwalacktun and Levi Nelson (Svpyan).
The two-part work stands on the shared, unceded territory of the Lil'wat (Lil̓wat7úl) Nation and Squamish (Sḵwx̱wú7mesh) Nation.
The Three Watchmen, which is finished with a red ochre patina, depicts three sentinels who protect people both in this world and in the spirit world, according to a press release by the Audain Foundation. Wearing conical hats and with hands on bended knees, these supernatural protectors regularly appear on Haida crest poles. James, a hereditary Haida chief who is deeply involved with cultural and political planning and decision-making within his clan, community and the Haida Nation through the Hereditary Chiefs Council, was born in Old Massett, a town in the Haida Gwaii archipelago.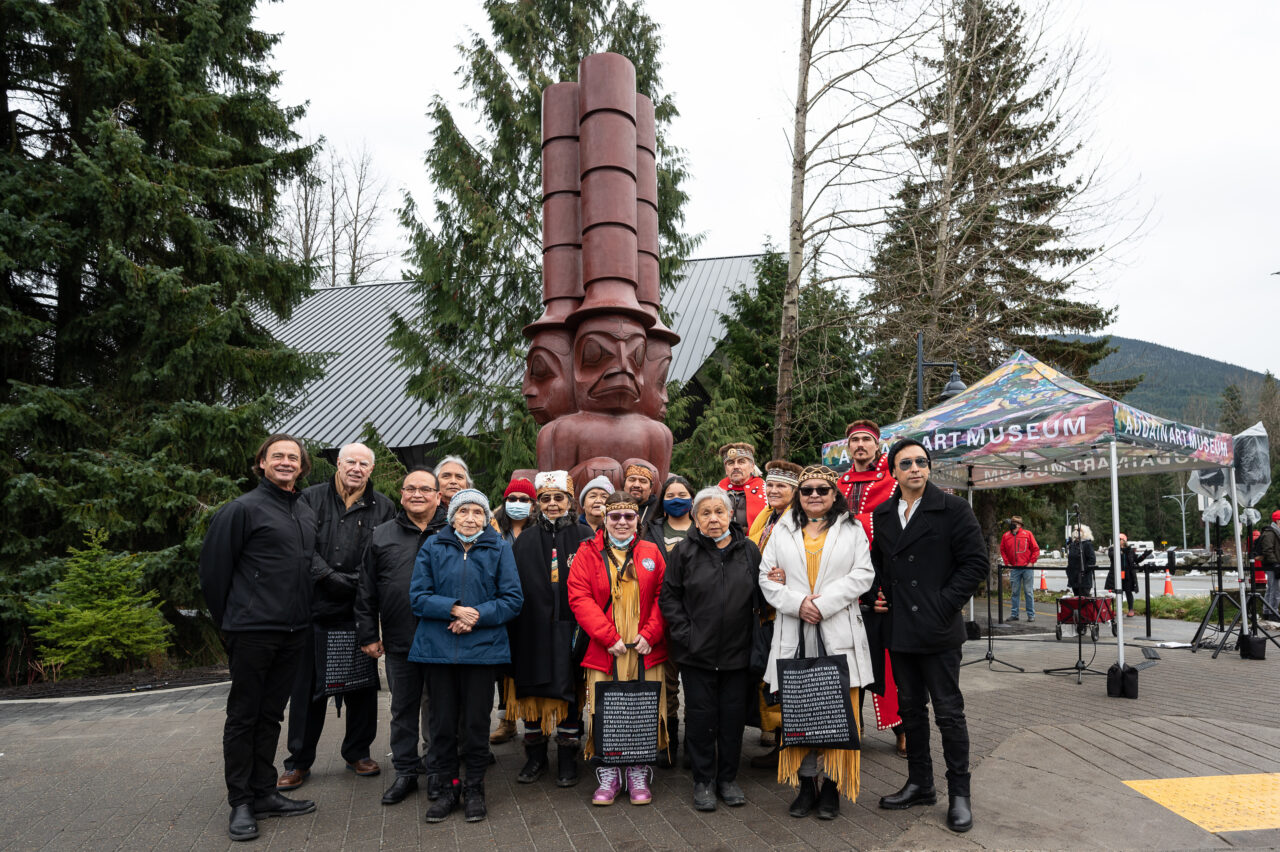 For James, using bronze brings the work into direct engagement with a transformational moment in art history.
"The Haida entered the Bronze Age with the work of Bill Reid in 1982," James says in a statement. "When I look around at how recently we entered the Bronze Age, we've got thousands of years to catch up with all of the other artists out there who have had it in their systems for many years. Bronze represents longevity, and is much more permanent than wood. I'm so excited to be working in bronze."
Xwalacktun and Levi's waterjet-carved aluminum band depicts a canoe amid flowing wave-like eyes. Levi, who is from the Lil'wat Nation, explains the vision behind the work:
"The Lil'wat are descendants of the Wolf clan according to ancestor Charlie Mack, and the Audain Art Museum sits on a flood plain," he says in a statement. "Xwalacktun and I included figures in the canoe to indicate The Great Flood and the Wolf drumming in the moonlight of a starry night, floating above a wave made of the Ancestral Eye. These designs were inspired by Lil'wat and Squamish Nation pictographs. The Three Watchmen and the Ancestral Eye are related to one another through the guidance of our ancestors, keeping a watchful eye over everyone."
Xwalacktun, who is from the Squamish Nation, reflects on the collaborative roots of the work:
"Levi Nelson and I had a good feeling about working together on this project to demonstrate that The Three Watchmen is situated on our shared territory," he says in a statement. "We came up with a couple of images from Lil'wat and Squamish territories. The Northern-style sculpture is not touching directly on our ground."