James Harry Receives 2021 Fulmer Award in First Nations Art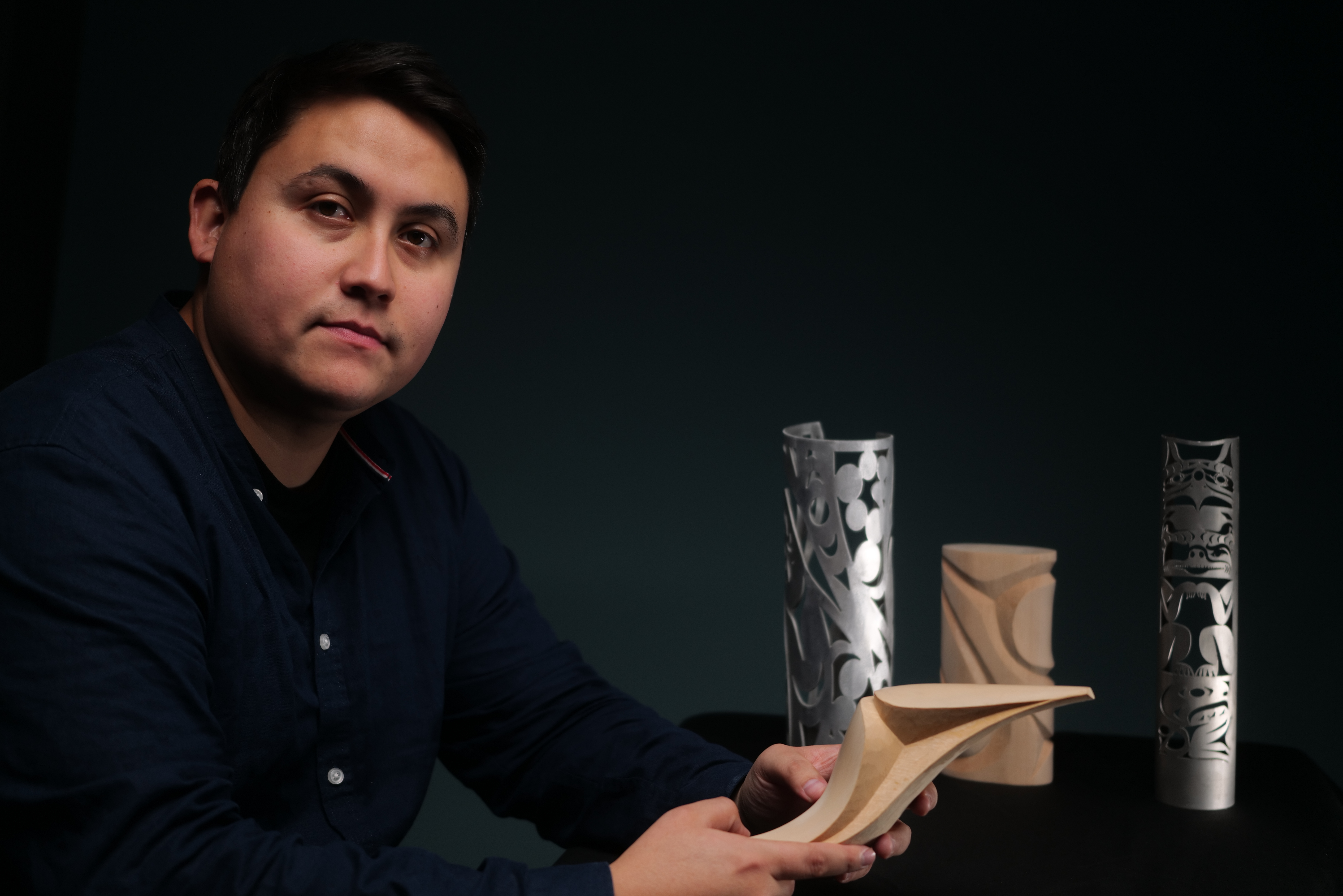 Posted on October 18, 2021 | Updated October 18, 2021, 8:48am
The multidisciplinary artist and ECU alum roots his embrace of cutting-edge technologies in the tradition of wood-carving he learned from his father.
Artist James Nexw'Kalus-Xwalacktun Harry (BFA 2014) has earned a 2021 Fulmer Award in First Nations Art from the BC Achievement Foundation (BCAF).
James, who is of Squamish (Skwxwú7mesh) and European decent (Scottish, and German) and grew up as a member of the Squamish Nation, has worked with school districts, municipalities, non-profit agencies and community organizations across BC to produce a stunning array of works over the past decade.
"With a unique capacity for developing thematically significant work that connects all people to the ecology of place while building a greater understanding between cultures, his process brings people together, changes ideas, and leaves a legacy to remind the community that transformations can occur," reads the BCAF's press release.

Having begun his artistic career carving the doors of the BC Aboriginal Sports Hall of Fame, James was awarded a 2011 Career Artist Scholarship from the YVR Art Foundation. The award allowed him to produce From Sea to Sky — a six-foot-high aluminum totem pole that "emits LED lights through Coast Salish iconography cut by water jet." That same year, James travelled to the United Kingdom for a co-op internship, working with numerous artists there and learning metal casting. While there, he also taught Aboriginal sculpture, painting and drawing and "shared stories and culture in various Scottish communities," according to his biography.
These achievements were harbingers of James' future direction as an artist, which has since seen him apply modern techniques, tools and materials to his treatment of traditional artistic methods and modes.
James comes from a family of artists, including his father Xwalacktun (whose name James shares, and who is also known as Rick Harry) and his mother, Jennifer Kleinsteuber, both of whom are also ECU alumni. In a video accompanying the BCAF's announcement, Squamish artist Aaron Nelson-Moody, also known as "Splash," recounts how the seminal work of Xwalacktun (the elder) has been central to a revival of Squamish cultural and artistic forms. And despite a firm embrace of cutting-edge technologies, James says his practice is — and will always be — rooted in the tradition of wood-carving he learned from his father.

"In order to think about what I'm creating, I have to start from a piece of wood or a block of wood. It's ingrained in my DNA that way," he says, adding later that his success is entirely a product of the support of his loved ones and community.
"My grandma, my mum, my dad and Splash, the community that helped raise me — [I've been] really surrounded by a lot people in my life who have made a lot of positive change around our identity … I really wanted every piece to be about our ways of life, our ways of thinking."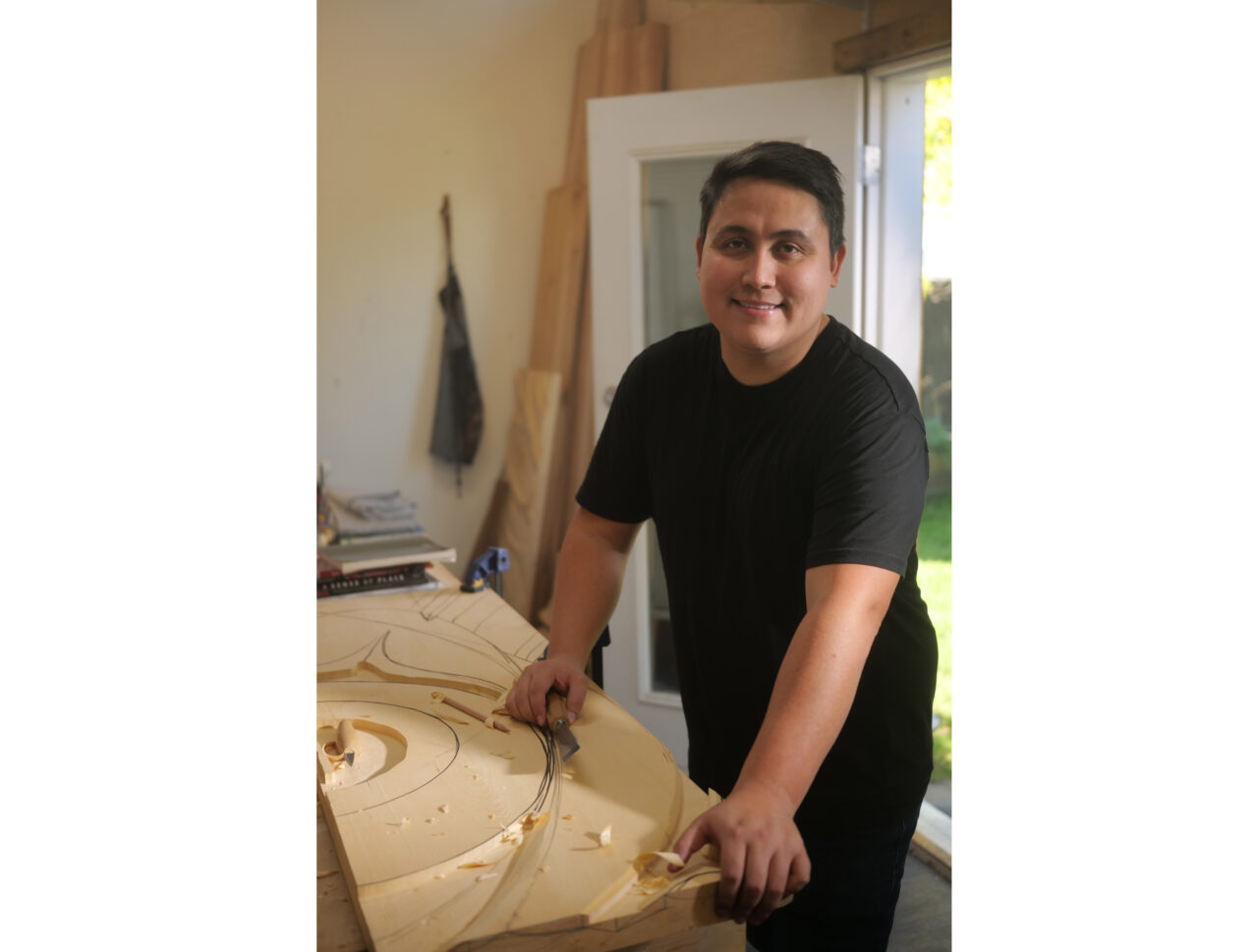 James is among a half dozen distinguished artist to receive the prize this year, including Crystal Behn, Sgaanjaad Sherri Dick, Dean Hunt, Shawn Karpes and Stan Bevan, who received the 2021 Award of Distinction for his "superbly innovative design" and "impeccable attention to detail." The recipients' artistic excellence will be celebrated in an online campaign via the hashtag #shinethelightbc.
The jury for this year's prize included Associate Director of Aboriginal Programs at ECU Connie Watts, and Director of Aboriginal Programs Brenda Crabtree, who is also Special Advisor to the President on Indigenous Initiatives.
The BCAF is an independent foundation established in 2003 to celebrate community service, arts, humanities and enterprise. The Fulmer Award in First Nations Art is made possible through the support of the Vancouver-based Fulmer Foundation.
Learn more about James' outstanding practice on his website, or follow him on Instagram.