Support Local: 9 Craft Fairs To Shop for the Holidays
Posted on December 02, 2021 | Updated December 10, 2021, 8:54AM
Skip the department stores and shop locally by supporting emerging artists and small business owners—some of whom are our very own alumni from Emily Carr.
The season for craft fairs is upon us! This December, Metro Vancouver offers an abundance of craft fairs and holiday markets featuring an array of arts, crafts, and foods perfect for gift-giving. From prints, glass art to jewelry, there is something special for everyone.
This year, we're thrilled to see in-person events offered along with online alternatives. We connected with ECU graduate and ceramic artist, Madelaine Mongey who is especially happy about returning to in-person fairs. Madelaine is the creator of contemporary functional wares with simple yet intriguing glazes.

For her, fairs "provide an opportunity for makers to get their wares out into the world and create personal connections with clientele."

Engaging in conversations with makers is what makes the shopping experience so personal. "Selling online is great, but I do want to see you hold the mug that you will cherish every morning for the very first time," she notes.

Best of all, buying local is a win-win situation allowing you to source unique finds while strengthening our creative communities.
"It is quite daunting to decide to sell your artwork, and craft fairs provide an integral sense of community for artists."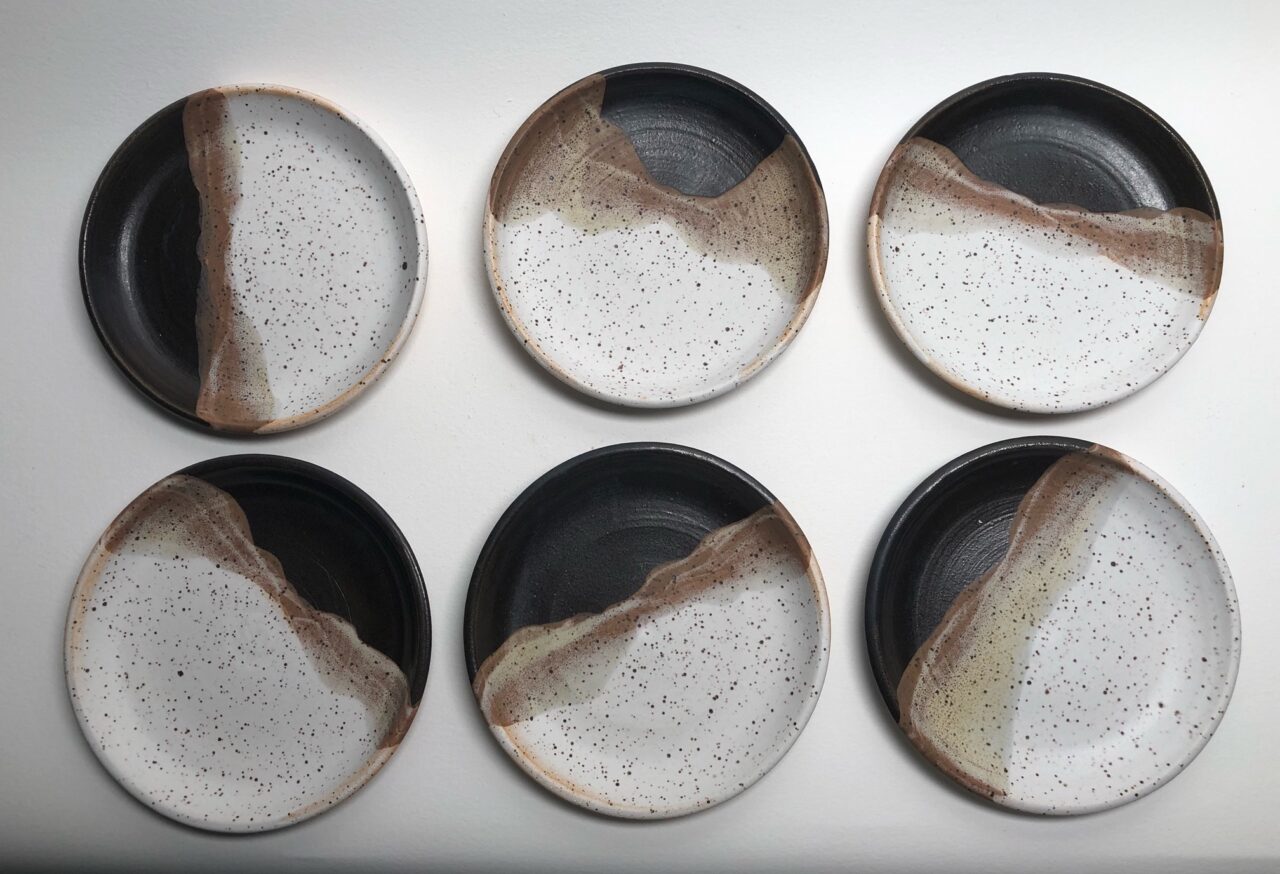 When: Saturdays + Sundays, December 4+5, 11+12, 18+19 | 11-4pm
Where: Eastside Studios (550 Malkin Ave, Vancouver, BC)

The Eastside Flea is a bi-weekly community market that takes place year round hosting over 40 local vendors selling a diverse selection of goods. Shop handmade independent wares to vintage clothing, collectibles, plants, food trucks, artisan eats and more!

"Talking to other vendors at the Eastside Flea is always a good time and I do most of my own Christmas shopping there!" says Madelaine.

Make sure to stop by Madelaine Mongey Ceramics's booth on December 11+12 and December 18+19 for one-of-a-kind wheel thrown pieces!

When: Wednesday, December 1 - Sunday, December 5
Where: Western Front (303 East 8th Ave)

For the second year, Toque will offer its vibrant marketplace online. Toque is an annual community event and fundraiser hosted by Western Front. It showcases a curated selection of BC-based artists and designers who make textiles, ceramics, jewelry, books, bags, and home and body products, including Find works by ECU alumni: Kate Mitten, Nathalee Paolinelli, Megan Hepburn (Cracher Dans La Soupe Parfum), and Nicole Jang (See You Soon Studio).

You can browse and buy items online from Wednesday, December 1 until Sunday, December 5. Purchased items will be available for pickup at Western Front, 303 E 8th Ave, Vancouver, on Saturday, December 11, 12–7 p.m. and Sunday, December 12, 12–4 p.m.

When: Saturday + Sundays, December, 4+5 and December 11+12 | 10am-6pm
Where: The Venables Hall (1739 Venables St., Vancouver)
Tickets: $4 per person at the door for ages 13+ (by donation for children 12 and under)

The 2021 Weirdos Holiday Market coins itself as a place made for those who are unsatisfied with the everyday gift. It features more than 30 vendors each of them hosting their own tables full of oddities – from witchy wares, anatomical curiosities, unique collectibles, quirky clothing and eccentric art to magical pottery, one-of-a-kind prints, candles, books, stickers and much more.
"It's our goal to help everyone fulfill the quirkiest needs on their holiday shopping list, as well as celebrate the love of collecting, the skill of up-cycling and the thrill of finding the perfect gift," says Rachel Zottenberg, the founder and organizer.
Our graduate, Violet Patrich will also be selling some of her baby doll head planters at the fair!

When: Friday, December 3 | 4-7pm
Where: ​Centre A (205-268 Keefer St)
Tickets: Registration Required

Celebrate winter festivities at Centre A by joining us for the opening reception of Carry-On!, Centre A's first-ever Holiday Art Market on Friday, December 3, 4 to 7 PM. There will be a cash bar and refreshments available, and a salon-style exhibition of selected artworks featured in the gallery for the silent auction. Bid on your favourite pieces of art while enjoying a drink in good company!
Bid on artwork created by our alumni including pieces by visual artist and photographer, Teigan Kelly.

When: Saturday, December 13 + Sunday, December 14 | 10am-5pm
Where: Maritime Labour Centre (1880 Triumph)
Admission: $5

The Got Craft? Holiday Market returns to East Vancouver featuring 80 makers + small shops and food trucks!

Tickets available online in advance (kids 12 and under are free). A limited number of tickets are available on-site. Each ticket purchased online will be entered to win door prizes.

When: Saturday, December 4 | 10-3pm
Where: 108 E Broadway in the Alley

Mount Pleasant Clay Club will be having a pop-up pottery sale. They are a collective of ceramic artists working out of the Omaha Arts building in Vancouver since 2018. Join them on Saturday to shop unique mugs, bowls, candle holders and planters galore!

When: Saturday, December 11, 2021 | 10:30am–6:30pm
Where: 1577 128th Street, South Surrey, BC, Canada

For those living in Surrey, check out the Neighbourhood Pop-up and shop handmade ceramics, soy candles, slow fashion garments and accessories, sustainable home decor, glassware, natural skincare, tufted rugs, embroidery, jewelry, dry flowers, art and more.

When: Saturday, December 11 + Sunday, December 12, 2021 | 11am-6pm
Where: Heritage Hall (3102 Main Street)
Admission: $3

Visit the *first ever* FIRST PICK HANDMADE HOLIDAY Pop Up Market. Find thoughtfully made gifts for one and all with a focus on quality over quantity. Fellow ECU alum Grace Lee (Eikam Ceramics) will be selling her home decor collection there.

When: Saturday, December 4, 2021 | 10am-4pm.
Where: UBC Robson Campus (800 Robson st.)
Tickets: $3-$7 and free for children 12 and under

Japan Market presents over 35 vendors of Japanese inspired products, made by Japanese craftsmen and yummy food! You will find jewelry, health and beauty, clothes, accessories, handmade crafts, chocolate, tea, sweets and much more. Don't miss this opportunity!