TLC's Online Learning Mentors Aim to Empower, Engage and Inspire Students
Posted on January 15, 2021 | Updated January 15, 2021, 12:00PM
Since the COVID-19 pandemic uprooted the infrastructure of our daily lives, online learning has become the primary mode of obtaining an education at post-secondary institutions across Canada, including ECU.

For some students like Nicole Ponsart, a fourth-year Visual Arts student who had only taken in-person courses before, this shift from learning in a physical environment to a virtual one was a drastic change that required acquiring brand-new skills. For others, like Aily Nishioka, a second-year Communications Design student, it was an opportunity to build on pre-existing skills with online learning. But both Nicole and Aily acknowledge the myriad challenges that come with learning through a screen, which is why they have chosen to participate in a new peer mentoring program from the Teaching and Learning Centre (TLC) in order to help ECU students ease into the transition of an online curriculum.

"As someone who took an almost ten-year break from school from 2010 until 2019, it was challenging to come back and stay on top of everything, not to mention learning how to shift from learning in a classroom with your peers to learning on your own via your computer", says Nicole.
"I hope my participation can help create a framework of inclusion, answers and resources for those who are feeling particularly uninspired, stuck or lost with online learning during this strange time in our lives."
The students behind the program
Launched in October over the reading break, the Online Learning Mentors program is spearheaded by a team of four undergraduate students: Nicole and Aily, along with Mathew Fierke (third-year Visual Arts) and Sarah Yu (third-year 3D Animation). Together, they are offering their knowledge and expertise with everything related to online learning. From technical help, such as guiding students through ECU's learning technologies like Moodle, Kaltura and Loom, to more abstract ones, such as teaching time management strategies, the peer mentors have developed a comprehensive approach to helping students in order to ensure that everyone is able to make the most out of their online learning experience.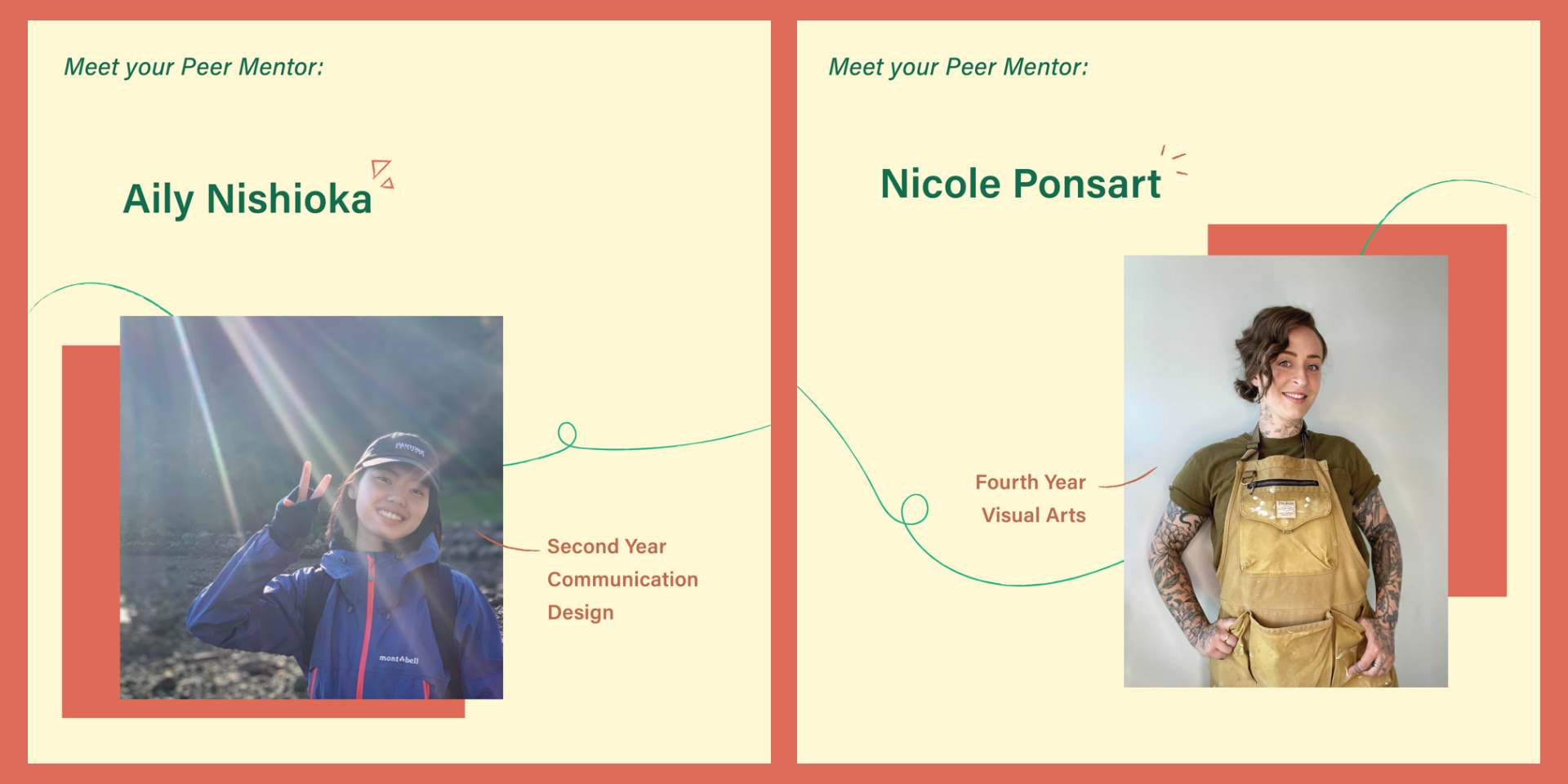 Aside from receiving the same training ECU faculty get on the different learning technologies and online services, the peer mentors have invested an extensive amount of time, energy, and effort into their own training process, which shows their staunch dedication to offering their peers quality and in-depth support. "Each week we work at a topic or theme that helps us work towards our ultimate goal", says Nicole. "We set ourselves some homework for the week and work at it on our own and come together at the end of the week to share our findings and talk to some of the professionals at our school about the areas we're interested in learning about."

On her experience helping to set up the program, Nicole says, "It's been wonderful and working with the team has been a lot of fun. It's great to be a part of something that's just starting out. We're able to really dig deep and set a framework for how we want this to go."

As a team made up of students with different educational backgrounds and online learning experiences, the peer mentors help bolster the program's diverse learning strategies and approaches with their own individual skill set and strengths.
Aily hopes to channel her background as a communications designer, saying she is "very interested in contributing to making online learning more accessible, efficient, and user-friendly for students."
"I think we're all very knowledgeable in our own fields of study and there is a strong mix of different types of 'Emily Carr students' within our team", says Nicole. "I'm hoping that I can share my knowledge of Visual Arts, project planning, project presentation and organizational skills with students who are feeling stuck with their work from home."
Sustaining connection and community
While still in its early stages, the Online Learning Mentors program is continually expanding its resources to address some of the biggest challenges students have with online learning, including their relationships with technology.. "Talking with our peers and members of the Counselling and Wellness team have further helped us recognize some of the challenges on students' learning abilities and mental health," she says, "Especially as we are now limited to our own spaces and spend more time on screens, it is difficult to set boundaries between study, work, and leisure. In response to these observations, we are currently designing resources to help students set their own boundaries and develop a healthy relationship with online tools."
Beyond being just a space for online support, Aily sees the program as a way for students to sustain a sense of community and connection. "Taking online courses this summer, I realized how challenging it can be to stay connected and focused without the right guidance and available resources'', says Aily. "Virtual learning can often feel one-sided and learning in different spaces brings new challenges to our sense of community", she says, adding, "Especially in creative communities like Emily Carr, it is important that we continue to create spaces for students to exchange ideas and motivate one another."
Connect with a Peer Mentor!
The peer mentors are available Monday - Friday from 10:00am - 6:00pm and Sunday from 10:00am - 1:00pm.
To connect with one, email learninghelp@ecuad.ca. Learn more about the program on the TLC website.