Ahnahktsipiitaa's 'This is Not a Ceremony' to Premiere at Sundance
Posted on January 13, 2022 | Updated May 20, 2022, 12:33pm
The stunning immersive work takes viewers inside the stories of two Indigenous men whose lives were shaped by structural racism.
A new cinematic virtual reality (VR) experience by artist and filmmaker Ahnahktsipiitaa (Colin Van Loon) will make its world premiere this month at the prestigious Sundance Film Festival.
Titled This is Not a Ceremony, the stunning immersive work takes viewers inside the stories of two Indigenous men whose lives were shaped — and in one case cut short — by structural racism.
Speaking via Zoom in December, Ahnahktsipiitaa says his overarching goal with This is Not a Ceremony is to bring viewers into intimate contact with specific people. Putting a human face to Indigenous trauma is one way to help ensure the same harms aren't repeated, he adds.
"Because if viewers can know these people better, know them more closely, then how could they treat them like that?" he says. Though the story walks a fine line; Indigenous people are often vulnerable to retraumatization by irresponsible media depictions of their lives and loss. This is Not a Ceremony, Ahnahktsipiitaa says, aims to foreground the courage and perseverance of its subjects as much as the magnitude of their pain.
"The last thing I want do is retraumatize the storytellers," he continues. "This piece is made for Indigenous people to see the strength and resilience of these men. And this piece is made to be something of a wake-up call, a call-to-action for settlers."
Upon entering the VR environment, viewers find themselves under a powwow arbour as big as the sky. A pair of Poets — trickster guides through the dreamlike realm —spark a blaze around the viewer.
"The viewer is in the fire," Ahnahktsipiitaa says of the symbolic meaning behind this moment. "Their feet are literally in the fire."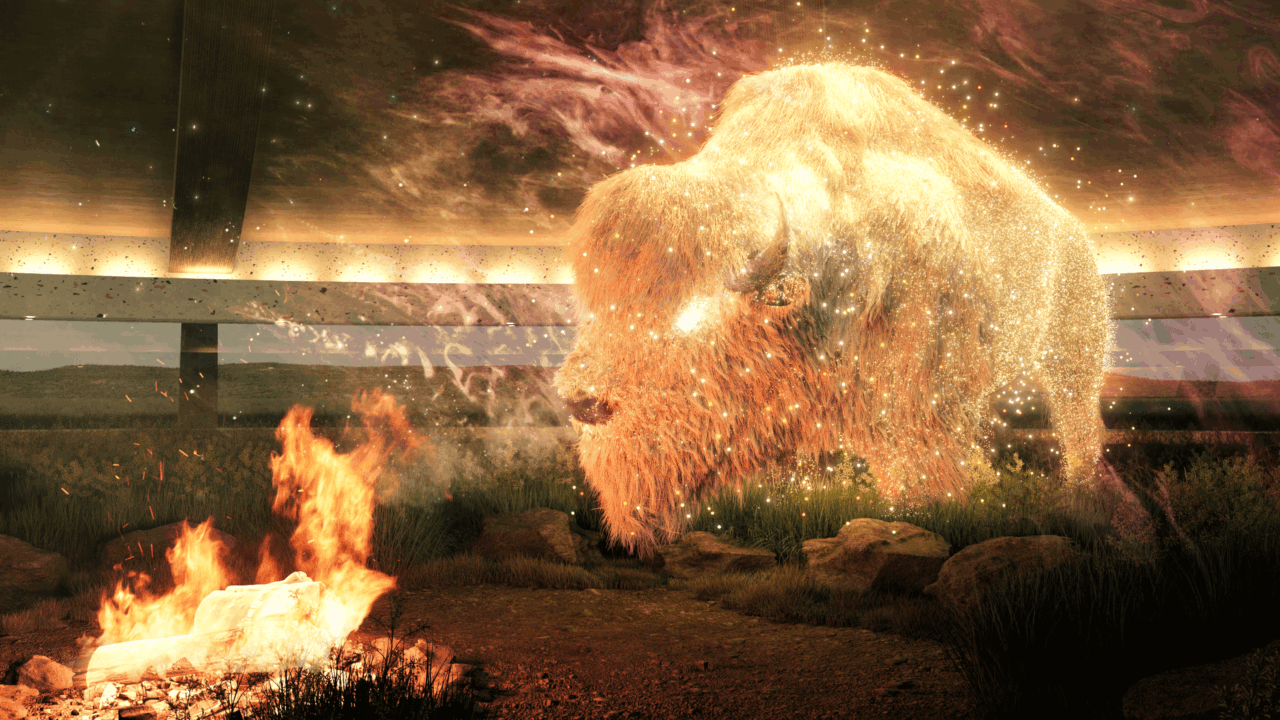 Quickly, we're introduced to a matriarch played by the late Lillian Rose Howard; a huge, mysterious Inii (buffalo); and the men around whom the story revolves: Adam North Peigan and Brian Sinclair (whose story is told with the help of his relative, Robert Sinclair).
The viewer is dropped into a pair of scenes where key moments in Adam and Brian's lives are reenacted. In neither instance is violence directly shown; in both cases, an exceedingly modest gesture of care could have changed a life completely. Braced by firsthand accounts from survivors and family members, the effect is devastating.
While Brian's story, in particular, was a genesis point for the project, Ahnahktsipiitaa says both stories underscore the experience many Indigenous people have when interacting with Canadian institutions and the broader public.
"There are many of these moments that, as Indigenous people, we see in our newsfeed or we know happened to our families," he tells me. "I don't know how to classify the emotion, but there's a weird moment of feeling both dumbfounded but also feeling jaded. We feel like, 'Of course. This stuff always happens.' But also you're feeling like, 'How on earth could this happen?'"
One possible way to break this cycle of horror and exhaustion is through storytelling, Ahnahktsipiitaa says. "We have to talk about this. We're in this place now — still — where we need the truth before reconciliation can happen."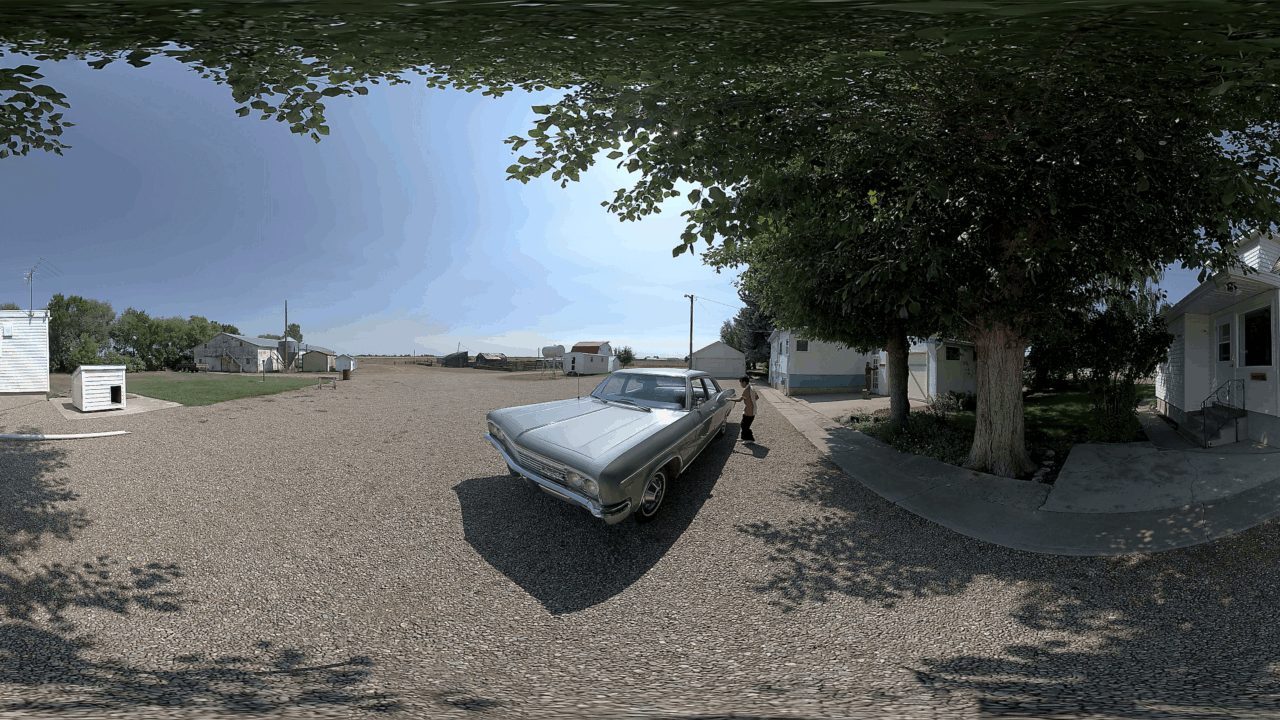 This crucial need for truth-telling points to one of the core themes of the work, he adds. Bookending the VR experience is an enjoinment for the viewer to become a "human ledger." This reflects a key concept for people in many communities, including the Piikani Nation, where both Adam and Ahnahktsipiitaa are from. The idea is that a witness is a central repository of a community's history and its truth. Bearing witness — especially to tragedy and horror — is therefore a way to ensure individuals are not left to shoulder unimaginable burdens on their own.
As This is Not a Ceremony shows, VR can be a powerful way to immerse a viewer in a story. But explicitly directing a viewer to bear witness is a move Ahnahktsipiitaa hopes will generate a sense of responsibility in the work's audience. In doing so, he aims to bring them out of the realm of pure spectatorship.
"I always found the problem with empathy VR is that when people are in it, they never have a job or a duty — they can just take off the headset and go home," he says. "My idea was to give people a task and compel them to do that duty, so that they would be truly participating. The hope is that people will take this into their life and that they could possibly make some changes in their own communities."
After nearly four years in the making, the opportunity to give This is Not a Ceremony its world premiere at Sundance Film Festival is "very exciting," Ahnahktsipiitaa says. It's also been an emotional moment, he adds. Both Lillian Rose Howard and Taran Standing Sunrise Kootenhayoo, who plays one of the two Poets, passed in 2021. Their loss brought a great deal of heaviness to the process of finishing the work, Ahnahktsipiitaa says.
"This is maybe the hardest film I will ever make," he tells me. "I had the greatest love, admiration, respect for both of them. I thought Taran was a genius, and such a bright star. I was always in awe of Lillian's quiet power. She had the power to move mountains, move cities. This is a little like a tribute to them. This will be in some ways how people will remember some of Taran's artistic work, and what a more fitting place than Sundance."
Not content to rest for even a minute, Ahnahktsipiitaa has another big project — also years in the making — shooting this summer. Produced via Ahnahktsipiitaa's company, Blackfoot Nation Films, and developed with friend and longtime collaborator Trevor Solway, Tales from the Rez is a six-part horror-comedy anthology series in production for APTN/LUMI.
"It's something that I'm really excited about," he says. "It starts off in Blackfoot country, telling twisted tales and urban legends. If we go for season two, we'll go somewhere else and we'll help those filmmakers tell their own spooky stories."
Meanwhile, Ahnahktsipiitaa notes his gratitude for the support he received from ImagineNATIVE and the National Film Board, as well as "major supports" from IM4 Lab. The creative team on the project includes James Monkman (art direction and visual effects), a Cree visual artist and art director living in Toronto, as well as Vancouver's Jessica Dymond (editor) and Nagamo Publishing (sound design and music). This Is Not a Ceremony is produced by Dana Dansereau for the NFB's Digital Studio in Vancouver.

This is Not a Ceremony will make its debut at the end of January as part of the 2022 Sundance Film Festival's New Frontier program. With the entire festival having moved online due to COVID-related health concerns, This is Not a Ceremony will screen online for the duration of the Sundance festival, from Jan. 20 through Jan. 30.
Learn more about This is Not a Ceremony now via the NFB, and watch an episode of the Sundance Festival's Meet the Artist series featuring Ahnahktsipiitaa via YouTube.