From Illustrator to Tattoo Artist: ECU Illustration Grads Share Their Journey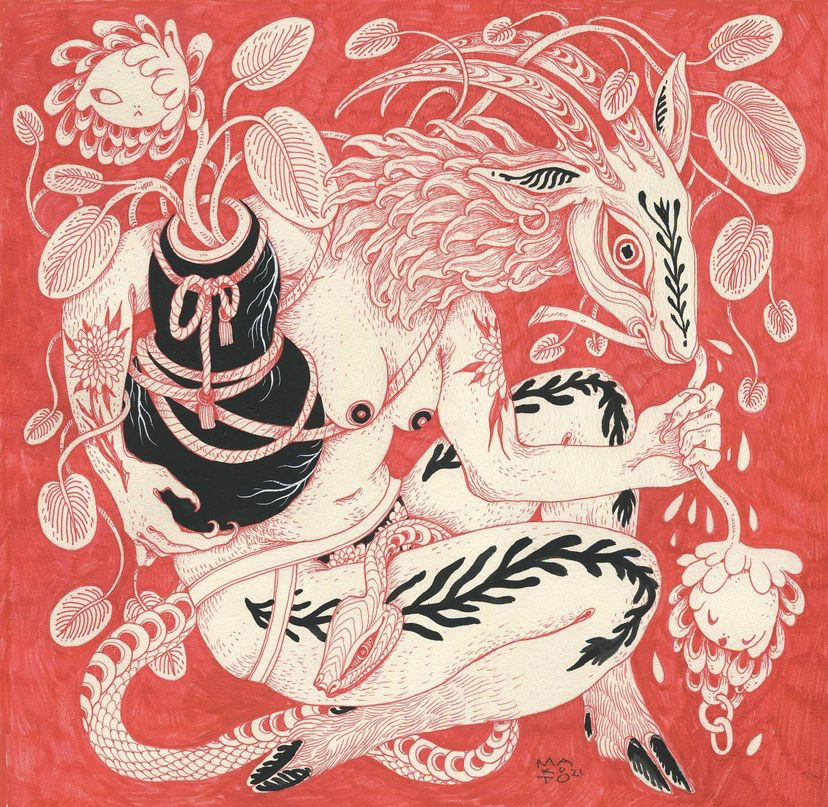 Posted on October 11, 2022 | Updated October 17, 2022, 1:36pm
We're seeing a crossover of illustrators to tattoo artists bridging new styles and techniques.
It's no accident that many tattoo artists have roots in different fields. Artists have always sought to explore new mediums and challenge their creative potential.

Over the past decade, interest in tattoos has surged. With the rise of popular culture, social media, and a shift in attitudes, what once existed as a fringe art form is now at the centre of creativity and self-expression. With the art world turning towards tattooing as a new field for expansion, a generation of artists is crossing over to blur the lines. It's what makes the industry exciting and contributes new styles to the tattoo table.
We spoke with three ECU illustration majors in different stages of their professional tattoo artist careers.
Known for her illustrations inspired by Asian paintings and abstract brushstrokes, Yuying He (BFA 2021, Illustration Major) is a new member of the tattoo community. She has been interested in tattoos since freshman year at ECU and now works as a tattoo apprentice. Yuying finds the process of honing her new craft to be "vigorous but exciting" as the different techniques and equipment settings bring out extraordinarily different outcomes.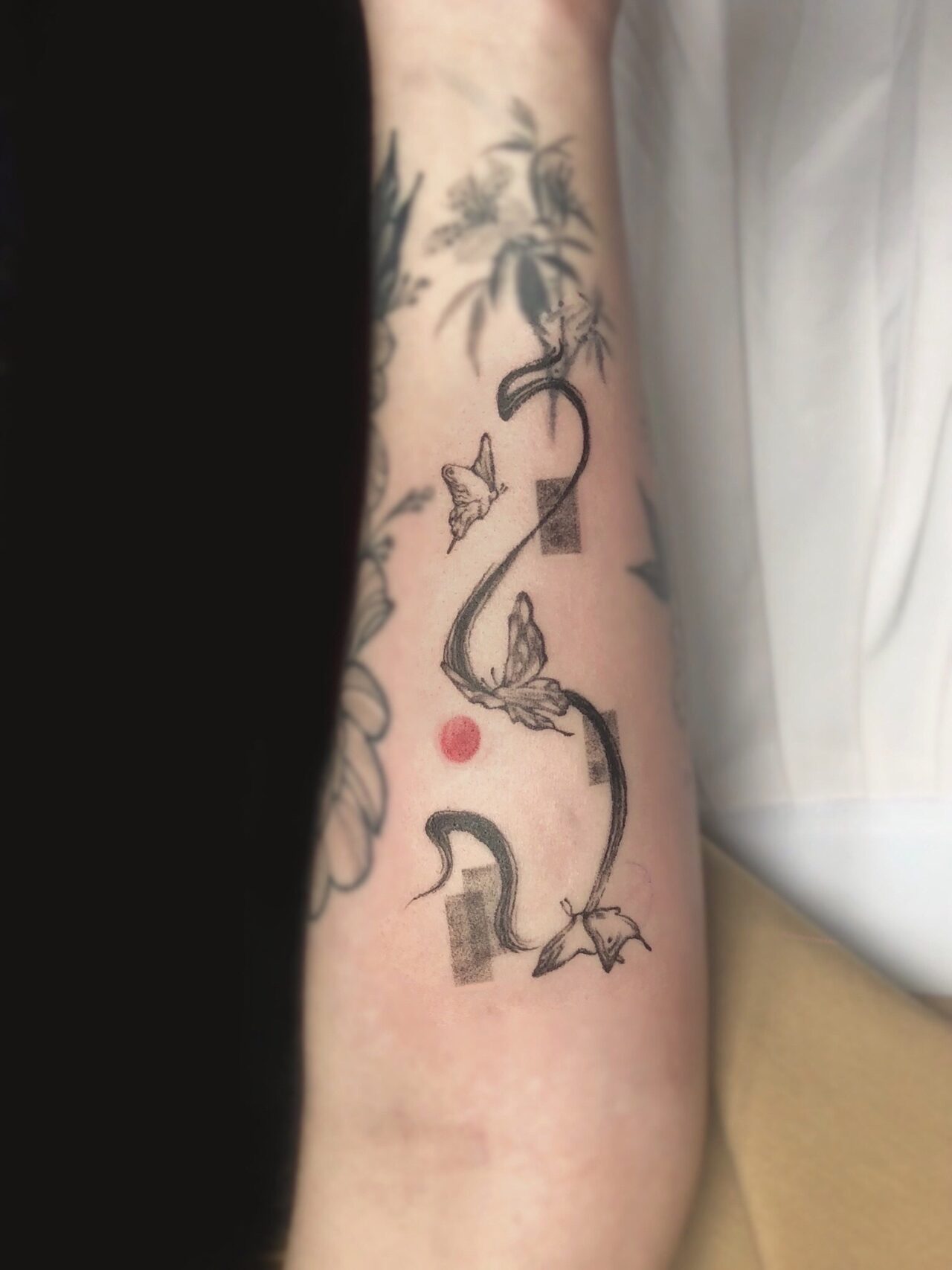 On industry crossovers

Unsurprisingly, crossovers between illustration and tattooing happen regularly. What technically applies in one field applies in the other in the form of composition, line, and colour theory.

Soft skills like client communication can pose both challenges and rewards. For tattoo artist Makoto Chi (BFA 2015, Illustration Major), the challenge of communicating and collaborating with clients about vivid ideas with little shared vocabulary about visual art can teach you about your energetic and technical boundaries. "These are skills I've absolutely needed for illustration gigs," he notes.

Makoto's tattoos are often dark in theme and application. He borrows themes and visual languages from Japanese block printing and cultural research into his Jewish and Japanese heritage. His works often reflects on monsters, queerness, gender and how the world could be a little different.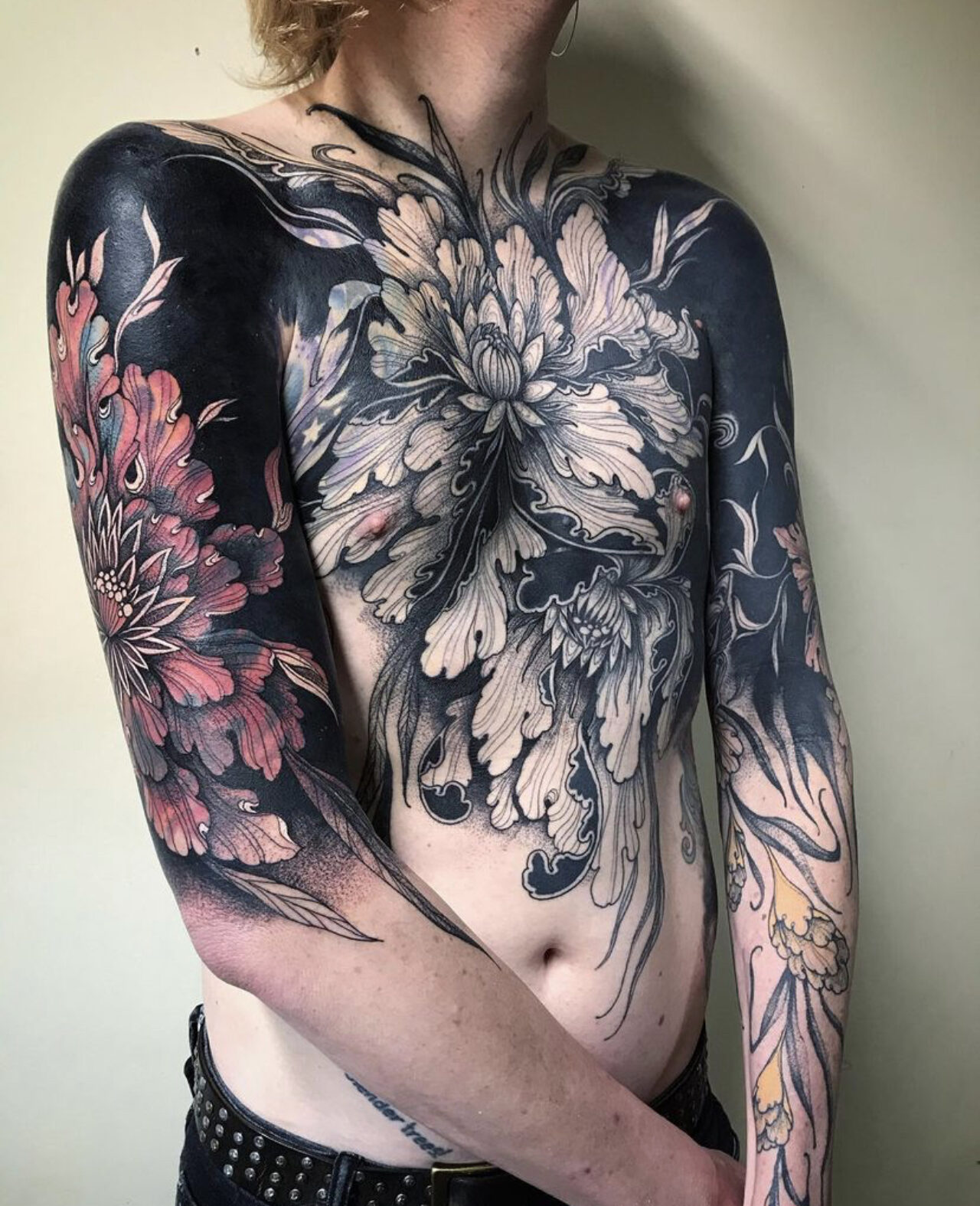 On care and compromises
Tattooists don't merely focus on design elements. When it comes to the industry, client care is crucial.
Human skin is wildly different from canvas, paper or digital surfaces—it ages and changes over time. What inks well on one person's skin may not work on another. Various parts of the body are also more difficult to tattoo than others. For instance, ribs and necks are twice as difficult to tattoo as thighs and arms.
Yuying has encountered many surprises along her tattoo journey. For instance, those exposed to the sun the day before getting tattooed tend to bleed more during the session.

Eric Brunning (BFA 2012, Illustration Major) is a tattoo artist at Black Rider Tattoos. Given the permanence of tattoos, Eric stresses the responsibility of taking care of clients' skins and making sure the work is done perfectly.

"Each tattoo has to be given 100%," he states.

Eric describes his style as illustrative realism. His inspirations range from nature to sci-fi to portraits to the occult. He started getting tattoos in his teenage years. Though he's always liked to draw, he didn't take it seriously until he gained an interest in the tattoo industry.

Client care means starting with an in-depth consultation to understand client needs. Tattoo artists grapple with the reality of finding compromises when ideas do not translate well in tattoos. For instance, Eric is careful when designs get too small, there's a likelihood details will blur out and get lost quickly.

In this field, it's difficult to "stay organized and keep healthy mentally," he shares. "Tattooing is a lot of work, and a lot of it is unpaid (drawing time)."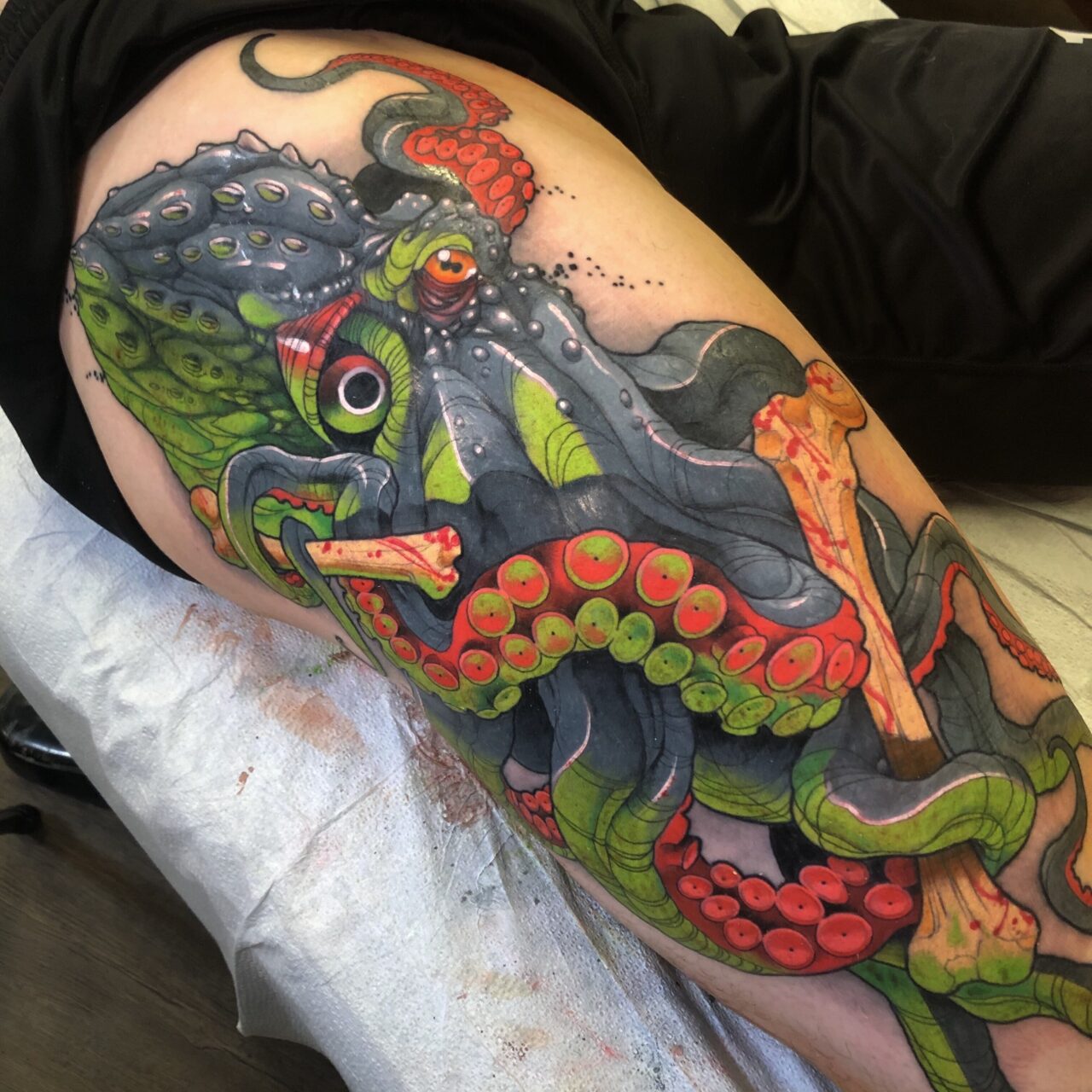 On mark-making on humans
For Makoto, the high-stakes feeling of tattooing comes from holding space with another person, less so than the technical application of tattooing. After all, the canvas used is a living, breathing human shaped by their nerve endings, their history, how the world has shaped them, and how they shape the world.
"They're not an inert material," Makoto says. "Working with skin means understanding that your work has a life beyond you," and is walking around "getting sunburnt, collecting scars or getting covered up by another tattoo-er."

There's nothing like it in the world of traditional illustration. Many works on paper will outlive human bodies. The fact that "tattoos expire with the wearer makes this practice so special and precious," Makoto says, adding "that's real beautiful and humbling."

On cultural acceptance

Indeed tattoos have gone from taboo to part of the social fabric in recent decades. These days, Yuying has noticed that tattoos in conservative cultures are becoming more trendy, and society's prejudice against them has been diminishing.

From the growing diverse talent behind today's tattooists to the expanding appreciation of this art form, the sky's the limit for people who want their bodies to be a canvas.

About the Tattoo Artists


Eric Brunning
Eric has been tattooing full time since the completion of his apprenticeship in 2012. Specializing in illustrative realism, Eric enjoys tattooing in both colour and black & grey. Some of his favourite subjects include nature, wildlife, and skulls, as well as personified animal characters. He is happy to add a dash of humour to any design. Eric is also an accomplished scratchboard artist and traditional illustrator.

(Excerpt taken from the Black Rider Tattoo website)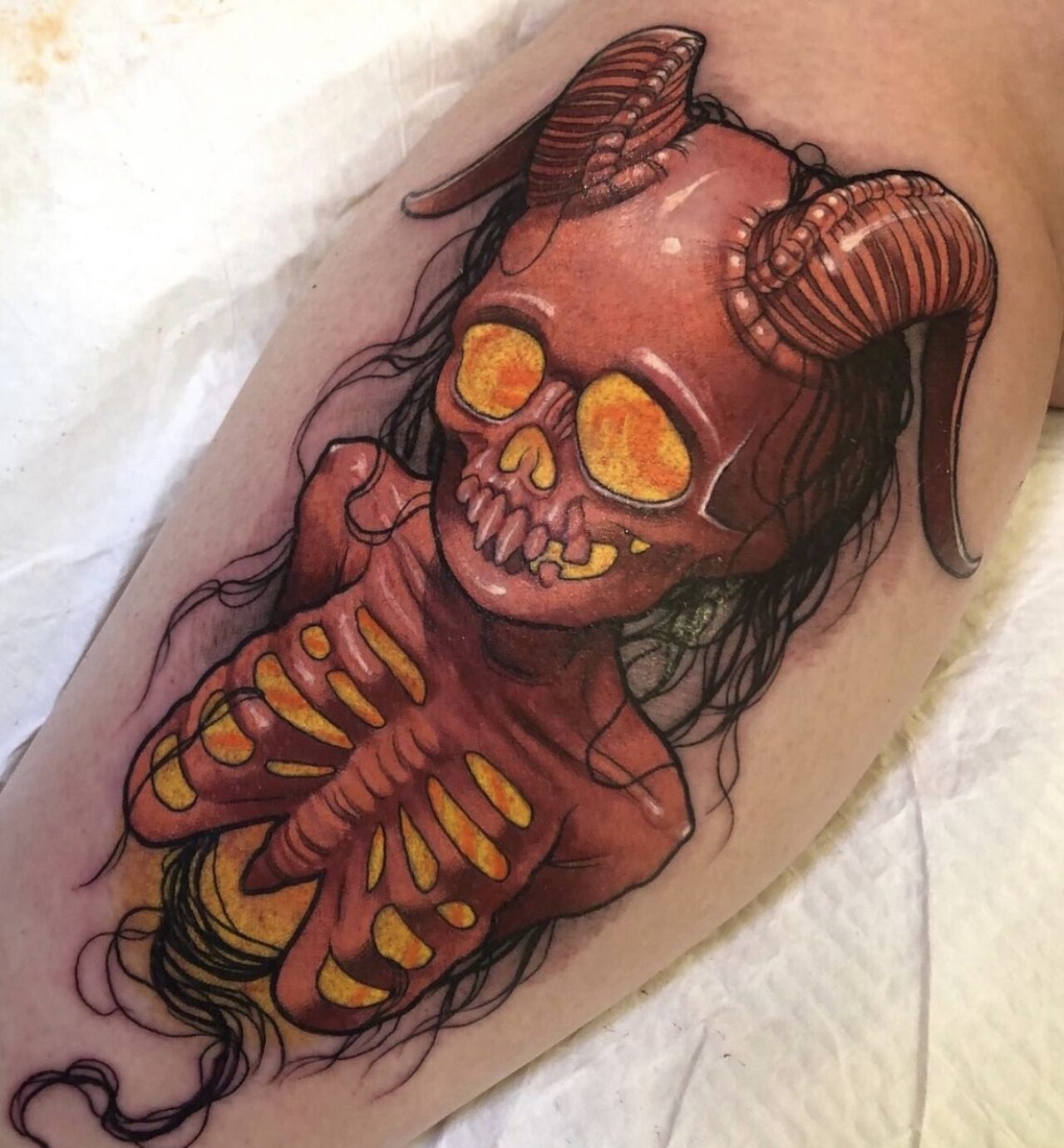 Makoto Chi

I am a settler on turtle island, currently living in so-called western massachusetts. My practice is primarily within tattooing and drawing; sometimes, rarely, I take up other mediums. I graduated from Emily Carr University with a bachelor's degree in Illustration in 2015, and am occasionally available for hire for illustration projects, gallery proposals, and projects that fall between and outside professional distinctions.

(Excerpt taken from Makoto's website)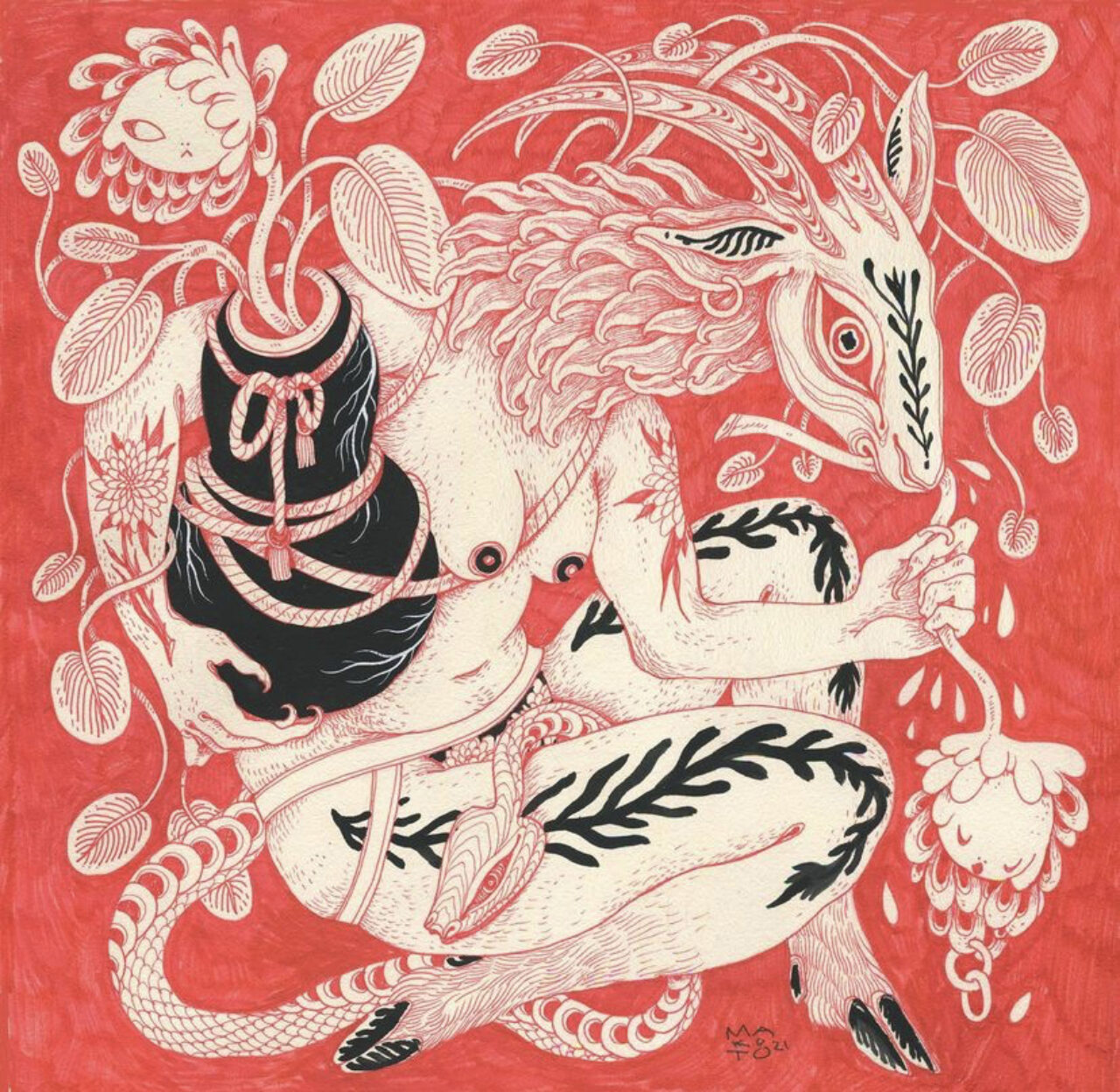 Yuying He

Yuying has been interested in tattoos since her freshman year in ECU. It was the time she got her first tattoo. Since then, she has been curious about the industry, as tattoos use the body as a medium to express aesthetics and meanings. Yuying is usually influenced by abstract brushstrokes, oriental paintings.

See more of Yuying's works here.