Maya Ersan, Jaimie Robson Bring 'Shadows Without Borders' to Surrey Art Gallery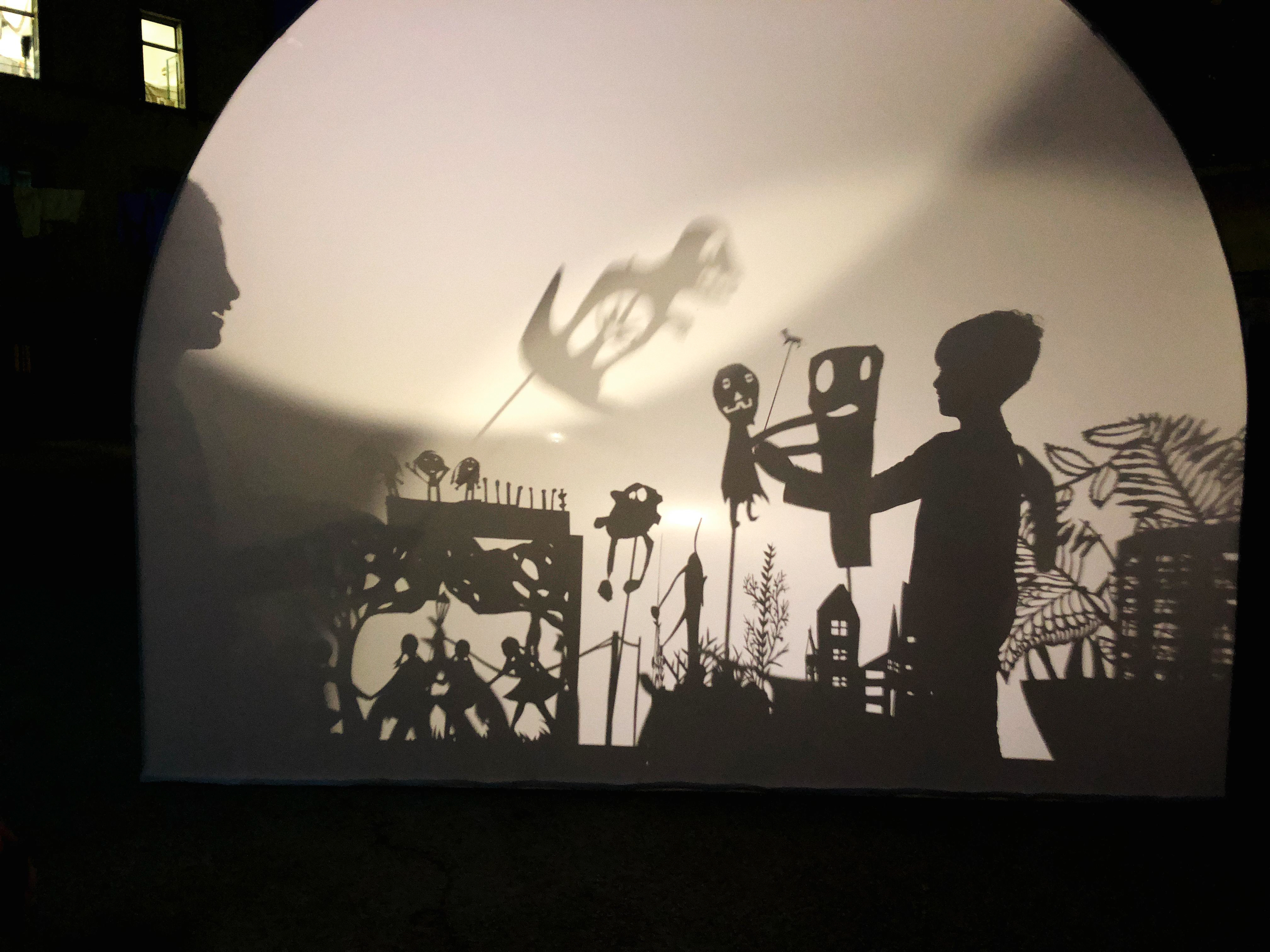 Posted on June 23, 2022
The artists, known collectively as Mere Phantoms, took their mobile shadow installation to refugee camps in Athens and Istanbul.
An interactive shadow installation that travelled to refugee communities in Europe and Asia is currently on view at the Surrey Art Gallery.
Titled Mere Phantoms: Shadows Without Borders, the show spotlights the work of artists Maya Ersan (BFA 2004) and Jaimie Robson (BFA 2002), collectively known as Mere Phantoms. The pair's Shadows Without Borders project was first created in 2018, touring "refugee camps, squats and settlements" in Athens and Istanbul.
"The initial idea came from the outbreak of the Syrian civil war," Maya says in a statement. "Having grown up in Turkey and Cyprus, I was very familiar with the aftermath of such events. Jaimie and I wanted to do something that could make a difference in our own small way with our unique tool set, which was to bring shadow play to vulnerable and displaced families."
Mere Phantoms began by working with partners in both Athens and Istanbul, eventually developing a mobile installation consisting of a 12 x 12' shadow-projection tent; intricate paper cutouts; battery-operated shadow lamps; a battery-operated sound system; and materials for making additional cutouts. Using this adaptable set-up, the pair led paper-cutting and shadow workshops and play sessions with children and families in refugee communities.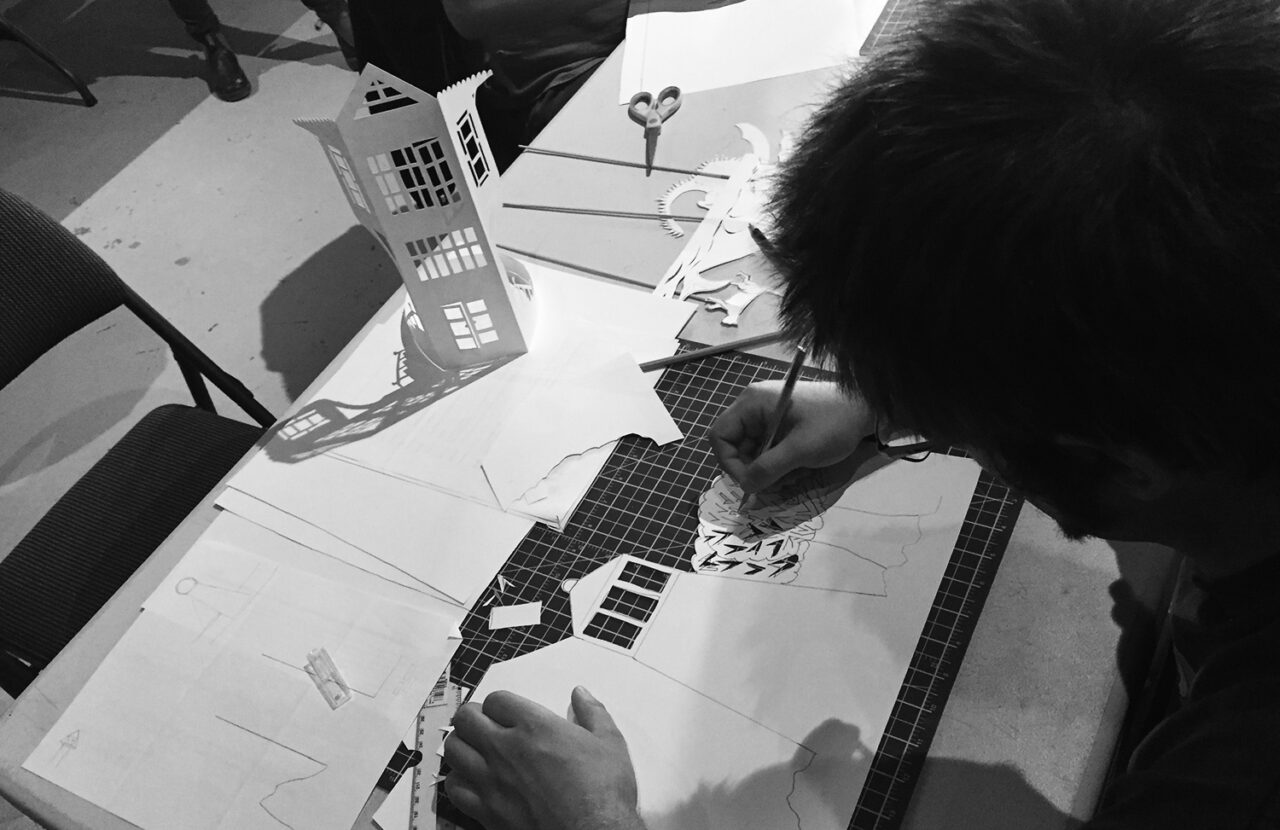 During the project's first phase, Mere Phantoms led paper-cutting workshops during the day, providing tools, materials and guidance. In the evenings, participants would gather for shadow-play using their newly created cutouts.
"This project is humble in its ambitions," Mere Phantoms writes on their website. "It does not endeavour to document or record or even solicit personal stories. Instead it offers a creative play space in which humour, sadness, joy, and creativity can be expressed. It offers a momentary pause from daily life in a temporary home. Ultimately this piece is about play. Participants were invited to pick up a shadow lamp, make a paper cutout, and immerse themselves in this ephemeral world of shadow and light."
Some of the work created with participants throughout this project is included in the Surrey Art Gallery exhibition. A shadow-projection tent and custom-made flashlights are also on view. A series of photographs from a night of shadow-play in Athens is part of the exhibition as well, as is a seven-minute video documenting the project. The photographs and video were created in collaboration with filmmakers Leila Shifteh and Harun Yasin Tuna. Maya and Jaimie have also created new paper-cut tableaus, which are being exhibited for the first time.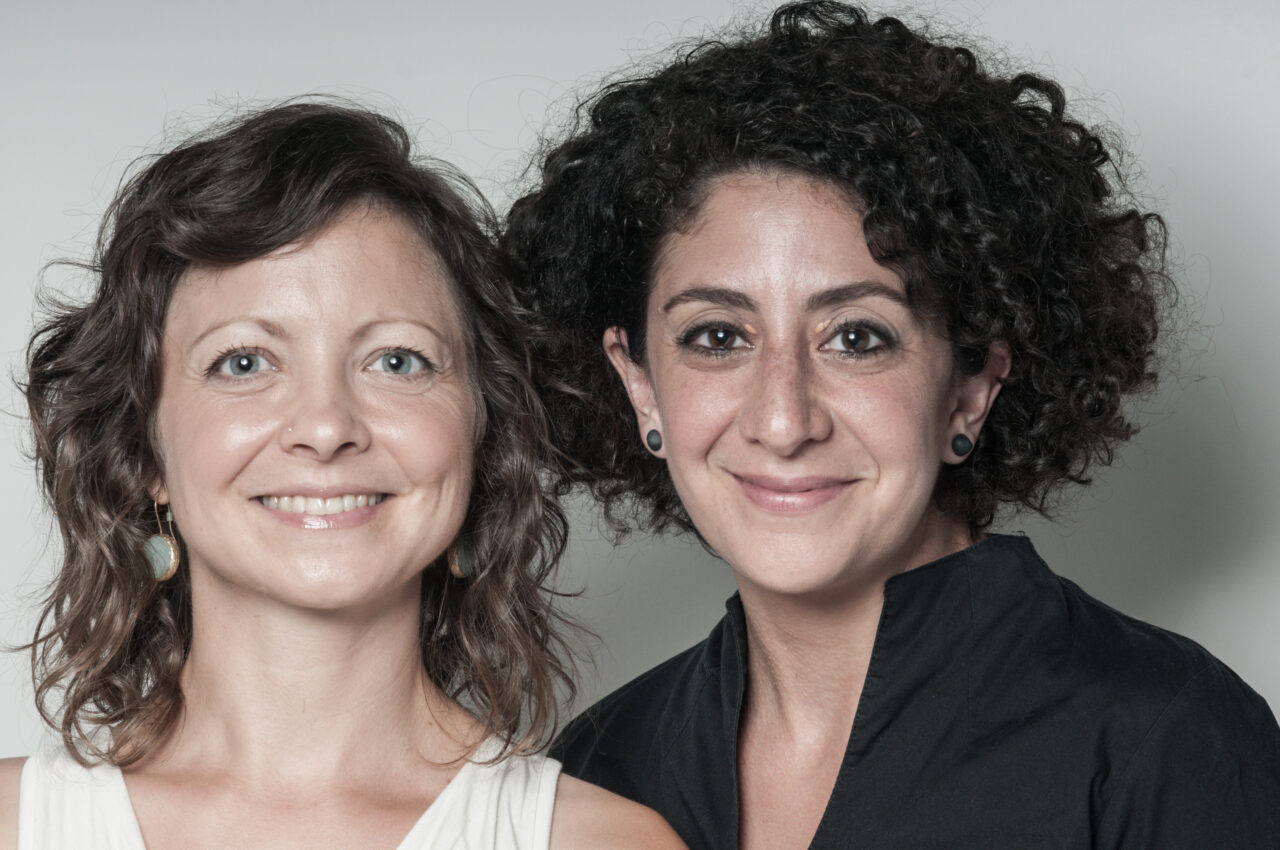 Mere Phantoms thanks their partners Khora (Athens), Project Elea (Athens), Atta Festival (Istanbul) and ASAM (Association for Solidarity with Asylum Seekers and Migrants) (Istanbul). Mere Phantoms: Shadows Without Borders received funding through the Canada Council for the Arts' New Chapter program. Mere Phantoms: Shadows Without Borders was curated by the Surrey Art Gallery's curator of exhibitions and collections, Jordan Strom.
Visit Mere Phantoms' website to learn more about Shadows Without Borders as well as their other extraordinary projects.