ECU News Roundup | May 26, 2022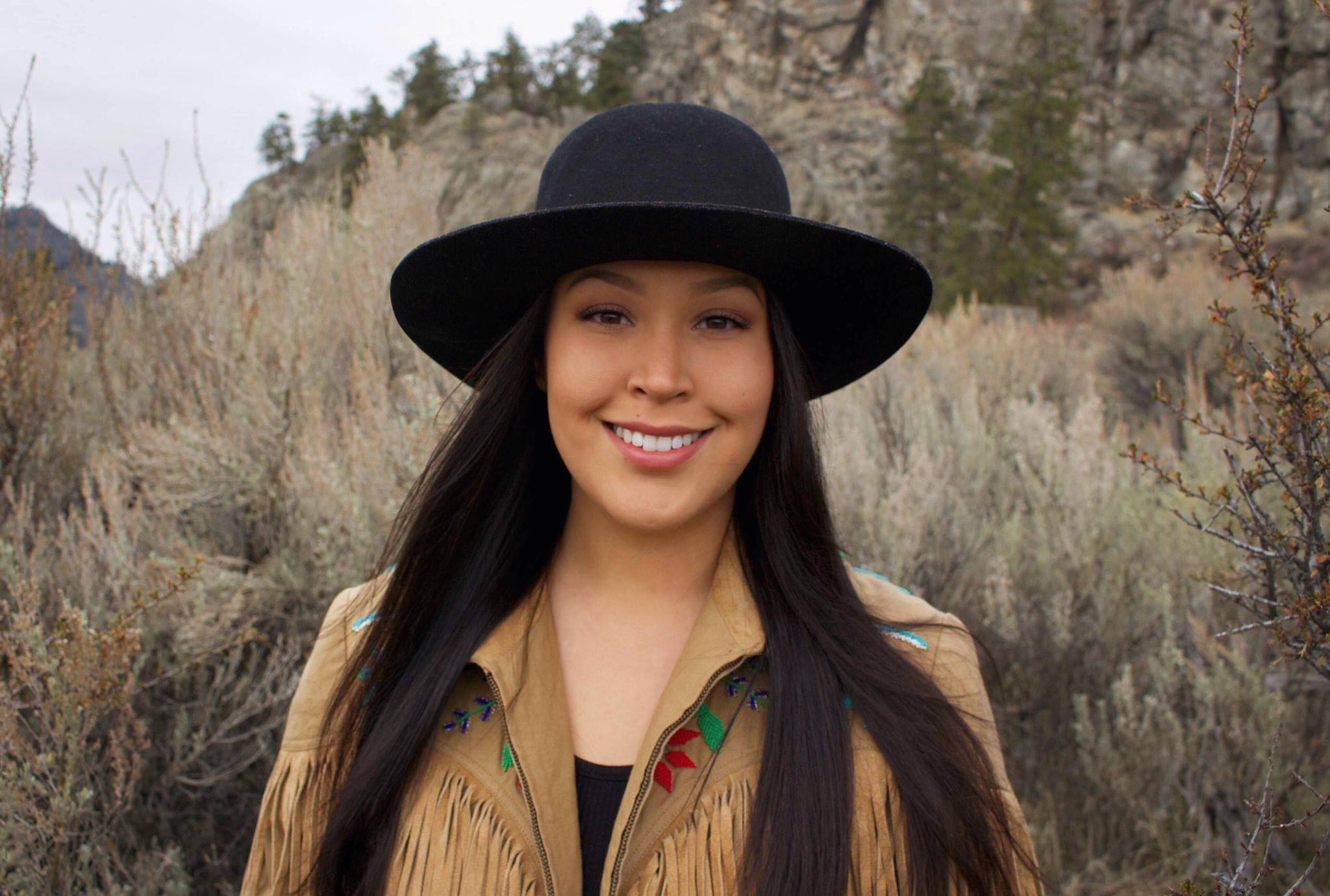 Posted on May 26, 2022 | Updated May 27, 2022, 11:53am
This week: Taylor Baptiste | Kaitlyn Beugh | Amberlie Perkin | Fibre Stories
Welcome to our new semi-regular feature, the ECU News Roundup.
Below, you'll find a sample of some of the wonderful media coverage our community has recently received. Read on to learn more about our extraordinary colleagues, friends and neighbours!

Taylor Baptiste's kʷu scʕacʕacúlaʔxʷ – We Are of The Land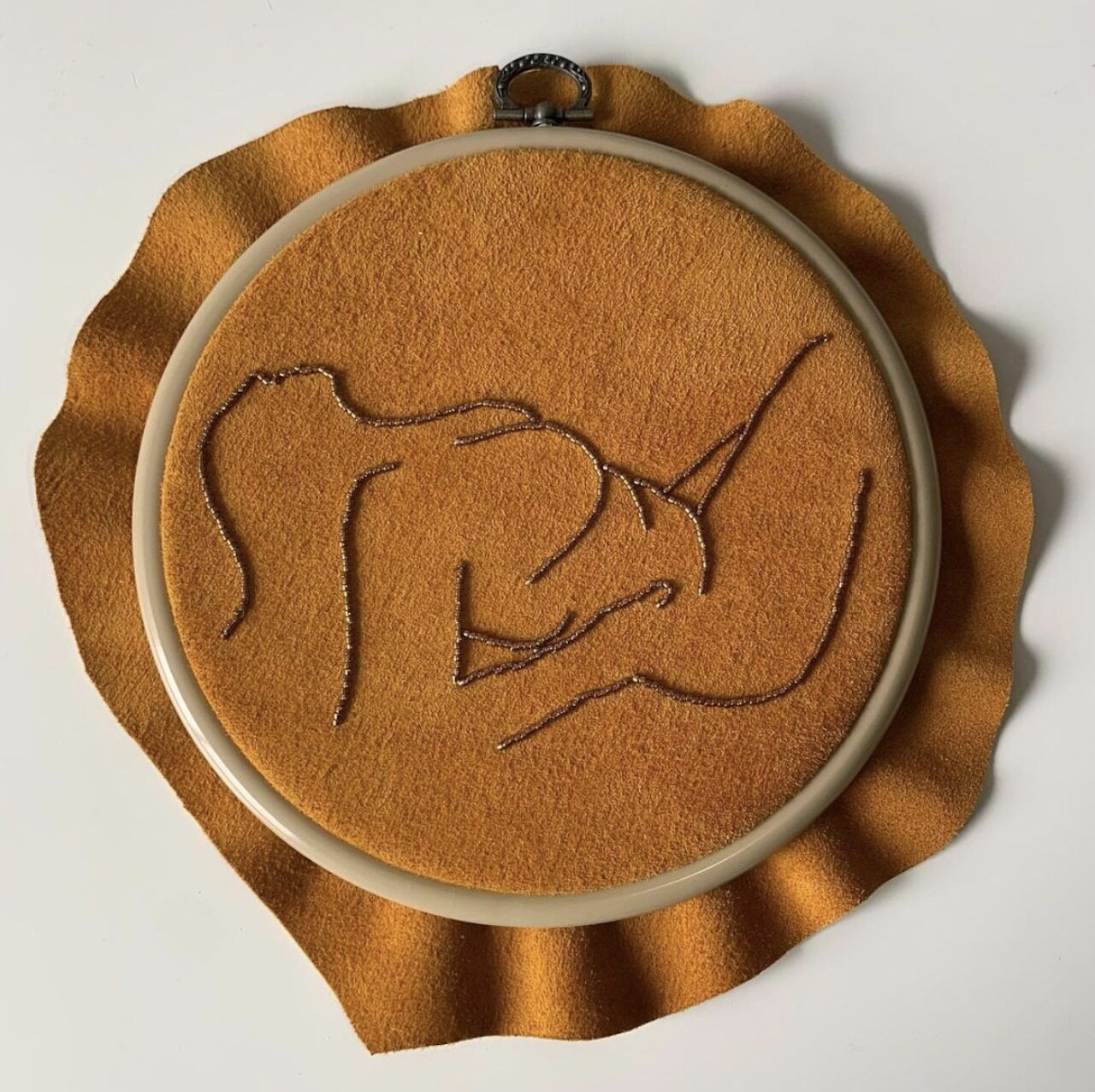 A recent Times Chronicle article profiled artist and ECU student Taylor Baptiste. With the opening of her first solo exhibition, kʷu scʕacʕacúlaʔxʷ — We Are of The Land, Taylor — who is from the Osoyoos Indian Band of the Okanagan Nation — became the first Indigenous artist to be featured at The Art Gallery Osoyoos.

"I've been very removed from my territory that I've been very close with my whole life, so this collection of items are ways that I used to stay engaged and keep a relationship with my culture and land," she told the Times Chronicle of her show.
Growing up on the reserve, Taylor was taught to foster "a strong relationship with the land," she says. Her father taught her and her brothers how to hunt, fish and forage.
"He would have us walk the perimeter of our property every day and get to know the lifecycles of all the plants and animals and the materials there and how to gather them and how to use them," she continues. "That's why I'm drawn to using natural materials to really engage with the land here in the Okanagan. But a lot of it also comes from my culture as an Okanagan person. So I try to engage, interact and express the different Okanagan teachings that I have been taught growing up."
kʷu scʕacʕacúlaʔxʷ – We Are of The Land runs through May 28 at The Art Gallery Osoyoos.

Kaitlyn Beugh at Lions Park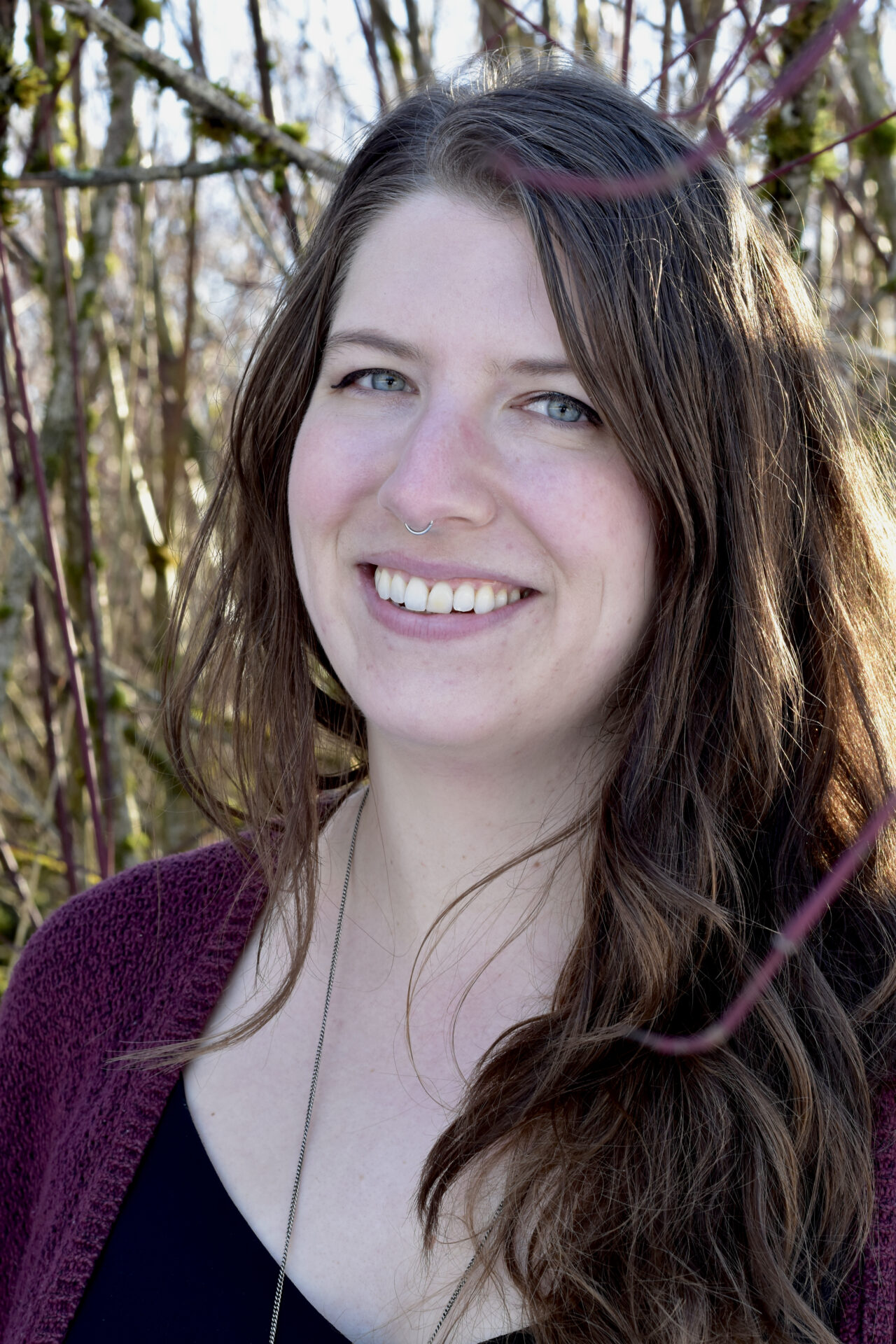 Artist Kaitlyn Beugh (BFA 2019) was recently appointed the latest Lions Park artist-in-residence for the City of Port Coquitlam.
Speaking with TriCity News, Kaitlyn says her first task will be exploring the downtown park to create a closer connection to the space and its natural rhythms. Over her six-month residency, she says she hopes to build workshops to teach how park plants and landscapes can be used in an artistic practice.
"Creating in a natural setting is a low barrier way to access creativity," Kaitlyn told TriCity News. "You get to know the land that we're on."
So far, Kaitlyn has several series of workshops planned throughout the summer and fall. Learn more about Kaitlyn and her residency, and sign up for an Invasive Species Walk, an Eco-printing workshop or a Drawing with the Rain Garden session now, via the City of Port Coquitlam's website.

Amberlie Perkin's The Nature of Grief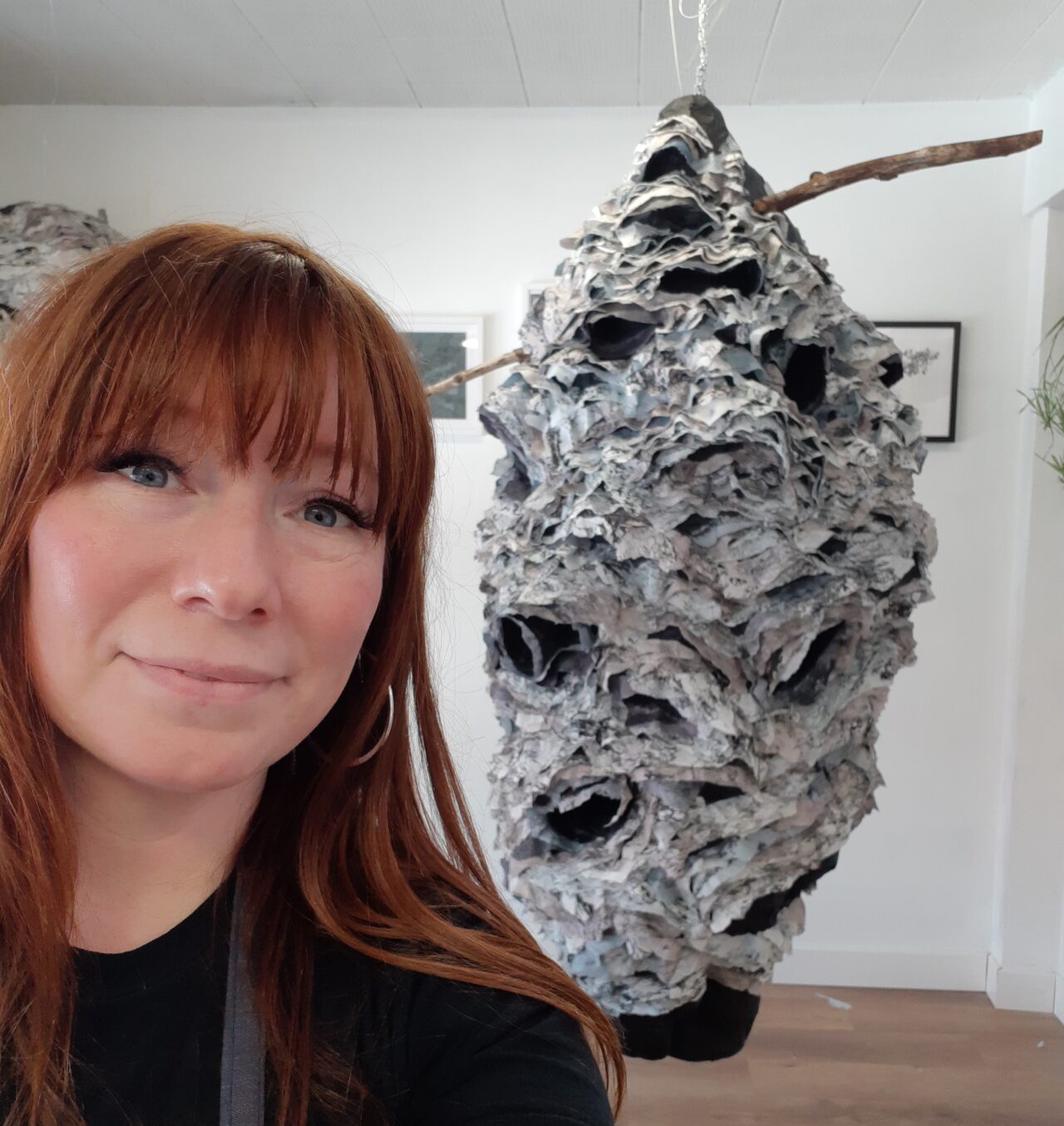 Artist Amberlie Perkin's (MFA 2020) first solo show opened last month at the Gibsons Public Art Gallery on the Sunshine Coast.

Titled The Nature of Grief, the exhibition showcases Amberlie's material explorations of ecological and personal sorrow. Speaking with the Coast Reporter, Amberlie recounts how many of her recent works began as responses to tremendous personal loss. Working intuitively with lichen, bark and charcoal, Amberlie started to make connections between the natural landscape and her own interior space.
"I realized that what I had been looking at and collecting was this intuitive language of the body in nature," she told the Coast Reporter. "But it also spoke to the fragility of our changing bodies. I started thinking with nature, and thinking with grief: seeing nature in the process of decay and regrowth, loss and regeneration."
The Nature of Grief is on view at the Gibsons Public Art Gallery through May 29. Amberlie will be on-hand in person for a pair of upcoming closing events: an artist talk at 2pm on May 28, and an artist-in-attendance from 2pm to 4pm on May 29.

Fibre Stories in Digits & Threads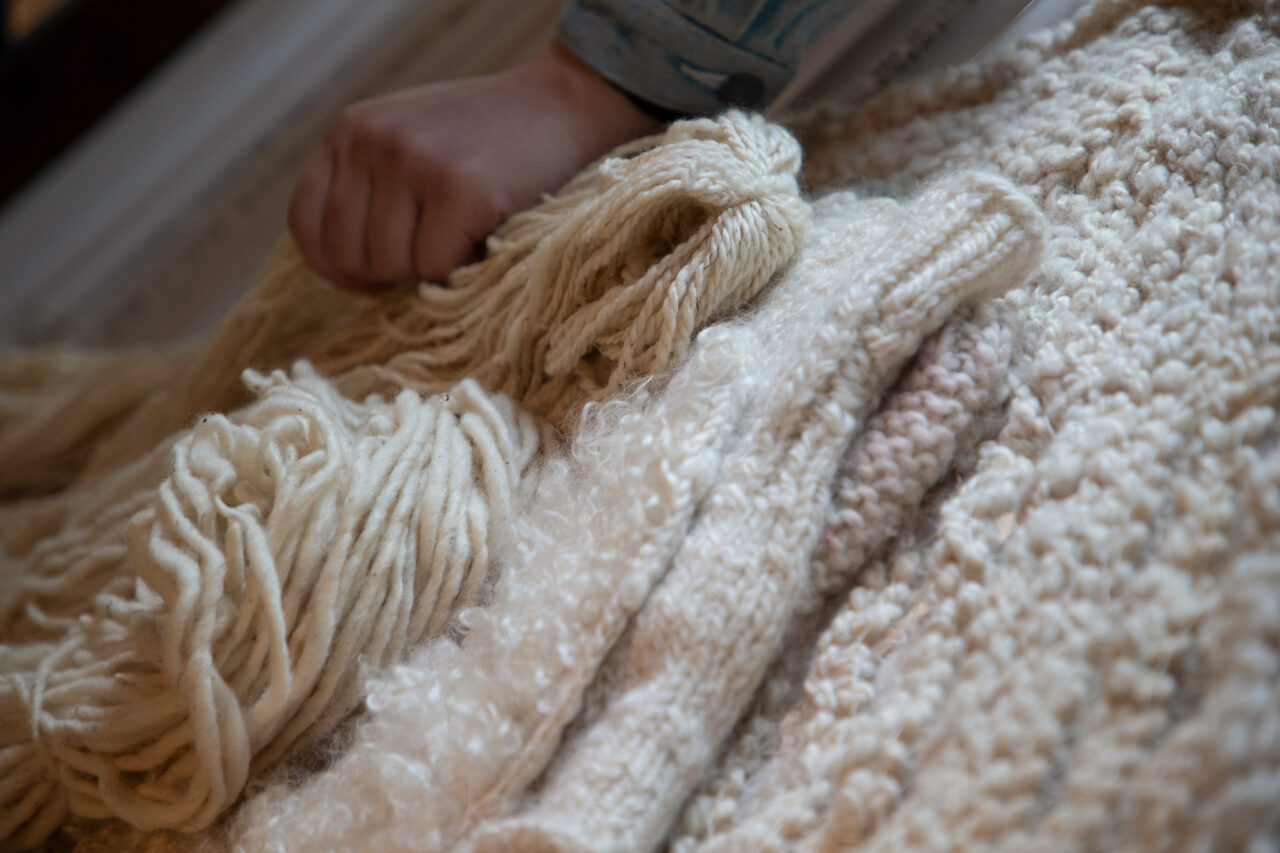 A recent feature in Digits & Threads online magazine spotlighted Fibre Stories, the platform that provides free resources for exploring sustainability and ethical practice within the textile industry.
Fibre Stories includes a book, a podcast and a series of how-to zines that share the knowledge and work behind the Fibreshed Field School — a community-focused program created by artist and educator Emily Smith aimed at connecting people more closely with local fibre systems and supply chains.
"Through her academic research in textiles and circular economies, Emily developed the Fibreshed Field School, an experimental mentorship program that invited student researchers from Emily Carr University and Simon Fraser University to look at local textile production through the lens of ecology and economically viable methods of production," Digits and Threads reports.
Visit Fibre Stories online to learn more about their extraordinary work.