Wanda Lock Debuts Sprawling New Painting at Kelowna Airport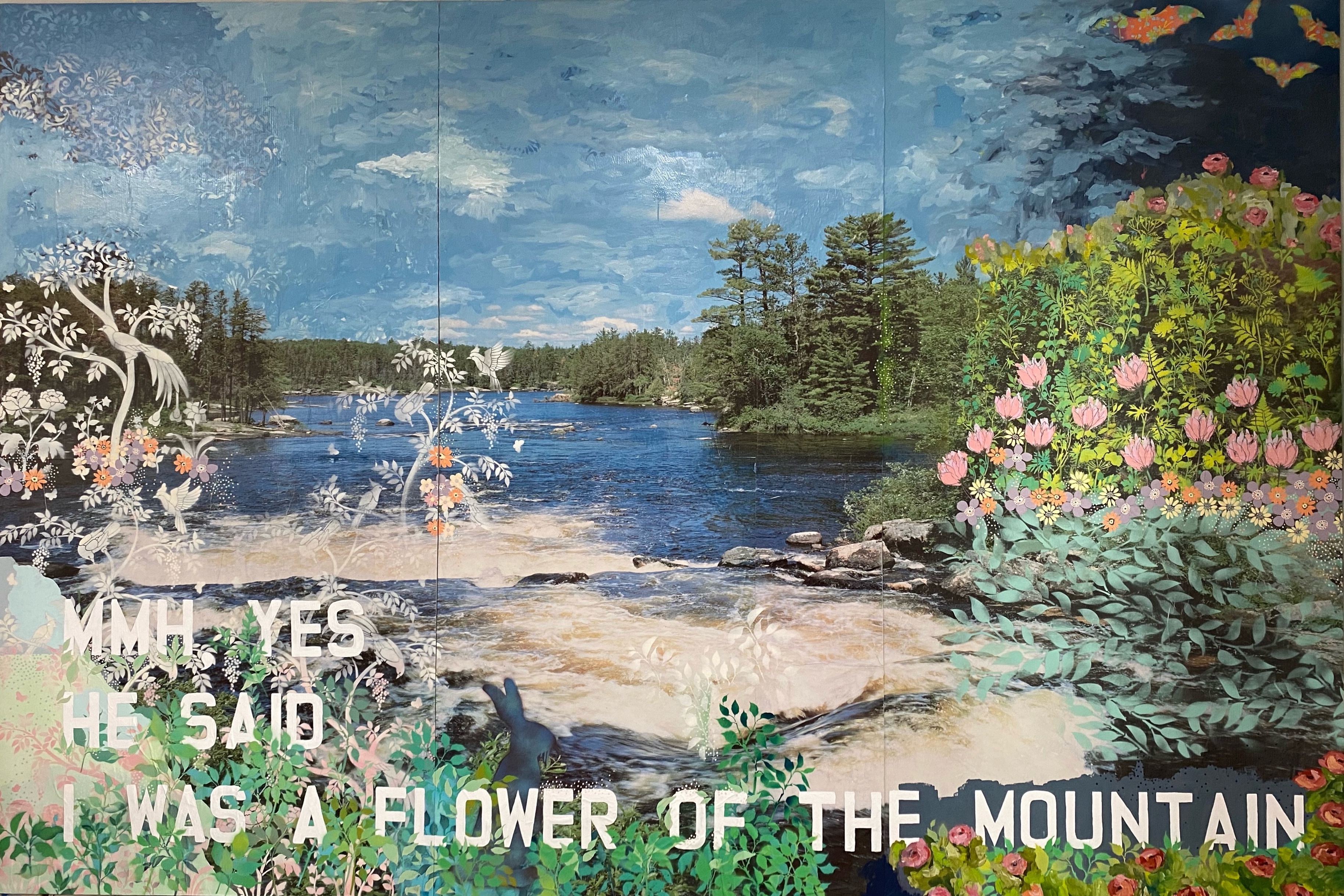 Posted on July 05, 2022
Titled Kate and Molly, the mural-sized work advances Wanda's painterly exploration of music, literature and other cultural forms.
A sprawling new artwork by Lake Country artist Wanda Lock (1992 alum) was recently installed at Kelowna International Airport.
Titled Kate and Molly, the 40-foot-long four-panel painting hangs prominently above the airport's check-in area.
Speaking via email, Wanda says she relishes the process of creating art for non-gallery locations such as the airport.
"I welcome the challenge of making art for public spaces," Wanda tells me. "Airports are interesting places, with so much going on all at once. Add to it layers of emotion, excitement, anticipation, sadness, loneliness, anxiety and frustration. Plus, the public deliberately does not go to an airport to look at art."
Kate and Molly is Wanda's second painting to be featured at Kelowna International. The first, Flying Machines and Poems Sung by Strangers, was featured at the airport in 2013.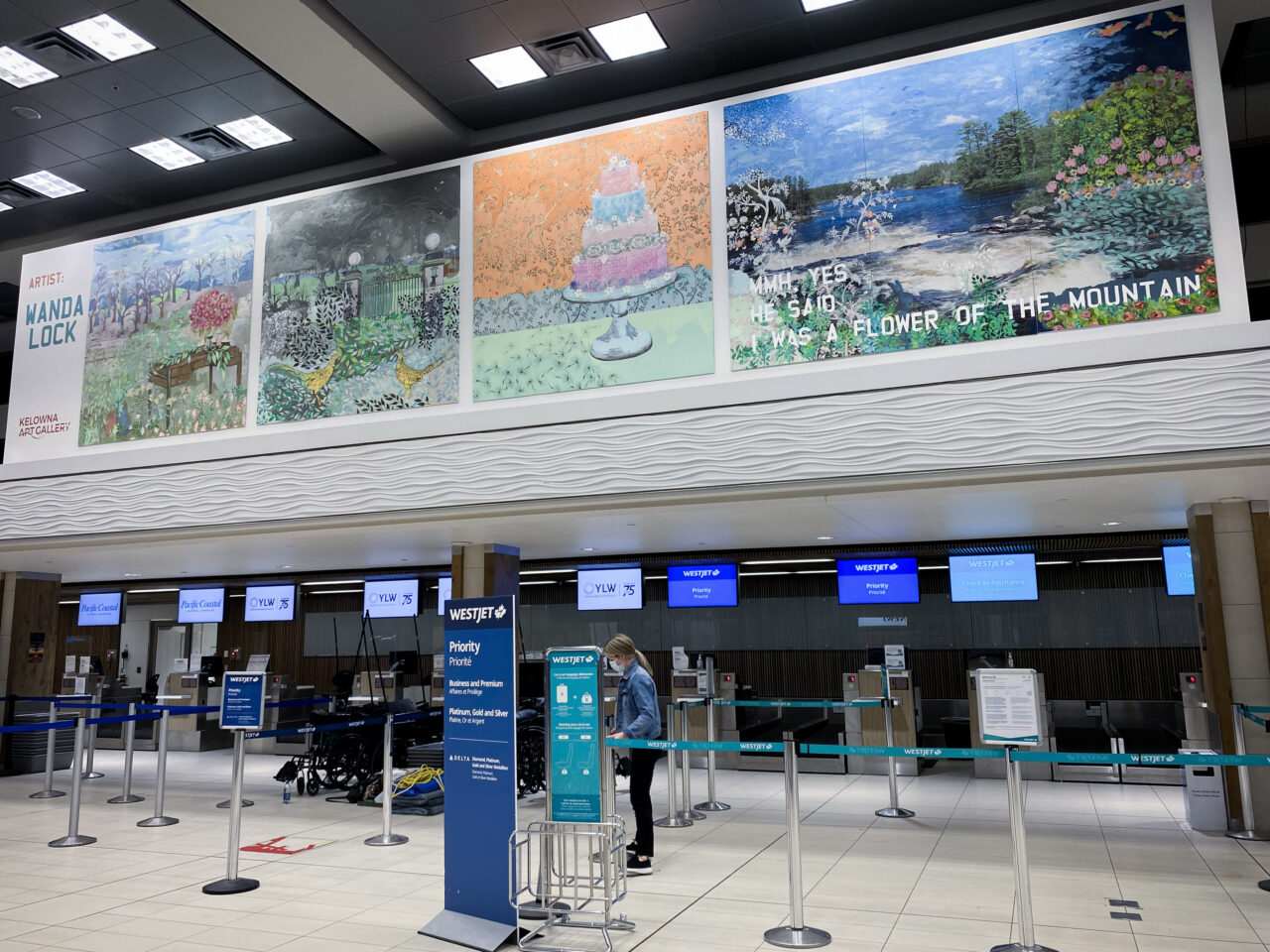 Though produced nearly a decade apart, the two mural-sized works share thematic connections. Text, for instance, appears in both works, as it does in many of Wanda's paintings. But where Kate and Molly bears only a single quote, the text in Flying Machines was far more prominent. Partly, this reflects how Flying Machines referred to the phenomenon of the playlist.
"Flying Machines and Poems Sung by Strangers was all about earworms," Wanda says. "Again, the public was not at the airport [specifically] to see my work, but the hope was if one caught a snippet of the work, (a line from a song about flying) it might 'travel' with them throughout the day."
Wanda often positions her paintings in relationship to other works of art, including literature, music and cinema. As noted by the Kelowna Art Gallery, Kate and Molly is no exception.
"Spanning almost 40ft long and 8ft tall, this immersive work provides an underlying narrative that invites us to examine Lock's characteristic painterly language," the gallery writes in a press release. "Loaded with both literary and cultural references, these atmospheric paintings conjure up images of romance and fantasy."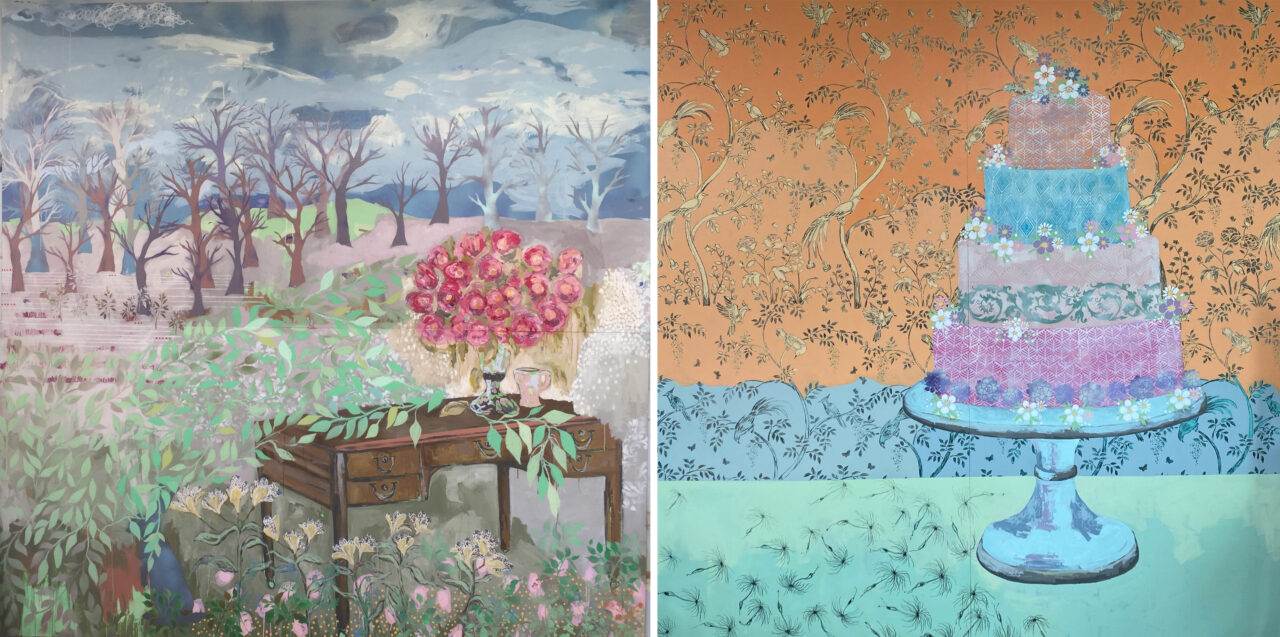 Such references also allow Wanda to explore quieter, more mundane human experiences, she adds.
"Thinking of all the people that pass through an airport, 'a day in the life' became the theme for this body of work," she says. "Reaching for James Joyce's novel Ulysses seemed like a good choice."
Diving into Ulysses, Wanda honed in on a soliloquy by a character named Molly Bloom. Wanda's research into Molly Bloom led her to Kate Bush's 1989 song Sensual World, which also references the Molly Bloom character. The paintings in Kate and Molly explore this connection, drawing in Kate Bush's video as a visual reference.
The text in one of the paintings is also a musical reference, connecting Kate and Molly in yet another way to the Flying Machines paintings. But Kate and Molly's visual context creates a very different effect for the viewer.
"Kate and Molly's, 'Hmmmm yes, he said I was a flower of the mountain,' which is a direct quote from Kate Bush's Sensual World and references Molly's soliloquy, could also act as an earworm," Wanda says. "However, I find this text sentimental set against a 1980s Sears Catalogue wall mural (river portage)."
As with her use of text, Wanda points to her adolescence as a defining influence for this visual language.
"I was twelve when MTV launched, and I had a steady diet of music videos throughout my teens," she says. "Combining text and visuals in my work is a nod to that time. Adding text can also be viewed as a 'clue' to interpreting the work; however, it also adds ambiguity."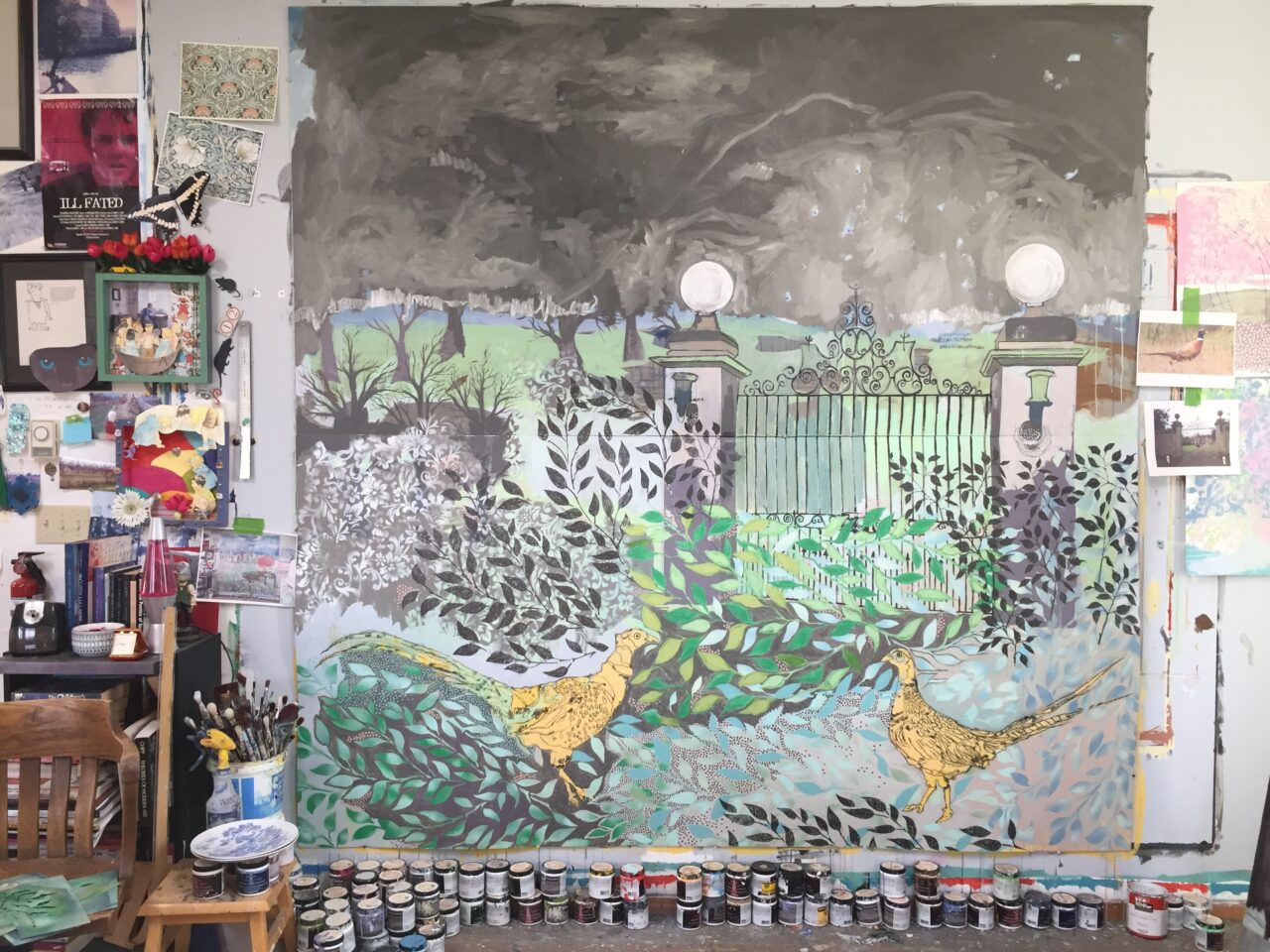 With Kate and Molly now on view for the next year, Wanda says she is "in the studio prepping canvas, keeping the large scale and thinking about Rebus puzzles."
Read more about Kate and Molly via the Kelowna Art Gallery, as well as via Kelowna Now and Castanet. Visit Wanda's website to learn more about her work.