WOO Publication Designs First-Ever Student Merch Collection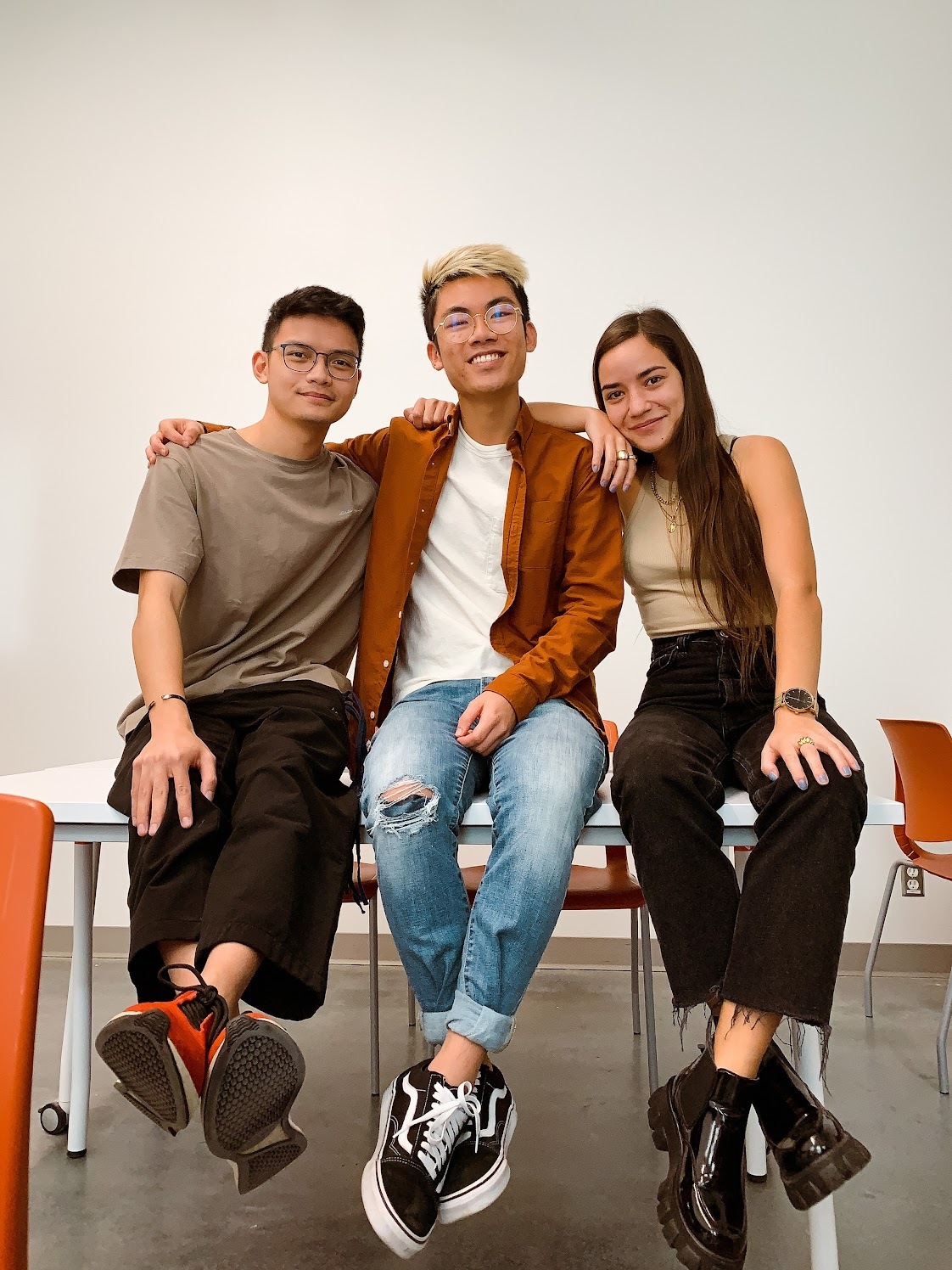 Posted on August 05, 2022 | Updated August 10, 2022, 11:04am
The artists and designers behind this student-led collaboration reveal the strategies and spirit that informed their original designs.
The assignment was not easy: create a line of merch that would reflect the eclectic styles and sensibilities of ECU students. Luckily WOO, the student-run publication at Emily Carr, was up for the challenge. In only a few months time, the WOO team created three original designs that now make up our exciting new capsule collection, ECUxWOO.
Launched in April, this time-limited line is now available on our online store. You can lean into your school pride with the classic varsity motif displaying ECU's coat of arms. Then there's the playful "ECU starter pack" with blurbs and doodles that any art student can find relatable. Finally, the typographic-based "2022: the Year of ECU'' imprint lets you see our diverse areas of study. The collection allows one to celebrate any mood or moment by channelling a range of feelings that run from humourous to heartwarming. Simply put, there is something for everyone.
WOO has long served as a voice for ECU's student body. It has also dedicated itself to embracing "the diverse stories and culture of the Emily Carr community." So, it comes as no surprise WOO understood the assignment. The ECUxWOO collection is an authentic and entertaining peek at ECU student life. Even if you've never visited campus, the collection's sharp and playful designs will show you why the ECU experience is so special and unique.

To learn more about the creative process behind the ECUxWOO collection, we spoke with the three members of WOO publication who were involved with the project: editor-in-chief Kin Godwin Chua, creative director Carrie Braybooks and media director Joshua Louie. In getting to know this dynamic team, we caught a glimpse of how they created the magic behind their standout collection!

They are ECU students who have diverse and unique design backgrounds.
Josh: I'm a fourth-year Interaction Design student.
Carrie: I'm a fourth-year Communication Design major, with a particular focus on typography, art direction, and photography within my practice.
Kin: I am a fourth-year Communication Design student and my practice employs information design, motion graphics, and photography to educate, entertain, spark curiosity, and support communities.

They designed with themselves in mind.
Josh, Carrie and Kin: As representatives of the collection's target demographic, we started off by creating for ourselves. We looked to our own wardrobes and inspiration boards to find starting points that spoke to us. All of us enjoy a variety of styles, so we worked towards a collection that the community could connect to in different ways – both in terms of content and aesthetic tastes. This resulted in designs that range all the way from classic simplicity to eccentric detail. At the end of the day, we just wanted to have fun with the project and make something we'd be proud to wear or carry around.

They found a balanced approach.
Kin: The most challenging aspect of the project for me was finding a nice variety between our three designs, with the school's existing merch offerings and the prospective open-call designs also in mind.
Josh: I found the conceptualization of '2022: the Year of ECU' to be the most challenging as we strived to find a balance between the representation of majors, creating something that aligned with the university, and designing something that was visually appealing to larger audiences, while also stylistically staying true to ourselves.

They wanted to showcase their school pride.
Carrie: For the Emily Carr University varsity design, I really wanted to create something with a classic feel. Attending an art and design university is such a unique experience, but I believe that a lot of us also yearn for parts of the "typical university experience" at times. For four years, I wished to be able to show my pride for my school by walking around with a varsity sweatshirt – and that's what this design accomplishes. I'm very excited to see people rocking their "elevated athleisure" with this design and for us to be able to share our mutual pride for Emily Carr.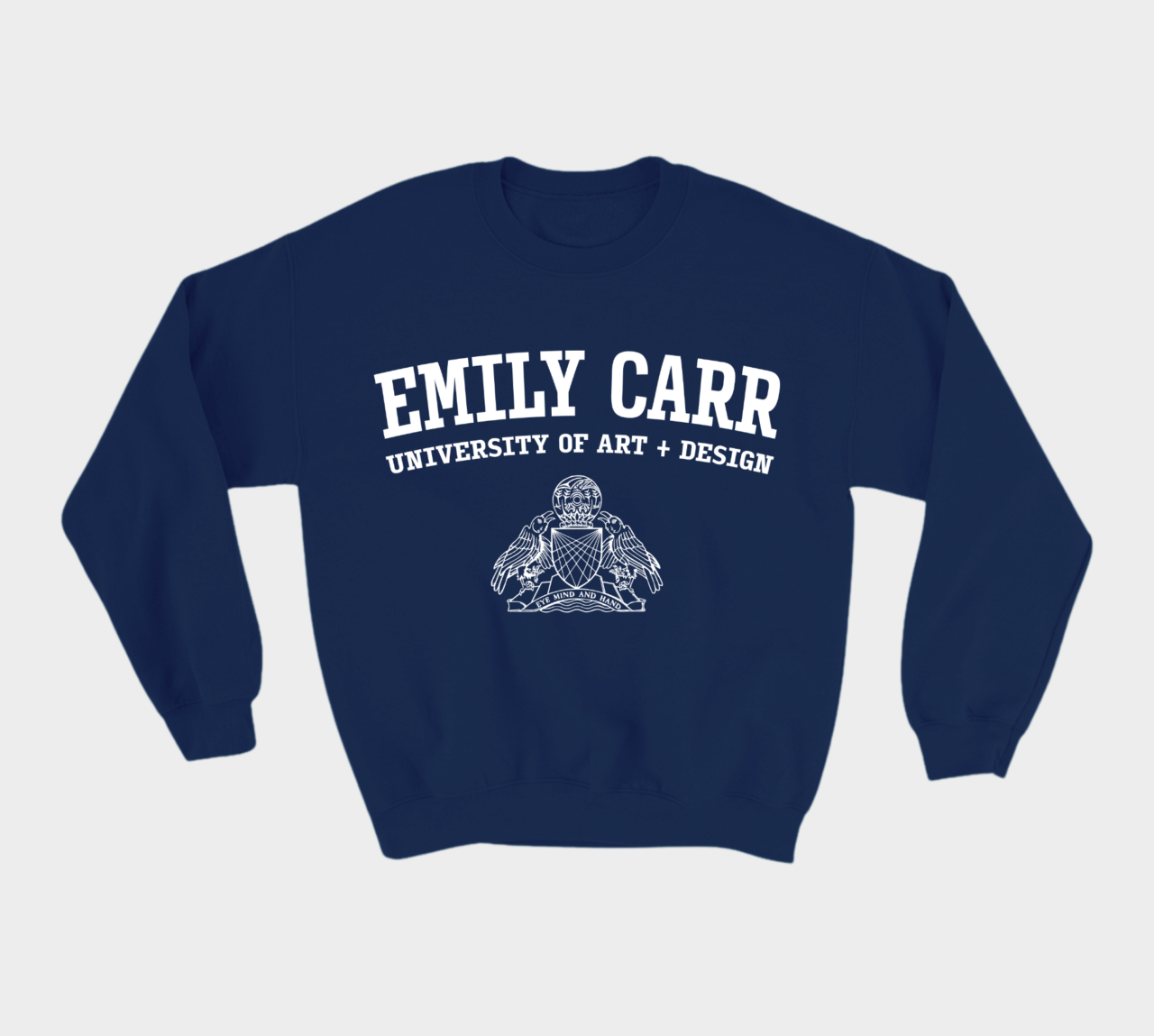 The 'Starter Pack' was originally a WOO-exclusive project.
WOO Publication already had plans to create a WOO-themed clothing collection prior to their collaboration with ECU. In fact, they'd already called for submissions from their team members. When ECU approached them, WOO decided to move their original project forward as a collaboration.
Kin, Carrie and Josh: As you can tell from our final design, our team (being the amazing creatives they are) let loose and came back with a variety of content and styles. Inspiring each other, the common theme of being an art/design student arose and snowballed … Our goal was to showcase aspects of attending an art and design university while also having fun while doing so. We hope that whoever sees these designs out in the world can relate to it and maybe get a good laugh out of it.
Kin: I designed the layout for the "Starter Pack" concept, which includes mini designs from several other WOO members. It was particularly rewarding to bring together the individual vectors of the "Starter Pack" into one collaborative design
Carrie: Myself and the other directors initially came up with the idea because we wanted to create something to unite our team. Having this design picked up by ECU meant a lot to us because we realized it was an idea that could reach further than just our team. It's something that everyone can enjoy.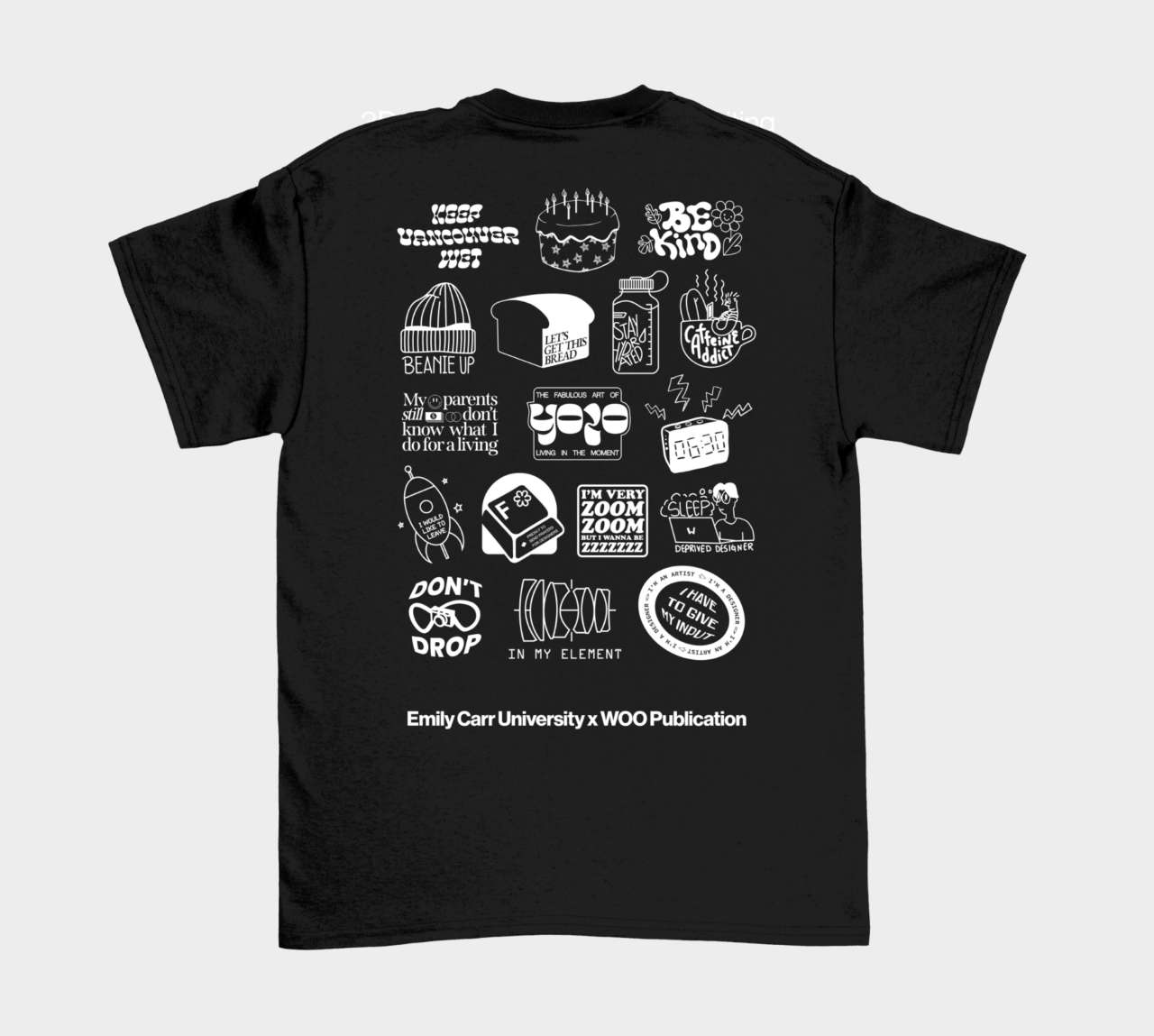 They want you to celebrate and remember your time at ECU as much as they do.
Kin: My fourth year, and spring 2022, in particular, was a season of reconnecting with my peers more deeply than before and making the most of my time back on campus … I was naturally swept up into a momentum that led to opportunities, collaborations, and friendships that I am immensely grateful for. By featuring ECU's different areas of studies on the '2022: Year of ECU' design, I hope other students can also identify with their 2022 experience and recall the connections they've had in and around campus this year.
Carrie: Coming out of the worst of the pandemic and being able to reconnect with one another has been so heartwarming. To me, this design commemorates my graduating year and all of the friendships and memories I made along the way. I started at Emily Carr feeling very lost and out of my element, never having felt like a true artist. [But my fourth year has been] indescribably fun, sentimental, and stressful all at the same time. I can't even begin to explain how happy this year has made me. The opportunity to bring WOO in collaboration with ECU felt like the perfect finale. We hope that our experience paves the way for more exciting projects like this down the line.
Josh: 2022 for me was supposed to be my graduating year (and still might be), it was the year I had the opportunity to be Media Director for WOO, the year I came out to my family, the year I landed my first official internship, and it is the graduating year for a lot of my peers. Graduating or not, this year has been filled with an abundance of great experiences. This design to me, is the fruition of the past four years of my undergrad, a collaboration with peers I became close friends with, and memories I hope to hold onto.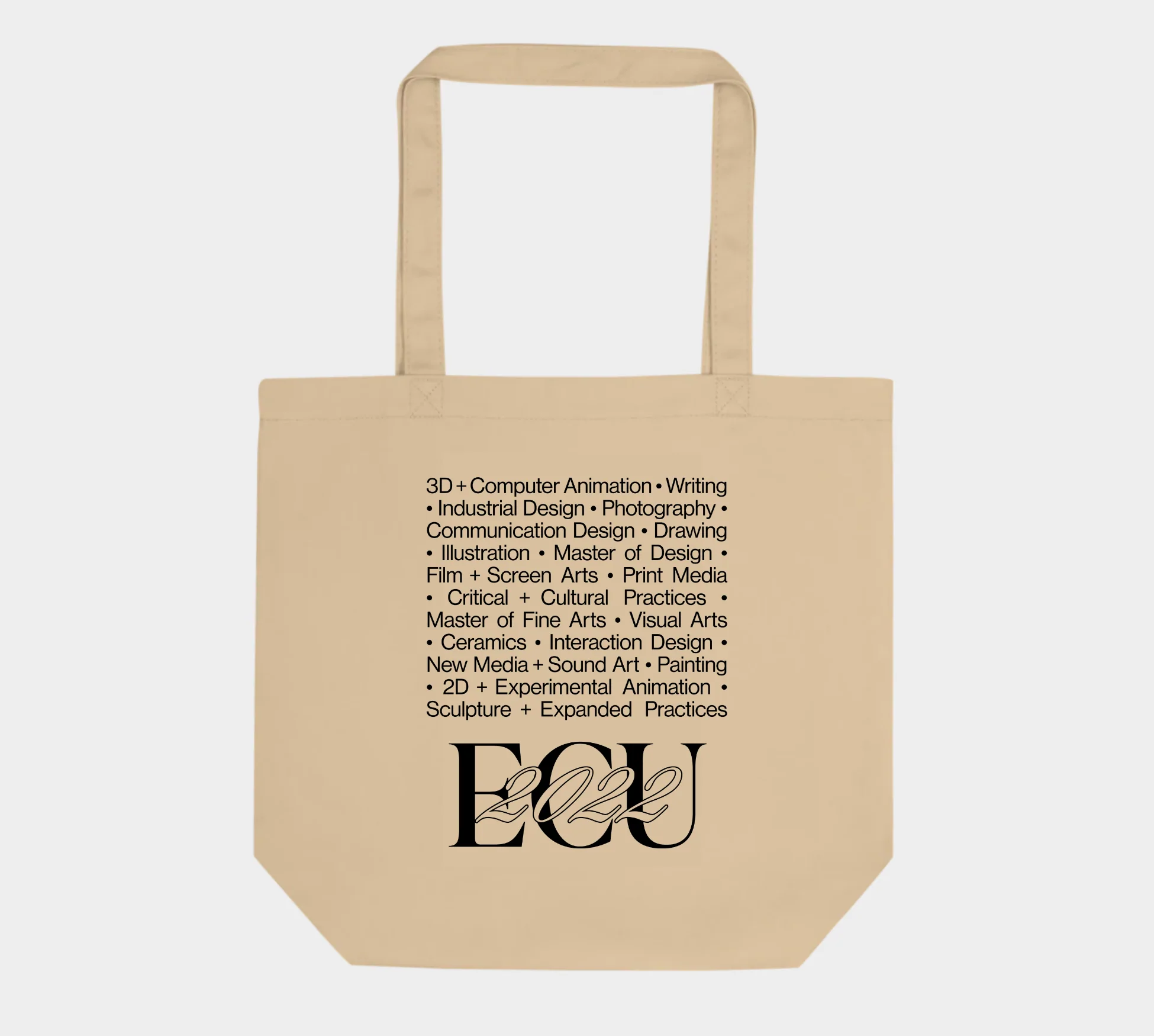 The merch collection is a culmination of their creative collaboration together as members of the WOO publication.
Josh: I originally began [at WOO] in the Fall of 2020 as a media member, and since September of 2021, I've had the opportunity to lead and support a wonderful team of creatives as media director alongside Carrie and Kin.
Kin: I joined WOO in the fall of 2020 as a member of the Media Team. Since then, I've had the pleasure of taking on the media director role and the editor-in-chief role. This is my last semester with WOO before I graduate and it's been an enriching experience all around.
Carrie: Working with such inspiring creatives has been an incredible experience and I'm so grateful for everything I've learned over the past three years. It's amazing to look back at everything we've accomplished together, from releasing two publications per year, growing our social media following, elevating our brand aesthetic, planning and hosting a gala, filming and producing a "WTF is WOO" video, and of course, collaborating with ECU on a line of merch.

They are excited to see you wear their work!
Josh: I think the most rewarding part of the process is yet to come because I am so excited to see people wearing and using the merch with our designs on them. Seeing what we created in the real world, chosen and purchased by someone we have absolutely no connection to, just puts a smile on my face.
Kin, Carrie, Josh: Grab the items before they're gone!

People's Choice Design Winners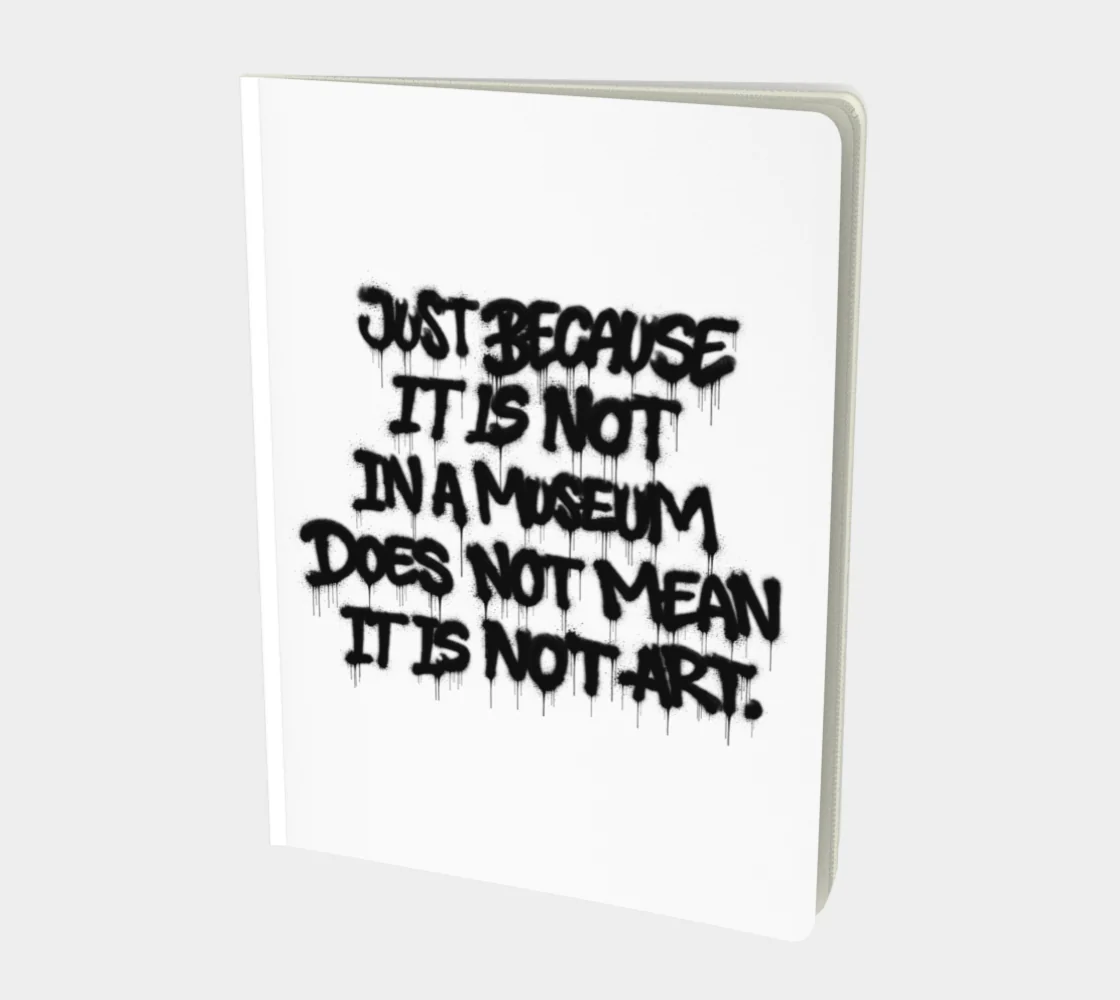 This collection also features our people's choice design winners: a signature graffiti design by Matin "Bee" Rahimi's (BDes, Foundation), and a digital watercolour illustration of Woo, the monkey by Esther Bellefontaine (BFA, Illustration Major).

Bee says his winning submission was partly inspired by a deep belief in the power of the written word.
"For thousands of years, only written things are remembered from history," he writes. He also chose graffiti to "stay apart from the crowd," he continues. "I have been doing graffiti for years and whenever I show my pieces to anyone, they just say 'nice colours.' They don't see it as a form of art or a skill. Some think it's vandalism."
Bee's quote was chosen to challenge the museum as an arbiter of what counts as art.
"Some believe that art school kiddos are just drawing to have fun, but … I've seen so many talented artists at art school whose pieces are better than those in museums," Bee writes. "I believe that my peers agree with me too – that's why [my design] has been their favourite."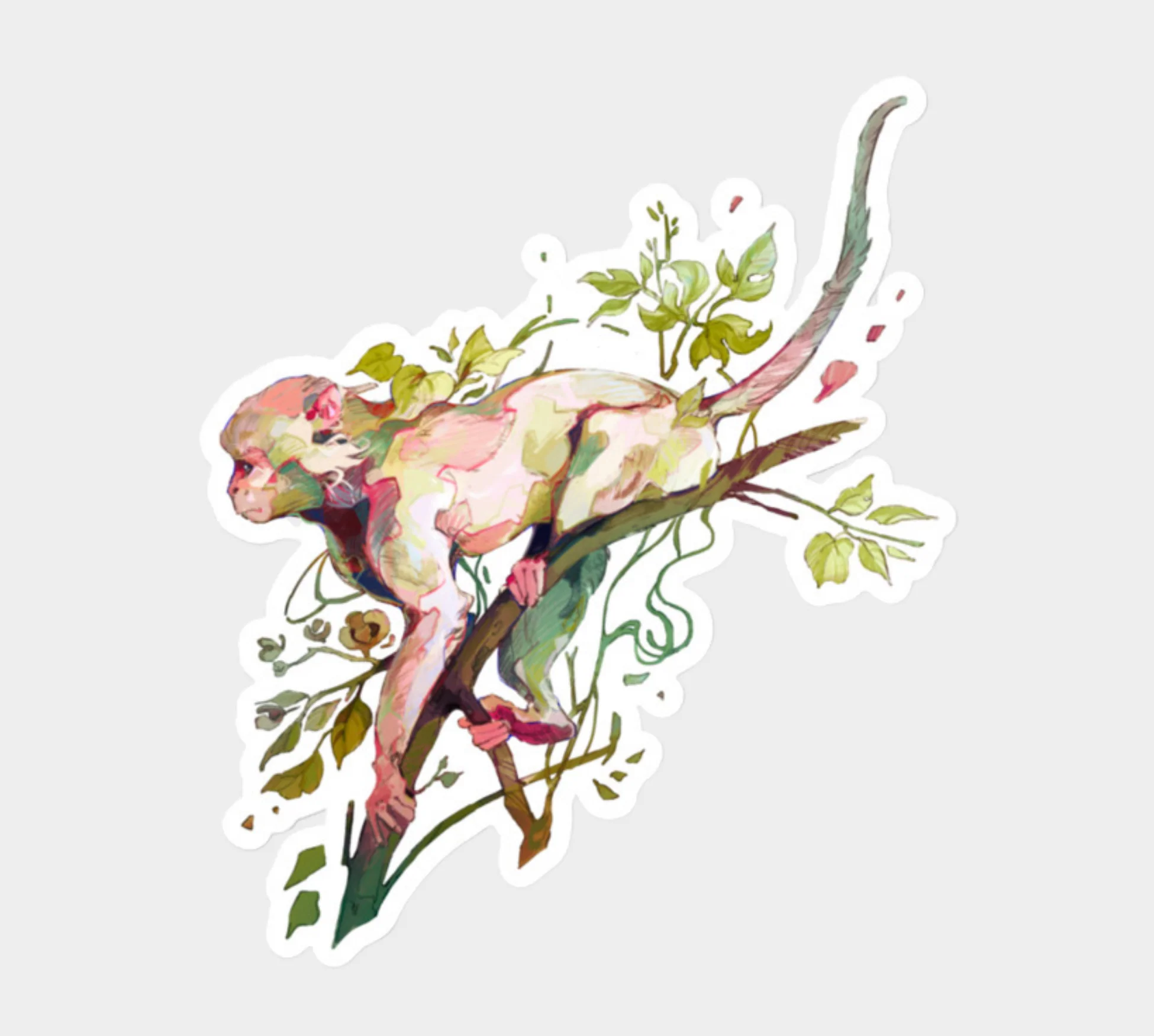 Esther, meanwhile, describes her process as a balance between intuition and intention.

"I knew I wanted to illustrate a monkey in the ECU colours, so I kept that in mind as I worked on brainstorming," Esther writes. "I also knew I wanted the leaves to be predominantly lime green, and the monkey predominantly pink, with the other two colours worked in throughout. In doing this, I aimed to achieve a certain degree of contrast between the flora and [the monkey] without the entire piece looking disconnected."

Esther notes her design reflects her recent "intuitive approach" to colouring, as well as an "experimental" blending of analogue and digital media. While Esther cherishes the "immediacy, texture, and spontaneity" of analogue methods, she also enjoys the advantages digital tools offer.
"For this illustration, I aimed to draw upon the best of both, creating the initial sketch in graphite before finishing it in Photoshop. I hope more digital illustrators and artists reconnect with traditional tools because as a digital artist, I personally found it incredibly inspiring and freeing to do so!"