D. Vanessa Kam Appointed ECU's University Librarian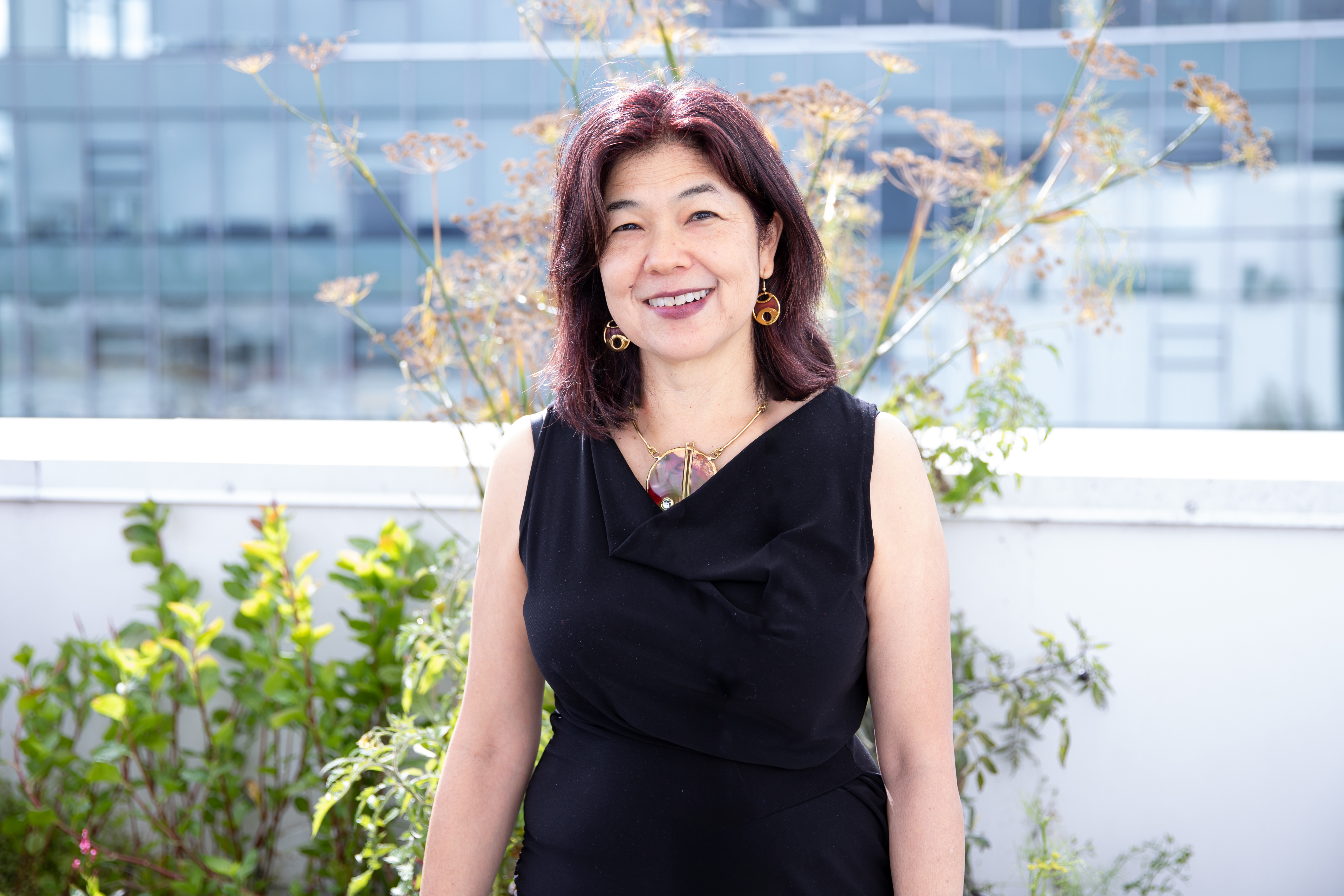 Posted on October 12, 2023
The experienced scholar, musician and information services professional began her appointment on September 22, 2023.
Writer, editor and researcher D. Vanessa Kam has been appointed University Librarian at Emily Carr University.
Vanessa's appointment, which began September 22, 2023, follows an external search conducted through summer and fall 2023 by ECU leadership, staff and faculty.
"With her extensive experience in specialized academic art libraries and her background in art history, Vanessa is uniquely positioned for this important role," says Diyan Achjadi, Interim Vice-President Academic + Provost at ECU. "She has been active in a number of university-wide committees and initiatives, giving her a wide-ranging understanding of the Emily Carr ecosystem. Her commitment to equity and decolonizing practices is evident throughout her work, and I am thrilled that she will continue to provide leadership at the university and for our Library team."
Vanessa has worked at ECU since 2021, serving first as Electronic Resources Librarian and Liaison to Design + Dynamic Media, and then as Interim University Librarian since February, 2023.
"The ECU Library + Archives team is a talented, committed and imaginative group of people who have worked hard to make our spaces, services and collections welcoming, dynamic and inclusive," Vanessa says. "I see enormous potential for the library to expand on being a locus for transformative learning and research, boundless creativity, and community building. I am excited by the opportunity to continue working in my newly permanent role and look forward to the many adventures that surely lie ahead!"
Vanessa holds a Bachelor's Degree with Individual Concentration in Arts Administration, Cum Laude, from the University of Massachusetts; an MA in Art History from the University of Texas; and a Master of Library and Information Studies, also from the University of Texas.
Her previous experience includes five years as Head Librarian at the Ute & Bill Bowes Art & Architecture Library at Stanford University; two years as Head Librarian at the UBC Music, Art and Architecture Library; and nine years as Head Librarian in Art, Architecture and Planning at the UBC Library. She has also worked as Exhibits and Publications Manager at the Stanford Libraries' Department of Special Collections; as a Kress Fellow in Art Librarianship in the Art and Architecture Library at Yale University; and as a Rockefeller Foundation Research Fellow at the University of Texas, during which time she completed a research project titled Latino Art and its Cultures of Origin.
Vanessa has edited and contributed to more than a dozen publications including books, essay collections, catalogues, research guides and periodicals. She is an experienced lecturer and facilitator, having presented internationally on topics including artificial intelligence, Indigenous research materials, resources for Latin American art, the management of artists' archives, and curatorial strategies for the representation of artists from the Dominican Republic.
In 2013, Vanessa was recognized with an H.W. Wilson Foundation Research Award from the Art Libraries Society of North America (ARLIS/NA), which she used to support research toward a pair of articles titled The Tenacious Book, Part 1: The Curious State of Art and Architecture Library Collections in a Digital Era and The Tenacious Book, Part 2: Publishers' Views on the Once and Future State of the Art Book. In 2015, those articles earned Vanessa the Worldwide Art Books Publication Award from ARLIS/NA.
Since her arrival at ECU, Vanessa's commitment to service has included participation in more than a half dozen ECU associations and committees including Senate, the Advisory Committee for EDI Capacity Building and the Strategic Planning Advisory Committee. She has served in the past on more than two dozen similar bodies with other organizations including ARLIS/NA, Stanford University Libraries, UBC Library and the Morris and Helen Belkin Art Gallery.
Vanessa spent 10 years as a mentor to Association of Research Libraries Diversity Scholars at UBC, and was an Academic Advisor to Undergraduates at Stanford University.
Vanessa is also an accomplished musician. She studied piano for many years, began her undergraduate degree as a music major, and currently sings as lead and background singer in a pair of bands, The Neighbor's Cat and Anzini's.
She speaks, writes and reads Spanish fluently, and speaks and reads French.
Visit the ECU Library + Archives online to learn more about their enormous range of resources and services.