Libby Leshgold Gallery Hosts an Art Rock Summer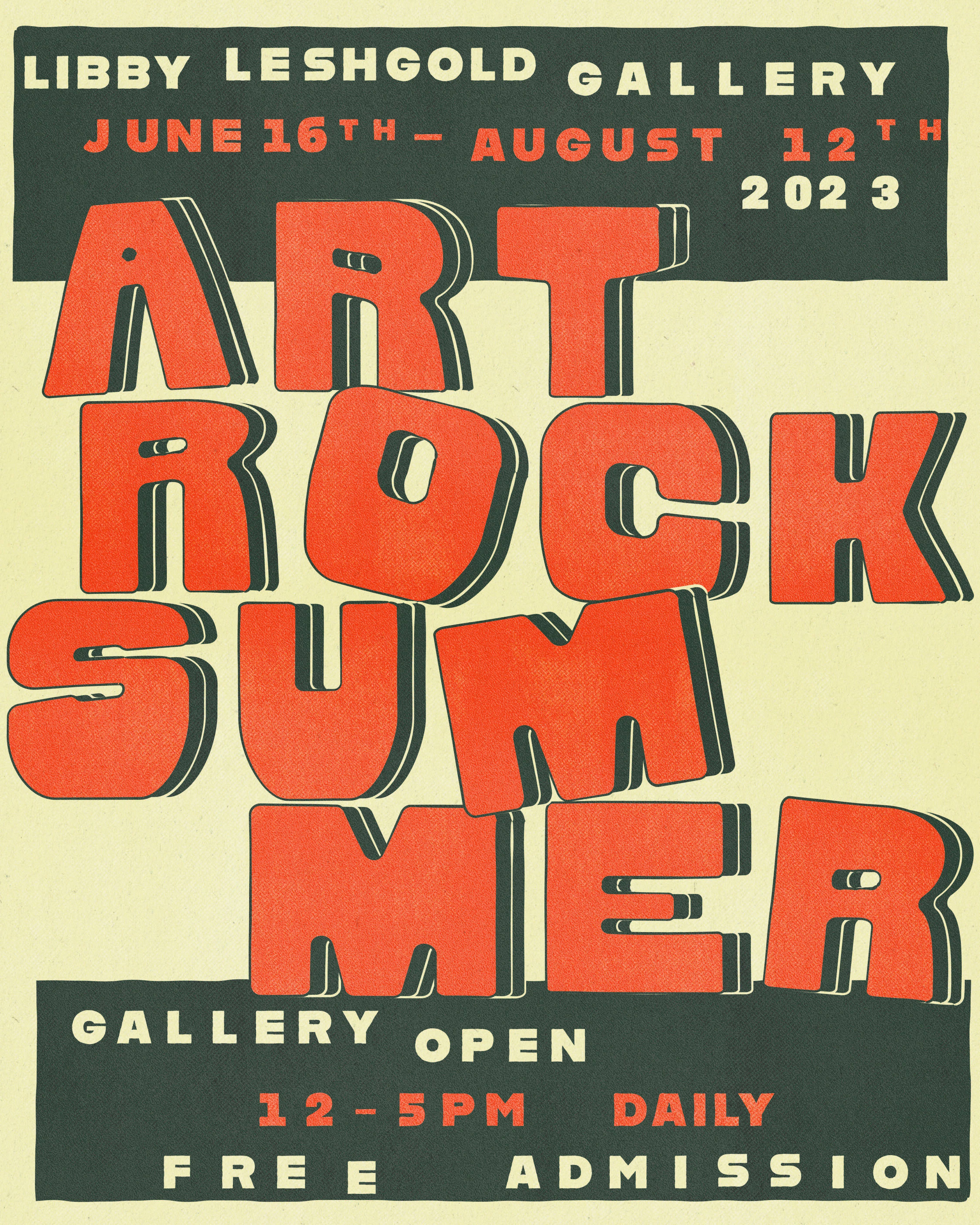 Posted on June 27, 2023
Join the gallery at Emily Carr University for eight weeks of musical performances, music videos, listening events and more!
This summer, the Libby Leshgold Gallery at Emily Carr University takes a vacation from art to embrace Art Rock!
For eight weeks, Art Rock Summer will bring musical performances, music and sound art, music videos, a listening library of artists' records and band merch to the gallery for visitors to enjoy.
Kay Higgins, head of gallery publishing for the Libby Leshgold and editor of ECU Press, says the crossover between music and visual art is broader, deeper and more colourful than many people realize.
"There is so much going on that we can only give you a sliver of the vast amount of creation, exchange and performance that happens," says Kay, who co-curated the exhibition with interdisciplinary artist, musician and writer Casey Wei.
"Vancouver's visual artists, like their counterparts around the world, have been engaging with music for decades now. My co-curator Casey Wei calls this music 'the popular esoteric' — something that uses familiar forms but lurks around the margins of what is 'popular.' We're both going to enjoy giving visitors a look at this world through videos, recordings and live performance. I hope people come to love artists' music, 'art rock' and records by visual artists as much as I do."
Art Rock Summer is the sixth instalment of the Libby Leshgold Gallery/READ Books' Summer School for Artists' Publishing. The exhibition explores artists' music, audio recordings as publishing, the realm of art rock, the art-school band and the role of music-making in artistic communities.
Art schools and visual artists' spaces have long served as launching pads for musical collaborations. Many visual artists are involved in musical practice as an avocation or side-hustle. This practice is sometimes an extension of 'sound art,' and sometimes entirely separate.
Glam rock, punk rock and riot grrrl are all associated with their own brands of visual culture, while also maintaining direct points of connection with visual art communities. Various currents in jazz, punk and 'new music' likewise carry strong ties with visual artists and artistic movements, from Andy Warhol's connection to bands such as the Velvet Underground and John Cage's famed collaborations at Black Mountain College to "noise" music originators Nihilist Spasm Band.
The Vancouver art and music scene includes artists' bands and recordings by visual artists such as Rodney Graham, Jeff Wall, Sydney Hermant, Elizabeth Fischer, I Braineater and Kathy Slade. Additionally, artists including Stan Douglas regularly collaborate with musicians, while musicians like Kim Gordon make critically acclaimed art.
Meanwhile, the 'artist's record' is an enduring, arguably growing field which parallels the wildly popular genre of 'artists' books.'
Built around a stage as a focal point, Art Rock Summer will explore all these fascinating links through a series of performances and listening events throughout June, July and August. All performances are free and open to the public, and will take place in and around the Libby Leshgold Gallery.
Visit the Libby Leshgold Gallery online for a full event schedule and to learn more about the show.