Marlene Yuen's Mural Adorns Introduction Exhibition at Canada's First Chinese Canadian Museum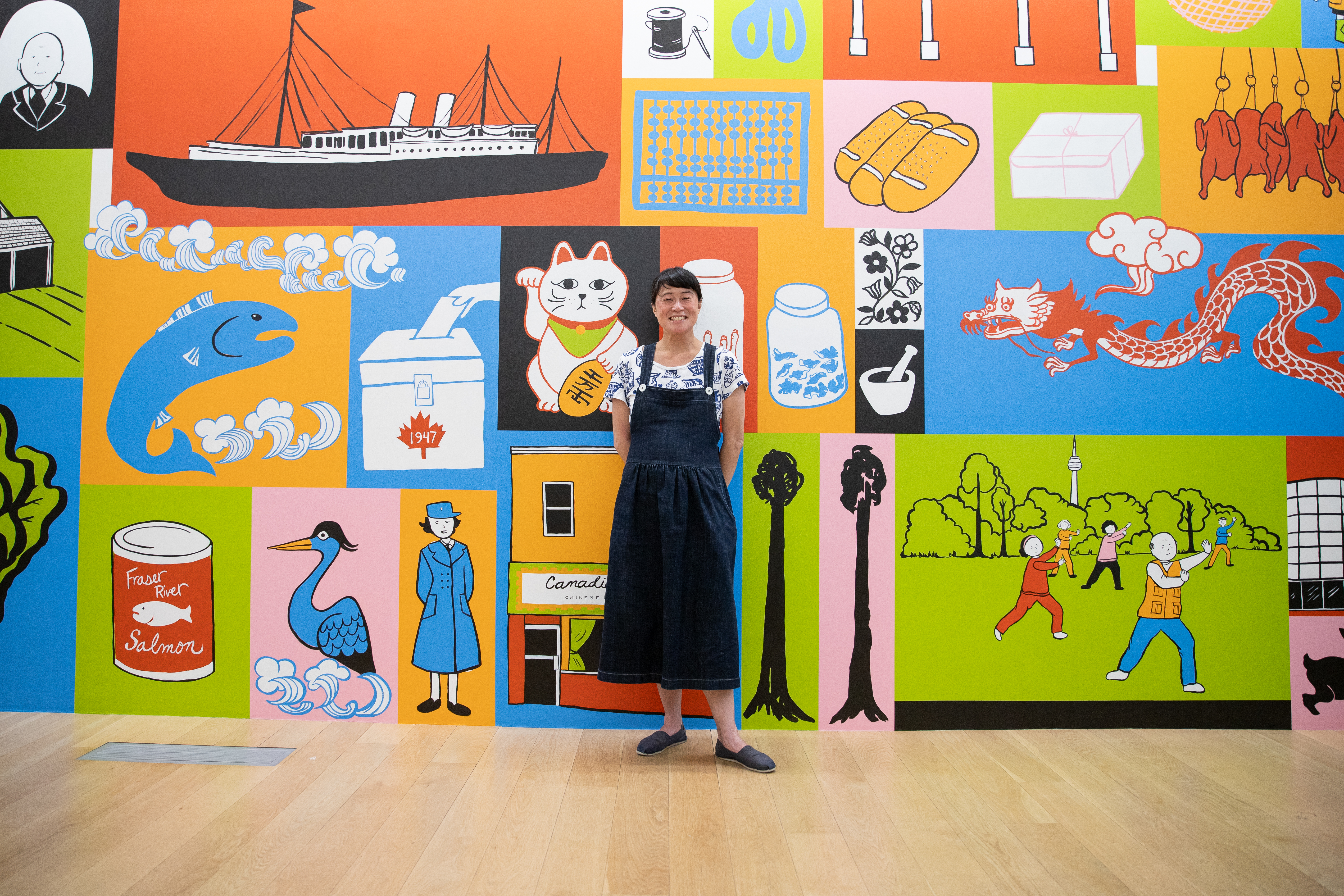 Posted on August 08, 2023
The interdisciplinary artist and ECU staff member created a joyous, colourful reflection on Chinese-Canadian history for the momentous opening.
A mural by artist, storyteller and ECU staff member Marlene Yuen graces the Odysseys and Migrations exhibition at the brand new Chinese Canadian Museum in Vancouver's historic Chinatown neighbourhood.
Titled The Journeys Here, the mural highlights the journeys of Chinese Canadians to Canada. The artwork, on view in the museum's introduction gallery, was commissioned as part of the museum's mission to "uplift and raise the profile of Chinese-Canadian artists," says Melissa Karmen Lee, CEO of the Chinese Canadian Museum.
"The way that we tell the story of the Chinese-Canadian diaspora from past to present is through working together with creative practitioners," Melissa tells me during a chat in the museum's rooftop garden.
"Marlene has painted important, poignant stories from across Canada that represent Chinese-Canadian history and culture. And people see themselves in that work, which is very special. We want that recognition, that nostalgia, and we also want people to understand how culturally diverse and varied the Chinese Canadian community is, and how it has contributed to Canada. Marlene has helped us achieve that."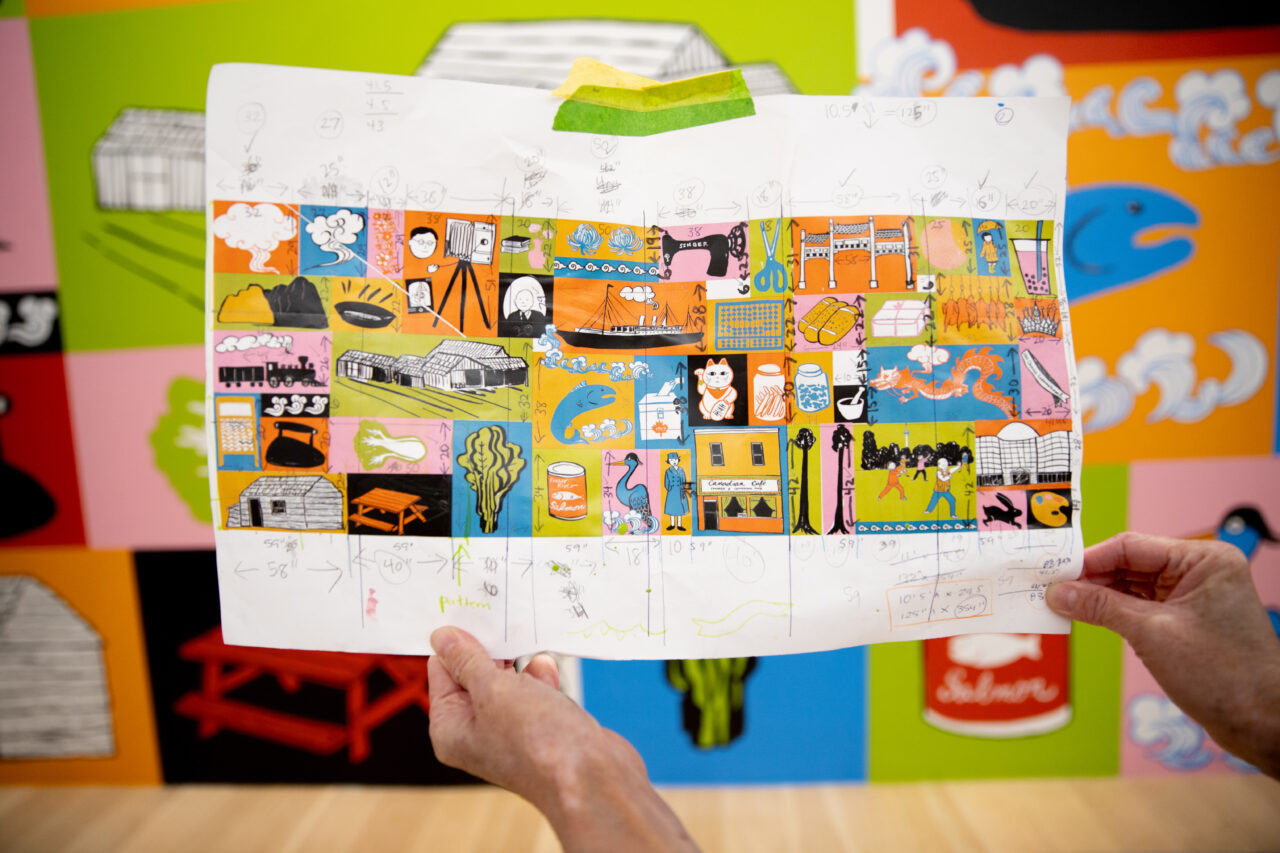 The museum is located in the historic Wing Sang Building on Pender Street. Originally built in 1889 by Chinese merchant Yip Sang to house his family and business, the heritage structure is the oldest in Chinatown. It is the first museum in Canada dedicated to the preservation, presentation and enrichment of Chinese-Canadian history.
Melissa first became familiar with Marlene's work through Marlene's 2020 solo show, Cheap! Diligent! Faithful!, at grunt gallery. Despite the replica storefront Marlene painted for that show, she says she was initially hesitant to take on the commission for the museum.
"I'm an illustrator and a printmaker," she tells me from the museum's main-floor exhibition space. "I make books. I feel like those are my areas of strength. I'm not really used to making things big."
But spurred by encouragement from her friend and studio-mate, artist Sandeep Johal, Marlene accepted the challenge. The result is a gorgeous, tender reflection on the places, people and experiences that comprise Chinese-Canadian history.
Marlene says the images in the mural emerged during a series of brainstorming sessions. The objects range from the local to the iconic. Salmon, steamships and seniors doing Tai Chi rub elbows with a Lucky Cat, sewing implements and the legendary buns from Chinatown's New Town Bakery.
"I felt like this mural had to reach all sorts people: young, old, locals, tourists, people who were coming to visit Canada maybe for the first time, people who might not know a lot about this history, because sometimes people don't," Marlene says.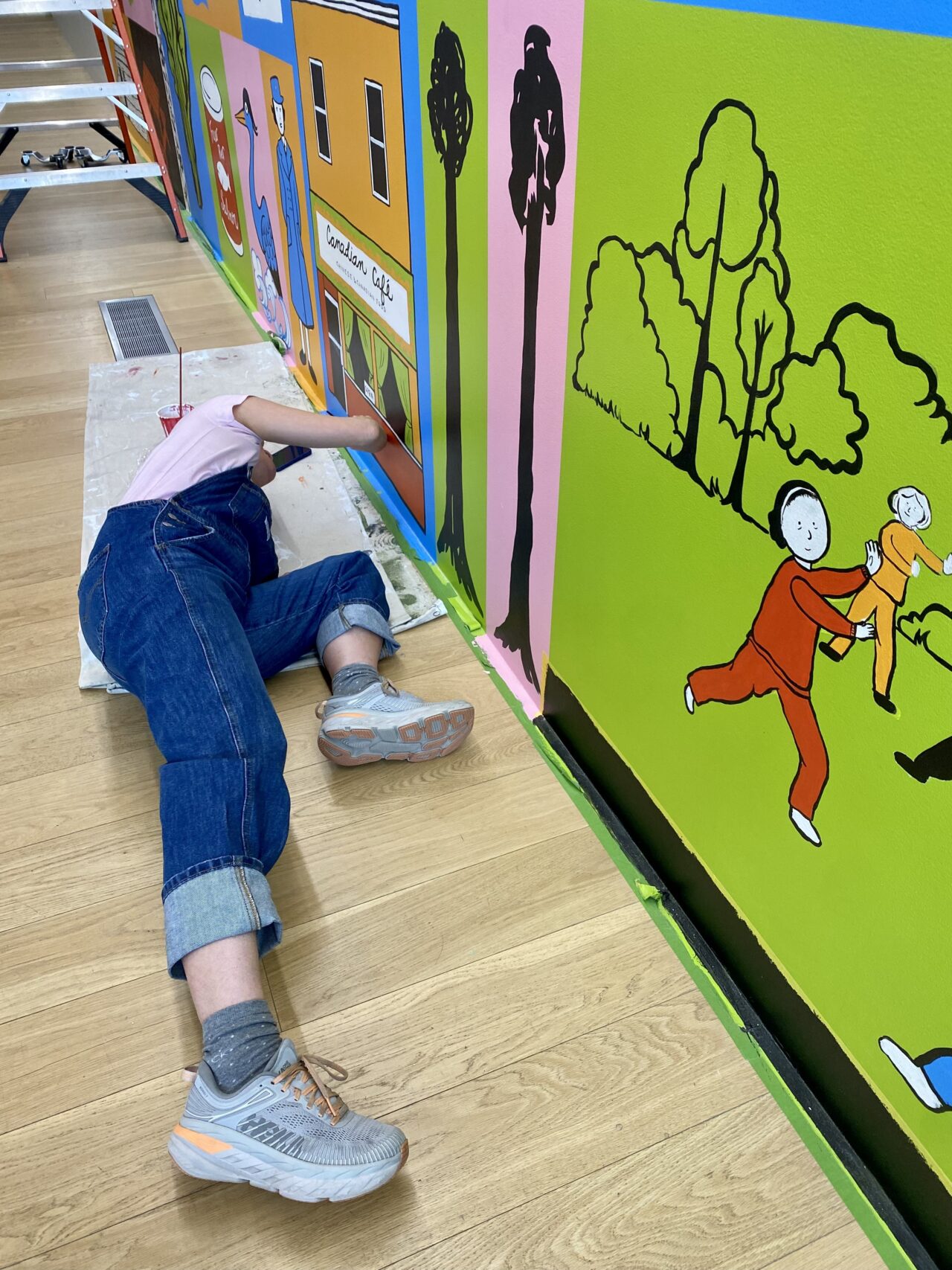 Marlene worked evenings and weekends to complete the mural, since her days are spent working at Emily Carr. Fortunately, she had help from Sandeep Johal and another friend, artist Crissy Arseneau. But the hard work was worth it, she says. The mural is both an artistic gesture and a personal one.
"My father's father paid this tax to come to Canada to have a new beginning," Marlene says, referring to the "head tax" first levied against Chinese immigrants in 1885 by the Canadian government. Once this and other measures failed to deter immigration, the government introduced the Chinese Exclusion Act, effectively banning immigration from China. The opening of the Chinese Canadian Museum marks 100 years to the day from the passing of the Exclusion Act, on July 1, 1923.
"You learn about that and it's hard not to feel moved. And you can't believe it happened. You feel horrified for all the people that had to go through that, who were treated like less than people," Marlene continues.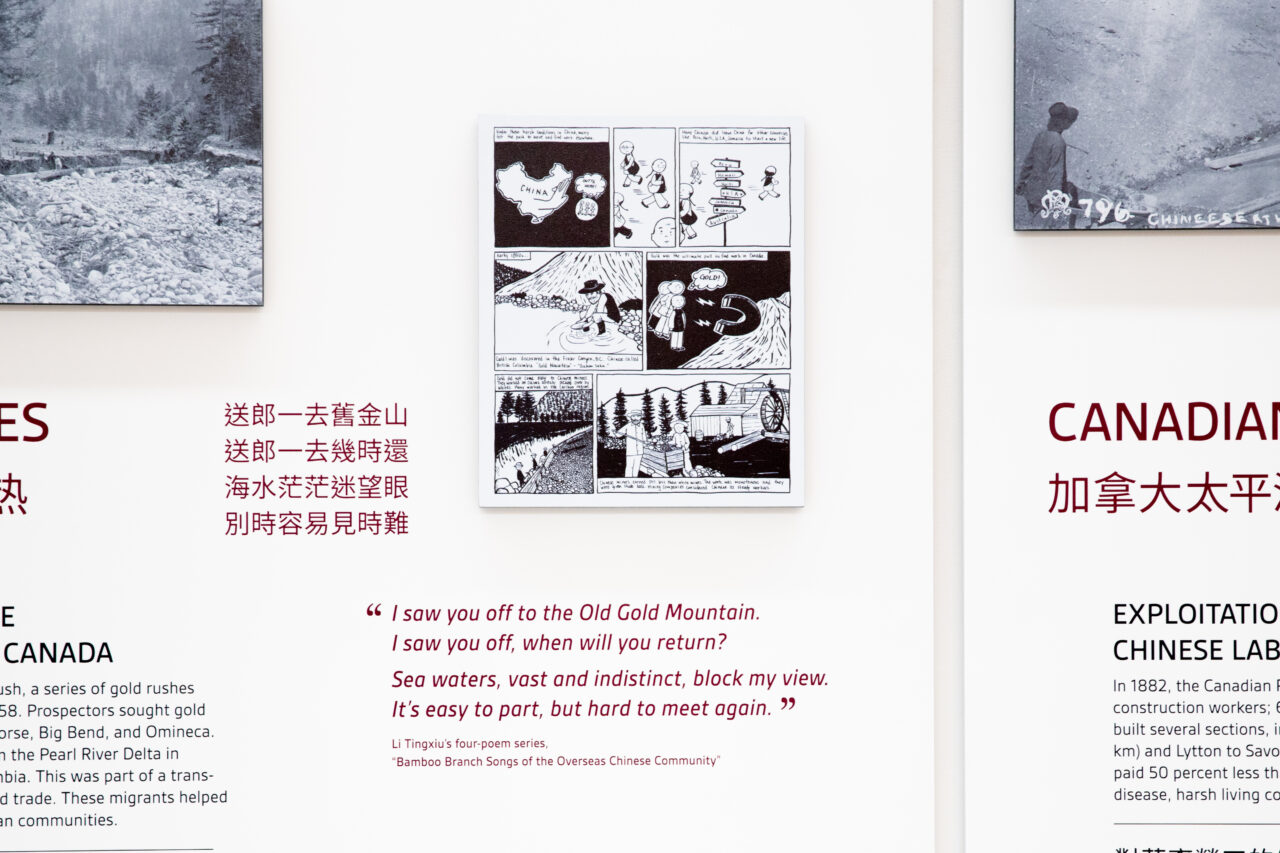 The stories of many of the families impacted by these brutal policies are told in the museum's feature exhibition The Paper Trail to the 1923 Chinese Exclusion Act, guest curated by Catherine Clement. But Marlene and Melissa both emphasize this is only one part of the story of the Chinese-Canadian community. For that reason, Marlene says she wanted her mural to serve as a kind of counterpoint to some of the more difficult histories on display in the museum's upper floors.
"I really wanted to make it colourful and bright," she says. "Melissa says this gallery is an introduction, and I wanted it to be vibrant. Because once these coverings are lifted from the windows, people will be able to see in. And I'm hoping these bright colours will attract people, be inviting. I'm hoping the piece speaks to people, and that they can take something away from it."
Visit the Chinese Canadian Museum online to book your tour today.
Visit Marlene's website and follow her on Instagram to learn more about her work.
Want more stories like these delivered twice a month to your inbox?