An Update Regarding Masks on Campus
Posted on August 25, 2021 | Updated August 25, 2021, 12:34pm
Filed in Faculty, Staff, Students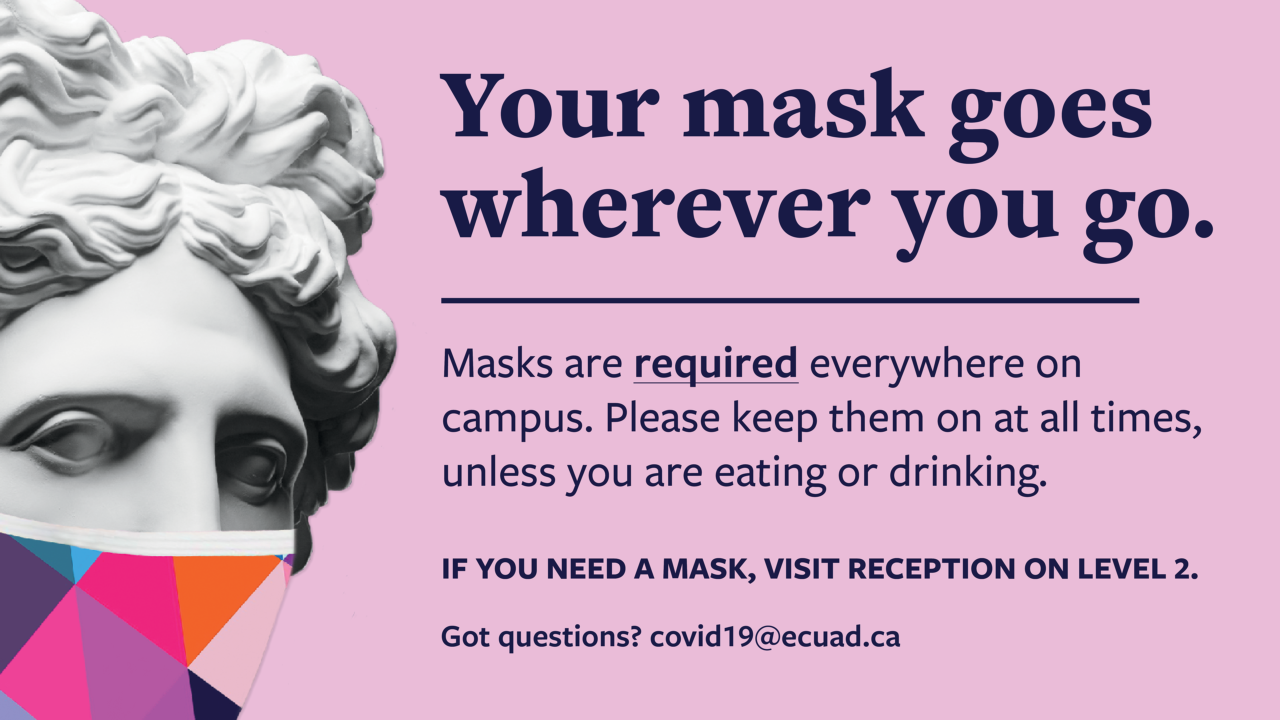 As announced by the Ministry of Health on August 24, masks are once again required to access campus.
Dear ECU Community,
We have been closely following the evolving COVID-19 situation in our province. While there is some good news — including that 76% of British Columbians over age 12 have been fully vaccinated — the number of cases has risen sharply in recent weeks.
On August 24, the province announced additional health and safety measures to help slow the transmission of COVID-19 and support a safe return to in-person learning. Below is a short update on what the latest post-secondary safety measures mean for our community.
Masks
As announced by the Ministry of Health earlier today, masks are once again required in public spaces. This means you must wear a mask when coming to campus. Masks must be worn in all common areas (stairwells, hallways, elevators) as well as in all classrooms, shops, and studios.
We will be developing more extensive guidance for our community in the days ahead. But for now, it's important that you bring your mask and wear it consistently if you plan to be on campus.
Vaccination
Recent data has made it very clear that vaccination provides excellent protection against infection and serious illness from COVID-19. In BC, unvaccinated individuals are 17x more likely to be hospitalized with COVID-19 compared to those who are fully vaccinated.
Starting on September 13, individuals will be required to show proof of vaccination in order to access spaces like restaurants, gyms, and other places listed in this provincial update. As such, every member of our community is strongly recommended to get vaccinated to protect themselves and one another.
We are in discussions with public health officials and other post-secondary leaders about how to implement the most recent guidance from the province. We will share more detailed updates with you before the beginning of the Fall term. Until then, I urge you to be safe and take care.
As always, please contact covid19@ecuad.ca with your questions. You can also visit our COVID-19 webpage to see the latest updates.
Sincerely,
Gillian Siddall
President + Vice-Chancellor
---
If you would like to place a sign in your office, classroom or workspace on campus, please feel free to download and print one of these signs. Some may be available from the Facilities office on Level 2.