Faculty Symposium 2023
Posted on May 16, 2023 | Updated May 17, 2023, 2:33pm
Filed in Faculty
I was a flutter of butterflies on the morning of May 2, 2023, just hours before the start of our first ever Faculty Symposium at Emily Carr. Over the next two afternoons, we would be hearing from 12 faculty members (me among them) sharing ideas from recent research through presentations. The symposium would also include a meaty panel discussion as well as an interactive workshop. And everything would be taking place both in-person and online. It felt like a lot of balls to juggle that morning.

But from the moment that our panel discussion "ChatGPT, AI and the Classroom" got underway, the first event in the program, I knew that everything would be fine. The collective knowledge of this community and our enthusiasm to share with and support one another would make starting conversations and sparking ideas easy. We are not shy with our questions or observations!
For those who couldn't attend – because of lack of time or bandwidth at this busy time of year – I have done my best to summarize some of the ideas and images presented throughout the event. Please keep in mind that these are only my own brief reflections – I encourage you to follow up with presenters if you have questions or would like to know more!
May 2
ChatGPT, AI and the Classroom
Presentations by Heather Fitzgerald (TLC), Indri Pasaribu (Electronic Resources Librarian), Kate Armstrong (Director, Living Labs, Co-Director, AI Futures for Art + Design), and Lois Klassen (Coordinator of Research Ethics).
The panelists shared interesting thoughts about opportunities for bringing conversations about AI into the creative classroom, as well as questions for instructors to consider such as bias, privacy and collaboration with such tools. It was exciting to realize we have people on our campus who have already invested time researching and exploring these platforms in ways that can inform our approach to teaching in this historical moment.
Sabbatical Presentations Session #1
Lorelei Pepi presented research and development work from her grant-funded Docile Bodies project, which investigates the objectified virtual female body and the use of interactive Augmented Reality. She also shared some of her early creative experiments using image-generative AI systems as a collaborative tool to create animated materials.
Keith Doyle's presentation focused on Pedestrian Protest, a commissioned project for the VAG Offsite that he worked on with longtime collaborator Evann Siebens during his sabbatical. He shared images of several of the media installations created for the project, as well as some of his own sculptural responses to those spaces. I also appreciated how he spoke about the sabbatical as a time of "unscheduling" which allowed him to rethink and regroup in relation to his own artistic practice.

Alla Gadassik titled her presentation "What are you doing here?" to echo the most common question she heard during her sabbatical, most of which she spent on campus doing, as she termed it, a "campus residency." By working on campus, attending classes and campus events, collaborating with colleagues on co- and non-curricular projects, she discovered at least a partial answer to the question of what she is doing here – or rather what she would like to do here beyond teaching responsibilities.
Sabbatical Presentations Session #2
Julie York documented her creative ceramic experiments, including some work designed to live amid the day-to-day detritus of the home. She also shared captivating images and stories of a residency in Stoke-on-Trent in the UK, where she had the opportunity to visit several traditional "potteries" (including the traditional coal-fired potteries ubiquitous to the area during the Industrial Revolution) and learn traditional mold-making techniques.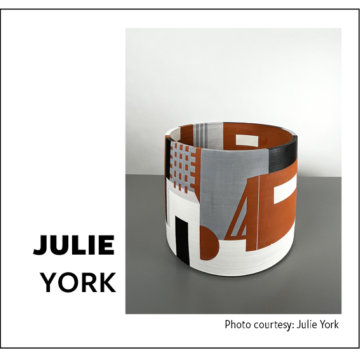 Rita Wong began her presentation, "Rivers are Lifelines" by expressing gratitude for the life, work and teachings of Lee Maracle and sharing some of the writing and podcasts Rita did in the wake of Maracle's death in November 2021. She then documented some of the activist and advocacy work she did during the sabbatical period, including time spent at both the Burnaby Mountain camp protesting the Trans Mountain pipeline, and the Unist'ot'en camp supporting the Wet'suwet'en opposition to the Coastal Gas pipeline.
Cameron Cartiere documented the series of "failures" that led to a successful sabbatical project in her presentation "Playing with Failure." Her adventures began with a project to develop an interactive walk from a mine near Kamloops that met with a series of setbacks that ultimately led to shelving the project. She then discussed failures in public art more generally, including recent resistance to public art installations by Chen Wenling. From these sites of failure, she turned her attention to play which ultimately led to a project to protect and preserve historic play sculptures by James Miller-Melburg.
May 3
Workshop: Rethinking Course Evaluations
In this workshop, Diyan Achjadi and I invited participants to consider the purpose of course evaluation surveys, review our current set of questions, and make suggestions about what kinds of feedback would be useful to support teaching and curricular development. Participants generated a lot of questions and ideas, all of which will be reported back to the community at future information sessions in the Fall.
Sabbatical Presentations Session #3
Emily Hermant shared stunning photographs from her Fall 2021 show at the Monte Clark Gallery - "In slow relief, the bright threads of a dream" while describing the painstaking process of weaving with stripped electrical cables to build up her sculptures and sculptural "quilts". As part of her sabbatical research, she also studied traditional bronze casting and shared some process photos of that work.
Nick Conbere "sketched out" his sabbatical research by sharing many drawing and illustration experiments, beginning with preliminary sketches he did for the shelved mine project with Cameron Cartiere, and ending with various "landscape" drawings and renderings that he did in response both to his own natural environments as well as to the complicated history of landscape illustration in developing and colonizing the Pacific Northwest.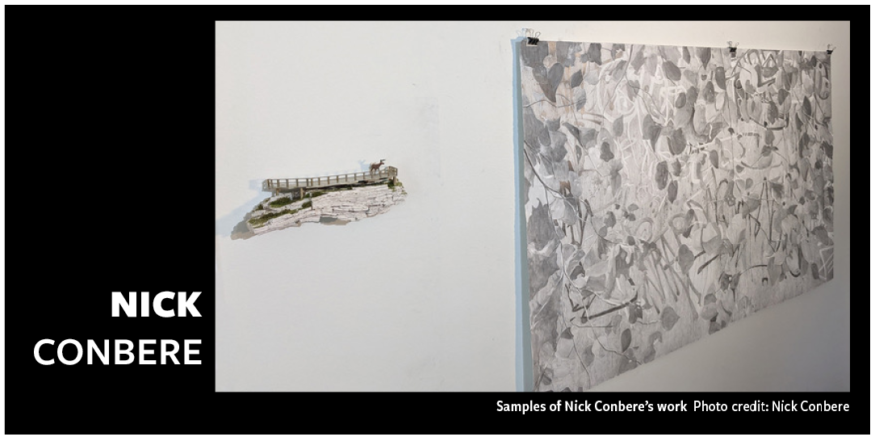 Patrik Andersson gave us a behind the scenes look at the decisions and practical concerns that factor into developing a major exhibition, in this case, Out of Control: The Concrete Art of Skateboarding, the show he curated for the Audain Art Gallery in Whistler. His virtual walk-through of the exhibition shared images, videos and biographical information about each of the 19 artists in the show.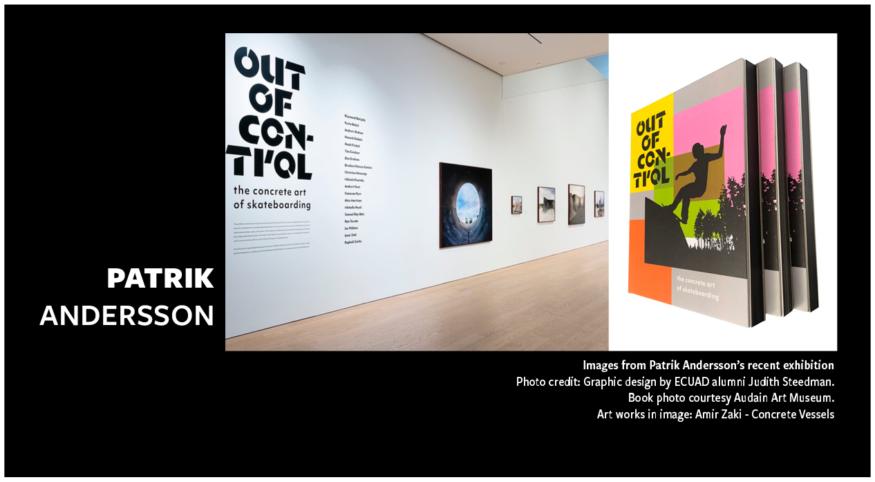 Sabbatical Presentations Session #4 + Teaching Associate Presentation
Hillary Webb threaded together her work as a librarian with her work as a ceramic artist, demonstrating how her creative practice, and particularly her long history of working with natural materials, informs her work in cataloguing artistic work. During her sabbatical she learned to harvest from local clay beds under the mentorship of Cathy Torepocki and developed community outreach workshops for elementary school students.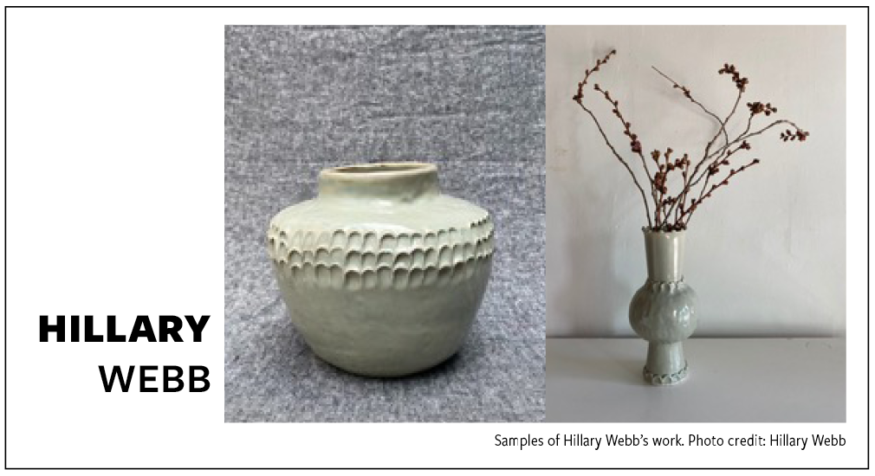 Tara Wren offered an intriguing framework to consider how and for whom we create a "welcoming" classroom by asking us to consider the Imagined Student, the Unimagined Student, and the Unimaginable Student. Documenting her research as a Faculty Teaching Associate this year, she proposed new insights into what inclusivity and welcome can look like for neurodivergent students beyond official accommodations.
Heather Fitzgerald's sabbatical research project investigated feedback – how, why and when it contributes to student learning. Drawing on the literature about peer feedback from the field of Writing Studies, she presented some preliminary information about what makes feedback more or less useable as a tool for learning, focusing particularly on the role of emotions in giving and receiving feedback.
By Heather Fitzgerald