Library Staff Profile: Ana
Posted on June 04, 2021 | Updated August 25, 2022, 10:29am
Filed in Faculty, Staff, Students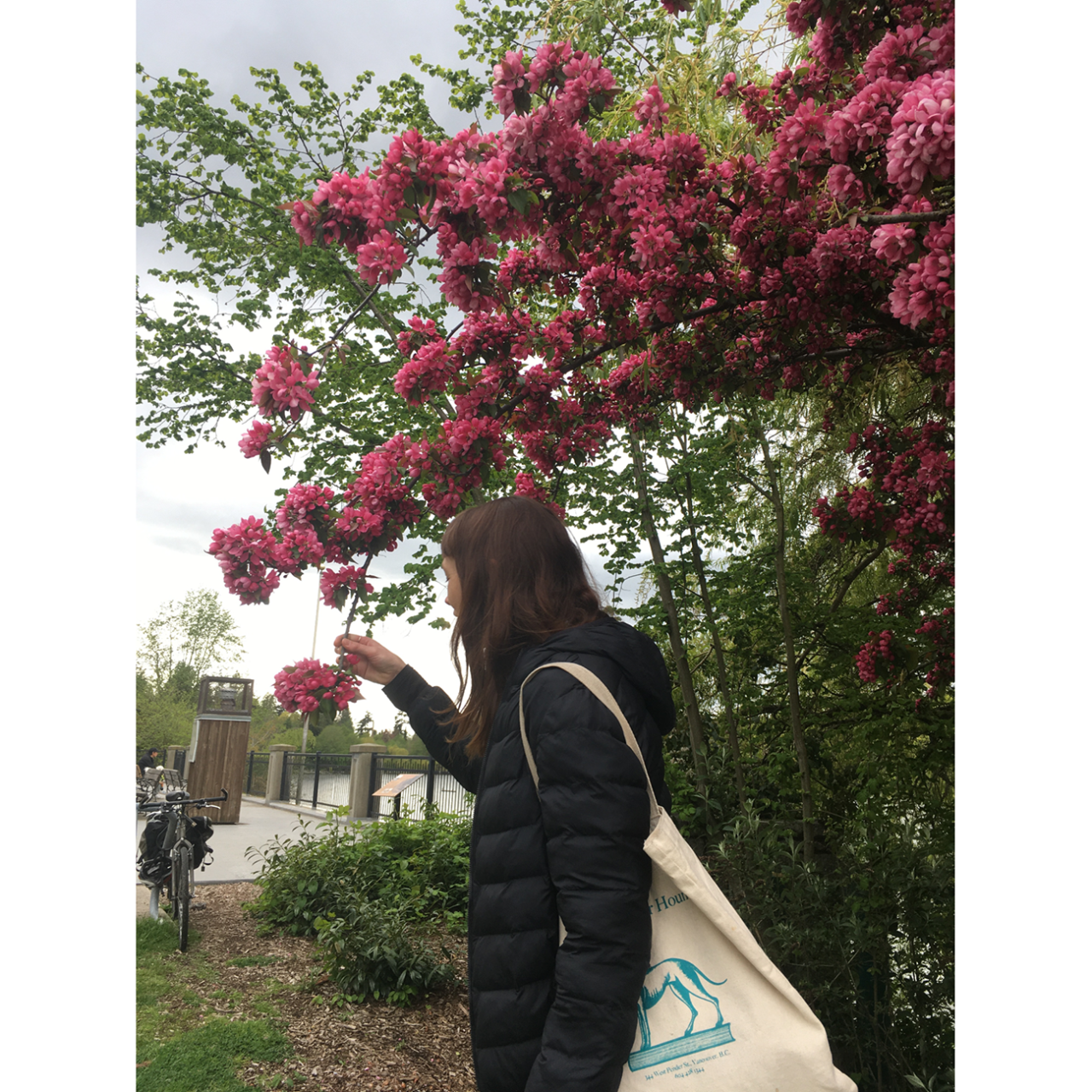 What's your name, and what's your job title?
Ana Diab, Collections, Reference + Instruction Librarian
What pronouns do you use?
She/her.
Do you have a specialty at the Library?
I select books, artists' books, journals and media for the collection, and teach students about information and how to use the library. I'm the library liaison to the Faculty of Art and MFA programs. I want to hear all about your research and creative practice and help you find resources to support your work. I also work with my library colleagues on the exhibitions, decolonization, and accessibility committees.
How long have you been at ECU?
since 2016
Tell us a bit about the portrait of yourself!
My friend, Jessica took this photo of me, holding a tree branch during a walk around Stanley Park.
What do you miss about being on campus all the time?
Seeing students' amazing art work and speaking with classes about the artists' books.
What do you like about working from home?
being able to play cello on my breaks, and having my cats walk over my keyboard during Zoom meetings.
What has gotten you through this past year?
swimming in the ocean every weekend with my friends, running, and weaving.
What could you talk about for a half hour straight, with no prep?
information politics, labour theory, fibre art... Open to other topics too.
Do you have a personal art practice/creative hobby you'd like to share?
My main art practice is weaving. I also like to draw, practice contemporary dance, and I'm learning to play the cello.

What are you watching lately?
I'm rewatching Star Trek TNG. My favourite character is Worf.
What are you reading lately?
I'm currently reading Return of the Trickster by Eden Robinson.
Do you have a favourite book or magazine?
Too many to choose from!
What do you do if you can't sleep?
Listen to podcasts. Right now I'm enjoying Below the Radar.