Library Staff Profile: Emma
Posted on May 14, 2021 | Updated August 25, 2022, 10:29am
Filed in Faculty, Staff, Students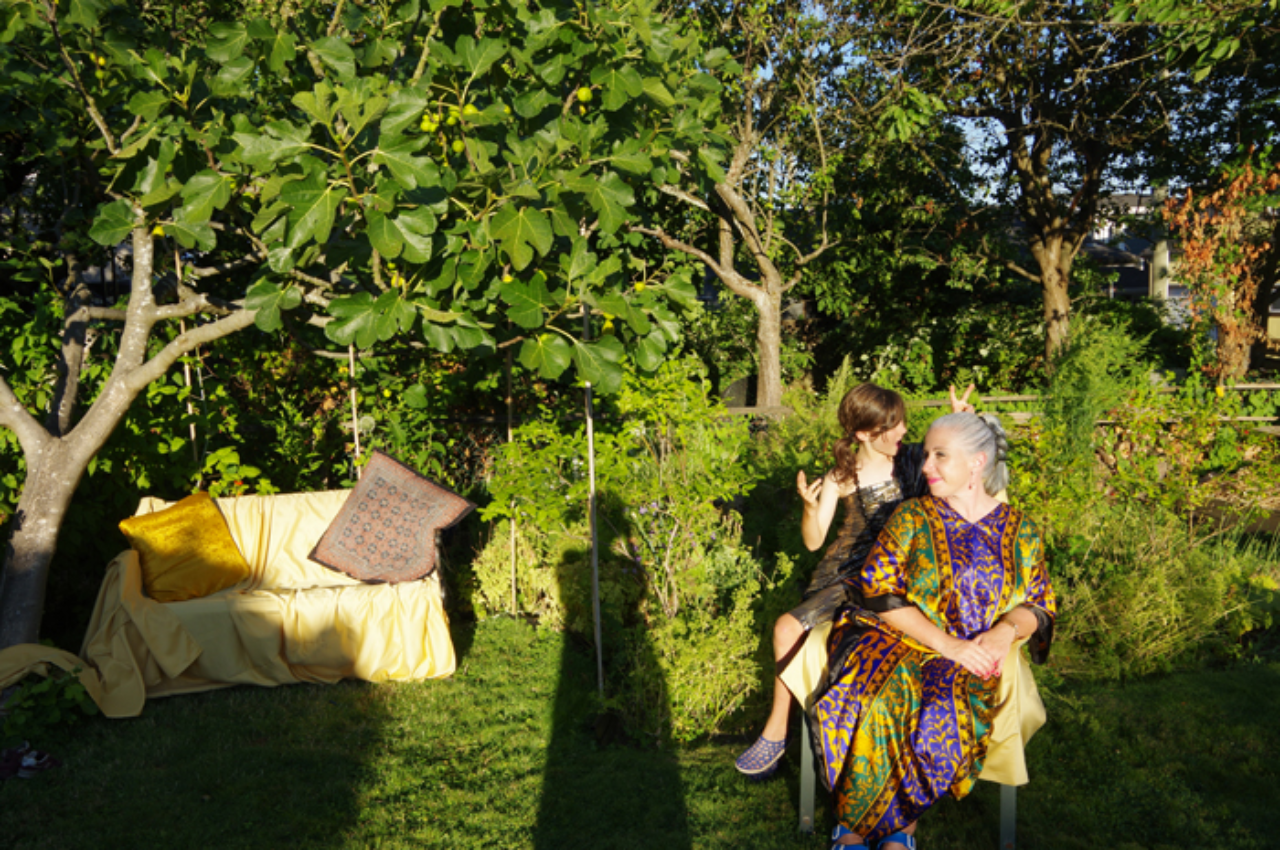 What's your name, and what's your job title?
Emma Somers, Library Operations Coordinator

What pronouns do you use?
I use she/her.
Do you have a specialty at the Library?
I work with the Service team you see at the front desk and help oversee the general physical space of the Library. I also can help students who have lost library items or incurred fines. I really love talking to students about what they need and what they want and how they feel the library could serve them better.

How long have you been at ECU?
I have worked at ECU since 2001!!!
Tell us a bit about the portrait of yourself!
This is a photo from a big amazing "Versace themed" dress up party we hosted in our yard the summer before COVID. I miss my friends so much.

What do you miss about being on campus all the time?
I miss my co-workers, I miss the students. I miss seeing art and chatting in the hallways. I miss my bike rides to work. I miss the separation between work and home.

What do you like about working from home?
I like being close to my garden. Especially in the spring. I like being able to nip out and water things, take breaks by my cabbages, I like being able to harvest chives for my lunch. I also like sleeping in.

What has gotten you through this past year?
The garden. My family. My co-workers. My Friday night Zoom date with friends to watch Drag Race and have a beer. Cuddling with my 12 year old son.

If you could go back in time to the start of the pandemic, what would you tell yourself?
HUG EVERYONE WHILE YOU HAVE THE CHANCE!!!!
What could you talk about for a half hour straight, with no prep?
Oh, anything really. Talk to me! Oh wait - I can't talk about sports.

Do you have a personal art practice/creative hobby you'd like to share?
I majored in Art History at University so that made making art really hard. But I still do it. I feel like the garden has become my practice but I also regularly make things out of paper mache (need a giant politically themed pinata? ), I also consider the dress up parties we used to do a form of social/community based practice. Oh, and I tie dye things often.


What are you watching lately?
I am watching a lot of films with my son lately. So lots of classic sci-fi and horror. I love watching crime shows on Netflix but I feel like I am running out.
What are you reading lately?
I am reading "Mutual Aid Building Solidarity During This Crisis (and the Next)." It is so hopeful and amazing. A blueprint for life really.
Do you have a favourite book or magazine?
My whole family really enjoys looking at our old copies of NEST magazine. It's an interior design magazine from the early 2000s'. Maximalism. We dream of what life might be like in these lurid cluttered colourful rooms.

What's a prized possession or item of clothing you have?
Right now it is my kerchief. My co-workers gave it to me last Christmas and it honestly makes me feel so understood. It's hand woven by a former colleague. It's the nicest and most fancy scrap of cloth ever. I wear it in the garden to keep the sticks out of my hair.

What do you do if you can't sleep?
I watch "Farm Crimes" on CBC Gem. Its boring and soothing and super Canadian and great. It lulls me back to sleep.

What's the strangest thing you've eaten?
I eat a lot of stinging nettles. They don't sting if you cook them and make me feel strong - like Popeye.
Interview by Angela and Cybèle Creery