Library Staff Profile: Kristy
Posted on July 16, 2021 | Updated August 30, 2022, 9:32am
Filed in Faculty, Staff, Students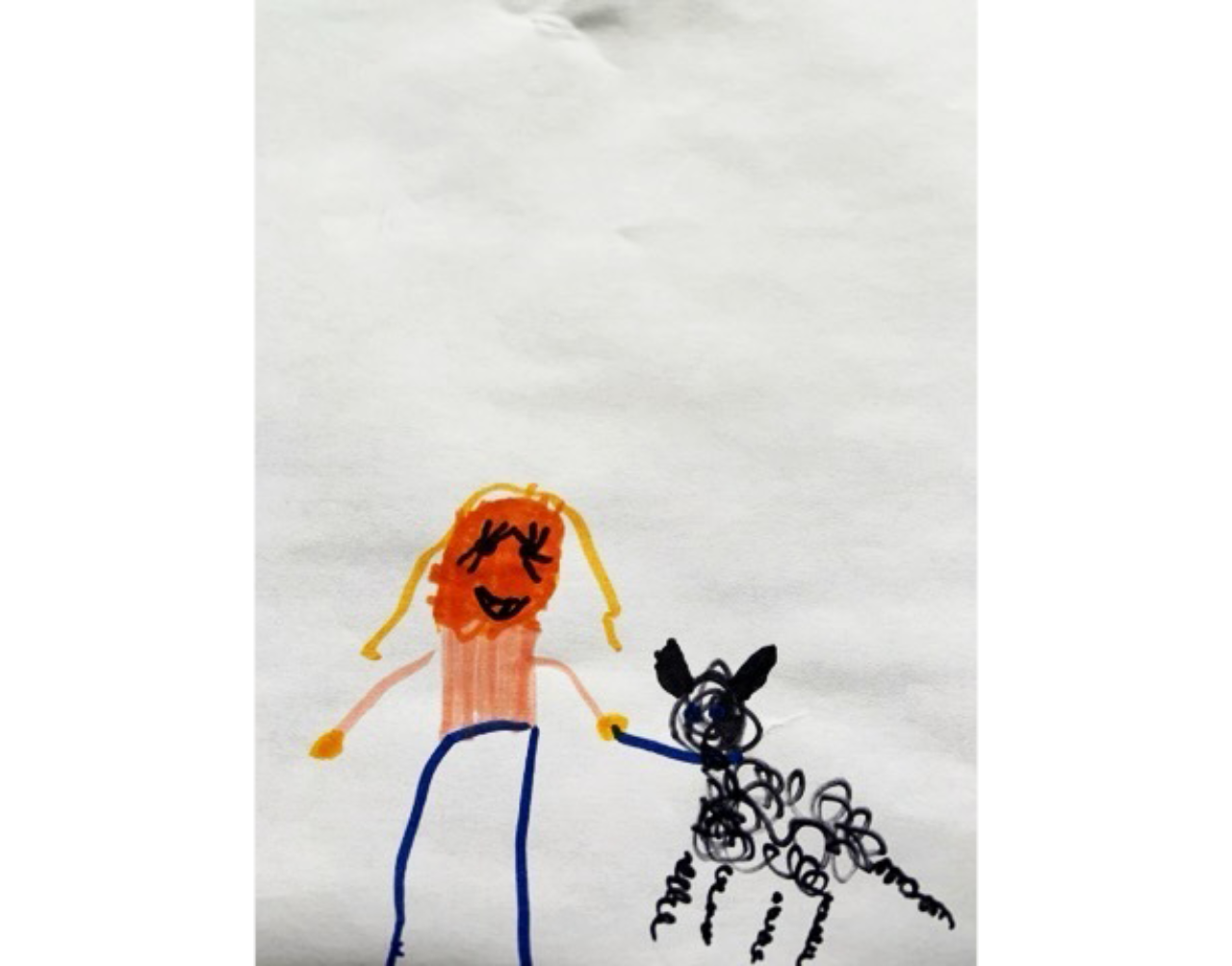 What's your name, and what's your job title?
Kristy, Archivist
What pronouns do you use?
She/her - thanks!

Do you have a specialty at the Library?
I work as the archivist at Emily Carr. I receive donations of materials into the archives; arrange and describe them; re-house them for preservation; and provide access to researchers. I have worked as an archivist in various capacities but have specialized in artist's records and non-textual materials (mainly AV and photographs). If you have questions about archives or archival research send me an email!
How long have you been at ECU?
I have been at ECU since 2019 and I have been full time since January 2021.

Tell us a bit about the portrait of yourself!
This is a drawing made by one of my best friend's children showing my dog Rosie and myself. It is from a few years ago but I love it! Rosie looks so great - those ears! Here is another one of us together in Pacific Spirit Park, where we walk most weekends.
What do you miss about being on campus all the time?
I miss seeing students and co-workers. And being around all the beautiful plants in the library, watching them grow.
What do you like about working from home?
I love that I can spend time with my dog as she gets older and work outside when the sun is shining.
What has gotten you through this past year?
Reading books, walking, online barre classes, as well as cooking new and more involved recipes. And lots of Drag Race.
If you could go back in time to the start of the pandemic, what would you tell yourself?
To enjoy the slower pace of life.

What could you talk about for a half hour straight, with no prep?
(Predictably) I could talk about archives, archival theory and practice for a long time. It might be a bit of a snooze. Haha.
Do you have a personal art practice/creative hobby you'd like to share?
I've just moved to a place with space to grow plants and am so happy to be able to plant seeds and garden for the first time. I don't know if it counts as a creative hobby but it feels like it, especially when designing the space and deciding where plants are going to go and what to do with them post-harvest.
What are you watching lately?
Movies on Mubi. One that I recently enjoyed was Zebraman. I also just finished watching the first season of Betty, so fun!
What are you reading lately?
A bit late to the game but I'm finally reading "Braiding Sweetgrass" by Robin Wall Kimmerer. I also just finished reading a novel called "Breasts and Eggs" by Mieko Kawakami.
Do you have a favourite book or magazine?
I don't think I have a favourite book or magazine - too hard to choose just one.
What's a prized possession or item of clothing you have?
The first thing that came to mind was a silk dress from ca. 1920 that I wore to my undergraduate graduation ceremony. I got it from a thrift store and thought it was so beautiful. I still have and love it, although I haven't worn it in years. The detailed embroidery on it is so intricate and I'm so happy that it is still in great condition.
What do you do if you can't sleep
I read... or just lay there thinking about why I can't sleep which usually makes things worse.
What's the strangest thing you've eaten?
Some delicious salty and citrusy seasoned crickets from a bar in Sayulita, Mexico.